According to many recorded documents, Vietnamese coconut candy first appeared in Mo Cay District, Ben Tre Province - the land of coconut trees in Vietnam. It was created by Mrs. Nguyen Thi Ngoc (born in 1914) with the original name of Mo Cay coconut candy. It was not until 1970 that Nguyen Thi Vinh (born in 1945) changed the processing way, produced more, and commercialized the sweet. Obviously, despite its appearance a long time ago, it was not until 1970 that coconut candy was produced on a larger scale and became a commercialized product.
I - What is Vietnamese coconut candy?
A typical Vietnam coconut candy often has a cube shape, slightly flattened, colored brown or white-green depending on the ingredients. This specialty of Ben Tre Province is a harmonious combination between the natural sweetness and fatty taste, soft but still having a pleasant suppleness.
The candy is wrapped around with a layer of edible rice paper, helping in preventing watery, making it less sweet and not sticking to the teeth. Coconut candy is the perfect souvenir to take home from your holiday to Vietnam, as it is tasty and there are many stores selling this sweet across the country.
II - How is traditional Vietnamese coconut candy made?
1 - Coconut candy Vietnam ingredients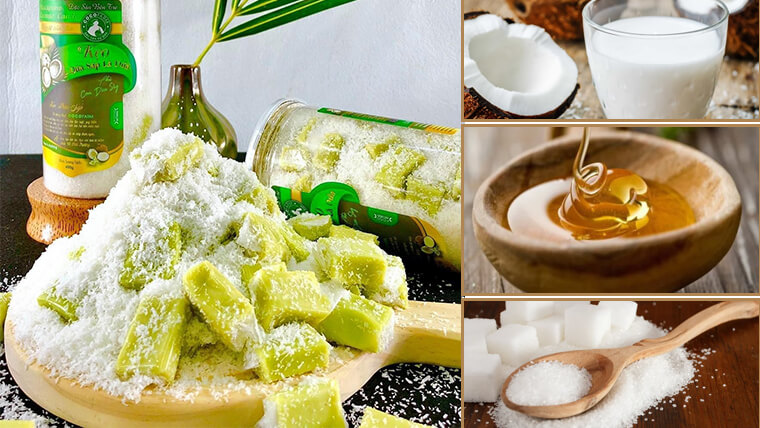 The main ingredients to make coconut candy - Source: Internet
The main ingredients of coconut candy based on Ben Tre locals' recipe include:
Coconut milk
Coconut milk (also known as "sua dua") is the juice from copra (coconut meat is scraped and chopped to small sizes) after being squeezed with a piece of mesh fabric. Note that the coconut milk taken from the first squeeze is the most delicious, nutritious, and greasy.
Malt
Malt used for Vietnam coconut candy comes from the germ of sticky rice. The rice that is naturally incubated and sprouted to the expected growth is used in the coconut candy-making process.
Sugar
Unrefined sugar was often preferable according to the Coconut candy recipe of the old Ben Tre locals. However, refined sugar with beautiful color and mild sweetness is highly recommended.
Besides the traditional ingredients, you can add durian, cocoa, peanut, and pineapple,... for special flavors.
2 - Vietnamese coconut candy recipe
The process of making and preparing standard ingredients for coconut candy can be found below:
Step 1: Take the coconut flesh, and remove the dry and hard brown shell. Then use a copra fiber planer. Freshly browned coconut is recommended.
Step 2: Use a piece of mesh fabric or juicer to get the coconut milk. Note that only the first juice is taken to ensure the delicious taste of the coconut candy.
Step 3: Mix coconut milk with malt, refined sugar, and seasoning.
Step 4: Put the mixture into the pan on low heat and stir until the Vietnam coconut candy reaches the expected consistency. Note that in this step you must stir it well because this mixture is easy to get burned.
Step 5: Add flavor to the coconut candy if desired, then add coconut oil to make a fattier taste. Pour the mixture into a prepared mold with parchment paper and wait to dry.
Step 6: Cut into smaller bites, wrap them with parchment paper and enjoy. Coconut candy is likely to be cut in the size of 1cm x 1cm.
III - The famous Vietnamese coconut candy brands
Coconut candy can be found in all regions of Vietnam and you can easily purchase it from large supermarkets, grocery stores or busy rustic markets. However, they are still more popular in South Vietnam and especially in Ben Tre Province - the land of Vietnamese coconut, which offers a local product with a unique flavor that is hard to find elsewhere.
As one of the most popular Vietnamese candies, the small sweet, and fragrant coconut candies are ideal souvenirs, but remember to keep them in a cool place and not for too long. Because Vietnamese coconut candy is made of natural ingredients without preservatives, nor modern wrappers, the candies are easy to melt and soften when placed in hot or humid places. Here is a list of famous traditional Vietnam coconut candy brands that you can easily find and should buy from:
1 - Hai To coconut candy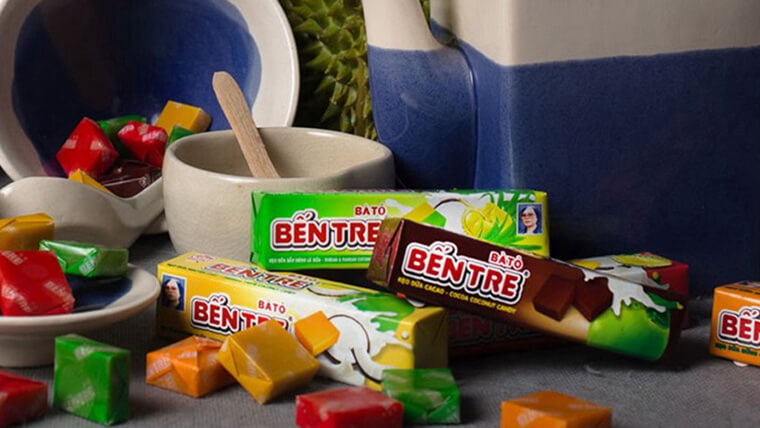 Hai To coconut candy - Source: Internet
Hai To or Ben Tre coconut candy brand was introduced in 1978. During 30 years of production, this unit has continuously improved its products and applied modern machines to the production line, helping the brand stand out in the market.
Besides the Vietnamese coconut candy with traditional flavors, this unit has successfully researched and produced coconut sweets with many other flavors such as cocoa, ginger, durian, pineapple & durian,... and the latest product is the coconut milk rice paper. In particular, now you can easily buy Hai To Coconut Candy in many countries such as China, UK, USA, ... thanks to intermediate distributors.
Production address: No.379C, Nguyen Van Tu Street, Ward 7, Ben Tre Province

Phone number: 0888 818 899

Website: bentredonga.com
2 - Thanh Long coconut candy
Thanh Long Coconut Candy brand owner is Nguyen Thi Vinh (mentioned in the introduction). Up to now, her family has had 3 generations producing coconut candy, including her, her younger brother Nguyen Van Tao and two grandsons Nguyen Minh Tam and Nguyen Minh Tri with 03 production facilities and one branch in Ho Chi Minh City.
Besides Vietnam coconut candy - the main product, you can find and buy many other Southern specialties from here such as: Vietnamese king wine, tea, coconut milk wine, rice paper, dried tamarind,...Thanh Long coconut candy is committed to its delicious taste because the sweet is made of 100% wax coconut which makes it fatty, creamy and much flavored.
Production address

Facility 1: 212B, Dong Khoi Avenue, KP5, Phu Khuong Ward, Ben Tre City

Facility 2: 301/01, Hamlet 1, Son Dong Ward, Ben Tre City

Facility 3: Highway 60, Chau Thanh Town, Ben Tre City

Phone number: 0903 964 730

Website: keoduathanhlongvn.com.vn
3 - Tuyet Phung - top 5 Vietnamese coconut candy brands
In more than 40 years of production, the Tuyet Phung brand still preserves the delicious traditional flavor of this sweet. The application of modern production lines totally ensures food hygiene and safety. Besides the traditional coconut candy, this brand develops many other delicious local specialties such as banana candy, fruit candy, ginger jelly, coconut water, coconut milk rice paper,...
Production address: No.56, Quarter 7, Mo Cay Town, Mo Cay Nam District, Ben Tre Province

Phone number: 0275 384 3011

Website: keoduatuyetphung.vn
4 - Coceau Coconut candy Vietnam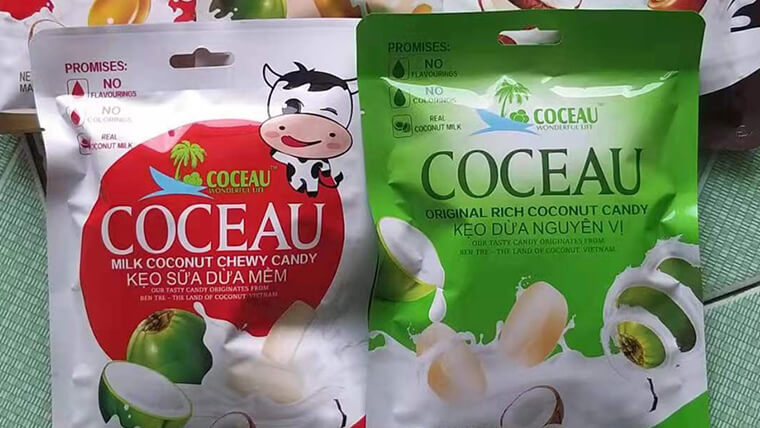 Coceau coconut candy - Source: Internet
Despite being a new brand launched in 2014, Coceau Coconut candy has soon won the heart of customers for its delicious taste and mild sweetness while retaining the creamy flavor of natural coconut.
The Coceau brand has built a large distribution and export system to Chinese and European markets. The typical products include Vietnamese coconut candy, coffee coconut candy, lollipop coconut candy, milk coconut chewy candy, ...
Production address: No.214A, Nguyen Dinh Chieu Street, Phu Chien Hamlet, Phu Hung Ward, Ben Tre City

Phone number: 02753 833 728.

Website: avc.com.vn
5 - Hong Van coconut candy
From the first start of the traditional household production unit of coconut candy, the Hong Van brand gradually found a firm foothold in the market thanks to the unique recipe and flavour. The brand has step-by-step professionalized the production process with strictly ensured standards of food safety and hygiene.
In particular, only this brand owns the combination of coconut candy production business and home garden tour model: you can both enjoy Vietnam coconut candy and participate in other interesting activities. Along with coconut candy products, you can also find and buy many types of candies such as banana candy rolls, pineapple coconut candy, grilled coconut candy, brown rice coconut candy, ...
Production address: An Phu hamlet, An Khanh commune, Chau Thanh district, Ben Tre province

Phone number: 0919 41 43 79.

Website: keoduahongvan.vn
It can be seen that Vietnamese coconut candy is an unmissable dish. Coconut candy with its natural sweetness satisfies almost all international guests having trips to Vietnam.