Vietnamese desserts are not only rich in taste but also extremely affordable, usually, the price will range from 10,000 - 50,000 VND, equivalent to about $0.5 - 2.5. Diners can enjoy these dishes anywhere in the S-shaped land. There are some most famous groups of desserts as follows:
I - Sweet soups - Top desserts in Vietnam
Sweet soup or sweet gruel or Chè in Vietnamese is a popular dessert. This kind of dish has many variations, different from ingredients to processing. They however all have a sweet taste and are a mixture of broth and kernels. You can serve it with ice to create a cool feeling.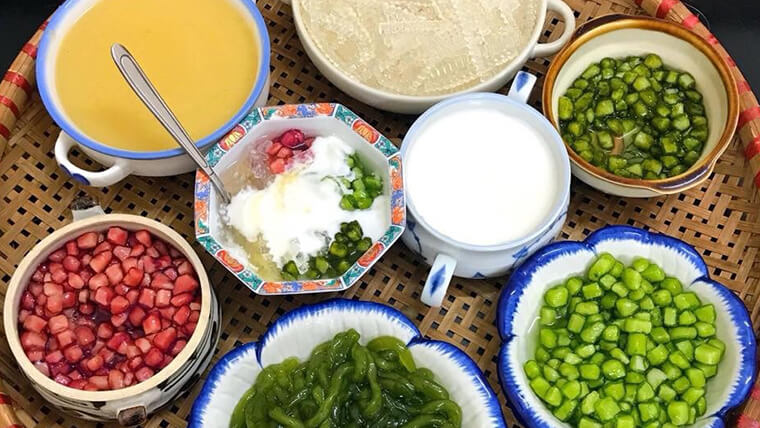 Suong Sa sweet soup - Source: Internet
1 - Longan sweet soup - a traditional Vietnamese dessert
As a traditional medicinal herb, longan is often used together with other ingredients in delicious and nutritious sweet soups such as face nourishing longan, tonic longan ginseng, and most famously, longan lotus seed. Face nourishing longan sweet soup is a combination of numerous medicinal ingredients other than longans including swiftlets' nests, goji berries, peach resin, lotus and chia seeds, and so on.
Meanwhile, like its name, longan and lotus seed sweet soup consists of soft, fleshy lotus seeds and crispy, dried fresh longans. Along with the sweet broth made from alum sugar and jasmine flowers, this is a perfect febrifuge dessert in Vietnam for hot summer days.
2 - Beans sweet soups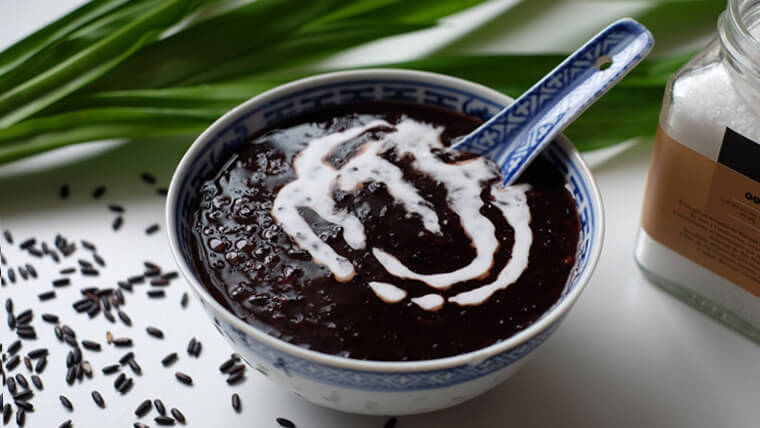 Bean sweet soup - Source: Pinterest
In Vietnam, there is a whole range of beans, but they can all be used, together or separately, to make sweet soups, which carry a characteristic sweet and fleshy taste. There are some common bean sweet soups in Vietnam such as Mung bean sweet soup (green beans), black bean sweet soup, red bean sweet soup, etc.
But one of the most famous Vietnamese desserts of this type is probably the Vietnamese Three Color Dessert with the main ingredient being beaned with different colors: Green, red and white, served with agar jelly and coconut milk. You will be mesmerized by its eye-catching colors and delicious flavors, making it the ideal dessert in the hot summer.
3 - "Khoai" sweet soups - one of the best desserts in Vietnam
Vietnamese tend to group potatoes, sweet potatoes, taros, etc as "Khoai", hence sweet soups made of these tubers are often referred to with that name. The two common types of sweet soups that are most known in this country are sweet taro pudding with coconut gruel and sweet potato dessert soup.
4 - Rice balls sweet soup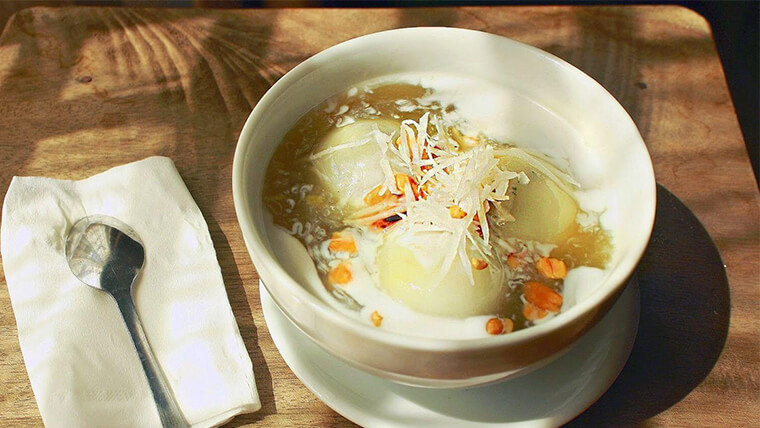 Rice balls sweet soup - Source: Jamja
As an easy Vietnamese dessert, rice balls sweet soup (Che Troi Nuoc) can be eaten all year round. The reason it has this name may be because the balls will float on the surface of boiling water when cooked. This dish is made from green bean paste-filled balls wrapped in glutinous rice flour, served in sweet and spicy ginger water. Many cooks like to add jasmine flowers and you should also add a little peanut when eating.
Offering sweetness, softness, and chewiness, this dish is better served hot and eaten in cold weather. The greatest time to try a bowl of Rice Balls Sweet Soup is during the first days of the fall.
5 - Fruit yogurt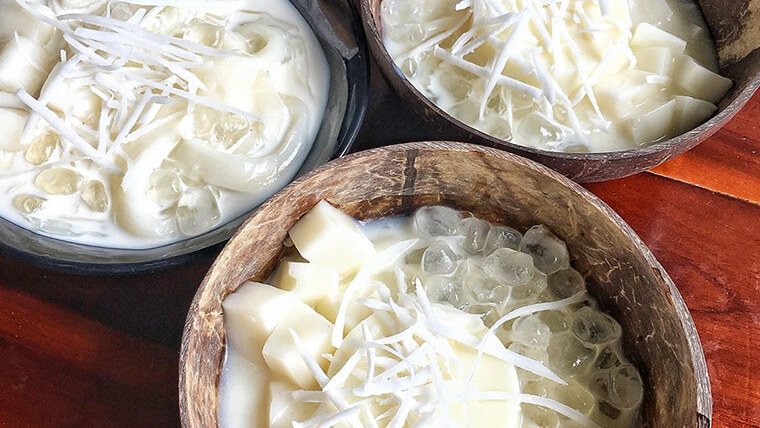 Coconut & yogurt sweet soup - Source: Vietfun
This Vietnamese dessert is a flavorful and eye-catching dish that is easy to prepare at home with a simple recipe from a variety of fresh fruits combined with yogurt. You cut the fruits into bite-sized squares and put them in a cup or bowl, then add yogurt, fresh milk, condensed milk, sugar, coconut milk, shaved ice, and mix all of them well together.
Loved by many people, this is an attractive dessert that carries a variety of flavors coming from different fruits - the sweetness of mango, the sour taste of strawberries... along with the cool flavor of yogurt. It not only stimulates appetite but is also good for the digestive system, providing essential nutrients including vitamins and minerals.
II - Desserts in Vietnam: many types of cake
1 - Pigskin cake - a traditional Vietnamese dessert
Originating from the South of Vietnam, pigskin cake (Bánh Da Lợn in Vietnamese) is made of simple ingredients such as green beans (Mung beans), coconut milk, flour, and especially pandan leaves. Once chilled after cooking, the cake is often cut into triangle pieces, with each layer bringing different feelings but still harmonious.
The white layer is made from coconut milk while the greenish color is from pandan leaf extract. Sometimes used as a snack, this steamed layer cake has a soft and chewy texture, the aroma of pandan leaves, and the sweetness of green beans. Nowadays, people also create other variations of this Vietnam dessert with other color layers, from different ingredients such as taro, durian, or rosemary.
2 - Green bean cake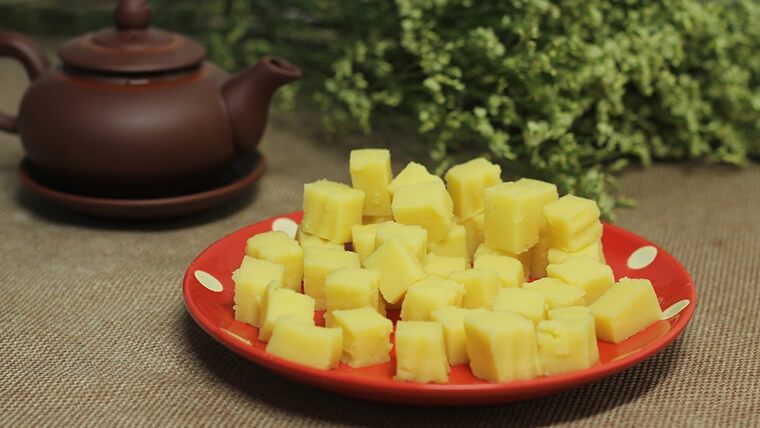 Source: Vietnamvoluntourism
Also known as Mung bean cake, this is a special dessert in Vietnam in general and Hai Duong Province in particular. Green bean cake has been famous for more than a century, associated with the story that the cake gained the "Golden Dragon" label - the symbol of royal power - after being praised by King Bao Dai.
This best Vietnamese dessert is usually made from green bean flour, mixed with sugar, vanilla extract, and vegetable oil or animal fat, which are all carefully selected. The finished cake is soft, cut into small cubes, and wrapped in golden foil, looking like gold bars. Green bean cake has a sweet taste, so it is often used together when drinking tea, especially green tea, reducing the harshness of the cake and bringing a comfortable feeling. When you eat, you can feel the cake slightly melting in your mouth, which is very delicious.
3 - Vietnamese hollow donuts - top popular desserts in Vietnam
Vietnamese hollow donuts or Banh Tieu is a famous street dessert, made from a super simple recipe from flour, sesame seeds, and seasonings that anyone can try. The unique feature of this "donut" is its airy and hollow inside and aromatic sesame seeds. Banh Tieu is fried in a pan of hot oil, carrying a characteristic aroma of flour and sesame when cooked. You will feel the crispiness of the crust coated with toasted sesame seeds, together with the mild sweetness of the flesh, making it easy to eat many at once. You can enjoy the cake while it's still warm or slice it in half to add fillings as you please.
It can be seen that desserts in Vietnam are really rich with different flavors and colors. If you have the opportunity, come to beautiful Vietnam and experience the cuisine of this land.