According to old documents, Hoi An chicken rice has been around since 1950, possibly originating from the Tam Ky region (Tam Ky now is a city of Quang Nam province). Then, with creativity and skillful hands, people in Hoi An created a simple but delicious dish, by combining the chicken meat with fragrant sticky rice grown by the Thu Bon river. It is loved by many, especially Hoi An people because every part of this dish is imbued with the soul of the Central region in general, and this town in particular. It is not difficult for you to spot a restaurant selling chicken rice in Hoi An, but to find an original taste that is clean, delicious, and traditional, requires attention.
I - What actually is Hoi An chicken rice?
1 - Hoi An chicken rice ingredients
As its name suggests, this dish is made from two main ingredients: chicken and rice. The rice is usually the delicious grains of the sunny and windy land, with a simple and fragrant aroma. After being washed, they will be cooked with chicken broth and pandan leaves on a wood stove, resulting in soft and fragrant rice.
The other important ingredient of this delicious Hoi An dish is chicken, which must be young or free-range because they will produce firm, soft but not friable meat, with golden skin. After the chicken is boiled, it is torn and mixed with onions, fried scallions, salt, and laksa leaves.
To make the authentic taste for the best chicken rice in Hoi An, the accompanying raw vegetables must be the type that is ordered directly from the nearby Tra Que vegetable village. Finally, broth will be poured in, which has been added turmeric and gac to create color, making the dish even more attractive.
2 - Flavor of Hoi An chicken rice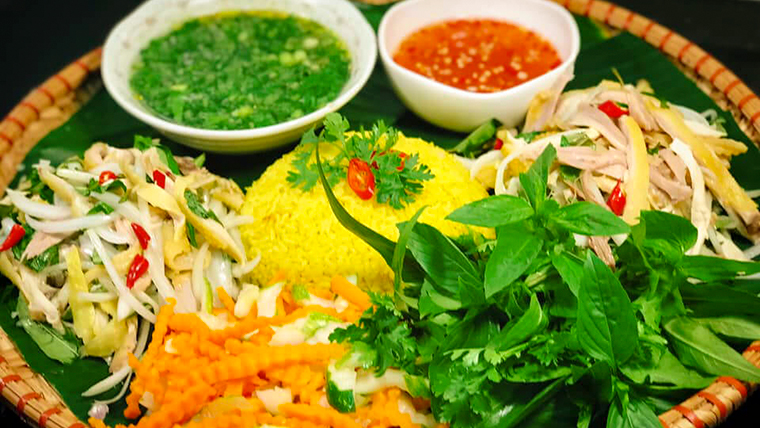 A standard plate of chicken rice - Source: goldenholidaytravel
In order to create the full flavor of chicken rice, the cook must have enough sophistication and ingenuity, right from the selection of ingredients. In addition, cooking this dish also requires a chef who is meticulous, because although the method is not too complicated, it takes a lot to get good results. The rice and chicken alone are not enough, but must be combined with spices and processed in specific methods to create a delicious and beautiful golden chicken rice dish. Adding dipping sauces, a plate of sweet and spicy salad, it's a wonderful symphony that no one can refuse.
The best chicken rice in Hoi An must have golden rice that is sticky and fragrant enough, along with soft white chicken with light yellow skin, cooked right to have a moderate sweetness. Delicious Hoi An chicken rice chicken intestines eaten with slightly sour crunchy thinly sliced papaya, mixed with spicy and bitter laksa leaves, adding a little spicy chili sauce is absolutely the perfect combination. All contribute to making a delicious specialty dish of Quang Nam province, bringing the salty, spicy flavor very typical of Vietnam's Central region, not mixed with any chicken rice dishes in other places.
Chicken rice will usually be presented on a plate with all the ingredients, in addition to raw vegetables as a side dish and a bowl of dipping sauce. You can eat with a spoon, fork or chopsticks, whichever option gives you the most comfortable dining experience.
3 - Calories
A serving usually contains about 500 - 600 calories, providing enough energy for about half a day's activities, so this is often chosen as lunch or afternoon.
II - Where to eat the best Hoi An chicken rice?
Hoi An Ancient Town attracts visitors because of colorful lanterns and old houses, but also the delicious cuisine. Among them, chicken rice is one of the most notable. You should visit some famous restaurants below and try them out:
Ms.Buoi chicken rice restaurant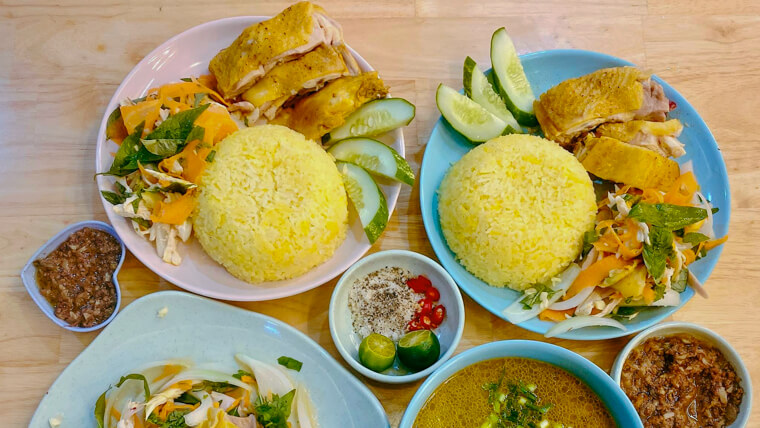 Ms.Buoi chicken rice - Source: bepmina
Ms.Buoi restaurant is the first place to mention when you want to eat delicious chicken rice in Hoi An, which has long been famous for its taste and service style. A serving is attractive with rice cooked from chicken broth, boiled and shredded soft chicken, neatly arranged on the plate and decorated with green vegetables.
- Address: No.22 Phan Chu Trinh Street, Minh An Ward, Hoi An City
- Price: 35,000 - 55,000 VND / dish ($0.86 - 1.72)
- Opening hours: 9:30am - 8:30pm
- Contact: 090 576 79 99
Ms. Thuan chicken rice restaurant
This restaurant is located deep in a small alley, but it is a culinary address that attracts many tourists when it comes to Hoi An chicken rice. The highlight of Ms. Thuan shop is the round golden rice grains with shredded chicken mixed with spices, served with a plate of vegetables, a small cup of salt and pepper. Along with a bowl of sweet broth, all fully show the unmistakable taste of the Hoi An Old Town.
- Address: No.685/4 Hai Ba Trung Street, Minh An Ward, Hoi An City
- Price: 25,000 - 100,000 VND / dish ($1.3 - 1.93)
- Opening hours: 12pm - 7:30am
- Contact: 0235 386 1146
Ms. Ho chicken rice restaurant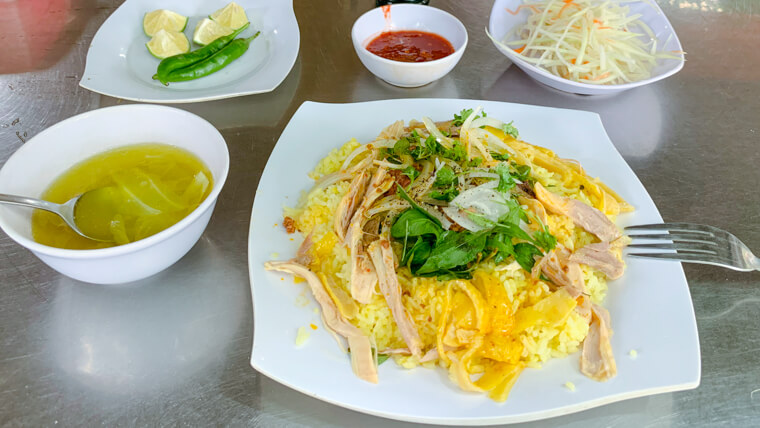 Ms.Ho chicken rice - Source: Nguyễn Quốc Đạt
This rustic restaurant, although small, is popular with tourists with its cozy, family-friendly space and amazing plates of chicken rice. Ms. Ho attracts customers to come back to eat because of the delicious sour pickles side-dish, made according to a special recipe that cannot be found anywhere else.
- Address: No.16 Phan Chu Trinh Street, Minh An Ward, Hoi An City
- Price: 25,000 - 50,000 VND / dish ($1.3 - 2.36)
- Opening hours: 9am - 10pm
- Contact: 091 222 16 46
Xi Hoi An chicken rice restaurant
Located in the city center, Xi restaurant is famous for its soft, supple, fragrant chicken rice, mixed with onions, laksa leaves, and pickles according to a special recipe. In particular, the chicken is both fragrant and friable, served with carefully processed broth to increase the richness, making the dish more attractive than ever.
- Address: No.47/2 Tran Hung Dao Street, Minh An Ward, Hoi An City
- Price: 20,000 - 50,000 VND / dish ($0.86 - 1.5)
- Opening hours: 11:15am - 8pm
- Contact: 0768 422 428
Ms. Lam chicken rice restaurant
Attracting visitors at first sight by the clean and airy space in the heart of Hoi An Old Town, this restaurant is also famous for having its very own taste. The chicken here is fragrant, tender and fatty even though it's full of lean meat, seasoned to taste, very suitable for eating with the sweet and soft rice.
- Address: No.51 Phan Chu Trinh Street, Minh An Ward, Hoi An City
- Price: 25,000 - 35,000 VND / dish ($0.64 - 1.42)
- Opening hours: 4pm - 9pm
III - Hoi An chicken rice recipe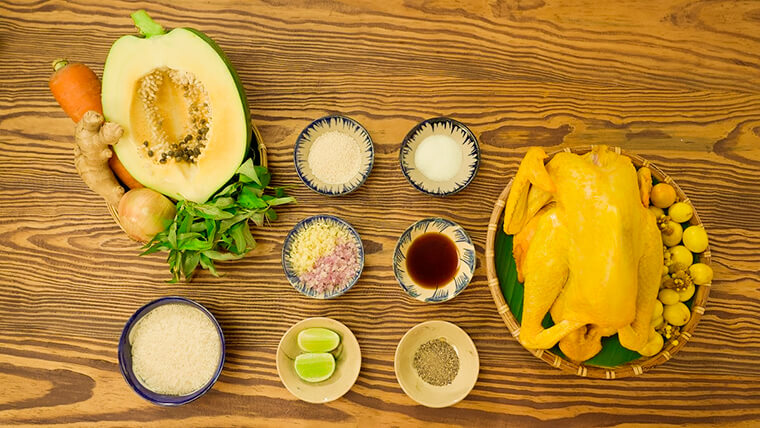 Cooking chicken rice - Source: Internet
To make chicken rice in Hoi An involves quite a few stages, but first of all, you need to pay attention to the chicken and rice - the things that make up the flavors of this dish. First you have to clean and put the chicken in a large pot of water, add onions, ginger and spices, then boil for just enough time so that it is not too soft nor chewy. After taking out the chicken, quickly filter the bones and simmer in the broth for sweetness, while the meat is torn into bite-sized pieces and seasoned again. The rice is soaked in turmeric, then washed, roasted and cooked in broth with chicken fat.
There are also some other things to eat with chicken rice, such as broth, chili, salad,... you can add or reduce depending on your liking. The broth served with Hoi An chicken rice is cooked from the intestines of chicken - cleaned, diced, marinated with spices, then stir-fried and added 100ml of water, boiled for another 10 minutes until dry. The iconic Central chili is a mixture of oil fried minced garlic, minced chili, sugar, and fish sauce, that is boiled until glued. The accompanying salad is made from vegetables like shredded carrots and green papaya, onions, mixed with spices and freshly made chili mixture.
To complete chicken rice in Hoi An recipe, you just need to arrange the rice on a plate, add shredded chicken, a little salad, a little laksa leaves, put a cup of broth on the side and then garnish with a little chili mixture. When eating, remember to pour the broth into the plate of chicken rice, mix it all well and enjoy.
After a day of walking along the romantic Hoai River, exploring every corner of the old town and taking impressive check-in photos, you must be tired and hungry. This is the perfect time for you to stop by a Hoi An chicken rice restaurant, enjoy the outstanding regional flavor of this famous specialty. You should definitely not miss this chance to feel the soul of the Central region, if you ever come to this ancient trading port.