Vietnam is the country with the second-largest export volume of raw coffee on the world map, and also a country well-known for many delicious coffee drinks such as egg coffee, special Vietnamese white coffee, etc. It would be flawed if your trip to Vietnam lacked the experience of visiting coffee shops and enjoying a cup of coffee as the locals do.
I - Top brands of the famous coffee shops in Vietnam
Dynamic - youthful theme
1 - Highland Coffee
Highland Coffee originated in 1999 to enhance Vietnam's coffee, particularly spread pride and connect the Vietnamese community. Highland Coffee has continually improved and updated its products & services over more than 20 years of growth to offer customers' desires. By 2020, Highland coffee brand owned more than 300 coffee shops in 24 provinces of Vietnam and 50 coffee shops worldwide. This is also the coffee brand that has the largest chain of coffee shops in Vietnam.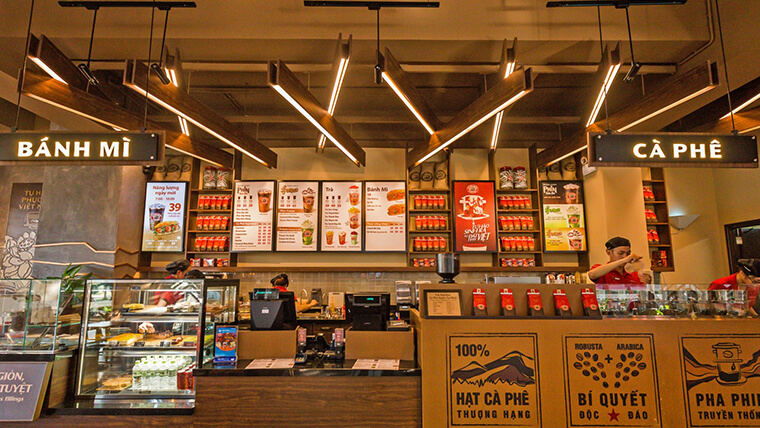 Source: Highlandscoffee
Besides serving coffee drinks, coffee bean products, roasted/ground coffee, other drinks such as teas, Freeze drinks and light dishes such as bread are all available.
Most coffee shops of Highland have a prime location and are designed with the primary red tones, modern architecture and quite open space.
Opening hours: 7am - 10pm
Prices: 29,000 - 109,000 VND (~ $1.25 - 5.12)
2 - Trung Nguyen Legend coffee chain in Vietnam
Trung Nguyen Legend - the oldest Vietnamese coffee brand, is inspired by Chairman Dang Le Nguyen Vu's great dream about Vietnam's coffee beans in 1996. This coffee brand's visions are attempting to bring the best quality of products & services to consumers; and reaffirming Vietnamese coffee beans' position on the world coffee map.
Up to now, Trung Nguyen Legend Cafe has 89 stores and a chain of 354 Trung Nguyen E coffee shops in Vietnam. This brand's coffee shops are designed in a modern and sophisticated style with colors of yellow, brown. In each Trung Nguyen Legend store, green trees are used to create a fresh atmosphere while a bookshelf, a booth displaying roasted coffee, coffee beans or instant Trung Nguyen coffee products are the highlight of the shop.
Opening hours: 7am - 10pm
Prices: 40,000 - 110,000 VND (~ $1.71 - 4.74)
3 - The Coffee House
The Coffee House, introduced for the first time in 2014; has opened 140 coffee shops in Vietnam (accounted for 2020). The Coffee House with a simple, elegant and youthful design is one of the most favorable places for meeting or working.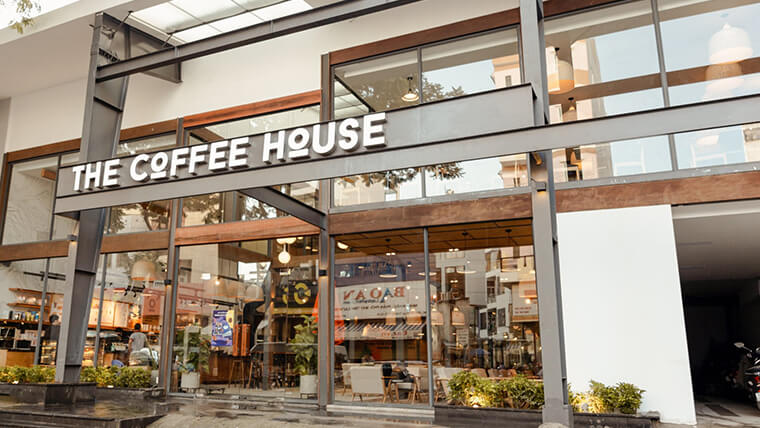 Source: The Coffee House
The core values of this coffee brand are Sincere - Caring - Creative - Brave. They also have no reluctance in sharing the story of turning the coffee beans on the farm into the finished product. Apart from coffee products, other food & beverages such as juice, macchiato, cakes,..are available. Guests can also find coffee beans, roasted coffee for homemade preparation here.
Opening hours: 7am - 10pm
Prices: 29,000 - 59,000 VND (~ $1.25 - 2.54)
4 - Phuc Long coffee shop in Vietnam
Phuc Long Coffee & Tea has truly conquered dynamic young people with its unique beverages and simple & youthful design. Teas are the leading beverage but coffee is also a favorite drink here. The tea and coffee sprouts are selected with a rigorous process that saves their distinctive flavour. The journey to preserve the taste of pure Vietnamese coffee is cherished by Phuc Long through every step of raw materials selecting, processing and serving. Visitors can come here for a cup of tea, coffee or take some packaged tea and coffee to home.
Opening hours: 7am - 10pm
Prices: 28,000 - 65,000 VND (~ $1.2 - 2.8)
Reconstructing a typical Vietnam's historical period of time
5 - Cong Cafe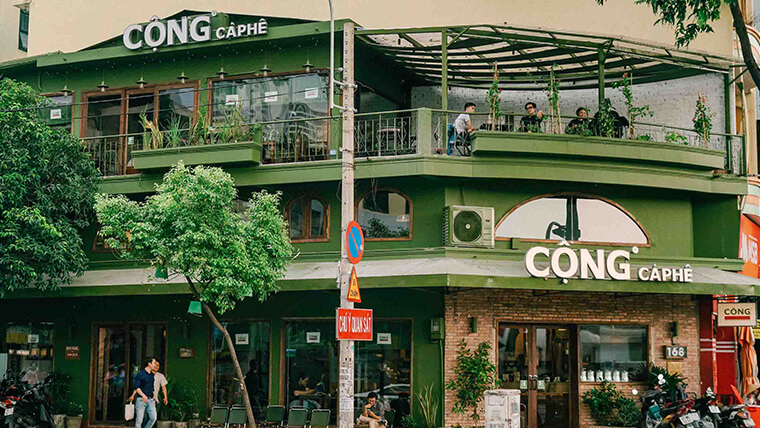 Source: Congcaphe
Cong cafe is one of the most special Vietnamese coffee shops in which a military Vietnamese space in the 70s-80s is extensively reappeared, with old items in the Vietnam' subsidy period such as tables and chairs, table towels, cups, sun-helmets.
After the first coffee shop opened in 2007, this brand has had 57 cafés in Vietnam and 7 ones in other countries such as Korea and Malaysia. The reception of domestic and foreign customers is affirming the quality of products & service of this brand.
The powdered coffee or instant coffee and some items such as fabric, leather & paper items, the product made from porcelain, are available for sale at the cafés.
Opening hours: 7am - 10pm
Prices: 25,000 - 59,000 VND (~ $1.07 - 2.54)

Indigenous style
6 - Aha Coffee chain
Aha coffee - a newly famous Vietnamese coffee shop chain which is designed in an open & simple space with the combination of wooden furniture and green trees bringing a sense of comfort and nature-friendly.
The diverse menu of Aha includes coffee, tea, ice cream or cakes, at which the coffee drinks are the leading dishes. The coffee beans of Aha are planted at an altitude of 1,500m with the temperature difference from 15 - 20oC to ensure the best quality of the collected coffee beans with ripeness over 90%. The ground coffee for sale will be a nice gift for tourists to take home.
Opening hours: 7am - 11pm
Drink prices: 25,000 - 45,000 VND (~ $1.07 - 1.93)
7 - Kafa Cafe
The Kafa Coffee brand owns about 53 coffee shops in Vietnam. Besides having a youthful & fresh space with simple wooden chairs & tables, the Kafa coffee makes guests impressed by its coffee quality. The coffee beans are carefully selected and processed to ensure the best drinks quality and taste consistency.
The coffee products such as whole-grain coffee, machine-specific roasted coffee, and Vietnamese traditional coffee are sold at the price of about 100,000 VND/ pack ($2.15).
Opening hours: 7am - 10pm
Prices: 15,000 - 40,000 VND (~ $0.64 - 1.72)
The foreign coffee brand chain in Vietnam
8 - Starbucks Coffee chains in Vietnam
Starbucks coffee - a worldwide coffee brand entered the Vietnam coffee market in 2013 and owned 64 shops in this country till 2020.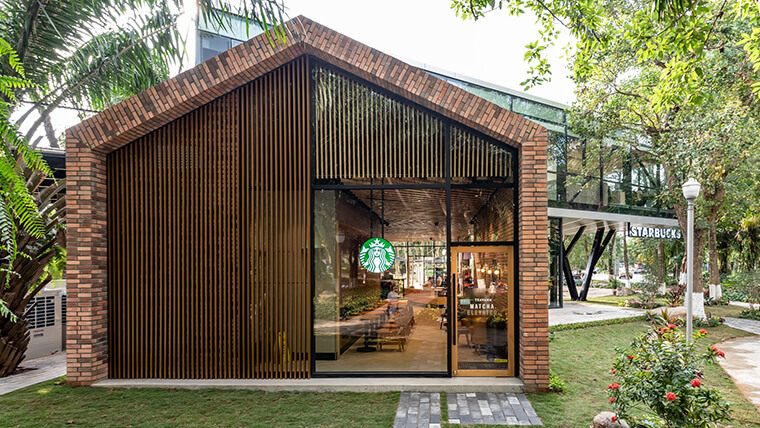 Source: Starbucksvietnam
This brand brings to Vietnamese customers not about the unique taste of a cup of coffee, but also about the experience of guests with high-quality services. Another interesting thing about Starbuck is that this brand pays more attention to the harmony of local culture and the surrounding environment.
Opening hours: 6:30am - 11pm
Prices: 50,000 - 220,000 VND (~ $2.15 - 9.48)
The coffee shops are located on every street and corner. Hanoi, Saigon and big tourist cities are the best places to immerse yourself in one of the best coffee hubs in the world.
II - Some unique Vietnamese coffee shops in Hanoi
Hanoi Old quarter is a hub of unique & special coffee shops where you can enjoy a peaceful space and impressive architecture that brings the nostalgic breath of old Hanoi.
1 - BlackBird Coffee
This coffee shop has a Japanese-style exterior, a popular destination for many young people in Hanoi. Located at the corner of Chan Cam Street in Hanoi Old quarter, this small coffee shop is an orange and grey color. The beverages here are incredibly delicious that make this cafe shop more unique and attractive.
Address: No.5 Chan Cam Street, Hoan Kiem District, Hanoi
Opening hours: 7am - 9pm
Prices: 20,000 - 70,000 VND (~ $0.86 - 3.01)
2 - Giang Café - a must try Vietnamese coffee shop in Hanoi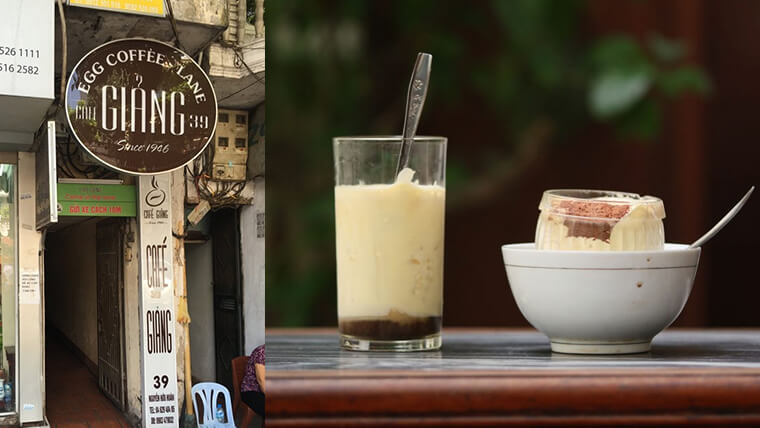 Source: Cafegiang
One of the oldest cafes in Hanoi, Giang coffee opened in the 1920s still maintains its inherent delicious taste despite two times of venue changes. This place always is listed as a must-visit cafe in Hanoi at which visitors can have a chance to enjoy Vietnamese Egg coffee - the most unique and delicious coffee in the world. Moreover, beer or cocoa with egg yolk or other traditional Vietnamese coffees are amazing offers for guests.
Address: 39 Lane, Nguyen Huu Huan Street, Hoan Kiem District, Hanoi
Opening hours: 7am - 10:30pm
Prices: 30,000 - 84,000 VND (~ $1.29 - 3.62)
3 - RuNam Cafe
This coffee shop in Vietnam's capital is famous for its delicious - pure coffee with the beans that are selected from the finest Arabica & Robusta beans being planted in Central Vietnam, processed by superior roasting technology of experienced Italian people. RuNam cafe conjointly won over diners' hearts owing to its luxurious space, European royal vogue with the design of brown wood and light yellow tones.
Address: No. 13 Church Street, Trang Tien Ward, Hoan Kiem District, Hanoi
Opening hours: 7am - 10:30pm
Prices: 82,500 - 104,500 VND (~ $3.55 - 4.5)
4 - An' Garden Coffee
An' garden coffee is one of the most unique and impressive Vietnamese coffee shops in Hanoi. An 'garden Café with hanging gardens along with the harmonious combination of light, materials and interior is worthy of a prominent destination when you come to Hanoi.
A large space surrounded by trees and bamboo creates the relaxing feeling of being close to nature. Located far from the city center, this cafe is highly recommended for those who are looking out for a tranquil and well-aired place to enjoy a cup of coffee.
Address: No.56 BT8 Van Quan lake, Ha Dong District, Hanoi City
Opening hours: 7am - 11pm
Prices: 20,000 - 70,000 VND (~ $0.86 - 3.01)
5 - Work Cafe Hanoi - a unique coffee apartment Vietnam
The space of Work Cafe Hanoi has a simple design with light yellow tones, and rustic interiors with wooden chairs & tables and bookshelves. This cafe is a suitable place for visitors who need a quiet space for working or reading. And the beverages are quite diverse and delicious as well.
Address: 4th Floor, Vincom Ba Trieu, No.191 Ba Trieu Street, Hai Ba Trung District, Hanoi
Opening hours: 9am - 9pm
Prices: 50,000 - 100,000 VND (~ $2.15 - 4.31)
6 - Nola Cafe
A small Vietnam coffee shop nestled in the centre of Hanoi's Old Quarter with a uniquely colourful space. Inside, the store bears the imprint of a Hanoi with an ancient and quiet space. In particular, the whole area of ​​Nola Cafe is located in a classic house of Hanoi people, where you can admire the images of old Hanoi including oil lamps, teapots, stairs, etc.
Address: No.89 Ma May Street, Hang Buom Ward, Hoan Kiem District, Hanoi
Opening hours: 10am - 11pm
Prices: 25,000 - 55,000 VND (~ $1.07 - 2.37)
III - Some unique Vietnamese coffee shops in Ho Chi Minh City
1 - Babros Coffee Roaster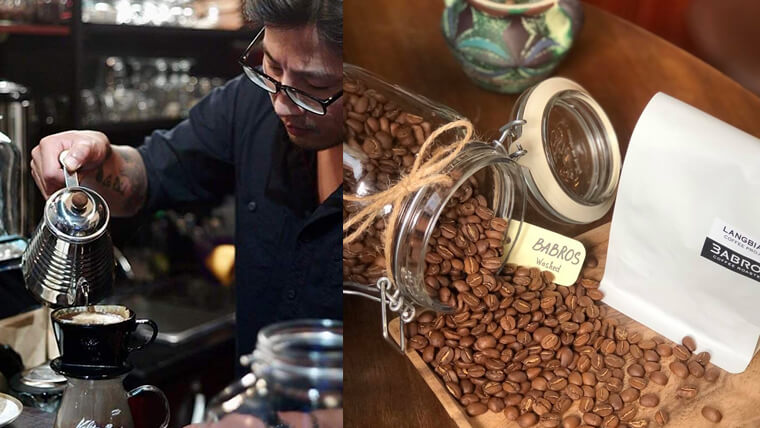 Source: Babros Coffee Roaster
This is a small and quiet coffee shop on Dang Dung street. This café location is a bit hard to seek out, the design and coffee are so nice for a wandering day in Saigon.
Address: No.54 Dang Dung street, Tan Dinh ward, District 1, Ho Chi Minh
Opening hours: 8am - 8pm
Prices: 40,000 - 80,000 VND (~ $1.72 - 3.44)
2 - Cheo Leo Cafe
This is one of the oldest "Vot cafes" or net-filter Vietnamese coffee shops in Saigon. Cheo Leo Cafe opened in the 1938s and became more famous for its unique coffee-making process. Instead of using the normal filters, people use a spoon-net filter which resembles a small fish landing net made from cloth and steel.
This café with small space but full of time-tinged items like water pot, teapot, coffee grinder,.. brings to mind the "taste" of an old Saigon.
- Address: No. 109/36 Nguyen Thien Thuat Street, Ward 2, District 3, Ho Chi Minh
- Opening hours: 5:15am - 0pm and 1pm - 6:45pm
- Prices: 8,000 - 15,000 VND (~ $0.34 - 0.64)
3 - Terrace Cafe - nature-friendly
This Vietnam coffee shop is like a "romantic garden" in the center of the splendid city of Saigon. The entire space is uniquely designed, a harmonious combination of large iron bird cages and a greenery system, where visitors will feel lost in the rainforest. These extraordinary things, along with delicious drinks and snacks, have always attracted a large number of visitors.
Address: Ground floor, Saigon Center, 65 Le Loi Street, Ben Nghe Ward, District 1, Ho Chi Minh City
Opening hours: 7am - 10:30pm
Prices: 50.00 - 110,000 VND (~ $2.15 - 4.74)
4 - Blank Lounge Coffee & Bar
It is recognised as the tallest coffee shop in Vietnam and Southeast Asia as well, located on the 75th & 76th floor of the Landmark building. This is one of the great places to admire the sunrise, sunset and city scenery. In the Blank Lounge Coffee & Bar, guests can enjoy a meal of several dishes with excellent services
Address: 75th & 76th floor at Landmark 81 Building, No.722 Nguyen Huu Canh Street, Ward 22, Binh Thanh District, Ho Chi Minh
Opening hours: 9am - 10pm
Prices: 80,000 - 2,000,000 VND (~ $3.44 - $86.2)
5 - The workshop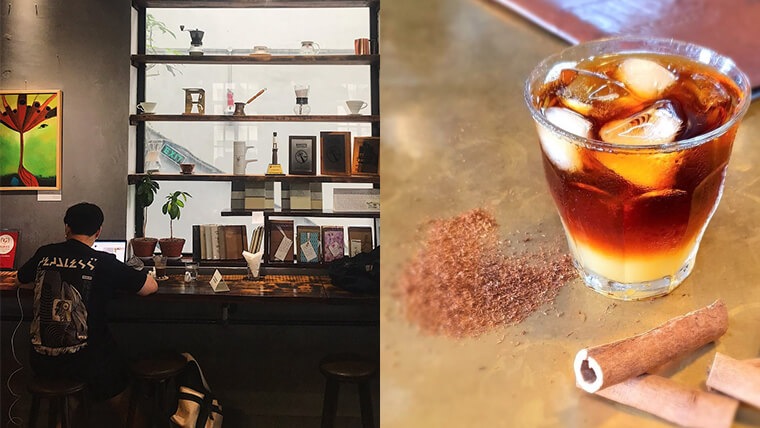 Source: The.workshop.coffee
The simplistic style with brown and light yellow tones in the design of the Workshop creates an elegant and gentle atmosphere for guests. The private rooms and spaces of the workshop coffee shops in Vietnam are focused to meet the requirements of working, reading, studying. Also, The Workshop provides light foods, such as pasta, salads, sandwiches, cakes.
Address: 2nd Floor, No.27 Ngo Duc Ke Street, District 1, Ho Chi Minh City
Phone number: 028 3824 6801
Opening hours: 7am - 8pm
Drink price: 20,000 - 80,000 VND (~ $0.86 - 3.44)
6 - OZ Coffee House
This is one of the cafes that has the most romantic and green space in Saigon. This place is also a familiar address for appointments, gatherings, birthday parties, etc. OZ Vietnamese coffee house has different areas for experiencing such as indoor & outdoor zones, close to a swimming pool area. With three branches in the city, every single one is a new adventure.
- Address:
+ Branch 1: 207/31 Le Van Sy Ward 13, District 3
+ Branch 2: 30 Huynh Tinh Cua, Ward 8, District 3
+ Branch 3: 273/46 Nguyen Van Dau, Ward 11, Binh Thanh District
- Opening hours: 7am - 10pm
- Prices: 20,000 - 120,000 VND (~ $0.86 - 5.17)
It can be seen that Vietnam coffee shops are extremely diverse in both design style, types of coffee, or ways of enjoying them. For coffee lovers, coming to Vietnam without visiting a coffee shop will not be a complete trip.