Wet rice civilization appeared in Vietnam a long time ago (about 10.000 years ago) and is the pride of every Vietnamese. Vietnam white rice grains are associated with Vietnamese people's warmth and culture, with a multitude of dishes creating a unique cuisine that is rarely available anywhere. Vietnam has many achievements in rice export. By the beginning of 2020, it surpassed Thailand and gained the second highest rice exporting position globally. This article is a quick look at rice in Vietnam culture and cuisine.
I - Overview
1 - Rice cultivation in Vietnam
Vietnamese wet rice civilization
About 10,000 years ago, wet rice civilization appeared in Southeast Asia and opened wet rice civilization in Vietnam. Vietnamese people grow rice and rice has become the primary food source during 4000 years of culture. (Source: Làng Tre Việt)
In the past, farmers used their agricultural tools to produce and exploit wet rice crops, such as hoes, sickles, rice millers, plows, etc. They used buffaloes and cows to plow the fields. These tools are simple but useful and are still widely used.
There are two main rice crops in Vietnam: Winter-Spring rice crop (from February to May) and Summer-Autumn rice crop (July - October).
Nowadays, some rice production stages and harvesting have the support of machines that save farmers labour and time, such as rice planters, rice harvesters, plowing, etc. The rice-growing areas, particularly the Mekong River Delta, produce three rice crops per year instead of 2 rice crops in the past, producing up to 20 million tons of rice in just one year.
The main types of rice in Vietnam
Sticky rice is more extensive than usual, round, amylopectin-containing rice. People often use it to cook sticky rice and make glutinous cakes such as Chung cakes, round sticky rice cakes, and floating cake (made of bits of brown sugar wrapped in glutinous rice paste and cooked by scalding in boiling water), etc.
Compared to sticky rice, the smaller size of ordinary rice, the long and flattened rice grain, is today the most common type of rice. Regular rice contains starch, protein, vitamins, calcium, etc. It brings a high nutritional content. Some of the famous brands of ordinary rice that cannot be ignored are Dien Bien's fragrant rice, North sticky rice, Bac Huong Nam Dinh rice.
Besides sticky rice and ordinary rice, several other types of rice, such as brown rice and black rice, are also produced and used in Vietnam.
Rice growing in Vietnam
Source: Trinh Ngoc Dai
Based on natural conditions and customs, the main rice-growing areas are mainly the Red River, the Central Coastal Delta, and the Mekong River Delta. One unique thing is that in high mountainous areas such as Ha Giang, Lao Cai, and Yen Bai, rice is cultivated on the hillsides to form terraced fields.
2 - Rice exporting
In 2019, Vietnam exported 6.37 million tons of rice, up 4.1% in rice exports compared to 2018. The Philippines is one of the leading countries importing rice from Vietnam, accounting for 33.5% of total rice exports. The average rice price up to October 2020 is about 9,000 - 9,350 VND/kg ($0.38 - 0.4), depending on the rice type. Also, the price of broken rice is stable at $493 - 397 per ton on the world market.
II - Rice in Vietnamese cuisine
1 - Vietnamese rice food culture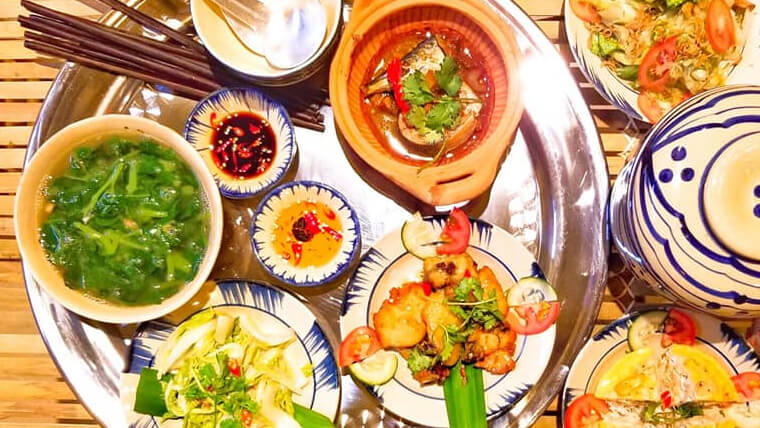 Source: Fb Bep1985
Rice is a must-have dish in Vietnamese food. So, instead of saying "enjoy your meal," Vietnamese people often say "enjoy your "rice" meal." The Vietnamese will eat white rice with savory dishes, vegetables, soup, and a typical bowl of sauce. Rice enters Vietnamese cuisine through hundreds of thousands of dishes made from vermicelli, pho, noodles, cakes, sticky rice, sweet soup, porridge, etc.
Vietnamese people are cooking rice according to the following principles:
Wash the rice to remove the grit and impurities before cooking.
The ratio of water and rice, two parts of water and one part of rice
Ancient Vietnamese used clay pots to cook rice to create softness, flexibility, and aroma for the seeds.
2 - Vietnam rice dishes
Rice is the primary food source, wet rice civilization and has a long history. With Vietnamese people's creativity, Rice has produced essential dishes of Vietnamese cuisine made from pure white rice grains. International visitors to Vietnam will certainly not ignore rice dishes that have unique flavors and a long-standing attachment to identity and culture here. Typical dishes from rice can be mentioned as:
Cooked rice - Com
Rice dishes are the most popular and indispensable dishes in every family of rice trays. Soft, fragrant rice seeds are eaten with delicious food to help you feel full for a long time, giving your body more energy. Also, rice is also "transformed" into other unique dishes such as bamboo-tube rice in high-mountain areas such as Son La, Hoa Binh, Ha Giang, Lao Cai; burnt rice in Ninh Binh, etc.
Vietnamese rice noodles
Pho is considered a "national soul" dish that everyone thinks about when it comes to Vietnamese cuisine. To have a delicious pho bowl, the rice noodle must be made with rice flour, coated in thin layers, steamed, and cut into small strands to taste. Along with the rice noodle, the pho bowl filled with meat and bone broth has a delicious and irresistible taste.
Vermicelli, noodles, noodle soup
Similar to pho, noodles are also made from rice but have different sizes and flavors. In vermicelli, Vietnam has many unique types of vermicelli such as Vermicelli/ noodle with fried tofu & shrimp paste, Hanoi combo noodle soup (chicken, egg, pork & sausage), Kebab rice noodles, Paste Vermicelli Soup, fish-sauce vermicelli, etc. Each dish contains different delicious flavors that anyone has ever tried. It's not going to be forgotten.
Besides, the noodles are smaller and chewier, but the cooking method is similar to vermicelli. It can be eaten with broth or mixed well. These rustic dishes are processed everywhere by people with many different flavors, creating each locality's typical dishes.
Sticky rice
Vietnam rice variety is an important basis for creating many varieties of sticky rice processed differently, but each has the characteristics and identity of each locality and region. The highlight is the five-color sticky rice of the Northwest highlands with eye-catching colors. The upland sticky rice seeds help make sticky rice fragrant and are considered a specialty that attracts tourists every time they come here.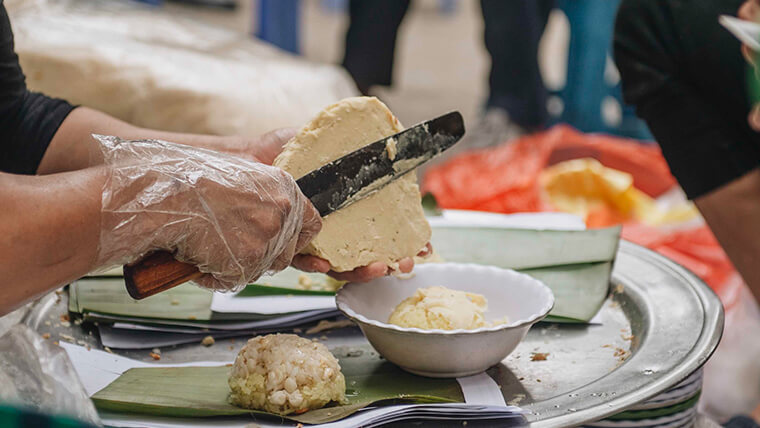 Source: Kenh14
Moving down to Hanoi's capital, surely no one can ignore the package of golden steamed glutinous rice wrapped in lotus leaves. Vendors soak rice in turmeric juice, slice green beans, sprinkle with scallion oil, and sprinkle with little crispy fried onions that everyone wants to taste once.
Ho Chi Minh City is famous for its savory sticky rice. Sticky rice is made from fragrant glutinous rice, served with many delicious dishes such as sausage, spring roll, pate, chicken drumstick, barbecue pork, etc. Hot sticky rice package, blended with delicious side dishes, sprinkled with a creamy sauce, is the favorite food of the people of Saigon every morning.
Porridge
Porridge is one of the most popular Vietnamese rice dishes, probably second to ordinary rice. Everyone from small to old can eat porridge because it's easy-to-digest but also the nutritious properties are good for the sick. Vietnamese people have many ways to prepare porridge. Every dish is delicious, such as porridge scallion, Aconitum fortunei porridge (Ha Giang), pettitoes porridge, perilla porridge, pork rib porridge, Nghe An eel porridge, etc.
Types of rice cakes
On the traditional Tet days, Vietnamese people often pack Chung cakes and round sticky rice cakes to enjoy the tray together on the first day of the new year. These are two traditional cakes associated with national history as well as culture and national identity. After being washed, aromatic sticky rice soaked overnight to be soft enough, together with green beans and pork, dried onions wrapped in green dong leaves creating one of the most traditional delicious cakes of Vietnamese rice recipes.
Chung cakes, round sticky rice cakes are made from rice, and many other cakes created by Vietnamese people and gradually become popular dishes such as floating cake, rice pyramid dumplings, and plain rice flan, glutinous rice doughnut, and steamed wheat flour cake.
Girdle-cake
Source: Tra My Mai
Girdle-cake, also known as rice paper, is often used in spring rolls - a Vietnamese dish. This is made from pureed rice grains, mixed with water, thinly coated and dried, so it is very soft and relatively comfortable to eat. Not only used to roll spring rolls but also can be grilled or chopped and mixed with spices to form mixed rice paper. Famous places for girdle-cake can not be ignored, such as Bac Giang, Thanh Hoa, Phu Yen, Tay Ninh, etc.
Rice wine
Rice is not only the main ingredient of Vietnamese foods but also for drinks. Rice wine is sort of the main traditional beverage in Vietnamese culture and cuisine. After cooking, the rice shall be cooked with yeast for 4-5 days, depending on the weather, and put in a pot. The spot's superior design for wine brewing consists of a tube above which the pot is extended through a cold water container to produce condensed wine droplets. This method is handmade but crystallizes the fragrant wine drops, mixed with a little sweetness, a little spicy, and a must-have in a rice tray or a men's drinking party.
It can be said that the rice of the Vietnamese people plays an essential and indispensable role in every person's life. There are lots of delicious dishes and drinks made from rice in Vietnam that become the top elegant food in the world.