Da Nang is a city located on the South Central Coast of Vietnam. Danang is the leading tourist center with many attractions. One of them is Ba Na resort located on an altitude of over 1000m with the cable car system that has achieved many world records including the longest and the largest angle deviation cable, and the system of pagoda temples and shrines reflect traditional Asian architecture. There are also churches built in Western architectural styles such as the Church of Chicken. The Museum of Cham Sculpture has the biggest collection of Cham art in the country.
I - Overview
1 - Architecture of Golden Bridge in Da Nang
People often think of Danang as the "City of Bridges". There are currently 6 bridges connecting the east-west banks of the poetic Han River that crosses through the city including Han River Bridge, Dragon Bridge, Thuan Phuoc Bridge, Tien Son Bridge, Tran Thi Ly Bridge, and Nguyen Van Troi Bridge. There is also another famous bridge, which is called Golden Bridge - a place listed in the 100 most wonderful destinations of the world, voted by Time magazine.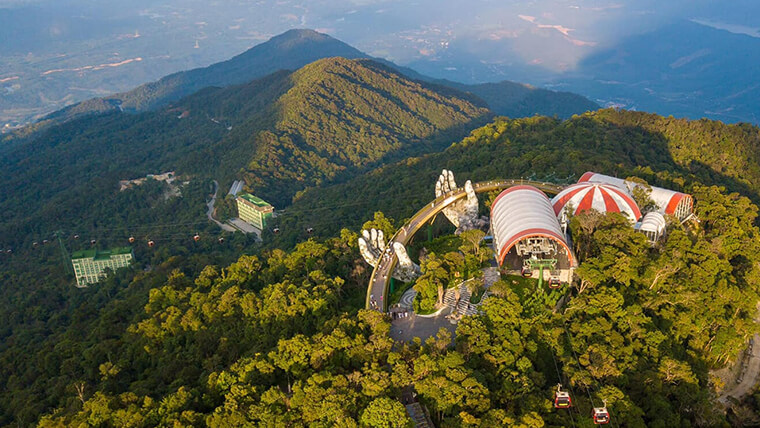 The giant hand bridge in Vietnam is 150 meters long, consisting of 8 spans, and 5 meters wide, located at an altitude of 1,400 meters above sea level, located right on the Ba Na Hills resort in An Son hamlet, Hoa Ninh commune, Hoa Vang district, Danang city.
This Bridge designed by a group of authors Vu Viet Anh, Nguyen Quang Huu Tuan, Tran Quang Hung, Pham Thi Ai Thuy, Phan Thi Thanh Hien, Khong Minh Trang - TA Landscape Architecture Company (Architectural and Landscape Design Consultant Co., Ltd Thuy Anh).
Not only the form and shape of it are well-conceived, but the designers also want it to be connected with nature. The Vietnam hand bridge location is the connection of the real and the virtual world between humans and nature through a mysterious story about the land of the sacred gods residing in this place.
Although it was just opened in 2018, this place has attracted a lot of local and international tourists, many fashion shows, and wedding photography also take place here.
Once there, it will feel quite obvious that there are 4 seasons in the same day. In the morning, the weather feels like spring with the cool air pervading from the mysterious fog. At noon, it is like summer covering every corner but still, it is relatively cool. At night, it turns to be as cold as winter.
You can go to visit Ba Na Hill at any time of the year but the best period is from March to September. At this time the rain is less frequent and heavy, the weather is nice, transparent and blue which makes it very convenient for travel and taking pictures.
December or January are also quite good times to visit. If you come to visit from September to November, it is very likely to rain. April to August is the peak tourist season, so if you like to see the crowd, you can pick this time.
2 - The impression of the Golden Bridge in Vietnam
Right after its opening in June 2018, the bridge has been at the top of the list of "100 World's Greatest Destinations in 2018" after only two months of its launch. In particular, there have been many world-famous magazines that have written interesting articles about it.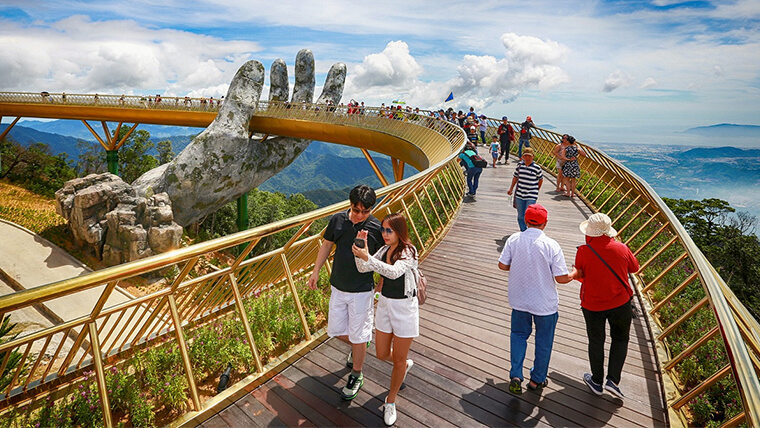 Time magazine described the Golden Bridge as "Two giant stone hands reaching out from the mountains in Central Vietnam, gives it a look of an old remnant from ancient times." Don't be fooled because that is a network of metal wires and fiberglass used to support an incredible pedestrian bridge that was opened in June.
Meanwhile, the famous British daily newspaper, Guardian, honored this Vietnam' bridges in "the top 10 bridges with the most unique and beautiful architecture in the world."
The Huffington Post of the US confirms this is "the most interesting bridge ever seen", while the Independent claims that this Bridge to be "one of the 10 most unbelievable bridges in the world."
CNN newspaper wrote, "The Golden Bridge is a narrow bridge surrounding the ridge, supported by old, mossy hands. The bridge is designed like Buddha's hands lifting the gold strip. when walking on it, it feels like you are walking on clouds, halfway up the mountain." The Golden Gate has become a very popular destination for tourists.
Two other famous newspapers, Bored Panda and Unilad, compared the Bridge to a real-life scene of the blockbuster movie "Lord of the Rings".
II - How to get to Golden bridge in Vietnam
From other cities and places like Hanoi, Saigon, Hue, Hoi An to Golden bridge you have to arrive at Da Nang first. Here are some main transports you can take from Da Nang city to the bridge on Ba Na hills.
1 - By Bus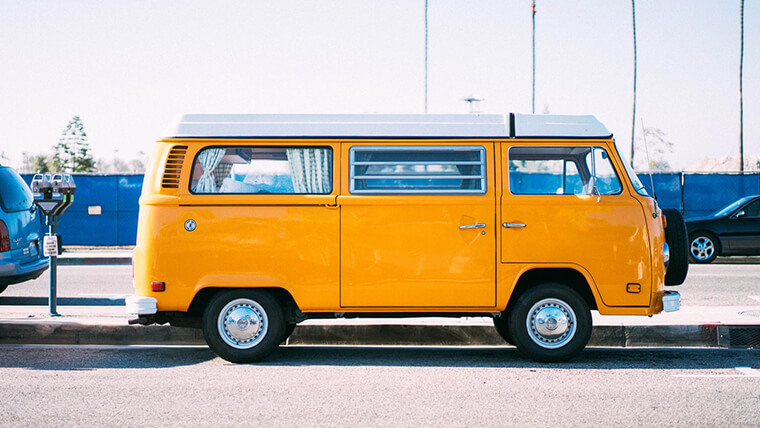 If you have 1 or 2 people and you want to go by yourself instead of taking a group tour, you can catch a bus.
- Bus from Danang: 07:30 - 08:15
- Bus from Ba Na: 15:30 - 15:45
Bus ticket from Da Nang to Ba Na:
- One-way ticket price: $5.34/person
- Two-way: $6.52/person
Hotline: 0905 777 229 (city tour Danang)
2 - By Taxi
If you travel with family or friends, you can also choose to take a taxi to get a discount. There are 7 major taxi companies in Danang such as Mai Linh, Tien Sa, Vinasun, Green, Airport taxi, Song Han, Datranco, Dana, Huong Lua taxi, but Mai Linh, VinaSun Green and Tien Sa taxi are the three largest taxi companies.
These taxi companies serve customers with 2 main cars: 4 seats and 7 seats. The average price is from $0.52 – 0.74/ km depending on the type of vehicle. Different taxi companies will also have different rates and different discount policies.
- Vinasun taxi: 0236 368 6868
- Mai Linh taxi: 0236 356 5656
- Tien Sa taxi: 0236 379 7979
3 - Private car renting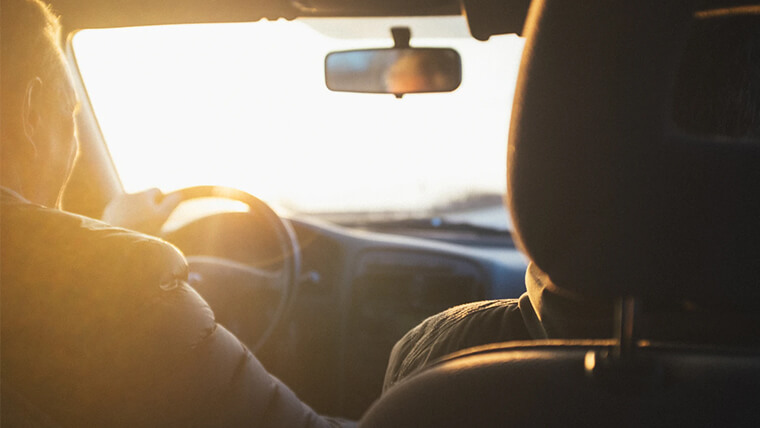 You can rent a car to go to Da Nang buddha hand bridge. There are different types of cars with 4, 7, 16, 32, 45 seats depending on your need.
The 4 or 7-seat cars usually cost around $30.43/day/200 km with petrol not included. You can refer to the following addresses to rent reasonable cars:
City Tour Danang (Da Nang Galaxy)
Address: No.39 Le Huu Khanh street, Khue My Ward, Ngu Hanh Son District, Da Nang City
Contact: +84 905 777 229
Nhat Phong Travel - Danang Long term Rental Car
Address: No.57 Phan Thanh, Thac Gian, Da Nang City
Contact: +84 905.434.437
An Phuoc Hung Company
Address: No 25, Bình Hòa 2, Khue Trung, Cam Le, Da Nang City
Contact: +84 976 707 555
4 - By motorbike
Traveling by motorbike to the giant hand bridge Vietnam is a convenient, economical, and suitable way for young people or for those who have car sickness. By motorbike, it is also easy for you to visit places like Hue, Hai Van Pass, or Hoi An which is just 25-30km away.The price of renting a motorbike ranges from $4.34 – 7.82 a day.
Here are some affordable motorbike rental addresses in Danang:
Gia Huy motorbike rental
Address: No.126/6 Tran Cao Van, Tam Thuan Ward, Thanh Khe District, Da Nang City
Contact number: +84 903 529 586
Motorbike rental Binh Minh
Address: No.36 Ta My Duat, An Hai Ward, Son Tra District, Da Nang City
Contact number: +84 986 862 986
Bao Tin Motorbike Rental
Address: No.70 Le Huu Trac, An Hai Dong, Son Tra, Da Nang City
Contact number: +84 945 048 444
5 - Taking a tour
You can also join the daily retail tour of the City Tour Danang company with a price of $35.2/person. Contact: +84 905.777.229
It includes the following services:
- Round-trip cable car tickets
- Sliding, wine cellar, train climbing. Golden Bridge
- Experience and careful driver
- Travel insurance for passengers during the tour
- Drinking water bottles of 500 ml / 1 passengers in the car
- A 16 -29 seat car, with air-conditioned
- Fantasy Park park with more than 90 exciting games - Professional and enthusiastic tour guide (Excluded lunch buffet)
III - Visiting the Ba Na Hills Golden Bridge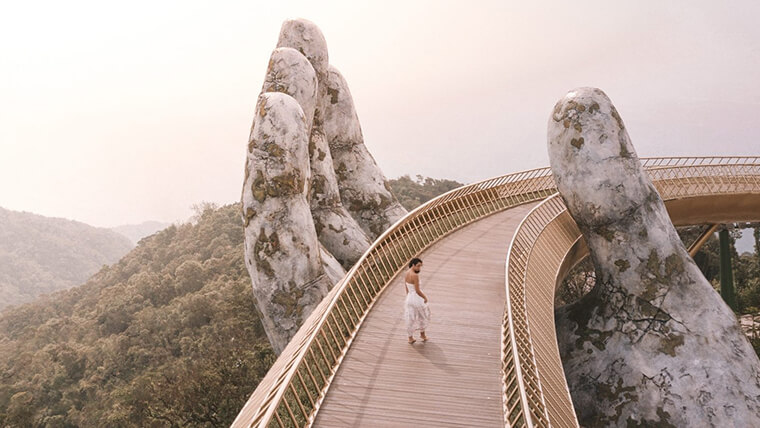 1 - Rules and regulations
Golden bridge entrance fee and ticket price is already included in the package which is from $32.6 - 34.8/adult, and $26 - 28.2/kid.
Clothing: It should be simple and neat, so you should bring a light jacket and an umbrella because the evening there is quite cold with the temperature from 10 to 15°C. Sometimes it can be as cold as 0°C.
- Opening time: From 8:00 to 18:30
- Manner: There is only one way to go to the bridge which is by cable car, so you need to queue line up politely.
Stay in groups of a maximum of 8 people/cabin. The cable car takes about 17 minutes to reach 'Brussels Station'. From Brussels Railway Station, you can walk along 150 meters of wooden walkways to the bridge, flanked by lavender with the handrails made of gold.
2 - Eating and drinking around Da Nang hand bridge
After visiting, you can visit the French village to eat and drink. Here are some French restaurants you can try:
- Le Jardin Restaurant: Serving Vietnamese foods.
- Brasserie restaurant: The food served here is mainly Italian foods, Korean barbecue, and vegetarian pizza.
- La Lavande Restaurant: Serving famous Vietnamese foods.
3 - Accommodation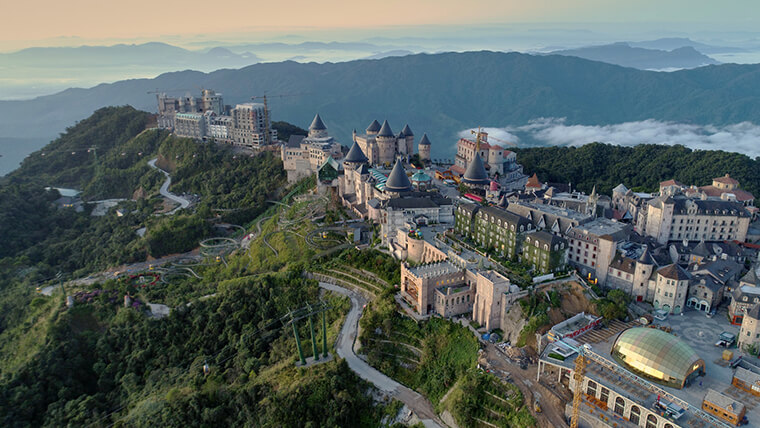 Mercure Bana Hills Village is the only hotel located on the top of the hill which is designed in European style.
Price: $70/ room
Contact: 0236 3799 888
IV - Suggested tour to Da Nang Vietnam Golden bridge
The opening time of the Golden Bridge is every weekday from 8.00 am to 6.30 pm. So the best time for you to start is as early as 8 am. Within this time, you can avoid the crowd and be able to fully enjoy your trip. You should avoid going at 9 am, 10 am, 11 am, 2 pm, 4 pm, the holidays, new Year or during weekends because at this time, it is very busy and you might have to stay in line for hours.
V - Surrounding places to visit
Source: Banahills.sunworld
- Debay Wine Cellar: The old Debay wine cellar is a special structure that was built by the French that related to a deep tunnel through Ba Na Mountain in 1923. The wine cellar runs 100m deep and is always kept at an ideal temperature between 16 to 20oC. Tourists will have a glimpse of the past when visiting this quintessential French wine cellar.
- Le Jardin D'Amour Flower: The 9 gardens of Le Jardin D'Amour are 9 interesting stories in 9 different architectures. They are blended in the harmony with the wonderful nature
- French village: The French village at Sun World Ba Na Hills is a classic and romantic replica of France, in which it features a series of special architects such as squares, churches, towns, villages, and inns.
- Fantasy Park: A perfect destination for the whole family, the Fantasy Park was initiated and inspired by two iconic novels "Journey to the Center of the Earth" and "Twenty thousand miles under the sea" of French writer Jules Verne.
VI - Traveling tips visiting Vietnam golden hand bridge
- Costumes: It should be simple and lightweight, you should also bring a light jacket and an umbrella.
- You should visit other places as well because it is already included transportation fee and other tickets for other attractions
This bridge is one of the most impressive construction in the list of Danang' bridges. From all information and travel guides introduced above, Localtravelidea hopes that you have an amazing trip when choosing to visit the Golden bridge in Da Nang Vietnam.