Being recommended as one of the top places to stay in Danang, Grand Mercure Danang is located at the heart of Vietnam's most livable city, particularly in Lot A1 Zone of the Villas of Green Island, Hoa Cuong Bac Ward, Hai Chau District, about 4km from Da Nang International Airport and 3km from My Khe Beach.
I - Rooms and suites in Grand Mercure Danang Vietnam
The hotel is designed in modern French elegance in harmony with the local culture. Surrounding the hotel are lush green trees and the poetic Han river, which gives guests a sense of comfort and relaxation when being immersed in the beautiful nature.
City view room at Grand Mercure - Source: ahstatic
This 22-floor hotel consists of 272 luxurious rooms and suites fully equipped and offering 5-star-standard amenities and facilities.
1 - Superior rooms in Grand Mercure Danang Hotel
Arranged from the 6th to 16th floor, each of which has an area of 26m2 with panoramic views of Ba Na Hills or the Han River. The room features two single beds or one king-size bed with luxurious sheets and crisp bedding, a generous lounge chair together with workspace offering a large space for working and playing.
2 - Deluxe rooms
Deluxe rooms are situated on the 17th to 20th floor of Grand Mercure Danang Vietnam with an area of 26m2 for each. You are able to enjoy the luxury and privilege of these rooms with the Han River to the east and enviable views of the mountains to the west. You also take advantage of the access to the Privilege Lounge, where you can indulge in a generous breakfast, cocktails, and all-day snacks.
3 - Suites in Grand Mercure Danang Hotel
Suites located on the 19th to the 21st floor with an area of 52m2, featuring a sumptuous king-sized bed in the grand bedroom; a sofa bed, lounger, and workspace in the separate living area; and a spa-like bathroom with a deep stand-alone tub and a walk-in shower. Guests in all suites have access to the Privilege Lounge to indulge in a bountiful breakfast and beverages.
To book a room in Grand Mercure, please visit https://grandmercuredanang.com
II - The system of restaurants & bars in Grand Mercure Danang Vietnam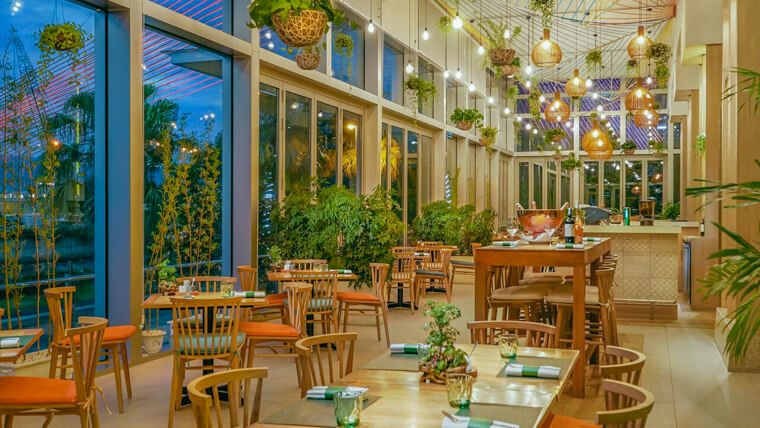 La Rive Gauche Restaurant - Source: tripzone
Besides the luxurious space with various choices of accommodations, the Grand Mercure Hotel also consists of 5 top-notch restaurants and bars:
1 - La Rive Gauche
The restaurant overlooks the sparkling hotel pool and the impressive Tran Thi Ly Bridge. It is famous for its "all-you-can-eat breakfast buffet", offering delectable Vietnamese cuisine and countless international dishes. When it mentions the Grand Mercure Danang buffet, you can treat yourself to the Friday BBQ Seafood buffet or signature dishes of Danang City, particularly Mi Quang noodles to feel the true taste of Central Vietnam.
Opening hours: 6am - 10pm
2 - The Golden Dragon
Located on the second floor, this restaurant is a true paradise for those who are in love with authentic Cantonese cuisine in Danang with an à la carte menu and Grand Mercure Danang dimsum in the main dining room. It also offers a private dining room and 4 half-round banquet tables to meet various needs of diners.
Opening hours: 11:30am - 2pm and 5:30pm - 9:30pm from Saturday to Sunday
3 - The Veranda Grill
The restaurant serves diners the freshest and high-quality meat as well as seafood dishes. It promises to give all diners a fun-filled dining experience with the menu including classic grilled selections and seafood platters served on chargrilled or ice, which is perfect to share with friends and family.
Opening hours: 6pm - 10:30pm except Friday
4 - Nirvana Restaurant in Grand Mercure Danang Hotel
Situated off the hotel lobby, extending into the outdoor pool area with the views of the Han river, Nirvana is a true paradise serving homemade pastries, a full range of fine spirits, beers, wines, soft drinks, fruit juices, and coffee.
Opening hours: 7am - 11pm
5 - Privilege lounge
This lounge is available for guests booking Deluxe rooms and Suites. The exclusive club is located on the 21st floor with a stunning view of Danang Bay. You can freely check-in and enjoy complimentary food and beverages here from 6:30am - 10pm, served by attentive and courteous staff.
III - Other services in Grand Mercure Danang Vietnam
1 - Meetings and events
- Outside catering: You can enjoy a variety of creative food and drinks from various cultures from Vietnam, South Asia, East Asia or Europe, made by top chefs and served by a team of skilled waiters.
- Poolside events: The pool area can carry up to 80 guests in a cozy and stylish ambience and open-air space. This is the ideal venue for cocktail parties, sundowner receptions and other exclusive events.
- Meeting rooms in Grand Mercure Danang Hotel: located on the third floor, five sophisticated meeting rooms have a capacity of 330 people. It is equipped with advanced audiovisual equipment and a wide array of amenities, ideal for business or private events.
- Son Tra Grand Ballroom: is situated on the second floor of the hotel with a panoramic balcony, featuring ample space for up to 520 guests. This is a perfect venue for business events, weddings, banquets, and special occasions.
2 - Grand Mercure Danang spa
Just let yourself indulge in the utmost comfort from Karma Spa on the 4th floor of the hotel, where you are well treated to luxurious spa treatments, in which the signature ones can be mentioned as: Vietnamese massage incorporating acupressure and cupping.
Opening hours: 9am - 10pm
3 - Swimming pool in Grand Mercure Danang Hotel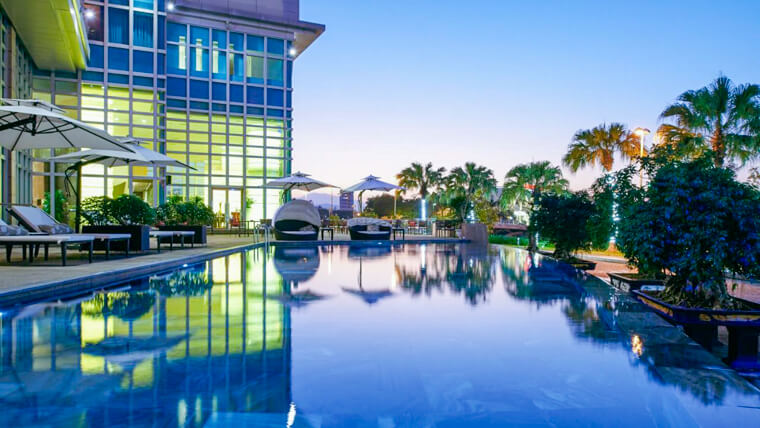 Outdoor pool - Source: booking
The outdoor swimming pool overlooking the Tran Thi Ly bridge is ringed by swaying palm trees. This is an ideal tranquil spot for having a bath in crystal clear water, socializing, and watching the sunset and sunrise.
Opening hours: 6am - 9pm
To indulge in the luxury and utmost relaxation in Danang, do not ignore Grand Mercure Danang Vietnam so that you can enjoy the most excellent services of the prominent hotel in the livable city of Vietnam.