Aside from luxurious resorts and expensive hotels, there are a myriad of hostels in Danang Vietnam scattered all across the city, giving visitors more choice of budget residences. Much as they are cheap, don't stereotype that they are low in quality. Danang hostels have incredibly creative designs, providing guests with decent amenities and comfort. In the following part, we will give you some suggestions about a few famous and quality hostels in this coastal city that you can note for your future trip.
1 - Top 6 hostels in Danang: City Hostel Danang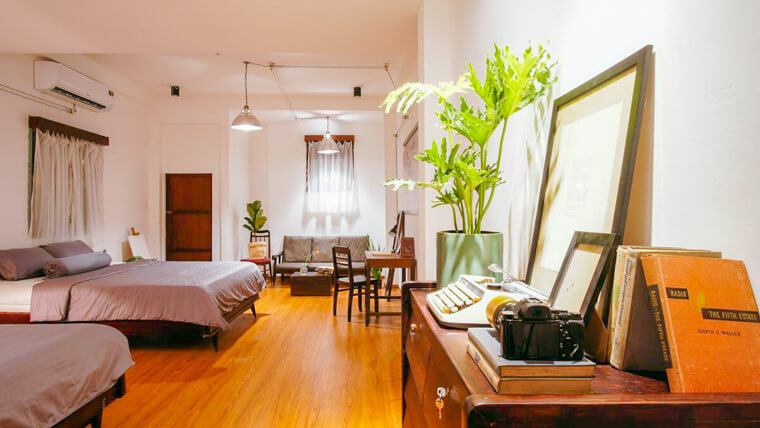 City hostel Danang- Source: expedia.com.vn
City Hostel Danang with yellow and orange theme color is a favorite residence to many young travelers. All guest rooms here are considerately arranged with air conditioners, tea tables, and working tables. This hostel in Danang has big rooms with bunk beds (8 beds, 12 beds), large enough for groups of friends to stay with each other. Suppose you go in a group of up to 20 people, don't worry because the staff here can arrange a block to "rule the world". Interestingly, this accommodation also features a communal toilet so that friends can brush their teeth and do personal hygiene together.
As one of the best hostels in Danang Vietnam, City Hostel is located right at the center of the city, really close to Da Nang airport (10-minute car drive), about 1.3 km from Cau Rong bridge and 3km from My Khe beach. Surrounding the residence is a bundle of restaurants and eating houses, which is very convenient for traveling in this beautiful tourist attraction.
- Address: No.114 Yen Bai street, Hai Chau district, Danang city
- Room rate: 90,000 VND ($3.9)/person/night
- Contact: 0935613018
- Rating: 8.7/10 on Agoda.com
2 - The LightHouse Danang
From The LightHouse Hostel, it just takes you 5 - 10 minutes to drive to get to Da Nang airport, the Dragon Bridge, and Asia Park. Hence, it is considered as one of the best hostels in Danang and often chosen by foreign tourists as a familiar accommodation when traveling here. The hostel has modern architecture with gray, and brown as theme colors. The whole floor of this Danang hostel is paved with wood timbers and furniture follows minimalism. Nevertheless, rooms are still well-equipped with necessities and modern electronics. This hostel lies right on the beach, so just open the window and you can feel the cool breezes from the sea, the sound of waves and the slow-pace rhythm of life.
- Address: No.54 An Thuong 2 street, Bac My An ward, Ngu Hanh Son district Danang city
- Room rate: 300,000 VND ($12.9)/person/night
- Contact: +84934916911
- Rating: 8.5/10 on Agoda.com
3 - Top hostels in Danang: The Secret Garden Danang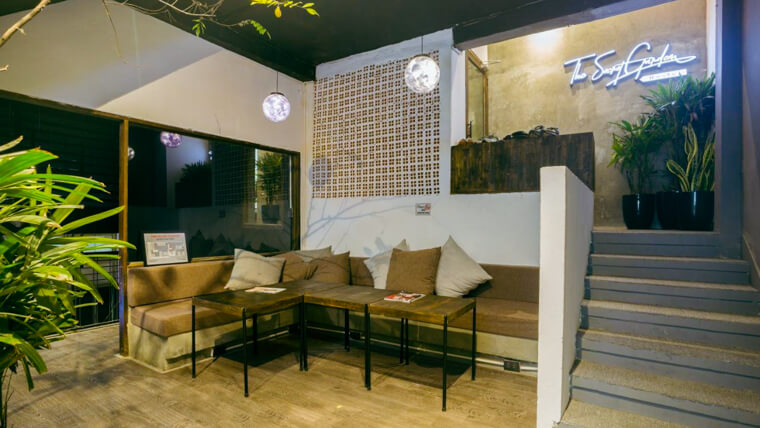 Secret garden hostel Danang - Source: booking
As soon as you enter this hostel, you can't think of it as accommodation for tight-budget visitors because it is a complex of a pub - cafe - hostel, which seems not less luxurious than any villas. Staying at this hostel in Danang, you not only have a quality shelter but also several corners to chill and check in. Especially, with a nice location, just 400m from Indochina Riverside Mall shopping center, Cham Museum,... you can easily go sightseeing, exploring famous tourist destinations.
Amenities and ideal space are important factors that make Secret Garden Hostel one of the greatest hostels in Danang Vietnam. On the campus, the estate encompasses a coffee shop, a pub, and also a cute garden where live music performances, Ladies Night or Social Dance are held every weekend. This is a potential place for parties and a night BBQ.
- Address: Floor 2, No.76 Hung Vuong street, Danang city
- Room rate: 250,000 - 400,000 VND ($10.8 - 17.2)/person/night
- Contact: 08234.07676
- Rating: 8.4/10 on Agoda.com
4 - Pedersen Hostel in Danang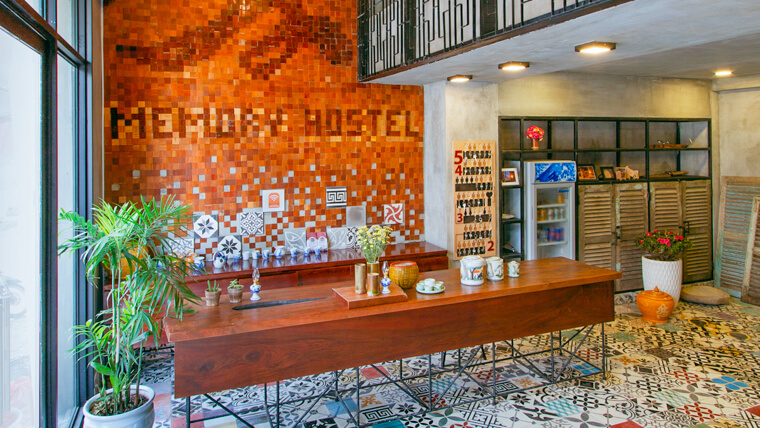 Memory hostel Danang - Source: kienviet.net
Pedersen Hostel makes young travelers love at first sight with an open and beautiful frontage. The interior space of this Danang hostel is filled with light and its warm tone brings you a sense of home. As one of the hostels in Danang, Pederson Hostel is spoken highly of for its cleanliness, dedicated and enthusiastic staff. Furniture items such as bed, wardrobe, sofa are just monochrome, neither flashy nor extravagant but unique. The accommodation also provides rooms for family, bus shuttle, traveling tour,... Thanks to affordable prices, and frequent discounts, the residence is full all year round. If you and your friends are about to travel to Danang, don't skip this hostel in Danang.
- Address: No.01 An Cu 6 street, An Hai Bac ward, Son Tra district, Danang city
- Room rate: 880,000 VND ($37.9)/room/night
- Contact: (+84)974.400.110
- Rating: 4.5/5 on Tripadvisor
5 - Memory Hostel - one of the best hostels in Danang city
Talking about cheap accommodations adjacent to Han River, Memory Hostel is one of those with impressive architecture. Externally, the entire building is covered with dark tawny tiled bricks artistically ordered. These bricks are not aligned like normal buildings but arranged unevenly, making the walls look like waves. The interior of this Danang hostel is a combination of modern and retro styles. Furniture is made in traditional style such as sinks made of cement, bathroom floor paved with wood,... and almost all items are recycled from old things, bringing guests closer to nature.
- Address: No.3 Tran Quoc Toan street, Hai Chau district, Danang city
- Room rate: 170,000 VND ($7.3)/person/night
- Contact: 0236 3747 797
- Rating: 8.7/10 on Agoda.com
6 - Nang Capsule Hostel Danang
Being one of the greatest hostels in Danang Vietnam, Nang Capsule Hostel has a prime location. Staying here, you can easily travel to well-known recreational destinations and eateries in the city. The residence is in close proximity to the Han River and the beach, an ideal place for night walks and watching firework performances at Han Riverport on holidays.
A special thing about this hostel in Danang is that it is considered as the first capsule hostel in Danang. When coming to Nang Capsule, you will be interested in capsule rooms looking very awesome which are distinctive settings for check-in. The name "capsule" may bring you the sense of narrow and captured space but capsules in this hostel will mesmerize you thanks to their comfort and modernness. Each bed is 1.2m in width and 2.2m in length, having a warm, smooth, and clean cushion and other gadgets such as an outlet, wire-fire, lamp, clothes-hanger,...
- Address: No.56 Le Loi street, Hai Chau district, Da Nang city
- Room rate: 150,000 VND ($6.5)/person/night
- Rating: 8.3/10 on Agoda.com
These are the Top 6 worth-trying hostels in Danang Vietnam that we want to introduce to you. As you can see, at a quite reasonable price, you can still enjoy many decent services and memorable experiences. If you are about to book a trip to this coastal city in Vietnam, please refer to this article for a better choice.