The average temperature of seawater in Da Nang depends on the seasonal temperature, ranging from 28 to 30℃ in June, July, August and 18 to 23℃ in January, February and December. From April to August is the most appropriate time to go to Da Nang because the weather is stable, sunny, and there are no rain and storms coming, visitors can comfortably enjoy their vacation without worrying about the weather.
I - Da Nang beaches in the north area
1 - My Khe Beach
My Khe beach is located in the heart of Da Nang city. The clear, gentle My Khe seawater, the continuous fine white sand and the green coconut trees in the sunlight will definitely make a strong impression on you, making you fall in love. Here, you will understand why this beach is considered the most attractive on the planet. There are many activities on the beach for both adults and children, such as building sand castles, paragliding, windsurfing, fishing, and diving.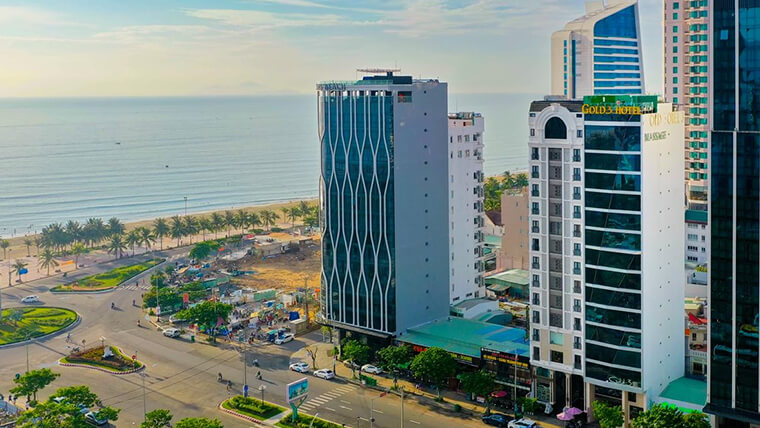 My Khe Beach - Source: Internet
In My Khe, fresh seafood is processed into many delicious dishes such as tamarind roasted crab, grilled scallop, seafood hot pot, grilled squid, satay,... You can enjoy delicious dishes at the instant seafood market, Be Man seafood restaurant (No 2 Vo Nguyen Giap, Man Thai, Son Tra), San Ho restaurant(12-13 Hoang Sa).
2 - Pham Van Dong beach
Pham Van Dong Beach in Da Nang is located on the East Sea Park. It consists of fresh beach, green water, smooth white sand. On the beach, there are rows of coconut trees and green grass, very suitable for tourists to bathe in the sun. This is the place chosen to hold many competitions: international parachute, paragliding, sand statue building.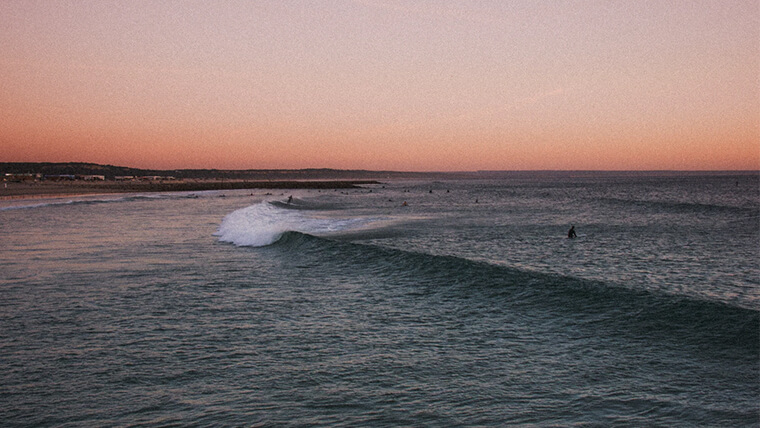 Pham Van Dong beach - Source: John Jason
Around Pham Van Dong beach, there are many restaurants with special dishes you must visit. A few examples are Pho Nuong Tokyo restaurant (4 Pham Van Dong) with Japanese food, Seafood Le Gia II (Lot A5 Pham Van Dong) with a variety of fresh seafood processed to keep fresh or Korean. Garden (16 Pham Van Dong) attracting visitors with Korean food ...
In terms of accommodation, there are quite a few options for you. Some of the hotels include: Adina Hotel Danang (Lot G6 G7, Pham Van Dong), Gic Land (7 Pham Van Dong), Sea Garden (29-33 Le Van Quy), Merry Land Hotel (Lot B20 -21 Pham Van Dong) ...
3 - Bac My An Beach
Located about 7km from the center of Da Nang city to the Southeast, Bac My An beach welcomes many tourists to travel every year.
This is another amazing holiday beach Da Nang for relaxation. The clear blue water, stable temperature, and fresh air are the attractions of tourists, especially foreigners. When the night comes, the beach appears with magical beauty that you cannot forget.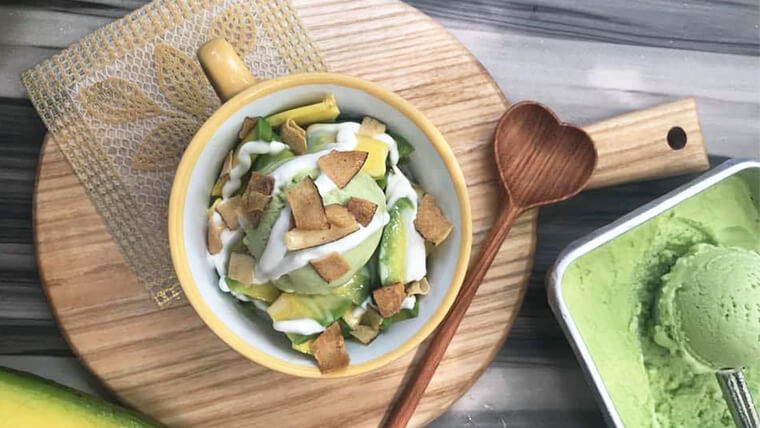 Butter cream - Source: Xuka
Bac My An beach cuisine stands out with the Bac My An market that has a wide collection of Central dishes from snacks to main courses : snails, butter cream, tea, smoothies, pancakes, vermicelli, banh canh ...
If you intend to go to Bac My An beach, some good service hotels should be noted such as Dreams Hotel (410 Vo Nguyen Giap), Fansipan Da Nang Hotel (424 Vo Nguyen Giap), Royal Charm Hotel (Lot 46 Tran Bach Dang) ...
Windsurfing, canoeing, coral viewing ... are some of the typical fun activities when coming to Bac My An, nothing is better than participating in activities with friends and relatives, right?
4 - Non Nuoc beach
Non Nuoc Beach is located in Hoa Hai ward, Ngu Hanh Son district, right at the foot of Ngu Hanh Son mountain, increasing the green beauty of the beach.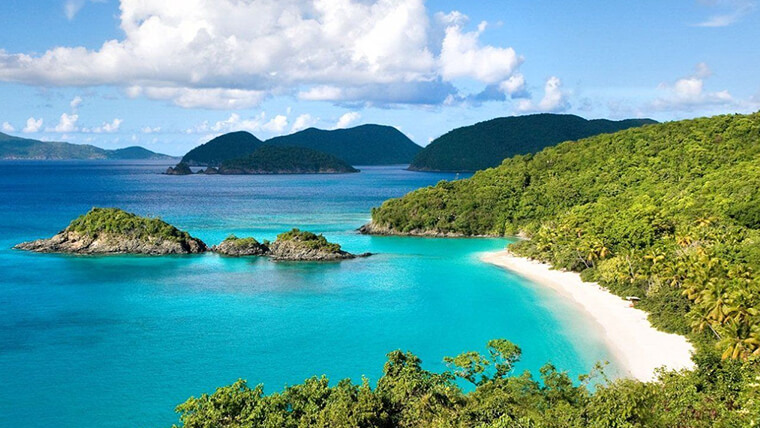 Non Nuoc Beach - Source: Bestprice
This is known as the best beach in Da Nang. As its name implies, Non Nuoc beach has a combination of sea and mountain beauty.It is harmonious, simple but equally charming and attractive. Non Nuoc can be envisioned as a beautiful natural picture that The Creator has personally bestowed upon Danang.
Here, you must definitely enjoy the famous Quang noodle dish with an extremely reasonable price of only about 1 USD. In addition, you should also try Bun Bo, Nam O fish salad, fresh seafood ...
Non Nuoc Beach is home to many resorts, high-end hotels such as Luxury Villa Beach Front (6 Hoang Sa), Luxury The Point Villa DaNaTrip (Truong Sa), Naman Retreat Resort Da Nang (Truong Sa, Ngu Hanh Son), Hyatt Regency Danang Resort and Spa (5 Truong Sa, Hoa Hai) ...
You will be completely immersed in the sea thanks to the games of windsurfing, beach volleyball, fishing or simply lying in the sun, playing in the sand ...
5 - Nam O Beach
Nam O Beach in Da Nang is located in Hoa Hiep ward, Lien Chieu district, this beach follows the foot of the mountain possessing a charming, somewhat wild landscape.
The clear sea water mixed with the blue of the sky creates an incredible attraction. And because it is a bit wild, you will feel the difference when you come here. Swimming, fishing, taking photos... are common activities of many tourists, you must definitely try if you have the opportunity to come here.
The most famous dish on Nam O beach is Nam O fish salad, made from fish caught from Nam O sea which are extremely fresh. In addition, in Nam O, there is a craft village making fish sauce that has a signature salty taste of the sea.
If traveling for a long time in Da Nang, you should check out some famous hotels and homestays in Nam O such as Green Hotel Da Nang (64 Hoang Van Thai), Ruby Homestay (455 Kinh Duong Vuong), Tango Motel Da Nang (64 / 31 Tran Dinh Tri), Bohemo Homestay (449 Kinh Duong Vuong)...
II - Da Nang beaches in the south area
Danang beaches in the south are quite pristine and less touristy than the northern beaches. The most beautiful attractions are Van Lang beach, Thanh Binh beach, Xuan Thieu beach.
1 - Van Village Beach - Lang Van beach
Located at the foot of Hai Van pass, there is a peaceful and hidden village, separated from the vibrant stream of Da Nang city. It is Van Village, in Lien Chieu ward, formerly known as Hy Lac Vien.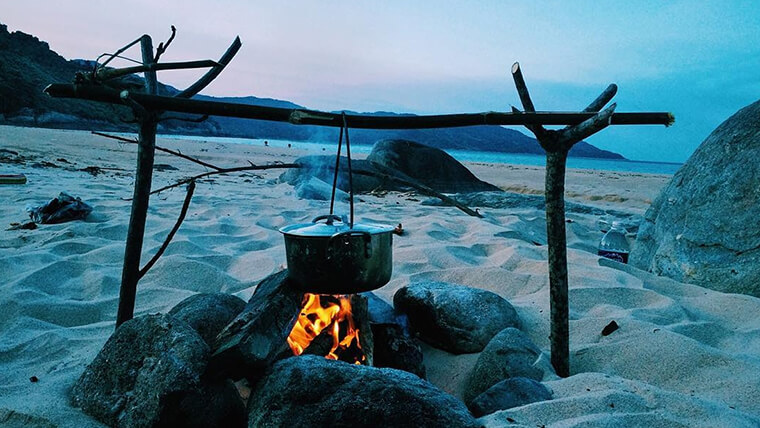 Lang Van beach - Source: Internet
Because of its location isolated from the city, Van Lang still retains its rustic and peaceful features, visitors will have a feeling of deposition when coming here. The beauty of peaceful nature in harmony with the clear blue sea water, the cool green color of poplar forest promises to dispel your fatigue.
At Lang Van beach in Da Nang, visitors can easily catch sea animals such as snails, crabs, or go fishing and set off on a campfire right on the beach. Catching and cooking by themselves is probably the interesting thing everyone wants to experience.
As mentioned, Van Village is almost isolated, so when you come here, there will be no hotel for tourists to rest. You will have to prepare the tents and the necessary items to camp overnight.
Catching crabs, snails in the daytime, eating and singing at night by the campfire will be memorable memories to anyone who has come here.
2 - Xuan Thieu Beach
Xuan Thieu beach is located 3km away from Nam O beach, in Lien Chieu district, this is a place associated with the history of anti-American in the strategy of "Local War".
So far, despite tourism exploitation, the beach remains its signature beauty. Xuan Thieu is less known to foreign tourists but this is a worth visiting Da Nang beach which impresses with its cleanliness and well-protected environment. When sunset or dawn comes, we can feel both the sky and the water surface are tinged with red, beautiful.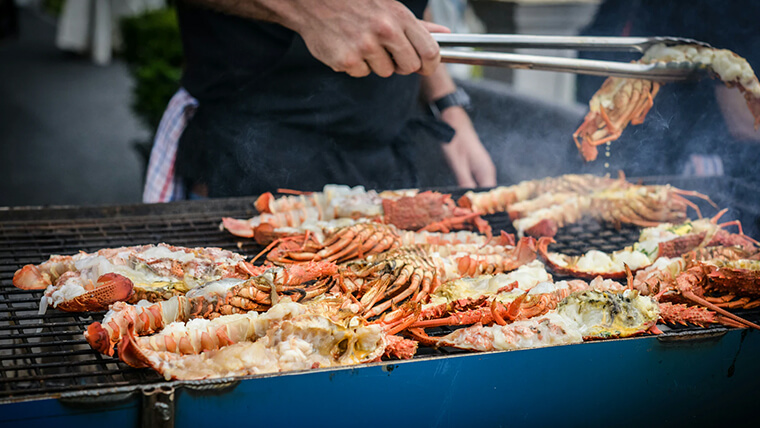 Source: Michella Tsang
You can enjoy special cuisine at Xuan Thieu beach when you visit Red Beach restaurant, which serves from many Central specialties to dishes made from fresh seafood.
At this point, you don't need to worry about where to sleep. Around the beach, there are many good hotels and motels: Da Nang - Mikazuki Japanese Resorts and Spa (Hoa Hiep Nam, Lien Chieu), 683 Guesthouse (Nguyen Tat Thanh, Lien Chieu District) ...
By the sea, to add more attraction, visitors can organize games on the sea: beach volleyball, tug of war, canoeing, soccer, jet skiing ...
3 - Thanh Binh Beach
Thanh Binh beach stretching along Nguyen Tat Thanh street for 1km, right in the inner city is one of the most beautiful and best beaches in Da Nang.
Even in the inner city, it is easy to recognize the wild beauty of the beach. Blue sea, white sand, yellow sunshine and green trees along the coast will leave an unforgettable impression on visitors.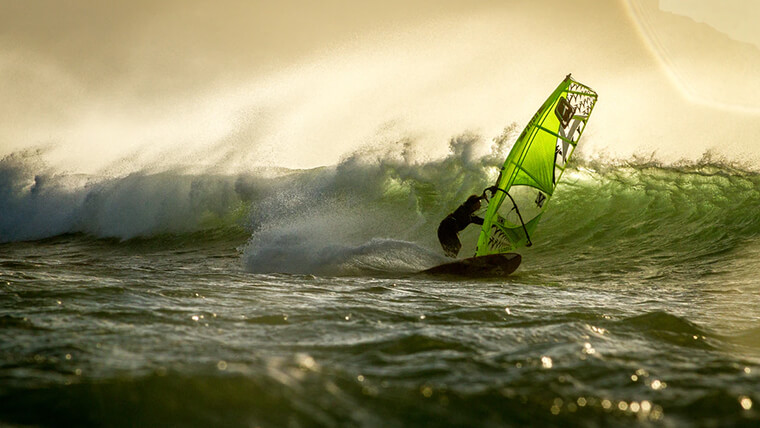 Windsurfing - Source: Mark Harpur
Thanh Binh Beach is extremely suitable to become a place for couples, or to gather friends to experience windsurfing, canoeing, sand castle building or simply take photos
It is incomplete if you cannot find a place to live during your fun days. Please note the following hotel: Aloe Garden Homestay (103 Xuan Dieu), Flora Hotel & Residence (103 Nguyen Van Linh) ...
III - Da Nang beaches on Son Tra peninsula
1 - Tien Sa Beach
Tien Sa Beach is located about 9km northeast of Da Nang city center, at the end of Yet Kieu street, Son Tra district.
The impressive bow-shaped beach is nestled between two gorges of Son Tra peninsula. The clear blue water, white sand, along with emerald green sea and sky will attract a lot of tourists.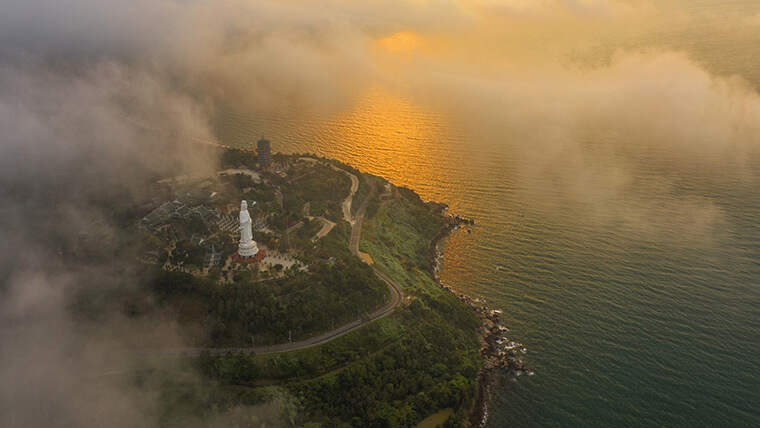 Tien Sa Beach - Source: Pham Phung
The seafood here is not only fresh but also affordable. The restaurants with skilled chefs will bring an unforgettable culinary experience.
Tien Sa Beach has 8 bungalows and 30 fully equipped rooms, mingled with nature, promising to bring the most complete vacation for you.
Having fun at Tien Sa beach always attracts tourists with games, audio rental activities (outdoor karaoke), canoes, parachutes, basket boat swimming, ...
2 - North Beach
North beach or Bai Bac beach Da Nang is located in the north of Son Tra peninsula, in Tho Quang ward, Son Tra district. Bai Bac is invested in being a high-class resort attracting many tourists.
The natural landscape available in Bai Bac combined with renovated human hands has created an extremely impressive appearance.
This place in October and November every year appears a species of seaweed clinging to the rock, people still call it "jam". The special thing about this seaweed is that it can be eaten raw or cooked very well.
Invested in building a 5-star tourist area, visitors come here freely choose accommodation in the top-class resorts in Vietnam.
3 - South Beach near Da Nang
Located in the south of Son Tra peninsula, South Beach is still known to people as Ne Beach or Nom Beach.
Also a beautiful beach in Da Nang, Bai Nam attracts tourists by its clear blue natural landscape, stretching white sand and cool seawater.
Bai Nam has a 4-star Son Tra Resort & Spa providing comfortable and comfortable accommodation during your stay. In addition, the resort also has a sea-flavored food area that will not disappoint you.
This marine area has a lot of beautiful and fancy coral reefs, so diving and watching coral in recent years are popular and excited by visitors when participating.
4 - Black Stone Beach near Da Nang
Nestled on the northern bank of Son Tra peninsula, Black Stone beach in Tho Quang ward, is a pristine tourist destination in Da Nang.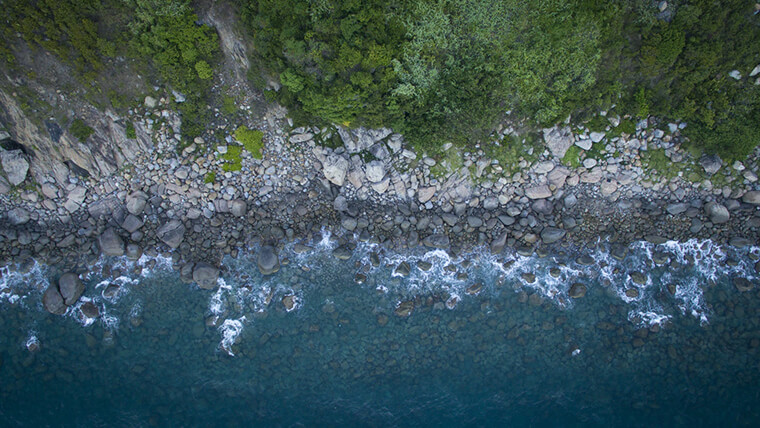 Black Stone Beach - Source: Phan Hoang Phe
As its name implies, Black Stone beach has a multitude of large and stacked small black rocks to form a special scene. When the clear sea water rushes into the forming rocks, it creates beautiful white foam.
Black Stone Beach is home to many species of seafood. The types of snails stick on the rocks, are easy to catch and process on the spot. Black Stone is also the growing place of cellana, a precious and nutritious snail.
This place is very suitable for organizing overnight camping in groups. You need to bring the tent and all necessary supplies before coming here. Camping, snail catching, snail BBQ on site are the activities that many young people love when visiting this place.
5 - But Beach
The famous But Beach in Da Nang is located about 15km from the city center, close to Linh Ung Pagoda on Son Tra peninsula, a rather difficult place to find for those traveling by car.
This is a great place for those who are passionate about exploring the wild beauty. Nature with little human hands has an irresistible appeal. And because it is located near the pagoda, But Beach becomes a tranquil religious color, very suitable for visitors who want a quiet space. If you plan to come here, you must prepare your own food and drink because there are quite a few places to eat. Coming here, you definitely have to try jet skiing, windsurfing, skydiving, coral diving.
6 - Rang Beach
Rang Beach is one of the best beaches near Da Nang which is located on Son Tra peninsula, 5km from the city center. Guests just need to drive a motorbike along Hoang Sa street through Linh Ung pagoda, and Bai Rang has appeared right in front of their eyes.


Rang Beach -Source: Tran Hoang Vinh
Bai Rang first impresses visitors by its undulating rocky shores and white foam when the water hits the rocks. The rustic and wild beauty of Rang Beach conquers all those who have come here. Here, visitors have the opportunity to experience sea games such as water moto, coral viewing, overnight camping, photographing beautiful scenery.
Cuisine in Rang Beach is mostly fresh seafood, processed right away. Usually there are just simple dishes such as ginger steamed clams, grilled squid with salt and chili, boiled snails... but they're very attractive.
Da Nang Vietnam beaches are a top attraction to sea lovers with numerous beautiful and pristine beaches. Coming here for a holiday with entertaining and relaxing activities such as swimming. surfing, diving or sunbathing is an amazing experience.