Visiting Danang and want to buy some specialties as a gift? Missing something because you forgot to prepare? Or simply looking for a place to go for a walk and enjoy the bustle of the coastal city? Below, Vietnamtrips will introduce you all things to know before shopping in Danang: best places to visit and top things to buy.
I - Modern shopping in Danang city Vietnam
1 - The best shopping malls in Danang
Source: David Bokuchava
Large Danang shopping malls with famous domestic and international brands are the best options if you are planning to buy something, whether it is an item you forgot to prepare or a souvenir. You can easily find authentic stores of famous brands here, particularly fashion like Uniqlo, Adidas, Bata, PNJ,... as well as delicious Vietnamese dishes and those from different parts of the world. You will definitely also be charmed by the entertainment zones in these shopping malls in Danang, with cinemas, gaming machines, karaoke boxes, and so on. Some of the top shopping malls in Danang city are:
Vincom Da Nang
Compared to a paradise for the best shopping in Danang, this is a trading place with more than 20,000 items with a variety of designs and quality products. Vincom is structured like a miniature Da Nang, including extremely dynamic clothes shops, entertainment zones, food stores, ice skating rink, and so on. There is also an entertainment and vocational education center for children with an area of 3000m2.
- Address: No.910A, Ngo Quyen Street, Son Tra District
- Opening time: 10am - 9pm (Monday- Friday) and 10am - 10pm (Saturday & Sunday)
Indochina Riverside
As a shopping centre in Danang located in a prime location near the romantic Han River, this place has a beautiful view of the entire Dragon Bridge. Indochina Riverside has 3 floors with an area of ​​nearly 1500m2 each, including many stalls arranged scientifically and full of all goods, close to interesting amusement spots. This place is considered as a perfect place for shopping in Danang city from scenery to convenient services, receiving the support and visits of a large number of local people and tourists.
- Address: No.74 Bach Dang street, Hai Chau 1 Ward, Hai Chau District
- Opening time: 9am - 10pm
Parkson Da Nang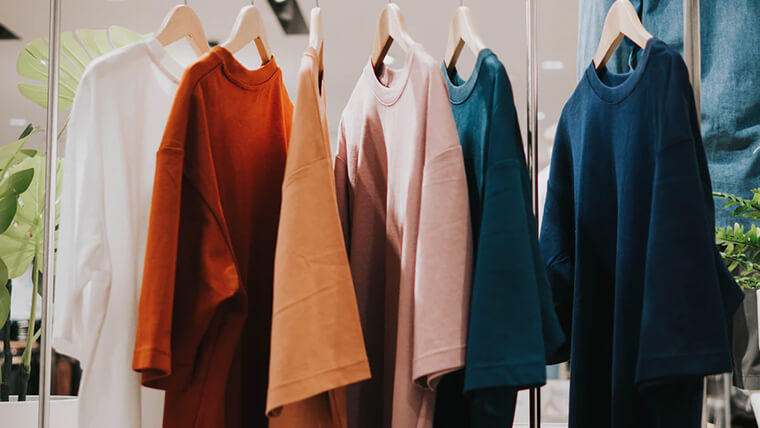 Source: Cristine Enero
This is a famous Danang shopping site including supermarkets, cinemas, entertainment areas, high-class hotel apartments, offices for rent, conference centers,... Parkson has an area of 10,000m2 with 4 floors arranged conveniently for the selection of products, which are of clear origin and belong to famous and reputable brands. In addition to shopping for necessary items, you can also participate in the Da Nang fair held once a month here.
- Address: No.257 Hung Vuong Street, Vinh Trung Ward, Thanh Khe District
- Opening time: 10am - 9pm
Da Nang Square - ideal spot for shopping in Danang
Located in the city center, Da Nang Square has become an ideal place to hang out and shop because of the guarantee of product design and quality. Here you will find a multitude of products and services extremely diverse, from fashion clothes, souvenirs to entertainment areas, food venues,… This is considered the biggest shopping mall in Danang, which is managed by a team of professional, creative, highly qualified staff.
- Address: No.35 Thai Phien Street, Phuoc Ninh Ward, Hai Chau District, Danang City
- Opening time: 8am - 10pm
Lotte Mart
Having the position of a large Korean corporation, this Danang shopping destination has favored products of Korean origin and always ensures quality. Lotte Mart always understands customer psychology and offers the best services and products, with great focus on quality: the goods are of clear origin and the ingredients are always fresh.
- Address: No.6 Nai Nam Street, Hoa Cuong Bac Ward, Hai Chau District, Danang city
- Opening time: 8am - 10pm
2 - Danang supermarkets
Big C Danang
You can experience the best shopping in Danang city Vietnam here with 5 main commodities such as: fresh food, dried food, clothing and accessories, household electric devices. Big C is built with a scale of about 20.000m2, where you can also participate in different attractive activities other than shopping, such as eating (restaurant, food area, fast food stalls); entertainment (cinemas, karaoke boxes); bookstores, other stores;... On every weekend, Big C is more crowded with local people and tourists visiting.
- Opening time: 8am - 10:30pm
- Address: No. 257 Hung Vuong street, Thanh Khe District, Da Nang City
Co.op Mart
With an area of 13.000m2 and more than 3.000 types of commodities, this is one of the most modern Danang shopping centers that meet the varied needs of customers. Co.op Mart is also a wonderful place to experience countless entertainment activities including bowling, foosball, massage, karaoke,... You can easily find products in fields from technology, fresh food, fashion clothes to cosmetics, household appliances and fast food.
- Opening time: 8am - 10pm
- Address: No. 478 Dien Bien Phu street, Thanh Khe Dong ward, Thanh Khe district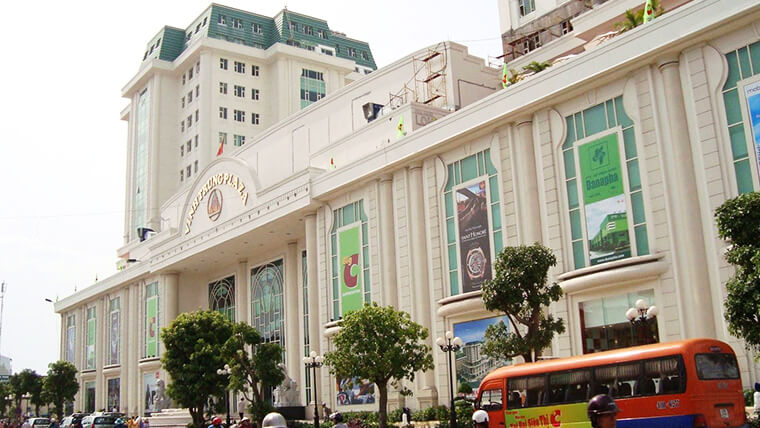 Shopping in Danang City Vietnam - Source: Internet
The Central's Specialty Supermarket - Thien Phu
This chain of stores specializes in retail, wholesale and online business of specialty items in the Central region, in order to bring out the best quintessence of this land. Coming to Thien Phu supermarket, you will feel as if walking in a world made of all kinds of famous specialties of the region, each with a clear label and origin. You can always be assured of the quality, food safety, and especially the price (because it is publicly listed).
- Operating time: 7am - 10.30pm
- Address: :
+ Address 1: No.124, 2/9 street, Hai Chau district
+ Address 2: No.28, Duy Tan street, Hai Chau district
+ Address 3: No.198, Ho Nghinh street, Son Tra district
+ Address 4: Plot A1 - A2, Nguyen Tat Thanh street, Thanh Khe district
+ Address 5: Giao Mart, No.49 Vo Van Kiet street, Son Tra district
II - Best places for traditional shopping in Danang
The first note when shopping at local markets is that you have to prepare cash for payment. Besides, the prices of goods are not publicly shown so you need to ask the seller directly and try to bargain for better prices.
1 - Han market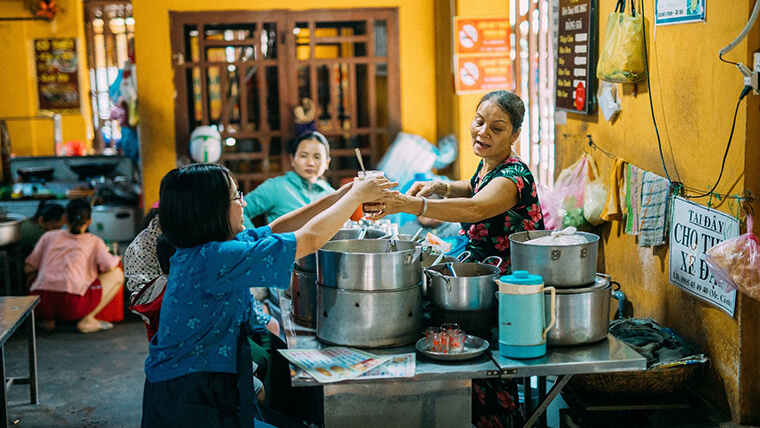 A corner of Han Market - Source: Ins @mievatho
Han Market, established in the 1940s along the bank of Han River, is now one of the oldest and largest markets for shopping in Danang . It is always crowded with people trading various kinds of goods from food, clothes, to cosmetics, souvenirs, and home appliances. Several special things to buy in Danang here are dried food, fish sauce, famous Vietnamese snacks (roasted coconut cake, dried sesame cakes,...), or small pretty souvenirs. Having a food tour at Han Market is also an exciting activity, giving you an opportunity to try a number of popular dishes.
You should definitely not miss the famous delicacies in Danang such as Quang noodles, Banh Canh, grilled beef wrapped in wild betel leaves, pork skewers, small steamed savory rice cake, sizzling pancakes, sweet soup, beverages, fruit juice,... The food prices are also very cheap, ranging from 15.000 - 30.000 VND/ dish ($0.4 - 1.3).
- Address: No.119, Tran Phu street, Hai Chau district, Danang.
- Opening time: 6am - 7pm
2 - Con Market - top place for shopping in Danang
Con market, one of the oldest markets in Danang from the 1940s, is a solid 3-storey Danang shopping center, with its name originating from the location of lying on a high mound. Coming to this Danang shopping area, you will be immersed in Danang's cuisine with 3 main areas of indoor cuisine, outdoor cuisine and dried foods.
Indoor cuisine area
Indoor cuisine area is divided into two rows and a middle aisle, selling fruit juice, Vietnamese che, Quang noodles, Banh Xeo - sizzling pancakes, small pancakes with quail eggs, small steamed savory rice cakes,... with prices fluctuating from 15,000 to 30,000 VND/dish ($0.7 - 1.3).
Outdoor cuisine area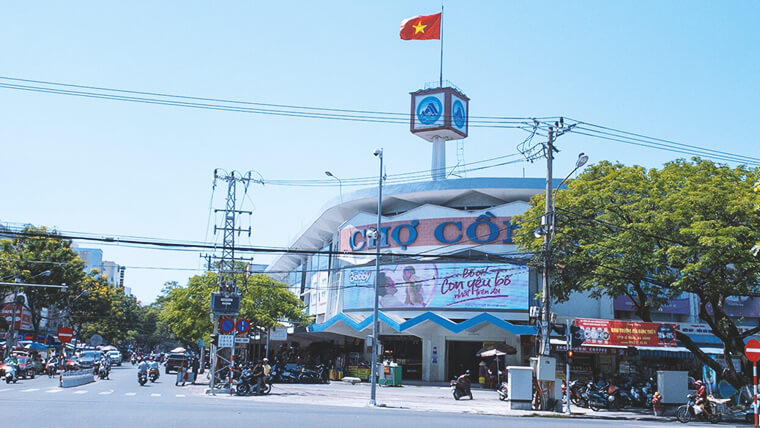 The best shopping in Danang City - Source: Internet
Outdoor cuisine area seems to be smaller and more crowded. The food here is exceptionally good such as these must-try dishes: green mustard rolls, noodle soup, dried beef salad, baluts,... with prices from 15,000 to 30,000 VND/dish ($0.7 - 1.3).
Dried food
Dried food area is where you can choose some of the dishes as souvenirs such as: dried beef, dried squids, dried fish,... It is better to prepare in advance, as some of the smelly dishes aren't allowed in cabins on airplanes or they have to be carefully wrapped.
- Address: Hung Vuong Street and Ong Ich Khiem Street, Hai Chau Ward, Danang City
- Opening time: 7am - 7pm
3 - Bac My An market - ideal place for shopping in Danang
No one knows exactly when Bac My An Market was formed, but it undeniably holds important roles in local lives, as well as tourists. You can find many types of goods sold here like dried stuff, fresh ingredients, green vegetables, clothes, foodwear, and vast cuisine values. That is the most appealing and attractive thing about this Vietnamese shopping center, showing through a variety of delicious food. You can try avocado ice cream, spicy and sour snails, rice noodles with grilled meat, mixed rice paper, steamed rice paper, battered rice paper cake, hollow doughnuts,... The food in this Danang shopping area is also cheap, costing from 8,000 - 25,000 VND / dish ($0.34 - 1.07).
- Address: No.25 Nguyen Ba Lan Street, Bac My An Ward, Ngu Hanh Son District
- Opening time: 6am - 7pm
III - Guide for shopping in Danang Vietnam
1 - What to buy in Danang to bring back as gifts
Danang pineapple ginseng tea
With a unique delicious taste, sweet and cool, this product is chosen by many tourists as a specialty to bring back, or even order it from far away. Unlike other teas that can cause insomnia, Danang pineapple ginseng tea has the effect of supporting good sleep, so this is a great health gift, especially to those who have insomnia.
Dried squid
If you do not know what to buy as a gift when shopping in Danang, the simplest option is dry food, with the most prominent one being dried squid or one-sun squid. Fresh squid after being caught and cleaned will be dried in the sun, still keeping its freshness and softness when eaten. Unlike other places, Danang dry food is marinated with a very unique Central flavor, suitable for eating in home meals or with a little cold beer.
Danang fish sauce
It would be a big omission if you go shopping but forget Nam O fish sauce - one of top most famous kind of fish sauce in Vietnam, which is famous throughout Vietnam because of its rich flavor and beautiful colors. It is processed entirely by hand, distilled by fishermen in coastal fishing villages with years long experience, favored by many tourists to buy as gifts for friends or relatives.
2 - Some notes about shopping in Danang
For those who come here for the first time and lack experience of shopping, there are a few things to note as follow:
- Most of Da Nang specialties have quite reasonable listed prices, but if you buy in bulk, you can negotiate with the seller to get a discount.
- Check different stalls to get the best quality for low prices, but don't be too greedy because things that are too cheap may be fake.
- It is recommended to buy goods from big Danang shopping malls, commercial centers, or famous supermarkets so you are less likely to encounter fake goods, overpricing,...
- Refer to other people's reviews for a variety of options.
The beautiful coastal city of Danang is a perfect stopover on hot summer days for tourists from all over the world. And a great way of enhancing your traveling experience is to go shopping in Danang and feel the bustling atmosphere. From there, you can also learn and understand more about the life of the people here, enjoy the unique specialties and find gifts to bring back to friends or relatives.