I - Top 10 best things to do in Danang
1 - Shopping
If you want to bring some back home as a gift for families and friends, dried specialties such as seasoned shredded squid, tamarind squid, garlic and chili fish, salted crab milk, pickled fish or famous Nam O fish sauce might be a good choice. So where to buy these specialties?
Danang holds many vibrant shopping destinations where goods are sold at extremely affordable prices. In particular, Con market is widely known as the oldest of its kind there. Located at 269 Ong Ich Khiem, Hai Chau 2 ward, Hai Chau district (at the corner of Ong Ich Khiem intersection with Quang Trung), Con Market has a huge volume of items ranging from popular to high-end. Its busiest area must include the food court with all the best dishes of Danang such as noodles (banh canh, Quang noodles); snacks (dry beef salad, filter cake flour); and pancakes with a fairly soft price (only about 10,000 VND - 25,000 VND / dish).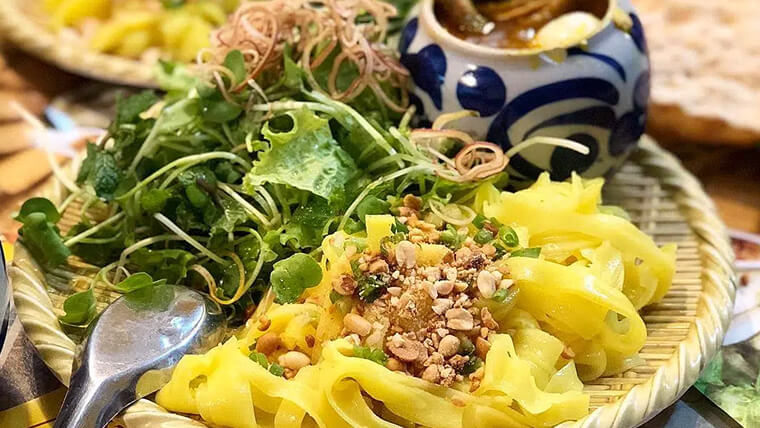 Source: Baz_tha
Besides, Danang also has many famous commercial centers such as Vincom Danang, Lotte Mart, Danang Square, Parkson, Indochina Riverside... These centers allow visitors to shop not only for goods at affordable prices but also for items from the most famous brands. In addition, they are also integrated with a lot of entertainment activities such as movies, amusement parks, ice skating, and so on.
2 - Exploring Danang beach activities - top 10 things to do in Danang
When people mention Danang, the first thing that comes to their mind might be the breathtaking beaches of this coastal city such as My Khe, Non Nuoc, Pham Van Dong, etc. Coming to the beaches, you will not only be able to sunbathe, swim, watch the sunrise but also participate in other sports such as parasailing, surfing, or scuba diving.
Danang paragliding activity
Parasailing (players are towed behind the boat and attached to a parasail wing using a harness) has been put into operation in My Khe beach since 2014. Experiencing this sport, you can hover at the height of 70-100m. Each round lasts 15 minutes and costs 500,000 VND (~ 22.4 USD). To register, you only need to go directly to the addresses of agencies below to register and buy tickets:
- The Thao Bien Danang at Vo Nguyen Giap Street, My Khe Beach. Hotline: 0909719558
- Dana Beach Club Danang in Sao Bien Park, Vo Nguyen Giap Street, My Khe Beach. Hotline: 0909719558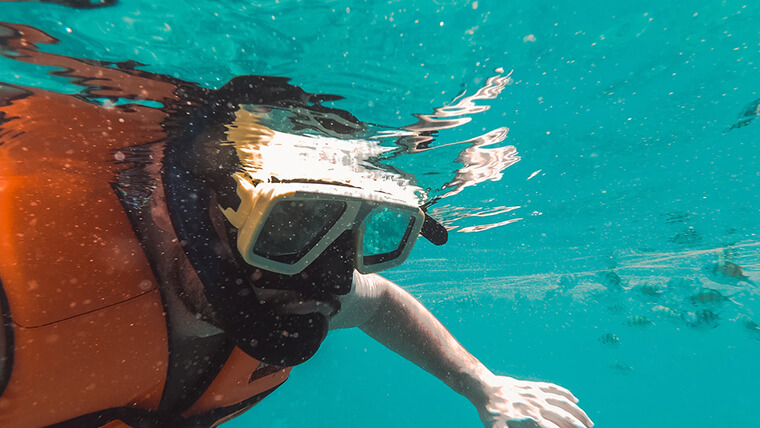 Source: Miltiadis Fragkidis
Scuba & Snorkeling
At a depth of 10 - 15 meters in the sea of Danang, there are colorful coral reefs and many different types of marine life which are waiting for you to discover. Participating in diving and snorkeling in Danang, you will be equipped with tools such as clothing, eyeglasses, snorkel, diving bottle... and a professional diver. The most suitable areas for diving are Son Tra Peninsula and Monkey Island. The cost is more than 500,000 VND / person ($22.4).
You can sign up for the Son Tra tour of Danang Xanh tour company via hotline 0932.565251 to experience this Danang activity.
Surfing
The most ideal time for Danang surfing activity is from March to May or from August to October - the highest wave time. Tourists can rent boards at shops along the coast of Danang, especially in the area of Tay An Thuong street (My An ward, Ngu Hanh Son district). The rental price is about 230,000 VND / board / hour ($10).
3 - Discovering local cuisine
On the other hand, Danang cuisine also impresses a lot of international tourists with its flavored specialties such as Banh Xeo, spring rolls, pork rice paper, and melancholy sweet soup, noodles, Banh can, etc. The prices of these dishes here are quite reasonable, ranging from 20,000 VND to 50,000 VND / dish. There are some addresses that you should not miss when coming there:
- Aromatic Quang noodle in Quang Thi Noodle at 251 Hoang Dieu, Hai Chau District
- Crispy pancakes and hot spring rolls in Quan Ba Duong at K280 / 23 Hoang Dieu street, Hai Chau District
- The typical pork rice paper rolls of Danang in Quan Tran at 4 Le Duan street, Hai Chau District
- Banh Can in 154 Huynh Thuc Khang street, Hai Chau district
- Delicious durian sweet soup at Quan Co Lien at 189 Hoang Dieu street, Hai Chau District
- Mixed snail at Oc Zè Zè at 19 Nui Thanh street, Hai Chau District
4 - Enjoying Nightlife of Danang
So what to do in Danang next? Being well-known as a leading coastal tourist city, Danang nightlife is sparkling with lights and vibrant with many exciting activities. If you are a person who likes to wander around and capture beautiful scenery, do not miss the chance to admire Danang from famous bridges such as Dragon Bridge (Han Bridge), Thuan Phuoc Bridge, Tran Thi Ly Bridge, ... Along these bridges, you can watch the bustle of traffic from above and let your soul fly with the wind which is really an unforgettable feeling.
If you like joining in the vibrant atmosphere, go to the Sky36 bar (36 Bach Dang Street, Thach Thang, Hai Chau) - a famous beautiful modern bar in Danang. Coming there, you can enjoy a special music party with cocktails, wine, etc bringing absolute excitement. The price is about 200,000 VND / person or more.
If you are a foodie, you should dine at the docks, riverside restaurants, or on river cruises that serve any attractive seafood dishes such as snails, squid, octopus, and so on.
5 - Attending a Danang cooking class
Attending cooking classes at five-star hotels or famous local restaurants has interested a number of international tourists. These classes are short courses that will give you the basic cooking skills of Danang people from cooking style to the method of selecting food ingredients and as well as the way to cook typical traditional dishes such as noodles, spring roll, and banh xeo in detail.
This is really a fun thing to do in Danang Vietnam. If you are interested in this activity, you can refer to some cooking classes such as Danang home cooking class at 08 An Cu 6, An Hai Bac, Son Tra; Danang Cook Tour for about 650,000 VND (29.15 USD) / person or more; Jolie Danang Cooking Class at 36 Hoa Son 6, Hoa Cuong Nam, Hai Chau for about 700,000 VND ($31.16) / person or more. All classes have a team of enthusiastic teachers who will definitely give you the most enjoyable experience.
6 - Climbing on Marble Mountains (Ngu Hanh Son)
Located on Hoa Hai street, Ngu Hanh Son district, Ngu Hanh Son is a complex of 5 limestone mountains standing along the coast namely Kim Son, Hoa Son, Thuy Son, Moc Son and Tho Son. These mountains not only retain a very gorgeous and majestic landscape but also hold many unique architectural works bearing the imprint of history.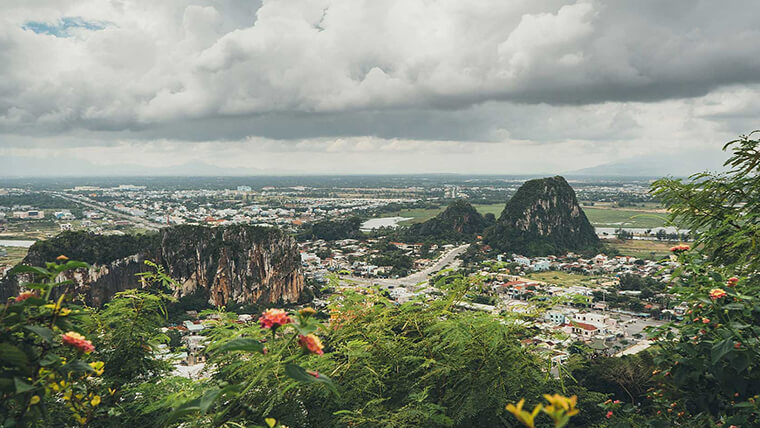 Source: Internet
In particular, Thuy Son mountain is the largest and most famous one of all. To reach the top of the mountain, you have to walk about 108 steps from the east gate or 156 steps from the west gate. In addition, if you don't really feel like climbing over this mountain, you can take the elevator with a transparent glass chamber to see the scenery from above. The two-way ticket price is only 30,000 VND/person (~1.2 USD). However, there are definitely more sights as well as famous historical sites for you to explore if you climb to the top on your own foot.
Tam Thai Pagoda, for example, located on a relatively flat surface of Thuy Son Mountain. The pagoda has 3 gates in accordance with the Buddhist architecture in Vietnam. The largest and most important main gate is reserved for the monk, the left gate is for men, and the right one for the female. Visiting this pagoda is an interesting must do thing in Danang that gives you memorable moments.
Linh Ung Pagoda, also located on Thuy Son mountain is famous for the 10m Buddha statue solemnly placed in the center, while the two sides worship Quan The Am Bo Tat and Jizō Bodhisattva. Linh Ung is a very sacred pagoda, so there is a large number of tourists coming there to worship and pray every year.
In addition to the pagodas, Ngu Hanh Son also owns a complex of beautiful and mysterious caves such as Phu Cave, Van Nguyet Cave, Huyen Khong Cave, Lang Huu Cave, etc. Each cave has its own unique beauties. Huyen Khong cave, the largest and most famous one, has a very different structure with circular arches allowing it to catch natural sunlight. Therefore, the cave is always full of light with much impressive vegetation. On the other hand, Phu Cave gives itself a dark mystique with many different nooks making you feel like they are lost in the cold underworld.
In addition, at the foot of Ngu Hanh Son, there is also an art stone carving village with more than 400 years of establishment and development. While visiting, you can not only admire the elaborate and beautiful sculptures but also buy a few small statues as souvenirs. However, be aware that these statues are quite heavy.
7 - Golden Bridge and Ba Na hills
So what is there to do in Danang after hiking the Ngu Hanh Son mountain? It must be visiting Ba Na hill and the Golden Bride. Located in An Son village, Hoa Ninh commune, Hoa Vang district, Ba Na hill with a large scale investment is a key attraction in Danang attracting millions of tourists each year. Coming here, you can experience several interesting activities such as sightseeing on cable car trips, immersing in the scenery of the primeval forests in Ba Na Nui Chua, visiting the French village and flower gardens, or enjoying the vibrant festival atmosphere.
In particular, this place is also famous for the Golden Bridge that was inaugurated in June 2018. Located at Thien Thai Garden with an altitude of 1,414m above sea level, the bridge is about 150m long. Besides, the bridge has a very impressive design, creating a soft curve like a silk strip across the sky with mossy hands supporting it to create a very gorgeous beauty. In addition, standing in this position, you can capture the entire city of Danang from above. The ticket price is about 1,000,000 VND ($44.8) / adult, 600,000 VND ($26.9) / child.
8 - Exploring Son Tra peninsula - top things to do in Danang
Located in Tho Quang ward, Son Tra district, Son Tra Peninsula has been likened to a "jewel" of Danang with a stretch of coastline and extremely diverse flora. If you are in the center of Danang city, you can drive along the Nguyen Tat Thanh sea road, go across Thuan Phuoc bridge to arrive. Or you can go to Son Tra via sea by departing from Han River pier to Tien Sa port. Son Tra is famous for not only many beautiful and romantic beaches but also many other famous tourist destinations such as Linh Ung Pagoda, Ban Co Peak, Multi-year Tree,...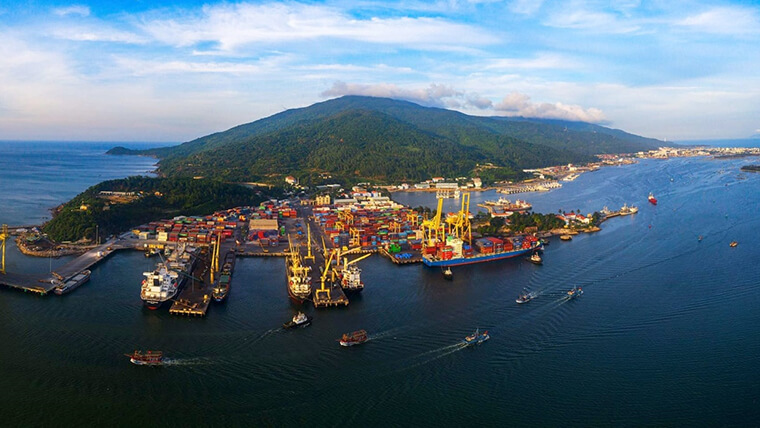 Source: VnExpress
Linh Ung pagoda
Located on But Beach, Linh Ung Pagoda is widely known as the most sacred temple of the peninsula. The pagoda has a very sophisticated and majestic architecture, but the most prominent that has to be mentioned is the statue of Quan The Am Buddha with a height of 67m leaning on the mountain, and facing the sea.
Ban Co Peak
It is located at an altitude of 700m. It is associated with the ancient legend referring to two deities sitting and playing chessboard together but all there are inconclusive battles all the time. One day, a deity was distracted by the image of a beautiful fairy and lost the game. He became angry and hit the chessboard into the sky. In the end, the chessboard was left with only a deity sitting and thinking. Experiencing this Danang activity, you feel like getting lost in a fairy tale place.
Multi-year Tree
In this peninsula, there is a thousand-year-old tree which is also known as the largest banyan tree in Vietnam up to now with a lifespan of more than 800 years. The circumference of the trunk is 10m and the canopy spreads wide. Besides, the tree has 26 secondary roots, each root is 25m high.
Radar Station 9
Radar Station 9 - Eye of Indochina is the Radar station to control air traffic and give early warning on the peninsula. Located at an altitude of 621m above sea level, this place offers you a panoramic sea view, especially the stunning sunrise and sunset.
Nghe Cape
Nghe Cape has a wild beauty with a famous lion-shaped cliff, which is an ideal place to catch the dawn. In addition, you can see a lot of beautiful and rare corals that are only available there.
9 - Conquering Hai Van Pass
Located at an altitude of over 500m above sea level, Hai Van Pass crosses the Bach Ma mountain range with a length of about 20km and widely known as the road that many domestic and foreign tourists want to conquer. If you are considering adventure things to do in Danang so conquering Hai Van pass is the most ideal choice for you. Hai Van Pass offers adventurers challenging, and risky turns shaping like a giant snake wrapped around the mountain.
If you choose to conquer the pass by motorbike, you should pay attention to the sharp, crooked, and difficult turns that can make it difficult for even the most skilled riders. In addition, by choosing Hai Van pass, you will have the opportunity to admire the beautiful scenery of the coastal land, with a view of the full sea horizon.
II - Other interesting activities to experience in Danang
1 - Exploring unique architectures
If you have the opportunity to travel to Danang, do not forget to explore unique architecture like the upside-down house at 44 Ho Xuan Huong, Khue My Ward, Ngu Hanh Son district. Coming there, you will see firsthand 10 rooms in a house corresponding to 10 different themes such as living room, kitchen, bedroom, laundry room all upside down. Ticket prices here are 130,000 VND ($5.8) / adult, 70,000 VND ($3.14)/child.
In addition, the 3D art museum in Lot C2-10 Tran Nhan Tong, Son Tra district, Danang also attracts many young people. The flat walls "transformed" through the talented hands of the artists become more alive, feeling like they are interacting with real people. Taking unique photos here must be one of the best things to do in Danang. If you want unique photos, don't forget to go there. Ticket price for foreign visitors is 190,000 VND (~ 8.5 USD) / adult and 90,000 VND ($4)/child.
2 - Visiting famous museum in Danang
The museum is a place to keep many artifacts with the great spiritual and historical value of a nation. Therefore, if you want to learn about the ancient history of Danang, do not forget to visit famous museums such as the Museum of Cham Sculpture, Military Zone 5 Museum,...
Military Zone 5 Museum
- Address: No. 3 Duy Tan street, Hoa Thuan Dong ward, Hai Chau district
- Ticket price: 20,000 VND / person ($1)
The museum was built in 1976, with 4 main areas including the outside displays of military equipment, the military museum, the simulations of President Ho Chi Minh's house in Hanoi, and a museum about President Ho Chi Minh. This place recreates the historical period against foreign invaders of Vietnam from the period of Chinese invasion to the war against the French and the US and the journey to defend the sovereignty of the two archipelagoes of Truong Sa and Hoang Sa.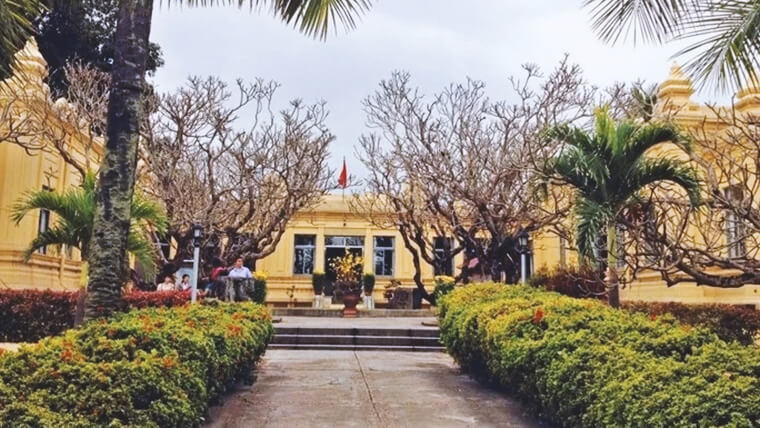 Source: Tuoitretour
Museum of Cham Sculpture
- Address: September 2 Street, Binh Hien Ward, Hai Chau district
- Ticket price: 40,000 VND ($1.8) / adult, free for children under 16 years old
Have a small cultural tour to visit the Museum of Cham Sculpture is one of the top Danang things to do for those who are interested in discovering culture of the locals. This museum has been preserving more than 2000 exhibits of the Cham people in Vietnam. Among those, the most prominent artifact is the goddess Tara of the ancient Champa period. Formed more than 100 years ago, the museum has undergone many restorations but basically retains its traditional features.
3 - Riding around Danang with a motorbike
The continuous improvement and expansion of the city traffic system also create a very good condition for you to experience motorbike travel.
The feeling of admiring the scenery of this beautiful coastal city while listening to the wind will definitely be worth a try. There are some beautiful streets in Danang city such as Cach Mang Thang 8 street, Quang Trung street, Pham Hong Thai food street, 3-2 street, Nguyen Tat Thanh coastal street, etc.
Danang has many motorbike rental spots with many different models to meet your needs. The usual rental price ranges between 80,000 VND - 160,000 VND / day ($3.5-7). You can refer to some reputable motorcycle rental addresses below:
- Binh Minh motorbike rental shop: 36 Ta My Duat street, An Hai Bac ward, Son Tra district
- Motorbike rental shop: Han River at K28/26 Thi Sach street, Hoa Thuan Tay ward, Hai Chau district
4 - Fishing
Fishing is not a free thing to do in Danang but it is worth experiencing. Once you come to a coastal city, it might be a big loss if you do not participate in extremely interesting fishing activities. You can relax and wait for the fish to bite while breathing the natural air carrying the taste of the sea. Currently, offshore fishing tours are being promoted, you can refer to some tours of the following units:
Danafi
- Address: Tho Quang wharf, Son Tra district
- Contact: danangfishingtour@gmail.com or 0905522374
- Services: the agency provides relaxing fishing tours or high-quality tours for professional anglers at the price of 350,000-900,000 VND (~ 15-38 USD). In addition, this agency also offers squid fishing tours at night.
HT Safbel Travel: This agency provides several interesting services such as fishing and sleeping on a desert island, renting a fishing boat, fishing in Son Tra peninsula, etc.
- Price: 6,000,000 VND (~ 258USD) - including lunch, boat rental, fishing rod, bait and VAT.
- Contact: http://lanbiendanang.com/ or 0943.551.000
- Address: Group 172, Hoa Cuong Bac Ward, Hai Chau District
Danang diving and fishing service: This agency provides a lot of services namely fishing tours, night squid fishing, coral diving, and so on. You can contact them via phone number 090.558.8922 to book a tour and further information.
Above is all the main information related to top things to do in Danang Vietnam. Hope that you will have an incredible and meaningful trip as well as memorable experiences in this charming coastal city.