Danang City has long been a destination favored by many tourists, converging many beautiful natural landscapes, many interesting fun activities, and many unique dishes. This is not a problem for locals, but many foreigners who have never come to Vietnam will wonder where is Danang in Vietnam as well as How to get there? What attractions are there? The following article from Localtravelidea will help you answer these questions and create the best experience.
I - Where is Danang located in Vietnam?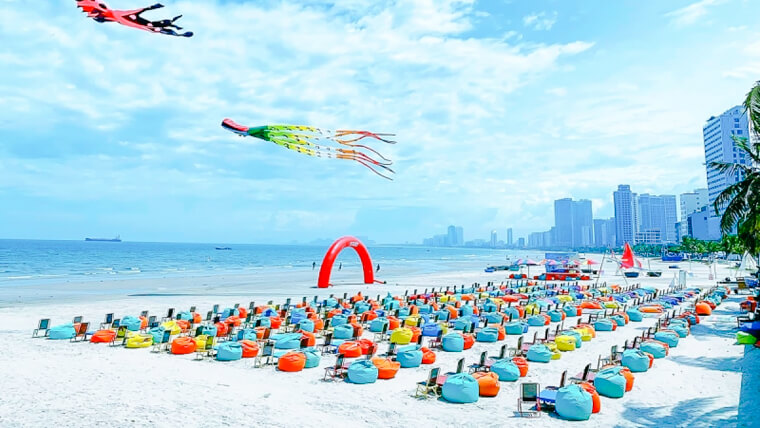 Danang City is famous for many gorgeous beaches - Source: vov
Located in the South Central Coast region of Vietnam, Danang is the largest city in the region, bordering Thua Thien - Hue Province, Quang Nam Province, and the East Sea. This place belongs to a typical tropical monsoon climate, showing an alternating transition between the subtropical climate in the North and the tropical savanna in the South. Danang City has high temperature and low fluctuations, with 2 distinct seasons: rainy season (September - December) & dry season (January - August), with occasional short and not too severe cold spells.
According to World Population Review, this city has a population of about 1,191,381 people as of August 2021, and a density of about 927 people/km². With an area of 1,284,9 km², Danang is divided into 6 urban districts and 2 rural districts, including 45 wards and 11 communes. The postal code of this city is 500000.
II - How to get to Danang City?
1 - Travel by plane to Danang
About 3km from the city center, Danang International Airport is located on Duy Tan Street, Hoa Thuan Tay Ward, Hai Chau District. Its ICAO and IATA codes are DAD and VVDN, respectively. Currently, this airport offers visa services, saving time and money for foreign tourists. The staff will help in completing your profile, getting the entry and the approval letters of the Immigration Department of Vietnam.
There are domestic flights to Danang Airport from Noi Bai Airport (Hanoi), Tan Son Nhat Airport (Ho Chi Minh City), Buon Ma Thuot Airport (Dak Lak Province), Cam Ranh Airport (Khanh Hoa Province), Can Tho Airport (Can Tho City), Cat Bi Airport (Hai Phong City), Lien Khuong Airport (Lam Dong Province), Phu Quoc Airport (Phu Quoc Island), Tho Xuan Airport (Thanh Hoa Province), Van Don Airport (Quang Ninh Province)
There are also 23 direct international flight routes to Danang Airport, operated by 10 domestic and foreign airlines. Those locations are mostly in Asia, including Bangkok - Suvarnabhumi, Baotou, Busan, Dai Dong, Guangzhou, Hangzhou, Hoai An, Hongkong, Jeju, Kaohsiung, Kuala Lumpur, Muang, Nanjing, New Delhi, Ningbo, Osaka - Kansai, Seoul - Incheon, Shanghai, Siem Reap, Singapore, Taipei, Tokyo - Narita, Wuhan.
2 - How to get to Danang by road?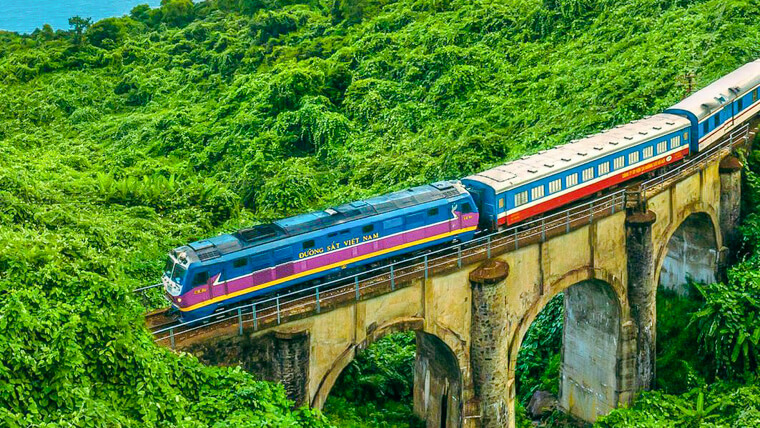 Where is Danang in Vietnam and how to get there by train? Source: vntravellive
Over the past 25 years, the infrastructure and road system in and out of Da Nang city have been continuously built and expanded. This not only reduces traffic congestion and creates favorable conditions for tourism development, but also fundamentally changes the appearance of a bustling urban area in Central Vietnam. Besides the roads leading to the center, Danang has a number of new routes and old ones lengthened to connect the suburban areas.
Danang Train Station: This is one of the most important train stations on the North-South railway line. All trans-Vietnam trains stop at this station for a while, so from here you can buy tickets to every station in the country.
Location: No.791 Hai Phong Street, Tam Thuan Ward, Thanh Khe District
Danang Central Bus Station is located on Ton Duc Thang Street, Hoa Minh Ward, Lien Chieu District. This bus station has been invested in spacious construction and modern infrastructure, and links with many reputable transport units across the country, providing over 80 bus routes to different provinces. Some main bus routes here are:
Hanoi - Danang
- Travel time: 15 hours with a distance of 824km
- Average ticket price: 355,000 VND / person
Ho Chi Minh City - Danang
- Travel time: 20 hours with a distance of 1129km
- Average ticket price: 370,000 - 500,000 VND / person
Hue City - Danang
- Travel time: 2 hours 20 minutes with a distance of 100km
- Average ticket price: 100,000 - 150,000 VND / person
Nha Trang City - Danang
- Travel time: 10 hours with a distance of 537km
- Average ticket price: 265,000 VND / person
Other routes from Binh Dinh Province, Dak Lak Province, Gia Lai Province, Hai Phong City, Ninh Binh Province, Ninh Thuan Province, Phu Yen Province,...
3 - Travel by water to Danang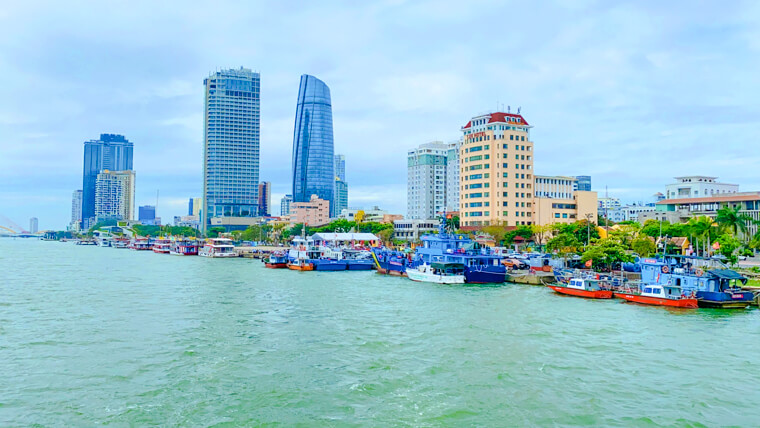 Han river port - Source: taucaotoc
Covering an area of 12km2, Danang national general seaport is located in Thach Thang Ward, Hai Chau District. There are 3 wharf areas, including Tien Sa - Son Tra, Lien Chieu, and Tho Quang, serving various types of ships from cargo to tourist.
Since starting to combine tourism, this seaport has welcomed nearly a hundred cruise ships with about 100,000 passengers per year. Those coming here are mainly from big brands like Henna or SuperStar Aquarius, with a frequency of 1 trip/week. Other names like Costa Classica, Azamara Quest, and Seabourn Pride also add Danang to their schedules. Most of these cruises are exploited by 3 large units, namely Saigontourist, Destination Asia Vietnam representative office, and Vung Tau LLC.
III - The huge potential of Danang tourism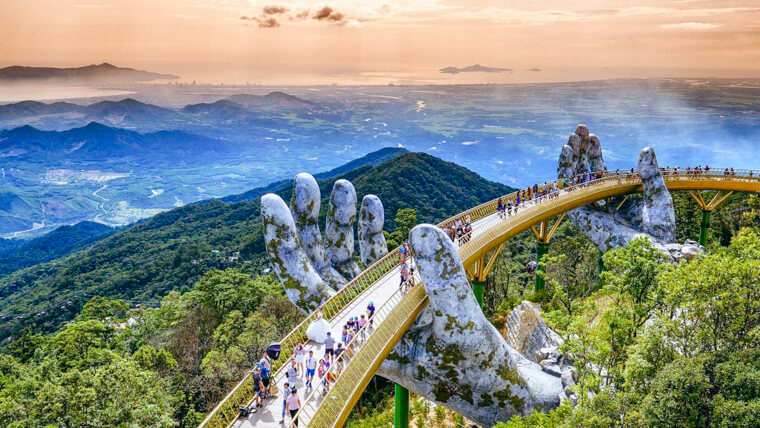 Where is Danang Vietnam - Source: media5sao
Danang has a lot of potential to become the leading tourist destination in the world, especially the advantages of natural resources.
One of them is the 90km long coastline with many fine white sand beaches, and clear and warm water all year round, offering various water activities such as surfing, scuba diving, kitesurfing, paragliding, coral viewing. You should not miss the opportunity to immerse yourself in the beautiful and famous beaches such as My Khe, Non Nuoc, Nam O,... or visit Son Tra Peninsula.
Danang also has no shortage of modern entertainment sites, high-class resorts, luxury hotels, restaurants, etc. Coming to Danang, it is impossible not to mention the Ba Na Hills tourist area with a fresh climate and attractive landscapes. All create favorable conditions for the development of a resort complex combining the highest level of entertainment in Vietnam, with unique works such as the French village or the Golden Bridge.
This city still retains numerous rare historical values such as traditional culture - art heritage, ancient craft villages, and so on. Those who love experiencing tourism are attracted by craft villages, especially Non Nuoc stone carving, Nam O fish sauce, Tuy Loan rice paper, Cam Ne mat village, etc. The cultural influence of regions also gives Danang a rich cuisine with many delicious specialties such as Quang noodles, fish vermicelli, Vietnamese pancake,...
If you are interested in culture and spirituality, then the Marble Mountains, Linh Ung Pagoda or Da Nang Cathedral are all must-see addresses in this coastal city. Last but not least, to feel the life and people of Danang in the most authentic way, Con Market, Han Market, Helio Market,... are your go-to.
Above are the answers to the most common and basic questions like where is Danang Vietnam located? How to get here? Are there any interesting tourist attractions? Danang city is a famous coastal resort of Vietnam, attracting thousands of international tourists every year. If you intend to visit this place, this article was created to help you in planning for the best experience and memories.