Danang is dubbed as "The city of bridges in Vietnam" because there are several beautiful brides in Danang. A comment of Reuters about the Golden bridge: "Golden Bridge's architecture looks like God's giant hands pulling a strip of golden silk out of the hill. Meanwhile, Guinness also recorded the Dragon bridge with the longest steel dragon architecture in the world. Those are 2 out of 7 attractive bridges in this city that Localtravelidea is about to introduce. Let's explore more about the 5 other bridges!
1 - Golden bridge - top famous bridge in Danang
Location: Sun World Ba Na Hill, Hoa Vang district, Danang city - 20km from city center.
Built at an altitude of more than 1,400 meters above sea level in Ba Na Hills Complex, the Golden bridge has a very unique design like hands lifting a golden silk strip. With 8 bridge segments, a total length of up to 150m, this bridge connects the two stations of Marseille and Bordeaux in Ba Na Hills. Strolling on the Golden bridge, you can admire the entire landscape of Danang from above.
2 - Dragon Bridge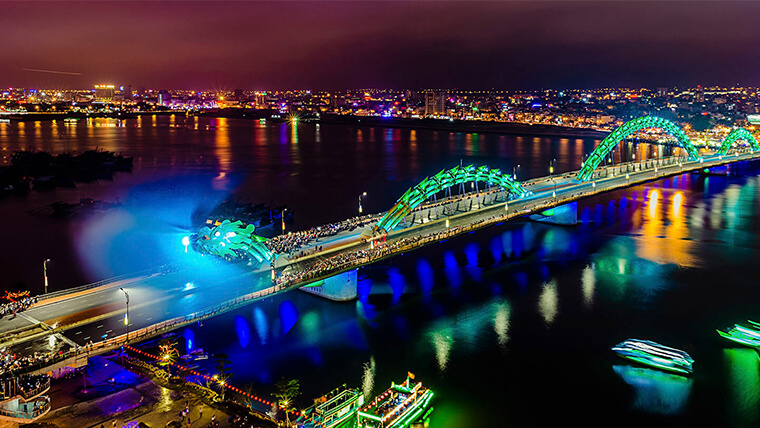 Dragon bridge at night - Source: Danangfantasticity
Location: Nguyen Van Linh street, Phuoc Ninh ward, Hai Chau district, Danang city center
As its name, this Danang bridge is designed and built in the shape of a Ly Dynasty's dragon with 6 lanes running with a width of 37.5m. It is also equipped with a lighting system with 15,000 LED lights, showing that the iconic bridge is very elaborate. The bridge can also spray water and fire every Saturday and Sunday at 9pm. On significant holidays, you can admire the spectacular and great fireworks from this bridge.
3 - Han River bridge - a special Danang bridge
Location: Le Duan street, Hai Chau district, Danang city center
Han River Bridge (also known as Swing bridge) is the first bridge connecting the east and west banks of the Han River and opening a new stage of the city's development. The thing that makes it an outstanding bridge is the middle part of the bridge can rotate 90 degrees. At 1am - 2am on weekdays and 11pm - 00am on Saturday and Sunday, you can admire how the briged is rotated.
4 - Tran Thi Ly bridge in Danang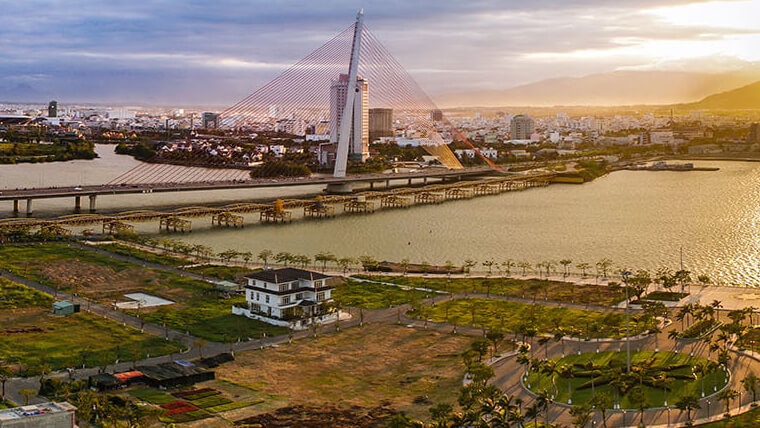 Tran Thi Ly bridge - Source: Danangfantasticity
Location: Tran Thi Ly street, Hai Chau district, Danang city center
As the fanciful cable-stayed bridge, Tran Thi Ly Bridge has a European and modern design. This bridge used a 3-way cable-stayed system with the tower tilted 12 degrees eastward, 145 meters above sea level that made it extraordinarily beautiful. At night, when the lights are on, you can admire a wind-stretched sail reaching out to sea.
5 - Nguyen Van Troi Danang bridge
Location: Hai Chau district, Danang city center
Nguyen Van Troi bridge is the oldest bridge in this city, completed in 1965, designed by RMK (USA). This bridge has an arched architecture, made of Poni steel truss for war. Therefore, Nguyen Van Troi Bridge is regarded as a historical witness, going up with many changes and development of Danang.
6 - Thuan Phuoc bridge
Location: Nguyen Tat Thanh street, Hai Chau district, Danang city center
Considered as the longest suspension bridge in Vietnam, this Danang bridge plays an important role in the socio-economic development of Danang. Thuan Phuoc bridge with impressive architecture connecting the two banks of the Han River looks like a long silk strip at night with shimmering lights.
7 - Love Lock bridge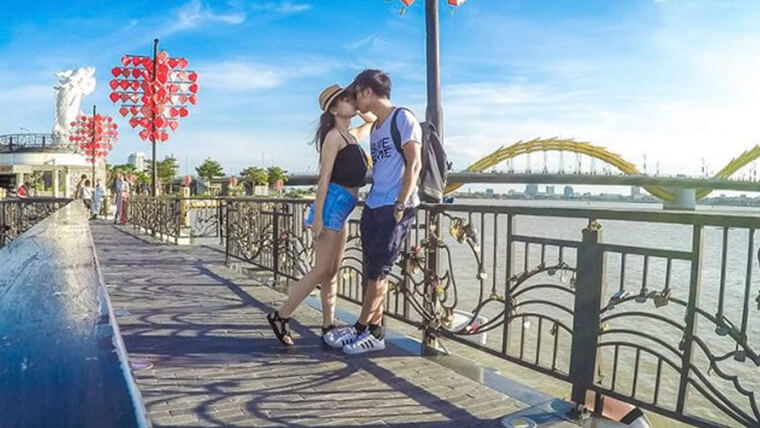 Love Lock bridge - Source: Danangfantasticity
Location: Tran Hung Dao street, Son Tra district, Danang city center
This bridge in Danang Vietnam is built on the idea of famous love-lock bridges in the world such as Pont des Arts of France, Milvio of Italy... Located right next to the Dragon bridge and the "Dragon carp" statue, this bridge is an interesting place to visit and admire the beauty of Han river and Danang city at night.
Above are all the amazing Danang bridges. If you have the opportunity to visit this city, do not forget to visit the uniquely designed bridges in this worth-living city.