I - Long days motorbike tours in Vietnam
1 - Requirements for motorbikes
If you want to travel long distances by motorbike, you should choose a bike with good quality and durability. A few suggestions for you to have a safe long distance ride like the Wave, Dream, Sirius or Future.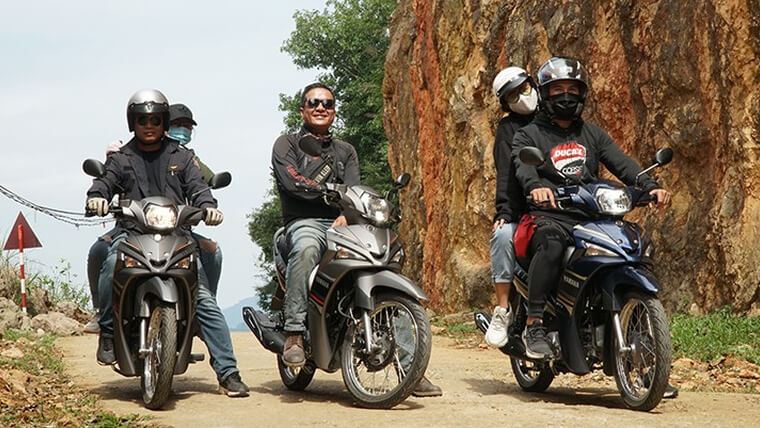 Source: Internet
At the same time, if you are a fan of speed and the road you choose is quite dangerous, with many winding slopes, you can refer to the Minsk model or the Honda Win 100. These are all models with a straight sitting shape, quite a special design saddle, will challenge all roads and can comfortably climb the slope.
2 - Most popular riding routes
North vietnam motorbike tours
The East and Northwest region, with its winding passes, and tough bends, is very suitable for you who love nature and adventure.
Some beautiful roads like:
- Hanoi - Mai Chau valley - Moc Chau
- Hanoi - Mai Chau valley - Pu Luong Nature Reserve
- Hanoi - Halong bay - Ninh Binh
- Hanoi - Ha Giang loop
- Hanoi - Ban Gioc waterfall - Ha Giang loop
- Hanoi - Ba Be Lake - Ban Gioc waterfall - Ha Giang loop
Vietnam Motorbike tours in the Central region
- Central region has coastal provinces with beautiful, paradise roads bordering which attract many visitors. Along the 1A highway, passing famous tourist spots like Quang Binh, Hue City, Da Nang, Hoi An, Nha Trang, Ninh Thuan, Binh Thuan ....
- The road along the Ho Chi Minh Road in the west of Vietnam is a road with wild beauty but little known by tourists. Here visitors can combine sightseeing, learn about culture and the unique lifestyle of the people in Tay Nguyen.
- Riding through Hai Van pass - place of top gear motorbike tour Vietnam
Motorbike tours in the South
- Explore the Mekong Delta area through all provinces of Long An, Tien Giang, Ben Tre, Can Tho, Soc Trang, Bac Lieu, Ca Mau... Visitors can combine with garden discovery, listening to amateurs, catching fish, participating in floating markets, …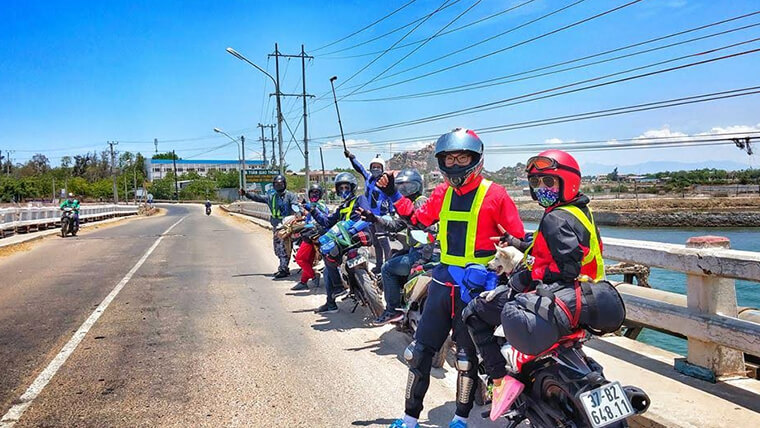 Source: Vietfuntravel
Motorbike Vietnam North to South
Traveling by motorbike can take a lot of time and effort, but it will definitely be a memorable experience, especially close to the lives of indigenous people. If you have enough time, you can also try your best with the tour along Vietnam departing Hanoi - Vinh city - Hue city - Da Nang - Hoi An - Quy Nhon city - Nha Trang - Mui Ne - Vung Tau - Ho Chi Minh city.
3 - How to experience Vietnam motorbike tours
Book a tour or do it by yourself are two options:
Book a package tour
Do not need to plan, book tickets, rent a motorbike or look for a place to eat and drink, but you have to follow the fixed itinerary and activities.
- Some travel operators offer motorbike tours in Hanoi:
+ Kevin Travel - phone number: 0981 00 11 29
+ Combo Travel - phone number: 088 834 26 26
- Some travel operators offer motorbike tours in Ho Chi Minh City:
+ OneTrip - phone number: 096 311 14 08
+ Vietnam Vespa Adventures - phone number: 077 299 35 85
+ Back of the Bike Tours - phone number: 093 504 69 10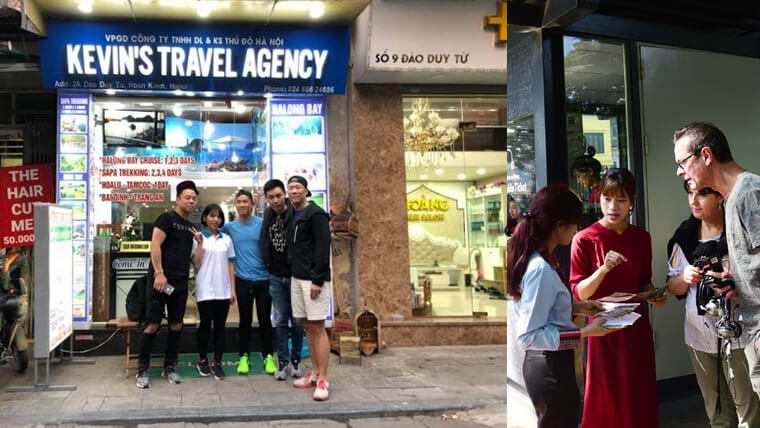 Kevin Travel - Source: Kevinstravel
- Vietnam motorbike tours prices depend on types of tour and for more details, you can take a look at the website of suggested travel operators above.
By yourself
By this way, you can freely decide and select your favorable destinations & routes with lots of interesting and surprising experiences
However, you have to spend more time planning your trip with a suitable and perfect itinerary with accommodation, meals and activities & attractions. Also, you have to bear the risks and inconveniences during your journey.
II - Some one-day motorbike tours in Vietnam
Motorbike riding doesn't have to take many days, there are lots of paths to explore the tourist attractions around the city in just one day.
In Hanoi, you can choose Ba Vi national park, Tam Dao mountain, or just the suburban area in Hanoi like Bat Trang ceramic village, Duong Lam ancient village, Van Phuc silk village...
In Saigon, you can refer to places like the island Thanh An, Can Gio, Chua Chan mountain, Tri An lake …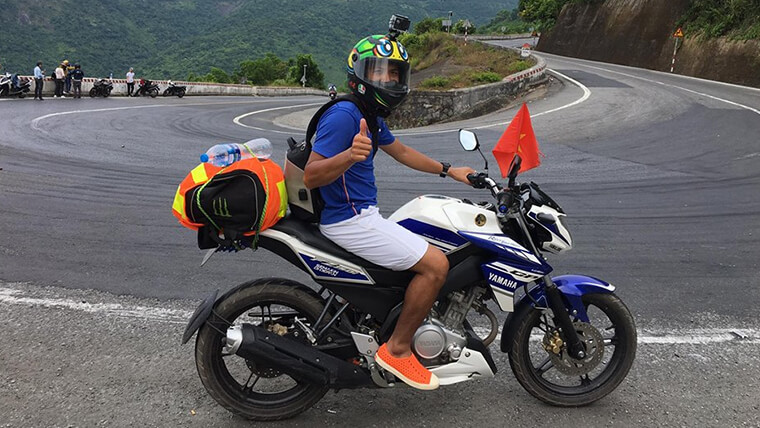 Hai Van Pass - Source: Internet
In Hoi An, you can do an one-day motorbike tour to Tra Que vegetable village, Thanh Ha pottery village,...
When traveling a short distance in just a day or two, you can use almost any vehicle that will accommodate it. It is important that you maintain your bike regularly, change the oil and inflate the tires before going. Besides, choose the motorbike you often travel with, to get used to the steering and control more easily.
III - Tips for riding motorbike in vietnam
- In addition to preparing skills for safe driving, you also need to choose a suitable and safe vehicle during the journey. You can choose one of the motorcycles such as Yamaha Exciter, Honda Winner, Wave or Honda Win Detech ... all help conquer all-terrain and save fuel.
- Foreigners can drive motorbikes in Vietnam if they have an international driving license in Vietnam which is still valid. In addition, they also need a valid temporary residence card or visa to be eligible to stay in Vietnam.
- Always carry a valid driver's license, vehicle registration and motorbike insurance with you when driving. Driving in Vietnam without a license will be a problem in case of being checked by the traffic police, and, of course, you get penalties.
- At the same time, visitors should bring basic car repair kits, sleeping bags, waterproof backpacks, maps, raincoats…
- Vietnam driving side: always follow the RIGHT side to ensure safety and comply with Vietnam traffic laws.
- Traffic lights: Sometimes, the locals ride without caring about the traffic lights so be more careful, keep calm and follow the scooter flows.
Vietnam motorbike helmet: highly recommended to put a full-face helmet on when riding in Vietnam.
In addition, visitors also need to have psychological preparation and skills to drive safely because of prolonged congestion in big cities and traffic safety on inter-provincial or suburban highways.