Vietnam is a very worthy country for you to try out this form of backpacking tourism. This S-shaped land stretches from north to south with a variety of terrain types from high mountains to the deep sea to mysterious caves, unspoiled islands…. Those are the main attractions for tourists to experience Vietnam in the form of backpacking tourism.
If you are a culture enthusiast, Vietnam is a must-visit destination. Over the past 1000 years of building and defending the country, Vietnam has a cultural and historical depth that is diverse but still imbued with national identity. Backpacking Vietnam alone is one of the best ways to experience amazing natural landscapes, delicious food and deep culture. The following information mentioned below somewhat supports your idea for a backpacking trip in Vietnam.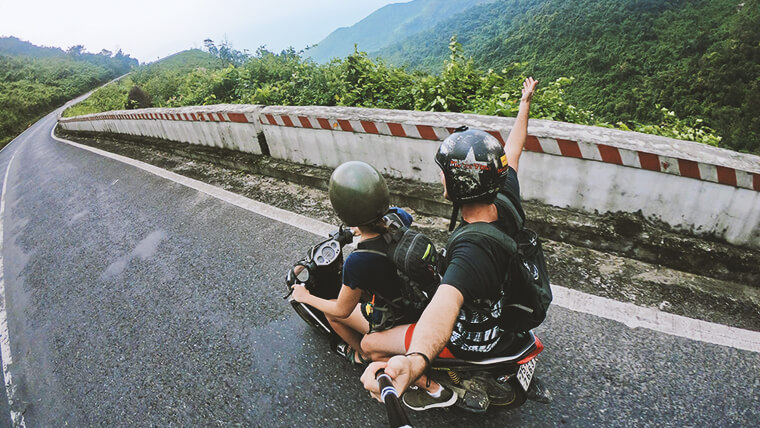 Beautiful road in Vietnam (Source: Jordan Opel)
I - Popular itineraries and routes for backpackers
1 - Backpacking Vietnam north to south route
The three main cities connecting three regions of Vietnam are Hanoi - Da Nang - Ho Chi Minh City. On the North - South itinerary, you cannot miss the following places:
Hanoi: Hoan Kiem Lake, Opera House, Old Quarter, Museum of Ethnology, Cathedral, Hanoi flagpole, Hanoi prison
Da Nang: Hai Van Pass, My Son Sanctuary, Ngu Hanh Son, Linh Ung Pagoda, Son Tra Peninsula, My Khe Beach, ...
Ho Chi Minh City: Independence Palace, Notre Dame Cathedral, Nguyen Hue Walking Street, Ben Thanh Market, Cu Chi Tunnels, ...
2 - Northwest route
The northwestern route goes through a mountainous area: Pu Luong - Hoa Binh - Mai Chau - Lao Cai
Backpacking through Vietnam by this route, visitors have the opportunity to fully admire the majestic beauty shimmering in the mist of the mountains and forests of Northwest Vietnam with the vibrant green color of the rice field or the fresh, nursery yellow color covering the village in the season of ripe rice. The destinations that should not be missed on this route are: Pu Luong tourist area, Ban Lac, Thung Khe, Sapa, ..
3 - Northeast route
The northeastern route includes Ba Be - Ban Gioc - Ha Giang
The scenery of the Northeastern road is as beautiful as a water-color painting. On this road, visitors will discover Ba Be Lake - the largest natural freshwater lake in Vietnam; enjoy the majestic pristine beauty of Ban Gioc waterfall and experience the lively scenery as well as the people on Ha Giang land. This definitely is the best backpacking Vietnam route that all backpackers and travellers "must visit" when backpacking to northern Vietnam.
4 - Northern Plain route
Going through plain province comprising Hanoi - Quang Ninh - Hai Phong - Ninh Binh
Hanoi: Ho Guom, Opera House, Old Quarter, Museum of Ethnology, Cathedral, Hanoi flagpole, Hanoi prison
Quang Ninh: Ha Long Bay, Loi Am Pagoda, Bai Chay, Yen Tu
Hai Phong: Do Son beach, Lan Ha bay, Cat Ba island
Ninh Binh: Trang An, Hang Dance, Tam Coc, Bich Dong
5 - Central coast route
A long Vietnam backpacking trip through Quang Binh - Hue - Da Nang - Hoi An - Nha Trang - Ninh Thuan / Binh Thuan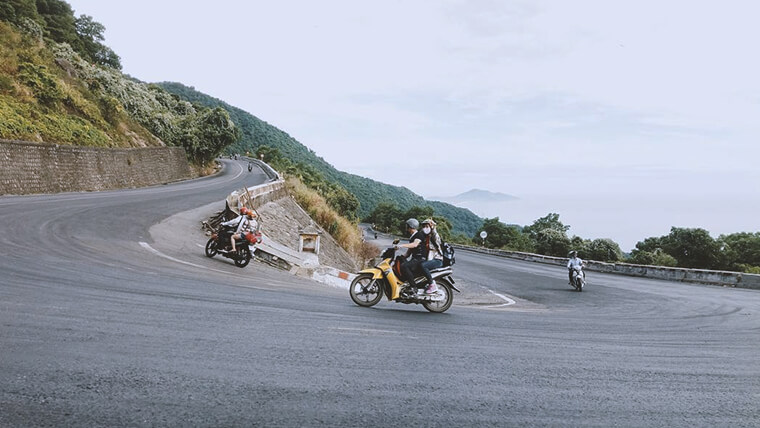 Dust tourism in Hue (Source: Mytour)
Quang Binh: Phong Nha - Ke Bang cave, En cave, Tien Son cave, Thien Duong cave, Suoi Mo, ...
Hue: Tombs of the Nguyen Dynasty, Hue Kinh Thanh, Thien Mu Pagoda, Phu Cam Hat Village, Hue Quoc Hoc School, ...
Da Nang: Hai Van Pass, My Son Sanctuary, Ngu Hanh Son, Linh Ung Pagoda, Son Tra Peninsula, My Khe Beach, Ba Na Hill, ...
Hoi An: Hoi An ancient town, Cau pagoda, Tan Ky old house, Cu Lao Cham, Hoi Quan Quang Dong, ...
Nha Trang: Vin Wonder Nha Trang, Ba Po Nagar tower, Institute of Oceanography, Ba Ho stream, ...
Ninh Thuan / Binh Thuan: Vinh Hy Bay, Rai Cave, Nui Chua National Park, An Hoa sheep field, Bau Trang, Hong stream, Mui Ne fishing village.
6 - Central highland route
Pleiku - Dalat - Kon Tum is an interesting route in central highland if backpacking in Vietnam
Pleiku: Minh Thanh pagoda, Gia Lai museum, Chu Dang Ya volcano, T'Nung lake, Phu Cuong waterfall, Hong Dak Doa grass hill.
Da Lat: Datanla waterfall, Prenn pass, Maria church, Bao Dai palace, Langbiang mountain, Cau Dat tea hill, hydrangea flower garden, strawberry garden.
Kon Tum: Wooden church, Pau Sur waterfall, Kon Klor suspension bridge, Chu Mom Ray national park, Mang Den pine forest, Yaly waterfall.
7 - Southern route
The main route for backpacking travel: Saigon - Vung Tau - Con Dao - Mekong Delta - Phu Quoc
Saigon: Independence Palace, Notre Dame Cathedral, Nguyen Hue Walking Street, Ben Thanh Market, Cu Chi Tunnels, ...
Vung Tau: lighthouse, Con Heo hill, Da Xanh lake, Marina harbor.
Con Dao: Con Dao prison, Con Dao National Park, Dam Trau beach.
Mekong River Delta: when backpacking south Vietnam, the Mekong River Delta includes river-water provinces is a "cannot miss route" where to bring visitors new and impressive experiences. It is visiting and shopping on floating markets that are famous when mentioning Cai Rang floating market, or experience sitting on a boat among the coconut palms, cruising on a boat to admire the Hau River and listening to Don Ca Tai Tu.
Phu Quoc: Ham Ninh fishing village, Sao beach, Vom beach, Safari zoo, Tieu garden, Phu Quoc national park.
II - Types of accommodation suitable for backpackers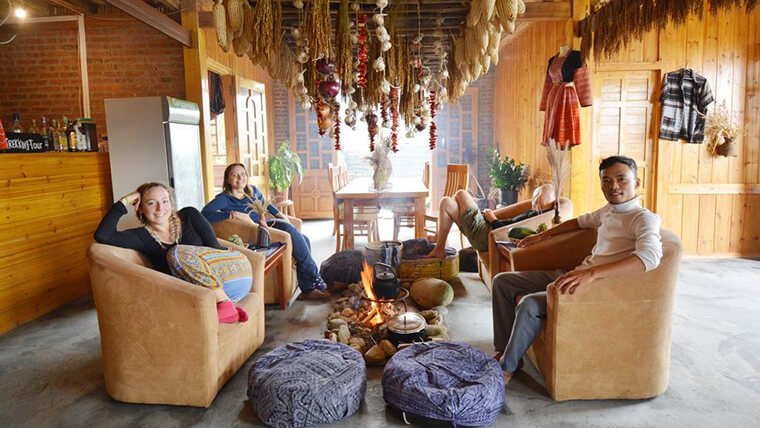 Homestay (Source: Booking)
Hostel: Vietnam backpacking hostel is one of the best choices for accommodation required in a backpacking trip , has a bunk bed, cheap price, serves drinks and exciting activities suitable for tourists.
Homestay: Homestay is a form of accommodation that is very suitable for backpackers because of its natural comfort and low price. In addition, the homestay owners are also very friendly, hospitable, ready to advise visitors or share cultural and historical stories of their place.
Couchsurfing: is a social network for tourists staying in the form of accommodation. This form is very suitable for backpackers because they will not incur any cost of stay. In addition, you will have the opportunity to make friends, interact with people with similar interests or know more about local culture and life.
III - Backpacking Vietnam budget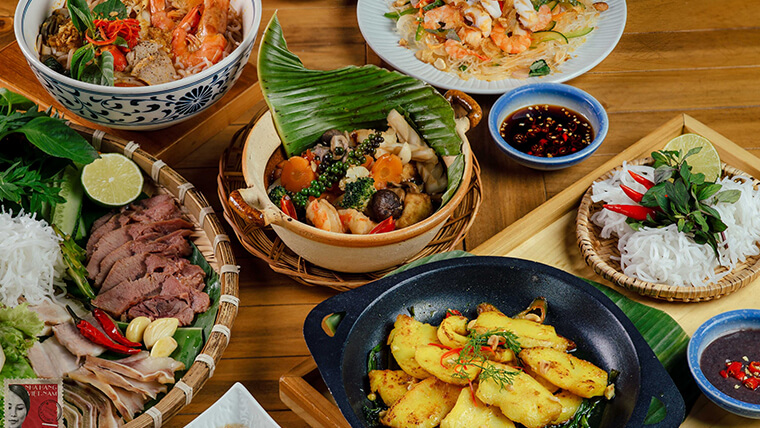 Vietnamese rustic cuisine (Source: Nhahangdimai)
Vietnam is one of the countries with high quality food at a very reasonable price.
Vietnamese cuisine diverses from street food to fine dining. Street food such as sandwiches, salads, ...dishes are priced from 20,000 VND / set (from 0.9 USD), suitable for breakfast, lunch or dinner. Soup dishes such as vermicelli, pho, noodles, fried rice... have an average price of 35,000 VND / bowl (1.5 USD). At restaurants, the average price is from 200,000 VND / person (8.6 USD) to more than 1,000,000 VND / person (43 USD +).
The culture of Vietnamese coffee is very interesting. You will find a lot of cafes from street cafes to luxury cafes across the three regions of the country. These drinks have an average price of 30,000 - 100,000 VND / cup (1.2 - 4.3 USD).
Moving in the city: Motorbike rental is in the range of 120,000 - 200,000 VND / day / car (5.1 - 8.6 USD) depending on whether the car is a digital car or a scooter. City bus tickets for each turn are from 5,000 - 10,000 VND / way (0.2 - 0.4 USD).
Train ticket price depends on the departure location - destination and class of seats, beds that tourists choose. The railway to Hanoi - Lao Cai costs about 650,000 VND / bed ticket (28 USD); the route to Hanoi - Da Nang costs around 1,000,000 VND / bed ticket (43 USD); Hanoi - Saigon route has a price in the range of 1,300,000 - 1,600,000 VND / bed ticket (56 - 68 USD). For further details, please access Vietnam national railway system here.
Accommodation cost:
The homestay price is from 400,000 VND / night (from 17.2 USD).
Hostels from 200,000 VND / night (from 8.6 USD)
Dorm bed at hostel cost from 150,000 VND / night (from 6.5 USD)
In total, backpacking in Vietnam cost per day is around 25USD for cheapest options of dorm bed (6.5$), food and drink (10 - 12$ ), transportation (5$), other expenses (5$). This number shows that Vietnam is really one of the cheapest destinations in the world where you can explore stunning landscapes, enjoy awesome foods and experience an amazing culture. If choosing to travel in Vietnam during the low tourist season from May to September time, the cost of traveling is even lower than the above price.
IV - Backpacking Vietnam packing list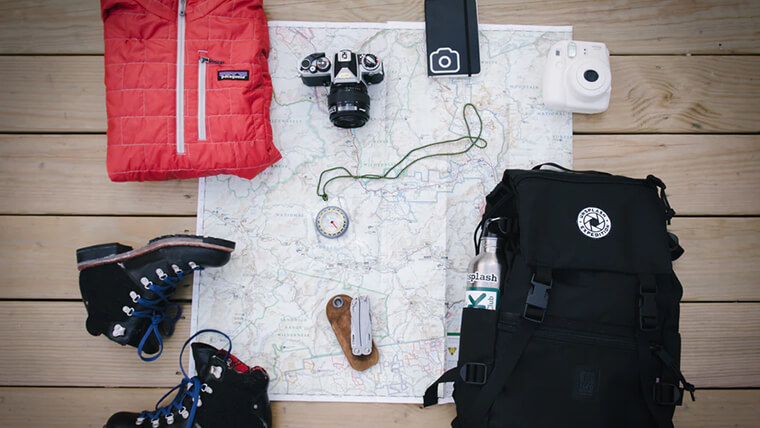 Travel backpack dust (Source: Alice Donovan Rouse)
- Some essential items that visitors must prepare to have a safe trip include:
- Backpacks, sleeping bags, raincoats: lightweight, durable
- Clothes, shoes: loose clothing, comfortable, suitable for the weather in each destination, should have a thin coat when going up the mountains: shoes matching the route such as runners, climbing shoes.
- Preventive medicine for simple diseases
- Personal equipment: power bank, camera, compact camcorder, flashlight, map
- Communications equipment: backup phone, 4G sim card, language app,
- Personal documents: passport, international payment card visa, mastercard, JTBC, travel insurance
V - Backpacking in Vietnam tips
Some notes for tourists wishing to travel in Vietnam such as:
- Maps are indispensable when traveling. However, if it's too hard to imagine, ask the locals. They will guide the way most wholeheartedly.
- Check the weather of the places you plan to visit before starting your journey to prepare the right clothes and equipment.
- Prevent robbery, because this situation can occur even during the day.
- When buying at street vendors or markets, bargain.

Vietnam is a country with many beautiful natural landscapes attracting thousands of domestic and foreign tourists to visit every day. Backpacking around Vietnam will surely leave you with memorable and unforgettable memories. It is hoped that some information and especially backpackers guide to Vietnam below can help you get a trip of your life.