In recent years, Sa Dec City has become an extremely loved tourist destination in Dong Thap province, especially famous for its traditional flower and ornamental plants. This place also concentrates on many typical tourist attractions, including many architectures of historical and spiritual value. The following article is hoped to give you a more detailed look at the charms of Sa Dec Vietnam:
I - Top 10 attractions in Sa Dec Vietnam
1 - Sa Dec Flower Village
For more than a hundred years, the city of Sa Dec has long been famous for growing colorful flowers and ornamental plants. Located about 3km from the city center, this flower village has an area of more than 300ha, lying right next to the romantically charming Tien River. Because it belongs to Tan Quy Dong Ward, Sa Dec City, this flower village is also known as Tan Quy Dong Flower Village.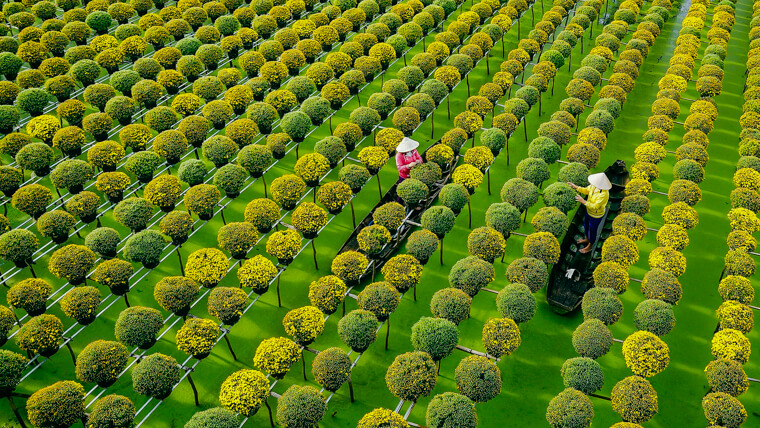 The colorful flower village - Source: thamhiemmekong
The beautiful landscape in Sa Dec Flower Village got this place the title "a second Da Lat", with colorful flower fields stretching under the sun, consisting of all kinds such as hydrangeas, dahlias, Japanese juniper, and French marigold,... A special feature of the flower village in Sa Dec Vietnam is that flowers are planted evenly on simple but delicate trellises on the water, so to take care of them, locals will row canoes through these greenish lines. Farmers mainly come to the garden in the early morning (5am - 8am) or late afternoon (4pm- 5:30pm), which are also the best times for you to visit.
Sa Dec Flower Village exploits tourism in a quite reasonable way, following modern trends but still retaining the inherent simplicity of everyday life. Households here both grow flowers and participate in tourism, and depending on the scope, each garden provides different services at a reasonable cost. These facilities build many models combined with beautiful flowers for you to visit and take pictures of, also providing attractive game services so that you can fully experience garden tourism.
Visiting Sa Dec Vietnam, you will also have an opportunity to ride a bicycle across the monkey bridge, go on a swing bridge, and row a canoe through the flower gardens,... If you want, the locals are willing to guide and allow you to join the flower packaging as well. Sa Dec Spring Flower Festival, a special occasion held annually since 2013, taking place in about a week is a highlight of Sa Dec travel. The organizers also invest in other diverse programs such as the folk cake festival, performing various types of street art, traditional folk games, and so on.
Currently, you can go in and sightsee Sa Dec Flower Village for free, as well as rent a tram or motorbike taxi near the welcome gate to visit the tourist areas inside. In addition, there is also a flower village in Tan Khanh Dong Commune, which is an extension of Tan Quy Dong, although not as famous.
2 - Huynh Thuy Le House - the most ancient house in Sa Dec Vietnam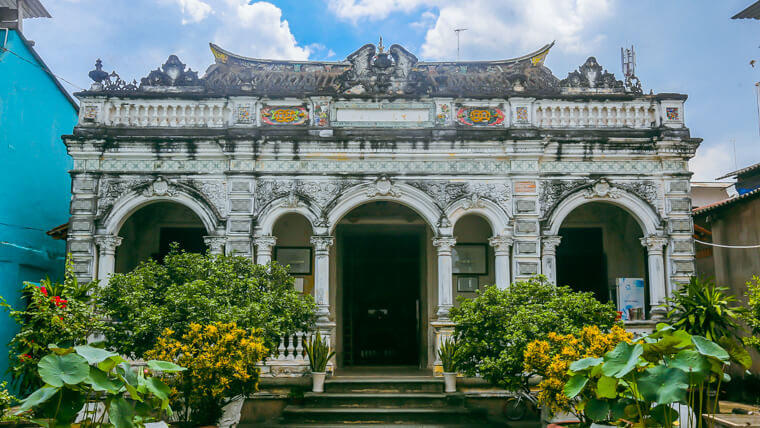 Huynh Thuy Le Ancient House - Source: vnexpress
Huynh Thuy Le Ancient House in Dong Thap province features an ancient beauty of white lime walls that have been covered with moss over time. It was built in 1895, from bricks and glass imported from France, preserving many memories of the famous love story of Vietnamese-Chinese Huynh Thuy Le and French writer Marguerite Duras, whose novel The Lover was adapted into the famous film L'Amant.
From the outside, this building features French architecture but entering inside, you can see the outstanding Chinese style. The inner wooden frame is covered with solid bricks; the middle laphon ceiling is delicately decorated with dragons and bats. In the middle of Huynh Thuy Le House in Sa Dec Vietnam is the altar of Quan Cong, surrounded by precious wooden sacks and walls, elaborately carved showing the nobility of the rich families in the past.
- Location: No.255A Nguyen Hue Street, Ward 4, Sa Dec City
- Ticket price: 20,000 VND / person ($0.87)
- Opening hours: 7am - 5pm
3 - Kien An Cung Pagoda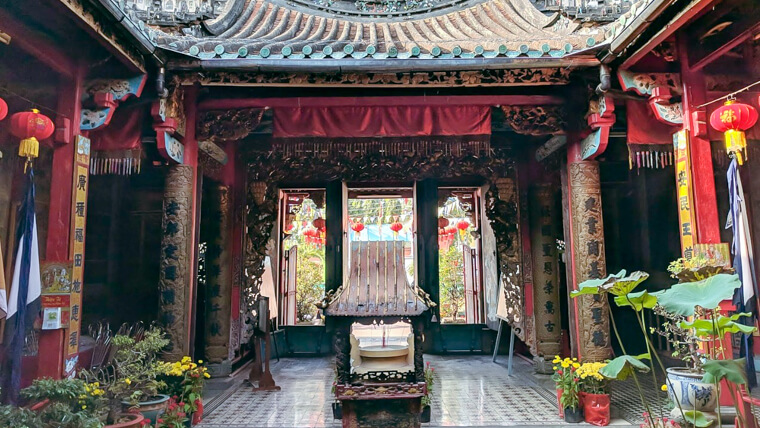 Kien An Cung Pagoda - Source: thamhiemmekong
Built in 1924, Kien An Cung Pagoda or Mr. Quach Pagoda is a typical cultural structure and is a testament to the harmonious life of Kinh, Chinese and Khmer people in Sa Dec Vietnam. Coming here, you can admire a unique architecture imbued with Chinese culture, surrounded by a cement fence crafted like green bamboo poles.
Every year, the temple has two sacrifices with dignified rituals on February 22 (lunar calendar) which is the birthday of Mr. Quach, and August 22 (lunar calendar) which is the day Mr. Quach became religious.
- Location: No.39, Phan Boi Chau Street, Ward 1, Sa Dec City Vietnam
- Ticket price: Free
- Opening hours: 6am - 12pm & 2pm - 6pm
- Note: avoid taking too many pictures or playing loudly
4 - Vinh Phuoc Communal House
The unique historical-cultural relic Vinh Phuoc Communal House was established before 1852 but very simple, it was not until 1904 that it was built into the current architecture. Vinh Phuoc is designed like the ancient communal houses in the South of Vietnam, roofed with yin and yang tiles, carrying many embossed figures according to ancient legends.
If you have the opportunity to travel to Sa Dec Vietnam and visit this place, this will be an opportunity for you to return to the ancient times, look at the paintings, the couplets contain many messages from the ancients… Not only preserving quite intact the unique features of ancient architecture, but Vinh Dinh communal house also owns 6 ancient deities of the Nguyen Dynasty in the 19th century.
- Location: No.125 Tran Hung Dao Street, Ward 1, Sa Dec City
5 - Thien Hau Temple
The temple was built in 1867 by a group of Chinese immigrants, so it has a unique Eastern architecture. Initially, it was built with simple bamboo leaves on a narrow campus, and it was expanded and decorated magnificently in 1886. Most of the materials for the restoration of the temple were brought from China and so far the temple has almost kept its old architecture.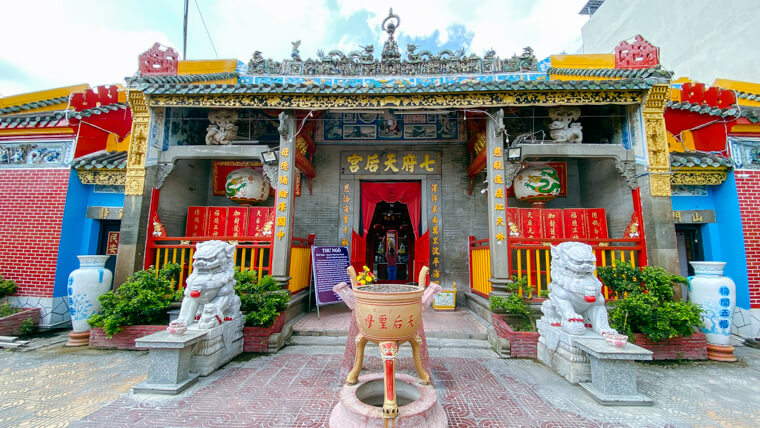 A sacred temple in Sa Dec Vietnam - Source: @Ngô Đồng
From the outside, Thien Hau Temple has a rather large courtyard, with contrasting red and yellow tones against the blue sky, further emphasizing the majesty and ancientness of the architecture. On the ceiling, there are many paintings about Chinese legends such as The Romance of the Three Kingdoms, Investiture of the Gods,… The main hall consists of three altars, decorated splendidly with red flags and yellow letters, worshiping Lady Thien Hau and other gods.
- Location: No.143 Tran Hung Dao Street, Ward 1, Sa Dec City
6 - Sa Dec rose field tourist area
Coming to the 2.5ha Sa Dec Rose Field Tourist Area, you will surely be captivated by the brilliant beauty of more than 6,000 rose plants with over 20 different varieties, emitting a sweet and fragrant aroma. There are also many miniatures to let you sightsee and take photos, such as the infinity ladder, sunflower field, invisible bamboo bridge, lotus lake, leaf house, fishing hooves,... The flower wharf and the flowering river are the most ideal corners.
The Sa Dec Rose Field Tourist Area in Sa Dec Vietnam also has a fish pond dedicated to those who like to experience being a farmer, participating in hooves - a popular traditional way of catching fish on the river. You will also be able to watch a very special flying snakehead fish performance, visit the rose water extraction process, and board a replica hot air balloon.
- Location: Cao Thang Street, Tan Hue Ward, Sa Dec City
- Ticket price: 20,000 VND / person ($0.87)
- Opening hours: 6am - 6:30pm
7 - Tu Ton Rose Garden Tourist Area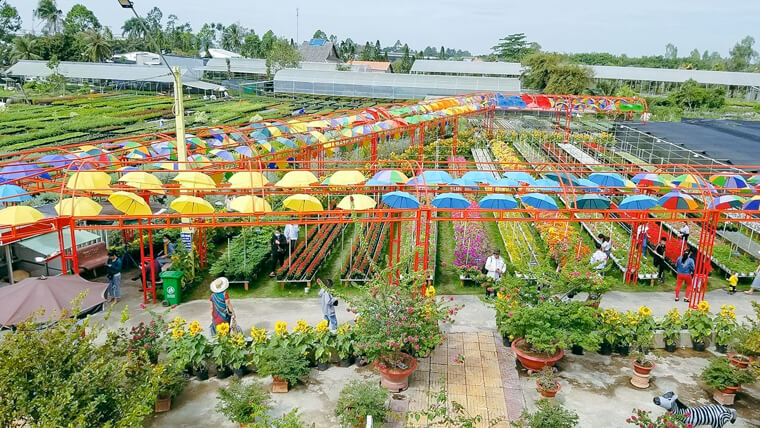 Tu Ton Rose Garden Tourist Area - Source: @Tran Van
Tu Ton Rose Garden has both modern beauty and hidden cultural and spiritual values, bearing the very own imprint of the peaceful Sa Dec Dong Thap land. This is considered the cradle of bonsai and ornamental flowers here, filled with a variety of roses, from traditional to antique and imported ones.
With a total scale of nearly 4ha, Tu Ton Rose Garden Tourist Area in Sa Dec Vietnam, in addition to rose fields, is also designed with many new items and check-in points. The purple-pink carpet at a corner of the garden is also an interesting highlight for romantic photos. Besides, there is also an area for raspberry chrysanthemums on the trellis, contributing to bringing spring colors and preserving the inherent tradition of Sa Dec Flower Village.
- Location: Tan Quy Dong Ward, Sa Dec City
- Ticket price: 40,000 VND / person ($1.75)
- Opening hours: 7am - 6pm
8 - Sa Dec Market
The land of Sa Dec has long been famous as a prosperous area, with the Sa Dec Market contributing a large part to that reputation thanks to the busy trading activities. Surrounded by many canals, this wholesale market often opens from morning until late at night and is always bustling. This market of Sa Dec Vietnam is located close to the riverside street up to five miles long, under the river are raft houses built on bamboo, selling silk, utensils, various types of oil, main materials for making boats, wood charcoal, raw pottery, bricks, tiles, bamboo, rattan, salt, and fish sauce,...
Sa Dec Market is the source of all kinds of goods, which are transported throughout the Southern region and to neighboring countries in Indochina.
At the end of the 19th century, the market cage houses were built with solid steel frames and unique architecture, bearing the imprint of Eastern culture combined with the absorption and selection of Western-style. Experiencing the ups and downs of history with many events of the times, this building has been destroyed a lot and is no longer as brilliant as before. It was not until the late twentieth century that Sa Dec market cage houses were rebuilt, still simulated to keep the ancient features.
9 - Flour making village food court in Sa Dec Vietnam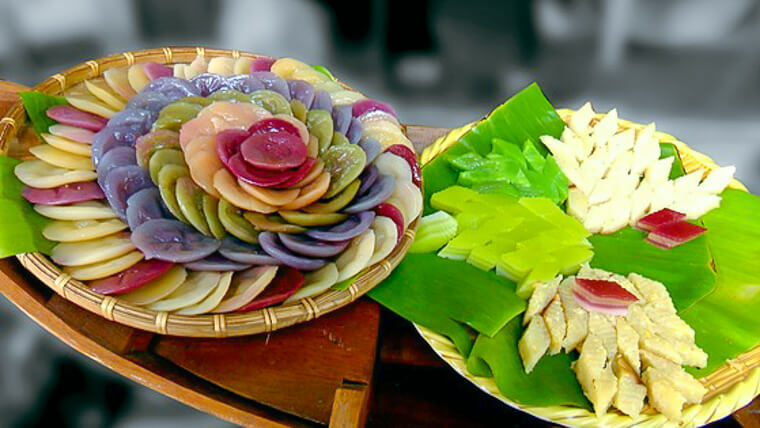 Flour cake - Source: bantinplus
With a total area of ​​​​nearly 1000 m2, Sa Dec flour-making village food court is a space honoring the rustic cuisine of Sa Dec City and Dong Thap province, especially cakes made from flour and various types of che (Vietnamese sweet soups). At first glance from the outside, this place is no different from a food court area, but inside there is a peaceful and relaxing rural space of a small village.
Coming to the flour-making village food court, you will feel fascinated with dozens of folk cakes of Vietnam's Southern land, from sweet to savory, such as banana cake, jackfruit leaf cake, banh tet, banh xeo,...
In addition, the food court in Sa Dec Vietnam also serves typical Vietnamese dishes such as bum mam - a noodle soup cooked with fermented fish, grilled snakehead fish,… To conquer the taste buds of fastidious people, this food court continuously changes the menu so that the cakes and foods are always attractive, from flavor to color.
A very unique feature of the Sa Dec food court is the display area of ​​Vietnamese flour production tools from the past, helping you understand more about the development of this hundred-year-old flour-making village. Here, you can also experience grinding flour, and making cakes. Remember to buy some pretty gifts for relatives and friends.
- Location: No.91 on Provincial Road 848, Hamlet 2, Ward 2, Sa Dec Vietnam
- Buffet ticket price:
+ Adults: 119,000 VND / person ($5.2)
+ Children: 59,500 VND / person ($2.6)
- Opening hours: Saturday & Sunday
+ Buffet: 8am - 2pm
+ Dishes: 2pm - 4pm
10 - HappyLand Hung Thy Ecotourism Area
HappyLand Hung Thy Tourist Area in Sa Dec City was originally an unspoiled field, then redesigned into a garden tourist area with riverside features of gardens, ornamental flower beds, and many interesting folk games.
From the ticket booth, you see cool vines cellars with a bright green color, a little purple flowers, and a little yellow from the sun. Inside, there are flower boats, a love bridge, and rustic images such as monkey bridges, buffalos, fishing rods, net hooves,… and a playground (swinging across the river, cycling, rowing boats,..). You can also rent a costume in Vietnam's Southern-style with a ba ba shirt and a bandana.
Coming to HappyLand Hung Thy Tourist Area in Sa Dec Vietnam, you can enjoy special dishes at the mini-restaurant of the resort such as grilled snakehead caviar, chicken hot pot with Giang leaves, and southern pancakes, … The ingredients are all homegrown so the flavor is very authentic, and eating in the cool huts will make it more intense. Right on the left-hand side, there is also a nice little cafe with a romantic view, reasonable price, and mouth-watering drinks. You can drop in and rest under the cool misting equipment, which is quite pleasant.
- Location: No.113C Hoa Sa Dec Street, Tan Hiep Hamlet, Tan Quy Dong Ward, Sa Dec City - about 1km from the main gate of the Sa Dec Flower Village.
- Entrance ticket: 20,000 VND / person ($0.87)
- Games package: 100,000 VND / person ($4.37)
II - Useful information about Sa Dec Vietnam tourism
1 - Accommodation in Sa Dec City
Homestay combined with ecotourism is very popular in Sa Dec, so in addition to the resorts and garden houses mentioned above, you can refer to some places such as:
Homestay Frog Flower House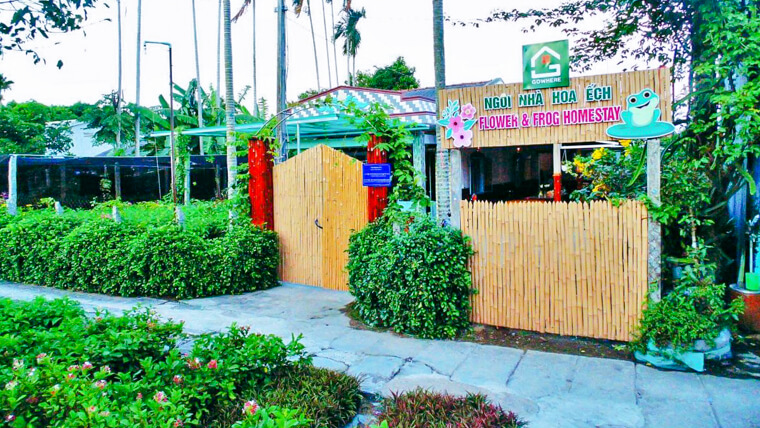 Homestay Frog Flower House - Source: booking
This homestay has spacious and simple space, but also comfortable, cozy, and clean, decorated with bold regional identity. Here, you can have very special experiences in floriculture, frog farming, and traditional crafts like the locals under the enthusiastic guidance of the host.
- Address: No.43 Bui Thi Xuan Street, Tan My Hamlet, Tan Quy Dong Ward
- Price: 150,000 VND / person ($6.56)
- Contact: 091 864 53 90
Maison en Bambou Phong-Le Vent (Bamboo House)
Nestled in Sa Dec Flower Village, this homestay has a quiet and peaceful space. The hostess is really friendly and cute, lending you a free bicycle to go sightseeing.
- Address: No.204A, Tan Hiep Hamlet, Tan Quy Dong Ward, Sa Dec Vietnam
- Price: 390,000 - 875,000 VND / person ($17.06 - 38.28)
- Contact: 093 929 83 88
Rose Homestay
Located in a garden with an area of ​​up to 20,000 m2, this homestay brings you into a world filled with unique bonsai trees and flowers.
- Address: No.156, Provincial Road 848, Khanh Nhon Hamlet, Tan Khanh Dong Ward, Sa Dec City
- Room price: 320,000 - 1,800,000 VND / person ($14 - 78.74)
- Contact: 0949 33 22 44 - 0277 376 5555
L'amant Homestay
Huynh Thuy Le Ancient House is not only a famous tourist attraction in Sa Dec but also provides accommodation services. You will be living in the space of the famous movie "Lover", feeling the old life and admiring the unique ancient architecture.
- Address: No.255A Nguyen Hue Street, Ward 4
- Room price: 550,000 VND / person ($24.06)
- Contact: 0277 3773 937 - 092 716 25 02
2 - Top 4 specialties of Sa Dec Vietnam
Coming to Sa Dec, one thing you should not forget is to enjoy the unique, delicious specialties, which can be easily found in most tourist areas and garden houses.
Hu Tieu Sa Dec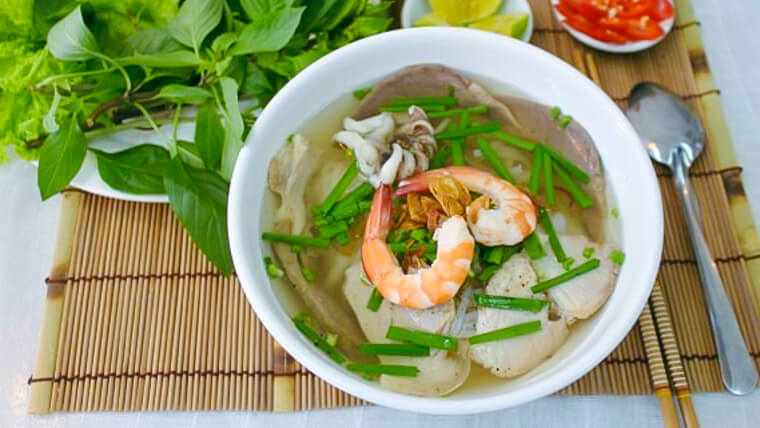 Hu Tieu Sa Dec is an indispensable part of your Sa Dec travel tour - Source: kyluc
The unique feature of hu tieu Sa Dec is that it is dry, including soft and chewy noodles, together with soft-cooked pork, pork liver, and rich shrimp,…
Grilled snakehead fish & lotus leaf
If you want to eat this dish, you have to go to Sa Dec City because only here can you get young lotus leaves that have just popped out of the water. Grilled snakehead fish rolled with young lotus leaves is delicious in that all ingredients are taken from this land, including rice field snakeheads, sour star fruit, acrid banana, herbs… Snakehead fish meat is cooked soft and sweet, with the full viscera, served with fresh lotus leaves and sour tamarind fish sauce.
Common sesban and Linh fish sour hot pot
This is a specialty only in the floating season in Sa Dec Vietnam from September to November. Besides the hot pot with Linh fish and crazy flowers, you can also enjoy many typical vegetables of the region such as water spinach, collard greens, collard greens,… along with pure chili fish sauce
Sa Dec shrimp sticks
This dish is classified as a delicious dish in sumptuous parties to entertain distinguished guests. Shrimps are peeled and pounded with pork fat and garlic, seasoned with spices, then wrapped around sugar cane shells, grilled until golden. This dish is eaten with banh cuon, vermicelli or rice paper rolls, having a rich, seductive taste and an attractive scent. Indispensable parts of this dish also include herbs, raw bean sprouts and a delicious dipping sauce made from Phu Quoc island fish sauce and spices in certain proportions.
3 - Best time to visit Sa Dec City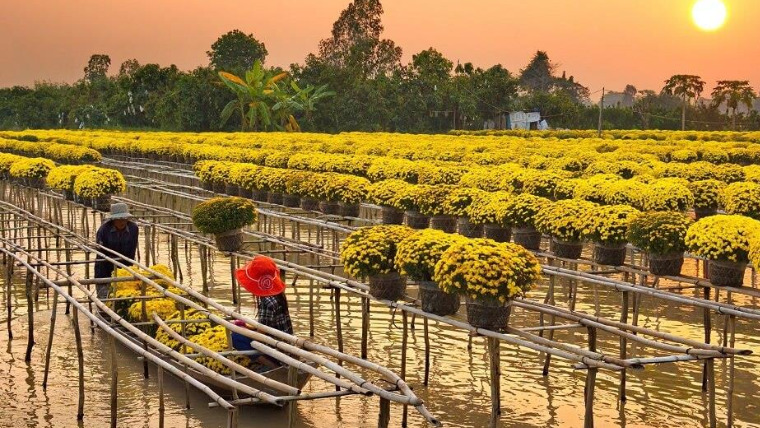 Source: Congtoai
The climate of Sa Dec Vietnam is divided into distinct rainy and dry seasons, the rainy season lasts from May to November, coincidentally when the lotus blooms brilliantly. Although there are some difficulties, if you visit during this occasion, you will have the opportunity to admire many kinds of fruit trees and flowers in the gardens. Meanwhile, the ideal time to travel here is in the dry season from December to April next year, when the scenery will be brilliant and bright, especially near Tet - Vietnam lunar new year.
4 - Sa Dec package tour operators
Vietourist
- Duration: 1 day
- Price: 690,000 VND / person ($30.2)
- Contact: 0906301683, 0902771683‬, 0909921683, 0932618091‬, 0937163756
- Website: vietourist.com.vn
Dat Viet Tour
- Duration: 1 day
- Price: 786,000 VND / person (34.4)
- Contact: 02873 081 888
- Website: datviettour.com.vn
Tin Viet Tour
- Duration: 1 day
- Price: 550,000 VND / person ($24.06)
- Contact: 028 359 234 73 - 0909 604 379
- Website: tinviettravel.com.vn
5 - Sa Dec Vietnam map
For a long time, Sa Dec City has been famous for being the land of hundreds of exotic species of flowers and plants, emitting a fragrant aroma and blooming colorfully every spring. Coming here, you not only can admire the scenery and take pictures in the fresh space, but also be able to enjoy delicious specialties and participate in exciting fun activities. Hopefully, the full Sa Dec Vietnam tourism discovery experiences above have given you the most useful information for a comfortable and enjoyable trip in Vietnam.