Each region along Vietnam has its distinctive beauty during the daytime and at night, and the beach city Vung Tau is not an exception. Vung Tau nightlife is filled with energetic bars and busy night markets, as well as the exciting fierce dog races and night squid fishing tours, etc. If you're interested in after-sunset activities in this coastal city, the post below from Vietnamtrips will bring you closer to the true nightlife in Vung Tau city.
1 - Vibrant Vung Tau nightlife: Top bars & clubs
The Vung Tau city is attractive not only because of its stunning landscapes, scrumptious specialties but also the lively nightlife. The important factor contributing to the appealing nightlife is vibrant bars which are also considered "the specialty" here.
Blue Moon Club
Blue Moon Club is one of the most famous and largest bars in Vung Tau, characterized by a light and music system, making it the topmost favorite place for enjoying at night in this hectic city. The most appealing is the spacious stage with the extremely impressive background strongly highlighted by the colorful image and light effects.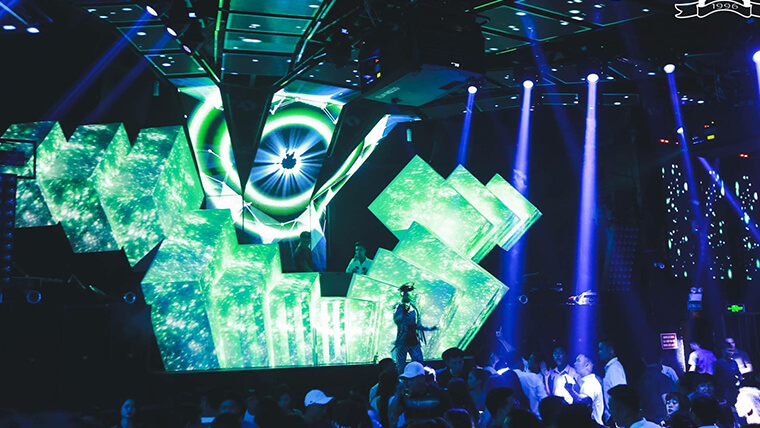 Top nightlife in Vung Tau city - Source: Bluemoonclubvt
The music in the club is very impressive, well-equipped with monumental musical instruments, performed by talented and energetic DJs. The cozy atmosphere makes you feel closer to each other, freely have fun and immerse yourself in the vibrant music. The club is situated close to many hotels, resorts, stores, and cafes, etc., especially the beach, which is very convenient, suitable for entertainment and joining other beach activities.
- Address: No.02 Nguyen Du Street, Ward 1, Vung Tau City
- Hotline: 0909 922 881
- Fanpage: facebook.com/bluemoonclubvt/
Vitamin C2 Beer Club - Coffee - Restaurant
Bringing you the best experiences about Vung Tau nightlife, this is the perfect choice for those who desire to enjoy premium beers in a luxurious space with professional services. Vitamin C2 Beer Club is characterized by a stylish interior, romantic atmosphere, and eye-catching, chic decoration, as well as a modern light system that can change color flexibly. This mesmerizing space also offers a large wine list with creative cocktails, and other beverages at reasonable prices, making this the best Vung Tau beach club.
- Address: No.94 Ha Long Street, Ward 2, Vung Tau City
- Hotline: 0908 975 245
- Fanpage: facebook.com/agsdfgfd322/
Black Pearl Bar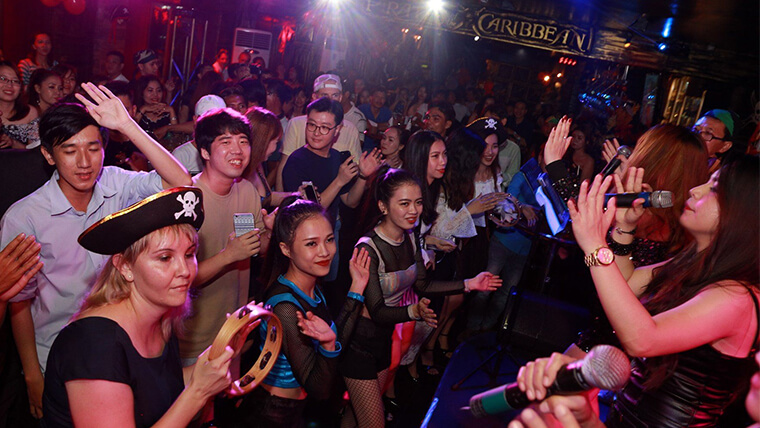 Exploring the most vibrant Vung Tau bars - Source: Fb barngoctraiden
Black Pearl sea-view bar is a prominent entertainment center at night - one of the best places to experience Vung Tau nightlife, catching the attention of visitors, especially the youth. The space here is quite spacious, simmering in warm light colors changing from purple, yellow to red, orange, and active with music performances of bands, Vietnamese singers, showing numerous genres such as pop, rock, dance, EDM, etc. The beverages at Black Pearl are diverse and tasty, served by enthusiast and friendly staff.
- Address: No.64 Ha Long Street, Ward 2, Vung Tau City
- Hotline: 0937 882 264
- Fanpage: facebook.com/barngoctraiden/
Cask Bar
Located near Bai Sau (Back Beach), Cask Bar - Craft Beer & Cocktails is also the leading option for many visitors to experience a special Vung Tau nightlife. This two-storey building has a cozy design, decorated with simple but friendly patterns, equipped with many chairs and tables, suitable for both groups and couples.
Like other Vung Tau bars and nightlife, it is impressive with Vietnamese craft beer such as Rooster, Pasteur, East West, Heart of Darkness, etc. and an array of cocktails, Vodka, Tequila, and soft drinks like Mocktail, Fresh Juice, and Coca, not to mention tasty and affordable snacks. The excellent background music here will make you feel absolutely comfortable and relaxed. You can show your singing talent and shine on your own stage in the bar.
- Address: No.12 Quang Trung Street, Ward 1, Vung Tau City Center
- Hotline: 0938 901 009
- Fanpage: facebook.com/caskvungtau/
Mr Splash Cocktail Bar - top place for enjoying Vung Tau nightlife
Considered by many to be one of the best girly bars in Vung Tau, although this place has only a small and narrow space, the layout brings its own style particularly attractive. Mr Splash Cocktail Bar has a youthful, dynamic and a little dreamy, nostalgic touch, from the food, drinks, music to the items in the room, which are full of nostalgia. This place has become an ideal stop for young people to sip a delicious cocktail, listening and swaying to music, really exploring the charming nightlife of Vung Tau.
- Address: No.81 Thuy Van Street, Ward 2
- Hotline: 091 567 77 08
- Fanpage: facebook.com/mrsplashvungtau/
2 - Top 6 Vung Tau nightlife - night market
Vung Tau night market is actually an area that sells seafood on both sides of the street; therefore, it is also called the seafood night market, which is always packed with people from the opening time to the time all stalls turn off the lights. The space of the stalls in this area is relatively large, comfortable to eat and drink, making it a true seafood paradise for you.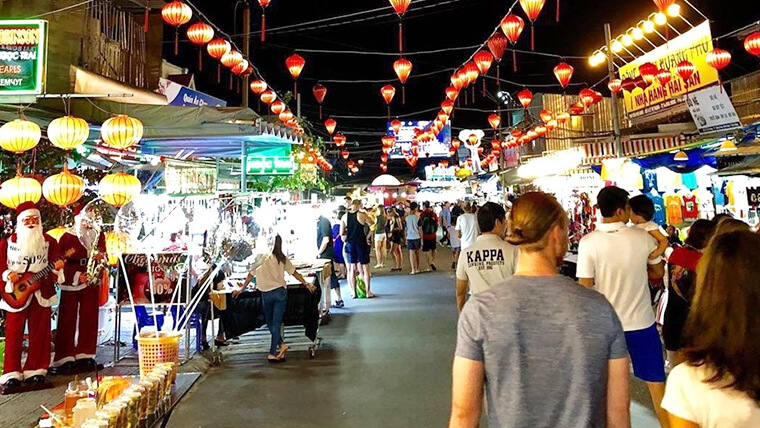 Top things to do in Vung Tau at night - Source: Internet
The Vung Tau night market is roofed with high-class corrugated iron and equipped with an electric light system, which makes the whole area as light as day. Each restaurant has its own seafood selection area and distinctive dining area, so you can smell the attractive aroma of seafood being processed.
What is more interesting about Vung Tau nightlife than satisfying your stomach with a wide array of seafood in the market such as shrimp, crab, fish, squid, clams, oysters, snails, mussels,...They are all fresh and you can order processing right on the spot in any stall. With only 40,000 VND to 200,000 VND ($1.76 - 8.8), you can freely taste different types of seafood. The most famous Vung Tau restaurants in the night market you can consider are Kinh Anh restaurant, Hang Uyen restaurant, and Truong Thanh restaurant.
The nightlife in Vung Tau Vietnam would not be complete without buying some small and cute souvenirs in the night market. You can find a myriad of colorful and adorable handmade items here such as accessories, keychains, decorations, etc. Many items are made from seashells, which are extremely stunning and unique.
- Address: Near the intersection of Nguyen Bieu Street - Dao Duy Tu Street, Thang Tam Ward, Vung Tau City
- Opening hours: 3pm - 1am
3 - Top 6 Vung Tau nightlife: Night squid fishing
Squid fishing is one of the most interesting activities in Vung Tau, catching the attention of many visitors. The best time for this activity is in April, featuring favorable weather. It is advisable to start the fishing tour at sunset, the hunting time of the squid. You should not go fishing alone, let's go with the local fishermen who are really hospitable and friendly, willing to show you the way how to fish squid. Otherwise, you can book night squid fishing tours from a tour operator.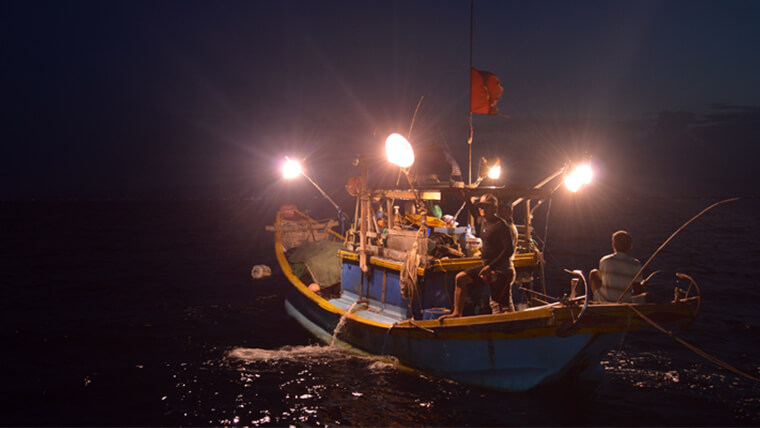 A great nightlife in Vung Tau Vietnam activity - Source: Internet
Because squid often gathers in the deep sea and rocky rapids, you should keep the boat about 5 to 7km from the shore. So what makes night squid fishing one of the best things to do in Vung Tau at night? You can really enjoy the squid right in place after fishing. Use a knife to split the squid in half along the spine, gently peel for drying, remove the entrails from inside the body, and peel off all the outer membrane from the outside, cut it into smaller slices, season with spices (lemon juice, fish sauce, chili), and enjoy with some white wine. Squid meat is sweet and crispy, combined with fresh air at sea, which creates a wonderful feeling. You can also grill or steam squid right in the boat to feel the freshness and sweetness of the squid meat.
4 - Top 6 Vung Tau nightlife: Enjoy the dog-racing competition
If you are looking for a vibrant place with exciting entertainment activities, the dog race course is an ideal suggestion for you. The competition stems from the idea of an Australian overseas Vietnamese when he decided to bring the Greyhound dog breed in Ireland to Vietnam and trained at the center in Ba Ria-Vung Tau Province. The competition now aims at serving recreational demands for both locals and tourists.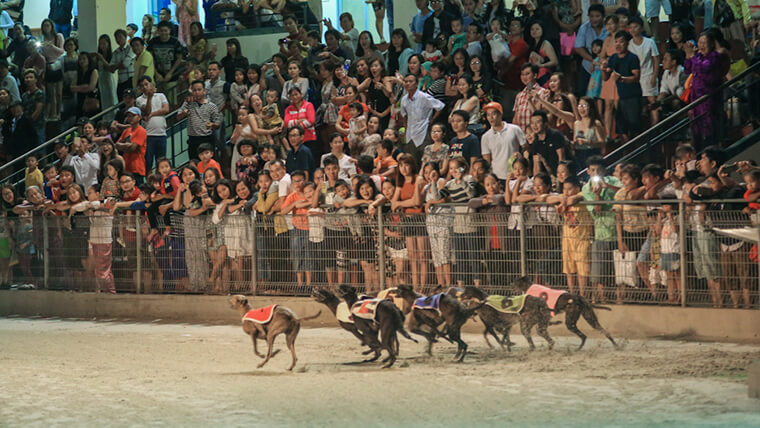 One of the best things to do in Vung Tau at night - Source: VnExpress
Each dog is given a name depending on its shape and characteristics. After properly being trained, the dog officially participates in a minimum of three matches on Fridays and Saturdays. With a duration of more than 3 hours, which includes 10 to 12 matches, each match is 15 minutes apart. Each race has 8 "athletes", competing with each other on a 485-meter track. The competition will officially start after issuing the order to open the door at the starting point and a "bait line" runs ahead of the dogs so that they will chase the bait. The dog running the fastest and reaching the finish line first will win the race. To immerse in the fierce races, you can bet on each of your favorite dogs. What a fun and interesting thing to do for a great nightlife in Vung Tau experience.
- Address: No.15 Le Loi Street, Ward 1, Vung Tau City
- Time: 7pm - 10:30pm every Friday and Saturday
- Ticket price: 60,000 VND/ adult ($2.6), 30,000 VND/ kid ($1.3)
- Website: duachovietnam.net
5 - Having a calm Vung Tau nightlife at the lighthouse
Every night, this place attracts many people to admire the scenery of Vung Tau from above, and at the same time feel the romantic and dynamic beauty of the coastal land when the sun goes down. Located at an altitude of 170m on the top of Small Mountain, this ancient lighthouse is the most ideal place for you to take check-in photos with the background of the sparkling city. This is also a very beautiful sunset and sunrise viewing spot, giving you an oil painting with ancient architecture, thin treetops and the sky gradually changing from yellow, orange to purple. After enjoying the amazing view of the Vung Tau beaches, you should stop at Son Dang coffee shop to enjoy a cup of strong coffee before going down.
- Address: Tao Phung Mountain, Ward 2, Vung Tau City
6 - Top 6 nightlife in Vung Tau: Camping at FreshWater Pass
About 25km from the city center, The FreshWater Pass is a well-known camping paradise for an exciting nightlife in Vung Tau, located on a beautiful mountain along the coastline. The C-shaped pass is only 5km, leaning on the majestic Minh Dam mountain on one side, facing the sea on the other, featuring flat sand, clear blue water, scattered with many large and small rapids. There are also quite many other worth-visiting places surrounding the pass such as Minh Dam historical site or Chau Pa field, perfect to add to your schedule.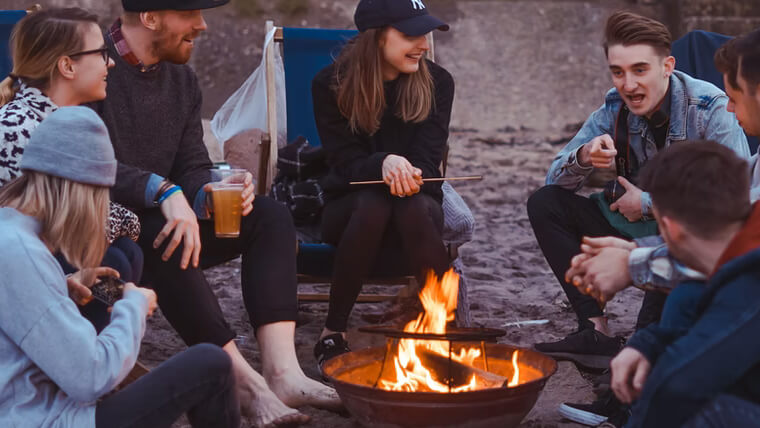 Must-try Vung Tau nightlife - Source: Toa Heftiba
The beach here is still pristine and wild, with adorable seashells and sometimes starfish along the shoreline, providing an impressive background for check-in. If you visit the pass during the Tet holiday (from the end of January to the beginning of February), you will have a chance to admire beautiful peach blossoms along the way to this pass. The beach at Freshwater Pass is perfectly suitable for those who want to find an off-the-beaten path in Vietnam for relaxing, sightseeing, and taking photos.
This is an ideal place for holding an outdoor BBQ party at the sea view space, creating a promising nightlife in Vung Tau. You just have to register and rent firewood at the sales counter in advance, prepare some charcoal, a grill, and seafood which can be bought in any local market along the way to the campsite. It will be amazing to gather with friends or family around the fire, chatting, playing games, and enjoying the barbecue. Another activity is fishing, which provides you with soothing moments and helps release stress.
- Address: Phuoc Hai Town, Dat Do District, Vung Tau city
- Entrance fee: 90,000 VND/ person ($4)
Vung Tau city seems more alluring at night with a myriad of captivating places and interesting activities, which promises to give you the most memorable moments in this city. Let's follow Local Travel Idea to receive much more details about the Vung Tau nightlife and in other cities in the gorgeous country of Vietnam.