The tourist site of Tan Lap floating village is actually an immense primitive Melaleuca forest with a maze of narrow canals and many mysterious bridges as well as the breathtaking surrounding scenery. Wonder what's special about this floating village? Let's accompany Localtravelidea in the article below to get your answer!
I - Where is Tan Lap floating village?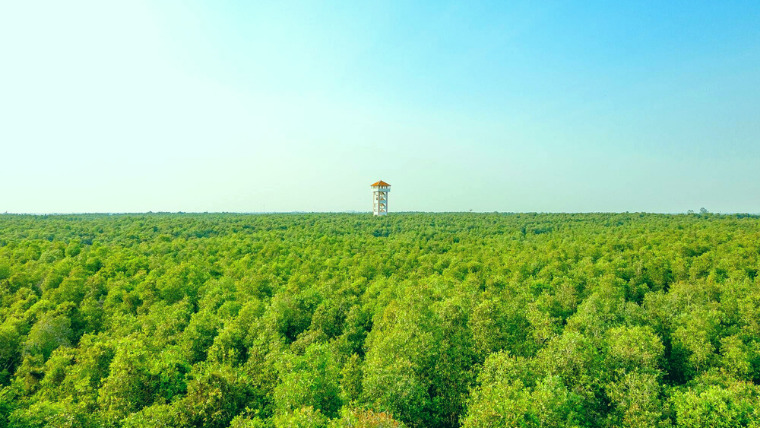 The tourist site from above - Source: Mytour
This unique "village" is located in hamlet 3, Tan Lap commune, Moc Hoa district, Long An province, about 100km from Ho Chi Minh city. The floating village has an area of 135ha and the buffer zone with an area of about 500ha, is exploited for tourism, entertainment, and resorts.
In the past, Tan Lap floating village was a flooded area, so local people had to build very high stilt houses to adapt to the rising floods. When floods hit, the floors of the stilt houses also rose in accordance with the water level, that is why this area has been called a "floating village". Today, Tan Lap village has been no longer inhabited since the government issued the project to develop it into an ecotourism area.
- Entrance fee & boat ticket: 190,000 VND/person ($8.2)
- Electric car fee from ticket counter to boat pier: 5,000 VND/person/way ($0.2)
- Opening hours: 8am - 5pm
- Website: https://langnoitanlap.com.vn
- Hotline: 0966 968 133
II - What to do in Tan Lap floating village?
The famous floating village of Tan Lap Vietnam not only possesses Melaleuca forests with rich flora and fauna, but also a nature reserve, a forest park, boat wharf, and a wildlife corridor, etc. That is the reason why you should spend at least one day traveling to this amazing village and partaking in a wealth of fascinating activities such as boating along the canals, fishing, joining in traditional folk games, or simply biking around the tranquil village.
1 - Take a sampan boat ride amidst canals in Tan Lap floating village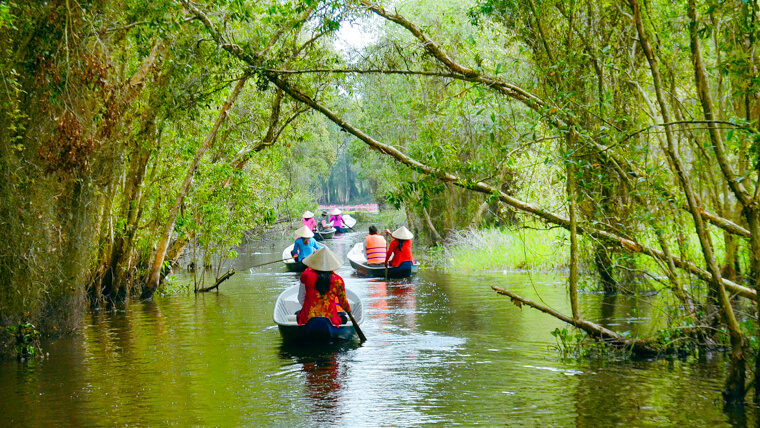 Boat trip in Tan Lap village - Source: langnoitanlap
This is one of the most captivating services that brings about the most authentic experiences and feelings about the stunning natural landscapes of the wetland. The tour guide in "Áo bà ba", a conventional Southern Vietnamese garment, will accompany you along the canals where you are able to immerse in the vast space, watch the school of fish swimming under the emerald water, dotted with clusters of purplish water hyacinth and mosquito ferns. In a Tan Lap floating village tour, the sampan boat will take you through many artistic bridges and small canals in the subtle silence of the forest.
- Duration for route: 25 - 30 minutes
2 - Conquer the 5-kilometer paved alley through Melaleuca forest
The concrete paved road through the Melaleuca forest is 5km long, which leads you to go further in order to admire the utmost beauty of the forest. Along the winding way, you can pay a visit to two observation towers, one is 18m and the other is 38m. From here, you have a panoramic vista of Melaleuca forest running as far as the eye can see and other towers rising high above the forest canopy.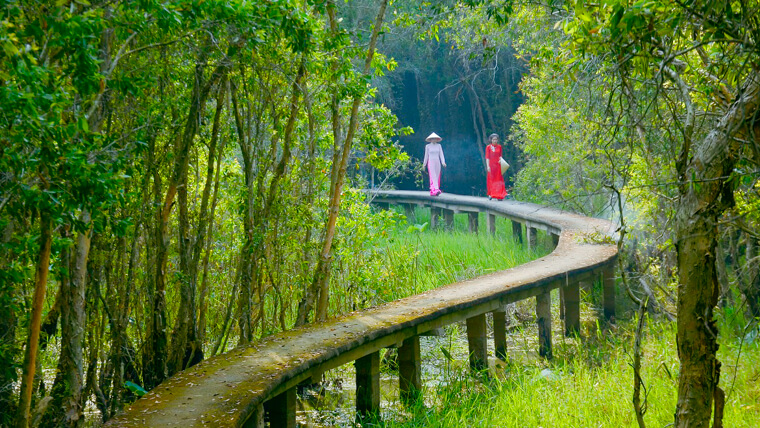 A mysterious path through the melaleuca forest in Tan Lap floating village - Source: langnoitanlap
In the early morning or late afternoon, you can watch flocks of white storks flying in the immense blue sky in Tan Lap village. Then you pass the unique X-shaped bridge amidst the lotus and waterlily lagoons and the Y-shaped bridge in the middle of a wild, endless grass field. Finally, you reach Semicircular Lake (hồ Bán Nguyệt) with an area of about 22,000m2, featuring transparent calm water.
In the middle of the lake is a long, narrow dune contaminated with alum, which creates a "desert miniature" in contrast to the vast water, which looks incredibly fancy. The scenery surrounding the lake remains wild and pristine, and you have to pass through many winding routes to get here, so the "tough" destination is suitable for those who are tolerant and have good physical health.
3 - Discover the Rach Rung river on local boats named "vo lai" and "cap keo"
In your Tan Lap floating village tour, you have the chance to experience the local boats named "vo lai'' and "cap keo". The boats of "võ lái'' and "cáp kéo" are popular means of transport in the Mekong Delta drive you along the Rach Rung river, weaving through the water lily and lotus lagoons where the X-shaped bridge is located. With a length of 3km, you have an opportunity to watch wild bird species hunting and flying in the sky.
- Duration for a route: 40 - 50 minutes for a route of 3km
4 - Participate in Vietnamese folk games in Tan Lap floating village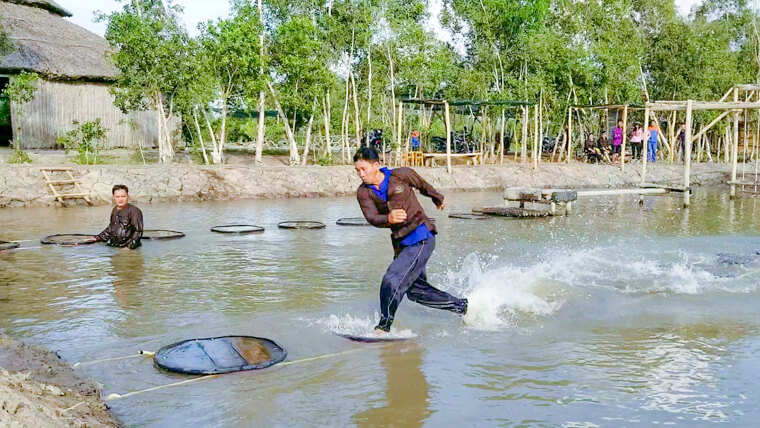 Vietnamese folk games - Source: langnoitanlap
The area for folk games in the floating village of Tan Lap Vietnam has a total area of nearly 10ha, surrounded by lotus lagoons, home to many species of fish, and an ideal place for hundreds of species of birds to gather and hunt in the early morning and evening. You are not only satisfied with stunning natural landscapes but also take part in many interesting Vietnamese folk games, including individual and collective games on land (swing, shaking bridge, balanced bridge, blindfolded catching ducks, tug of war) and underwater games (rope walking across the lake, catching ducks underwater, slapping the pond to catch fish, etc.)
Note when participating in Vietnamese folk games in Tan Lap floating village:
- Book the tickets for a couple of games at least 1 day in advance
- Dress politely
5 - Discover the island where the species of birds are tamed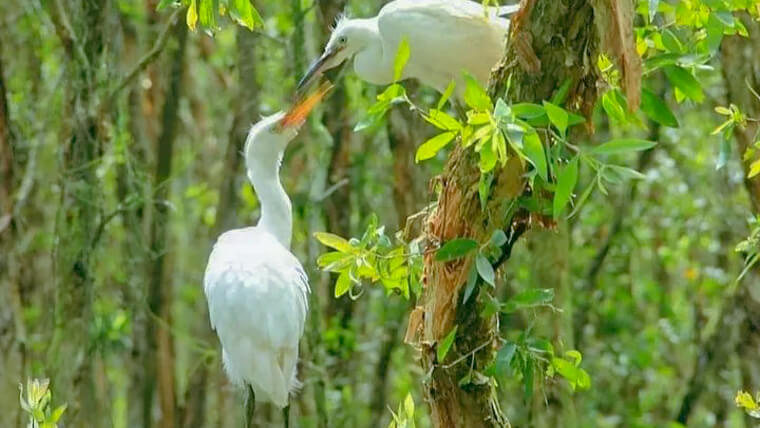 Bird island in Tan Lap village - Source: trvcdn.net
Located deep inside the center of the Melaleuca forest, this isolated island has been developed by experienced bird tamers to create a rich underwater habitat, which attracts many species of birds and storks. To enter this area, you get on a motorboat or a sampan boat, then weave through small canals in the lush forest and walk on a 100-meter-long bridge. The scenery on both sides of the way is covered by the canopies of the Melaleuca trees and a variety of "Ma" rice.
Note when discovering the island where the species of birds are tamed in Tan Lap floating village:
- Opening hours: 5pm - 6:30pm
- Contact in advance: 0966 968 133 or 02723 968 133
- Price: 50,000 VND/ person ($2.2)
After finishing the tour at 6:30pm, you can book a room in an 8-floor hotel located right on the oasis near the Rach Rung river. From the hotel, you have a panorama of the surrounding landscapes of the extraordinary Melaleuca forest and impressive wetland. Otherwise, there is another hotel situated along Highway 62 in the campus of the tourist site, consisting of 22 rooms with views of charming lakes and verdant gardens.
6 - Fishing in the Tan Lap floating village
The best time for fishing here is in the flood season when you can immerse in the tranquil atmosphere, relaxingly row a boat for sightseeing and fishing. There are a wide range of services with different equipment and prices for your consideration.
Price: 70,000 - 1,000,000 VND/ person ($3 - 43.7)
7 - Ride a bike around the village's routes
The route along the dyke of Tan Lap village has a total length of nearly 4km. On the way, you go through an extremely impressive landscape featuring the Melaleuca trees on both sides; a romantic, private jade-colored bridge to admire the beauty of the Rach Rung river; and vast ripe paddy fields of the Dong Thap Muoi wetland. Please contact the lobby to book a bicycle rental service to go sightseeing by yourself (without a tour guide) and receive more detailed instructions.
- Opening: 8am - 5pm
- Bicycle rental cost: 60,000 VND/ motorbike/ 90 minutes ($2.6)
- Phone number: 0966 968 133
III - Good to know when visiting Tan Lap floating village
1 - When is the suitable time to visit Tan Lap Vietnam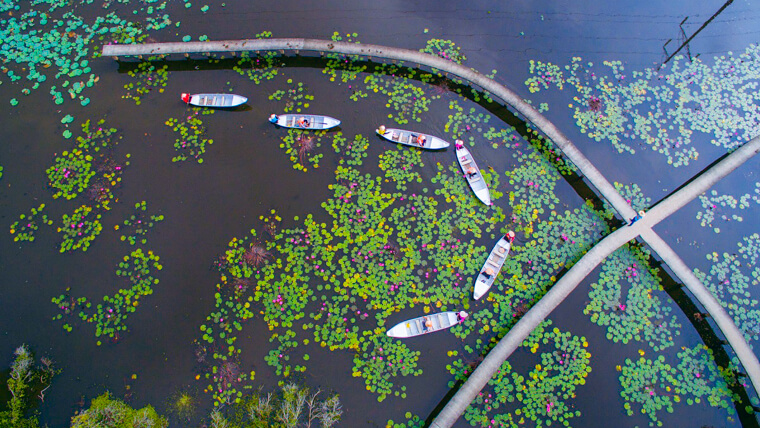 Unique X bridge - Source: langnoitanlap
You can travel here anytime in the year, but the most ideal is in the flood season from lunar August to October, when the water level rises high, the mosquito fern covers all surface, and many species of birds come here to make nests and find food. From a height, the floating village looks like a giant green raft in the middle of a "green island". However, you should contact the board of management beforehand to get information about the water level and the current situation at the tourist site.
2 - What to eat in the Tan Lap floating village?
The highlight of gastronomy in the village is the rustic dishes of Southwest Vietnam, which are made by skillful and well-trained chefs. Typically, the Southern buffet consists of more than 20 dishes such as grilled snakehead fish, grilled snails with green pepper, pancakes, fried rats with fish sauce, dried mango salad,... You can also choose a la carte menu or set menu with a collection of specialty dishes.
- Buffet: 250,000VND/ adult ($10.8); 125,000 VND/ kid ($5.4)
- Set menu: 1,100,000 - 3,500,000 VND/ 1 set for 10 people
- A la carte menu: 45,000 - 350,000 VND/ portion/ 2-4 people ($1.9 - 15)
- Opening hours: 7:30am - 8pm
3 - Is it possible to stay overnight in the Tan Lap floating village?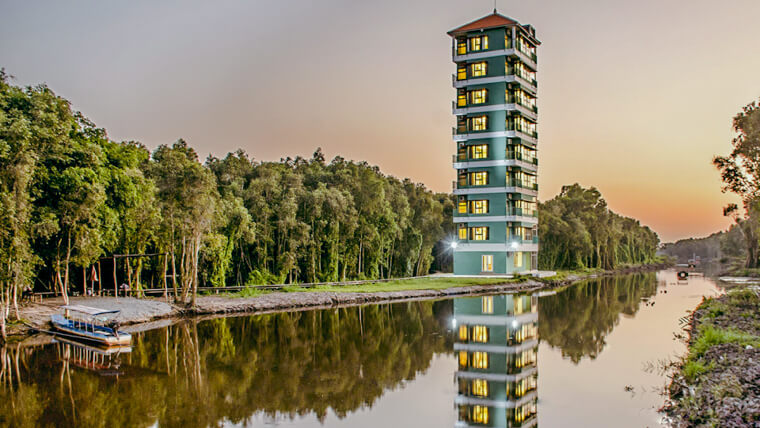 Source: internet
Normally, you can discover this tourist site within 1 day. Nevertheless, you can stay overnight in order to gain as many interesting activities in the area as possible. The information about the hotel inside the campus of the tourist site is mentioned in the previous part. Note: Guests staying in the hotel are taken by tram to and from the outside reception check-in counter. Some entertainment activities in the hotel: night fishing, net spreading to catch fish, etc.
Another choice is to hire an outdoor camping tent overnight, which is more suitable for a group. Fare: 150,000 - 250,000 VND/ night ($6.6 - 10.9)
Note:
- If you want to set an overnight tent, it is mandatory to get the agreement of the management.
- Prepare mosquito repellent, food and fruit.
4 - Tan Lap village map
Tan Lap floating village is an ideal destination for those who love photography and indulge themselves in the comfortable moments in the peaceful atmosphere amidst the vast natural space.