Located about 20km southeast of the city center, Do Son beach Vietnam belongs to a district of the same name in Hai Phong. This is a natural resort with beautiful scenery, cool water and fresh air, attracting a lot of people to sightsee and participate in water activities. The most suitable time for you to visit is at the beginning of the year or from April to October, which coincides with many interesting festivals and beautiful sunny weather.
I - What's in Do Son beach?
1 - Swimming in Do Son beach Hai Phong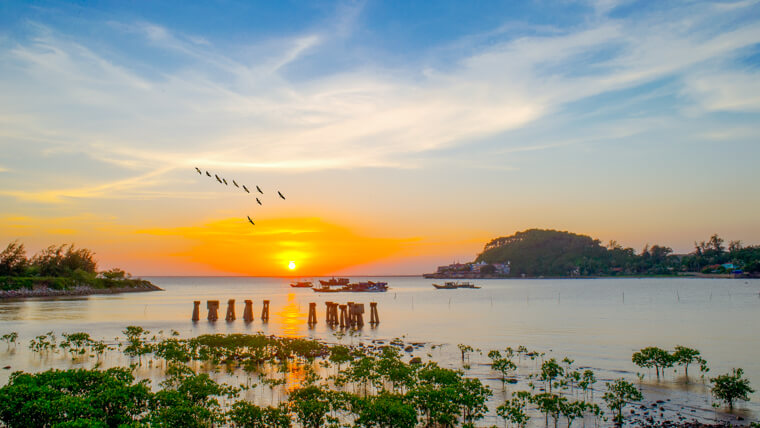 Source: wikimedia
The beach of Do Son is likened by locals to a dragon reaching out to the East Sea, winding and creating three separate swimming areas, which are connected by a flat paved road. The water here is not as clear as other beaches in central & southern Vietnam because it is located between 2 estuaries, but has a moderate salinity to help prevent serious sunburn while swimming.
There are lots of local restaurants, eateries, hotels near the Do Son beach, and an embankment running along the sea corridor, which is an ideal place to watch the romantic sunrise. And a 2400m2 square decorated with eye-catching miniatures and flowers, which is a space to organize major events of tourism.
The beach welcomes many people to visit, sightsee and have fun, but they do not often swim here because the waves are quite big and powerful, while the terrain has many sharp rocks and oysters, making Do Son beach Vietnam not too safe to go under water.
As the main beach in Do Son, area 2 attracts the most visitors with its long stretch of fine sand and cool water, suitable for swimming and playing sports activities such as canoeing or parachuting. You can easily find here a lot of thatched roof shops, which not only rent and sell swim-related items such as swimwears, towels, and pre-bath rooms, but also provide food and drinks. Meanwhile, the Do Son beach 3 is somewhat quieter, surrounded by hundreds of attractive sites of Hon Dau International Tourist Area, the casino,...
The beaches 1, 2, 3 in Do Son are all lying horizontally and directly affected by waves from the sea, which often cause great difficulties for rescue work. Some areas also have many reefs, creating dangerous whirlpools, especially during weather changes such as thunderstorms or typhoons. The government has put up signs and installed a buoy system to limit the safe area at Do Son beach Hai Phong province.
There is a marine rescue team of 10 people who are regularly on guarding duty with binoculars, detecting dangers and reminding tourists before problems occur. In addition, there are always 2 staff members walking along the beach to monitor and supervise, as well as tools and vehicles such as lifebuoys, 3 lifeboats, etc.
Infrastructure facilities are also invested in construction, such as loudspeaker systems along the Do Son beach, or wide and open roads that are convenient for mobilization of forces.
Please only swim in areas where safety and security factors are ensured, with lifeguards and rescuers on duty, and wear life jackets carefully. If you encounter eddy currents while swimming, do not try to get out immediately because the vortex force of the water is very strong. You should just try to save your strength and keep the body drifting with the flow, then slowly exit the whirl and get to the shore.
2 - Hon Dau Island near Do Son beach Hai Phong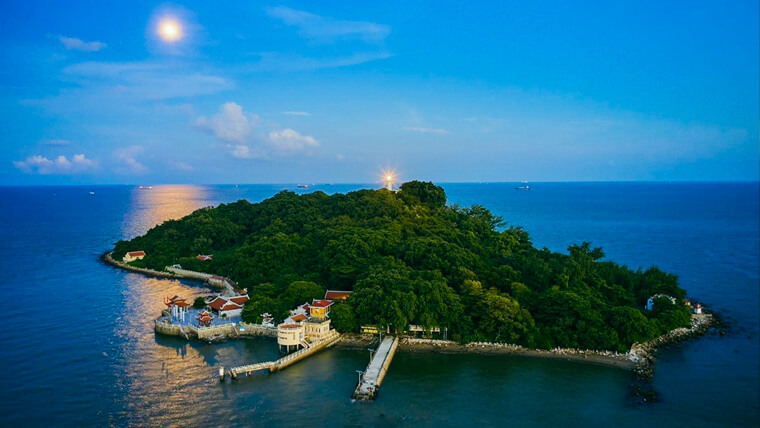 Hon Dau island - Source: baohaiphong
Likened to a dreamy "miniature Da Lat", Hon Dau is a primeval island belonging to the Do Son entertainment site, about 800m from the mainland. This wonderful hideout possesses the beauty of a wonderland with hundreds of blooming flowers, green pine trees, and extremely poetic miniatures. The primeval forest here also concentrates rich and diverse vegetation with many rare perennial plants, mixed with vines and green grass, along with sea breezes that make the air fresher.
Built by a French engineer in 1892, the ancient lighthouse near Do Son beach was mostly destroyed during the war and later restored according to the original architecture. This is now a favorite check-in point when coming to Hon Dau Do Son, with its tall and majestic figure like an ancient fortress soaring in the middle of the island. In addition, you can also visit Nam Hai Than Vuong Temple, whose architecture is a mixture of traditional and modern styles, a spiritual and cultural center of local people.
3 - Palace of King Bao Dai in Do Son beach Vietnam
According to historical documents, this palace was built in 1928 by the Indochina government, gifted to King Bao Dai in 1949, and completely destroyed during the war against the French. In 1999, Do Son Tourism Joint Stock Company restored the palace according to the old prototype, turning it into a famous attraction in Hai Phong, displaying many artifacts and photos.
Most of the rooms here have been renovated into an overnight stay with a beautiful sea view, letting you see both Nghieng Wharf or Dau Islet in the distance. You also shouldn't forget to rent royal costumes at the ground floor lobby, then take check-in photos at the throne, the royal workplace…
- Address: Vung hill, Zone 2 Do Son beach, Van Hung Ward, Do Son District, Hai Phong City
- Ticket price: 20,000 VND / person ($0.87)
4 - Hang Pagoda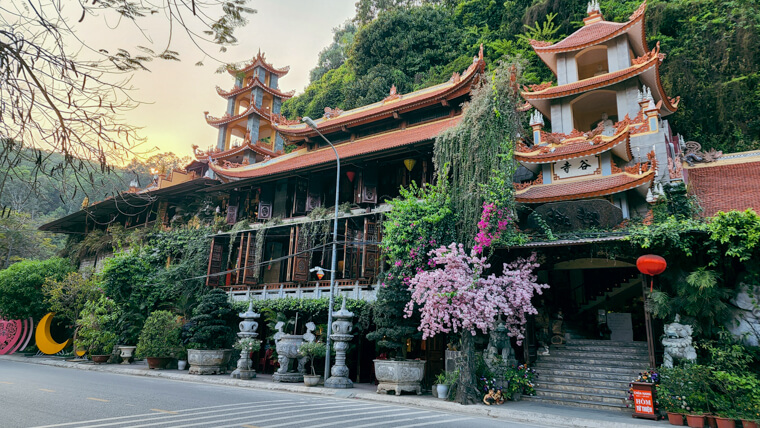 Hang pagoda - Source: Tường Vương
According to many researches, Hang Pagoda was likely built before BC, specifically in the 2nd century. As its name suggests, this temple was built right inside a mountain cave, facing the sea. However, through many restorations, the pagoda has now been completely converted to a new construction about 100m away.
Located on a tree-lined road near Do Son beach, Hang Pagoda stands out with its 3 massive and colorful floors, different from traditional Vietnamese architecture. Also known as Coc Tu, this spiritual site is home to countless exquisite stone statues of Buddha, dragons, phoenixes, turtles, carps,…
- Address: Zone 1, Van Son Ward, Do Son District, Hai Phong City
5 - Do Son Buffalo Fighting Festival
This is an ancient custom of fishermen in Hai Phong, recognized as an intangible cultural heritage of Vietnam in 2013. Do Son Buffalo Fighting Festival is officially held on the 9th day of the 8th lunar month. This is an interesting traditional festival to participate in when visiting Do Son beach in kunar August.
This event has the interference between the cultural elements of plain agriculture and coastal lands, associated with the worship of water gods and the custom of sacrifice. It is said to bring good luck, calm the sea god, and bring a peaceful new fishing season which results in good harvesting.
The festival also has two main parts: ceremony and festival, with the former taking place from the first day of the month of the festival, including the water procession, Thanh Hoang ceremony, welcoming the gods, etc.
Traveling to Do Son beach Hai Phong on this occasion of the main festival, you can watch the flag dance of 24 young men, with the sound of shouting and drums. Until 8am, the buffaloes will be brought into the field to fight each other. The next day, all these buffaloes will be slaughtered, cooked and sacrificed in the communal house. The meat is then divided among the people, with a part of the blood and fur being poured into the sea.
6 - Dragon Hill International Tourist Area
Another famous tourist attraction near Do Son beach is the Dragon Hill International Tourist Area. Located in a prime location, endowed by nature, this tourist area has a scale of nearly 500ha of completely reclaimed land, including many parts up to international standards.
You can find here a complex of high-class resort accommodation for tourism with mini hotels, shophouses, and golf courses, commercial streets, artificial seas, water park, amusement park,… In particular, the 5-star hotel area is a unique architectural work designed by a French architect, including 7 floors with 410 extremely luxurious standard rooms.
- Address: Do Son beach International tourist area, Van Huong Ward, Do Son District, Hai Phong City
- Website: https://khudulichquoctedoirong.net
7 - Hon Dau tourist area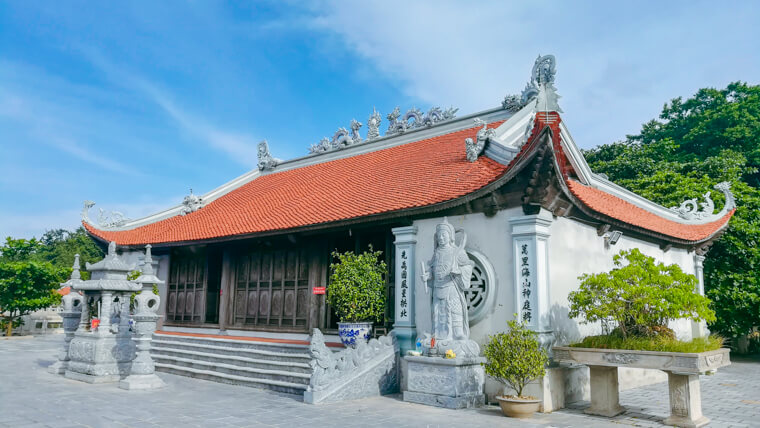 Hon Dau tourist site - Source: @Tấn Long Đỗ
After playing at Hon Dau Island, you definitely cannot ignore visiting the tourist area of the same name, especially if you are traveling with family and young children. Covering an area of more than 120ha, this amusement park has a space designed in harmony between mountains and sea, like a beautiful fairy world.
Coming to Hon Dau tourist area in Do Son beach, you can immerse yourself in the clear blue sea of both natural and artificial beaches, or visit Vong Canh Hill.
In addition to the wonderful landscapes, there are also many interesting games and interesting sites, particularly the aquarium park built according to modern technology, with hundreds of sea animals. It will be a big regret if you only spend time at a beautiful place like here in just one day, so you should consider staying in the resort area and experiencing the early morning atmosphere here.
- Address: Zone 3, Van Hung Ward, Do Son District, Hai Phong City
II - Cuisine at Do Son beach Vietnam
Perhaps compared to the landscape, the cuisine here with numerous delicious specialties is what many people care about most. Top must-try dishes include fried snails, crab cakes, fish noodles, crab spring rolls, field crab hotpot, and special spicy bread.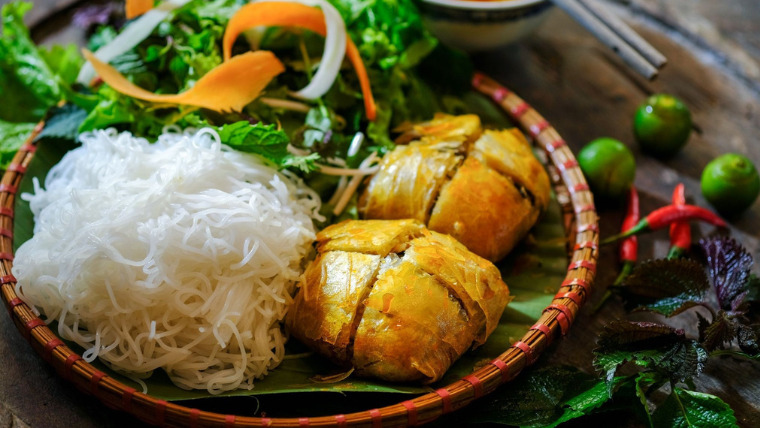 Crab fried rolls - Source: NEM
Many people eat not only to feel the taste of the food, but also to enjoy the space and the atmosphere of the restaurant. It will be a great chance for you to sit at a Do Son beach foodshop, tasting the dishes that are made from freshly caught seafood. In particular, the opportunity to sip beer, eat hot dishes and watch the sunset will definitely leave great memories in you. However, the prices at shops near the sea will be quite expensive, so if you want to eat delicious and cheap dishes, go to residential areas located far from tourist areas. Below are some suggestions you can refer to such as:
Phuong Nam Restaurant
Located right next to the Do Son beach with a beautiful sea view, this restaurant has a large space and a professional and welcoming staff. The seafood here is very diverse and extremely fresh, only cooked in a day and not frozen in cold storage.
- Address: Group 295, Area 1
- Contact: 096 388 75 56
Hong Bang Restaurant
If you are looking for a place to hold a party near the beach, this restaurant is an extremely suitable choice, with the advantage of airy space and separate parking. Hong Bang restaurant also accepts room reservations if you have a need to find a place to stay near Do Son beach.
- Address: Hill 66 Van Huong Ward, Area 2
Contact: 091 305 04 35
Van Hoa - Hon Dau Restaurant
In addition to food, Van Hoa - Hon Dau restaurant also serves lively music, bringing you a unique experience when enjoying delicious dishes. In terms of price, it is reasonable, affordable and worthy of the quality of food and service here.
- Address: Hon Dau Resort, Area 3
- Contact: 0912392703 - 0936614689
Hoa Lan Restaurant near Do Son beach
With more than 30 years of experience in trading and processing quality seafood, Hoa Lan restaurant offers numerous uniquely delicious dishes.
- Address: Van Huong Ward, Do Son District
- Contact: 0225 3861 418
Tang Hau Restaurant
Although more casual than the restaurants mentioned above, this is still a favorite place to eat and drink due to its tall, airy space. The number of dishes here is extremely large, with a variety of domestic and international specialties.
- Address: Zone 1, Ben Thoc Ward, Do Son District
- Contact: 0225 3861 509
III - Do Son beach hotels & resorts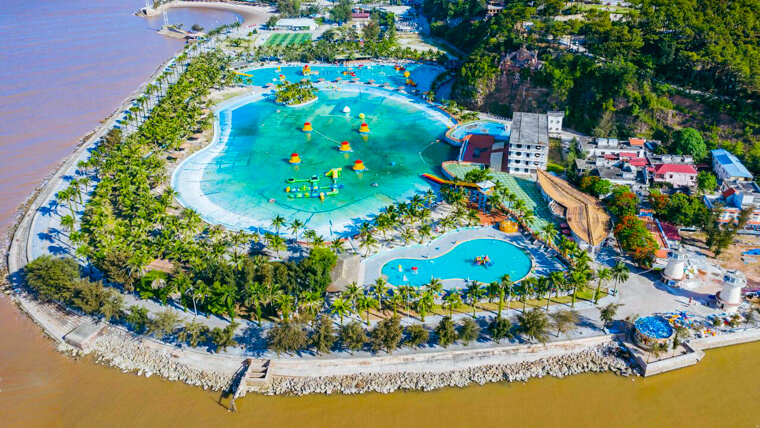 Hon Dau resort - Source: bdshaiphongnew
Tecco Do Son Hotel
Located in zone 3 of Van Huong Ward, this 3-star hotel is classically designed with Western European royal influences, looking like a creamy white castle by the sea.
- Room rate: 718,200 - 1,000,000 VND/room/night ($31 - 44)
- Contact: 0899 250 085
Van Thong Hotel
Located in Zone 2, Van Son Ward, this 2-star hotel is only 30m from the sea, also not far from Bao Dai Villa and eating places such as restaurants and eateries.
- Room rate: 400,000 - 500,000 VND/room/night ($17- 22)
- Contact: 0225 3861 330
Hon Dau Resort - one of the best place to stay near Do Son beach
As part of Hon Dau tourist area, this is a continuous complex with hotels and resort villas, along with high-class entertainment zones and restaurants.
- Room rate: 800,000 - 4,500,000 VND/room/night ($35 - 196)
- Contact: 0225 3864 678 - 0225 3864 939
- Website: https://hondauresort.com/
Vinafor Hotel
Also known as Do Son Forestry Hotel, this is one of the top places to stay. Vinafor Hotel offers nice rooms, along with a system of halls, meeting rooms, and spacious restaurants serving a variety of dishes from European to Asian.
- Room rate: 700,000 VND/room/night ($30.5)
- Contact: 0225 3861 304 - 0914 475 941
Do Son beach Hai Phong is one of the most popular tourist attractions in Northern Vietnam, attracting thousands of tourists both domestic and abroad every year. Although this place does not have a classy or poetic beauty like Phu Quoc and Nha Trang, it has a bustling and modern, rich character of its own.