Said to be 1 of 9 most beautiful beaches in Vietnam, Ninh Chu Beach belongs to Khanh Hai Town, Ninh Hai District, Ninh Thuan Province. It is located 6km east of Phan Rang city, more than 350km from Ho Chi Minh City and 1408km from Hanoi capital. The Kiteboarder Magazine of America has voted this place as the top international destination for kitesurfing. Below is information about Ninh Chu Vietnam that you can refer to, for a detailed travel plan:
I - What has made the attractiveness of Ninh Chu Beach?
1 - The beauty of Ninh Chu Beach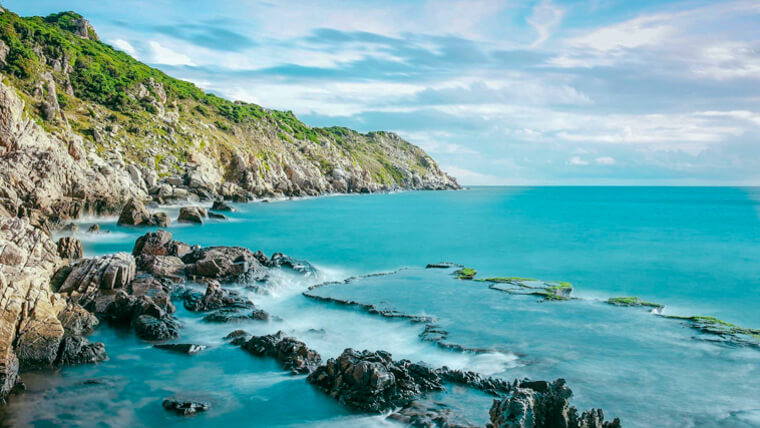 Source: vocw
With a length of about 10km, Ninh Chu has light yellow sand and green poplar forest, forming an arc, embracing the clear blue water with white waves. Currently, this place has not been invested in construction or modified much, so everything is still natural as in the beginning, radiating pristine and poetic beauty. Coming here in the early morning, you will be greeted by the sunrise dyeing a colorful sky, in stark contrast to the darkness on the rocky mountains. The sun gradually appeared, illuminating a corner and then the whole space, making it shimmering in the mist.
January - August is the best time for you to visit Ninh Chu Beach as the wind is gentle, meanwhile the possible storms and strong winds in October - December can affect your trip. The water at Ninh Chu Vietnam is quite shallow, but there are very few waves and dark blue colored, making many visitors afraid. The truth is that you really should be careful, given that this place has not been developed for tourism, so there is no professional rescue team if there is an unwanted situation. You should swim close to shore and wear a life jacket, taking adequate safety measures if you want to go further.
2 - Various underwater games at Ninh Chu Beach Vietnam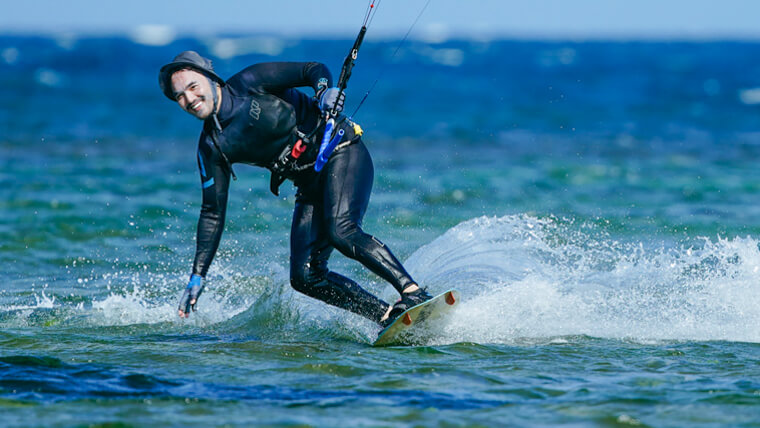 Source: baoquangninh
Ninh Chu has long been famous in the international kitesurfing community because of its calm sea surface and average wind speed of 8m/s, reaching a stable 12m/s in the afternoon. This place is blessed by nature with 2 windy seasons and a shallow beach, very suitable for practicing new techniques without too much danger. Coming here, you can encounter countless athletes or just simply kitesurfers passionately controlling colorful kites, gliding over the waves and soaring in the wind, acrobatics in the air and skillful landing on the water surface.
In 2019, the first kiteboarding festival in Vietnam was held in Ninh Chu Beach, by Crystal Bay Group, Ninh Thuan Provincial Tourism Association and Phi Kite School. This occasion has attracted hundreds of athletes from many countries around the world, of which more than 60% are those who come back here for the second time. Not only do they kitesurf, many people coming here are also interested in other water sports such as windsurfing or sailing. You can refer to the following units for kitesurfing services or other activities:
Phan Rang Kite Center
- Contact: 090 771 16 56
- Website: http://phanrangkitecenter.com/
Phi Kite School
- Contact: 094 576 61 92
- Website: https://phikiteschool.com/
Sorrento Beach Club
- Contact: 0259 3778 787
- Website: http://sorrentobeachclub.com/
II - Accommodations along Ninh Chu Beach
1 - TTC Ninh Thuan hotel
Along with the green poplar forest, this ecotourism area has created a tropical paradise amidst the blazing sunshine of Ninh Thuan. As an ideal resort located along the famous Ninh Chu Vietnam, TTC Ninh Thuan has a total area of ​​7ha, including 126 villas and rooms. All of them are built and designed in a unique architectural style, imbued with traditional Cham culture. The rooms facing the garden with a small sandy beach, fish pond and lotus lake will make you feel the peace and freedom like in a Champa village.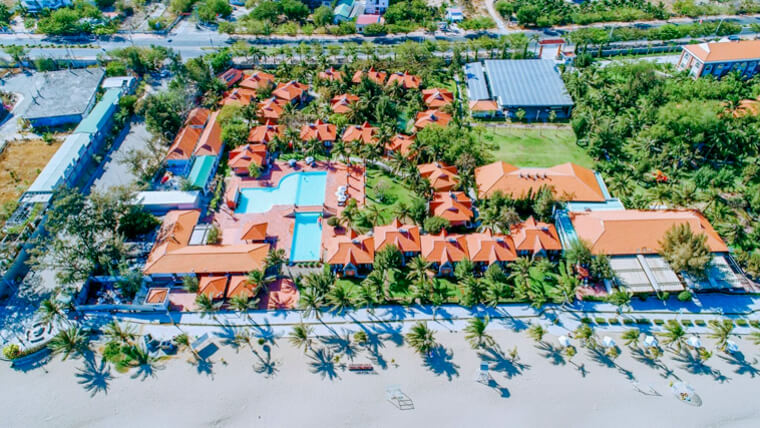 TTC Ninh Thuan is a nice hotel next to Ninh Chu Beach - Source: khamphaninhthuan
In addition, this 3-star resort also has a wooden bungalow overlooking the sea with modern style, making it a romantic and entertainment destination for tourists. You will be provided with a variety of entertainment and culinary services such as tennis courts, high-end restaurants, … In particular, the sea-view water park and swimming pool with an area of 500m2 will be interesting places for both adults and children.
- Location: Yen Ninh Street, Van Hai Ward, Phan Rang - Thap Cham City
- Reference rate: 490,500 - 1,436,500 VND/room/night ($21.5 - 63)
- Contact: 0259 3874 047
- Website: https://ninhthuan.ttchotels.com/
2 - Saigon Ninh Chu Hotel - the best 4-star hotel near Ninh Chu Beach
With a cool and clean space, the hotel is solemnly and beautifully decorated, including 114 elegant and fully equipped rooms. In particular, Saigon Ninh Chu Hotel also has sea views, giving you the chance to enjoy the peaceful and quiet coastal space of this sunny and windy land. At the hotel, there is also a high-class restaurant system with a full range of Asian and Western dishes, seafood, BBQ, …
- Location: No.19 An Duong Vuong Street, Khanh Hai Town, Ninh Hai District
- Reference rate: 500,000 - 4,300,000 VND/room/night ($22 - 188)
- Contact: 0707 477 477
- Website: https://saigonninhchuhotel.com.vn/en/
3 - Aniise Villa Resort
Located on Ninh Chu Beach, this is a 4-star resort opened in 2011, with full facilities and attentive, dedicated staff. With an area of over 2ha, Aniise Villa Resort is designed modernly and close to nature, including 44 standard rooms. This place also organizes many tours for you to join, visiting Poklong Garai tower, Bau Truc pottery village, My Nghiep brocade weaving village, Ba Moi Grape garden, …
- Location: Yen Ninh Street, Son Hai Hamlet, Ninh Hai District
- Reference rate: 1,400,000 - 6,000,000 VND/room/night ($61.3 - 262.5)
- Contact: 0259 6251 867
- Website: http://www.aniisevillaresort.com/trang-chu
4 - Ninh Chu Hotel near Ninh Chu Beach
Possessing a spacious and luxurious space, Ninh Chu Hotel offers quality, comfortable and comfortable rooms at different prices. You can also use the yoga room, sauna, dance and participate in many activities organized by the hotel near the beach. The distance from the hotel to Ninh Chu Vietnam is quite close, so it is very suitable for you to ride a bicycle or walk to enjoy the cool atmosphere.
- Location: No.17 An Duong Vuong Street, Khanh Hai Town, Ninh Hai District
- Reference rate: 296,500 - 650,000 VND/room/night ($13 - 28.5)
- Contact: 094 842 25 52
- Website: https://www.facebook.com/Ninhchuhotel/
III - Top #3 attractions near Ninh Chu Beach
1 - Nai Lagoon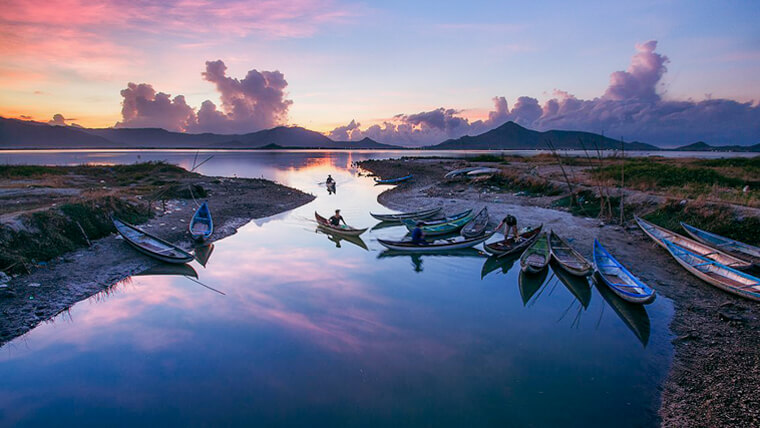 Source: nxbgd
Less than 3km from Ninh Chu coast, Nai Lagoon is home to more than 300 aquatic species living, with wild and magical natural scenes. With an area of 1,200ha, this is one of the 12 most important lagoons of Vietnam, stretching over 3 communes of Ninh Hai District namely Tan Hai, Ho Hai and Tri Hai. This is like a quiet miniature beach, with clear water looking like a giant mirror reflecting the colorful sky and the surrounding landscape. Coming here, you will have the chance to experience the true rustic life, enjoy the seafood that is caught and processed by the locals.
After a trip to Ninh Chu Beach Vietnam, you can visit Nai Lagoon to experience the feeling of being a fisherman for a day, going out to the middle of the lake to fish, casting a net and setting a fishing line every night. Taking a boat ride in the Nai lagoon tourist area, you will have the chance to enjoy the majestic scenery of beautiful rocky mountains amidst immense waves, the ancient Tri Thuy Bridge and Ninh Chu Bridge. From here, you can reach Kim Son Temple located halfway up the mountain, the white stork garden with Phuong Cuu Salt Field, Dam Nai Fish Market bustling with people trading, …
2 - Binh Son Beach Park near Ninh Chu Beach
Not too prominent or fussy, Binh Son Beach Park was built in an open position running along Ninh Chu Vietnam, at the intersection of 16 Thang 4 and Yen Ninh streets. This place gives you the opportunity to not only swim in the cool water and enjoy fresh seafood dishes but also admire and participate in unique tourist activities. You can also join your friends and family, especially young children, to fly kites right on the beach, with a variety of kites of different shapes, sizes, and colors.
Walking or cycling among the trees in the open space, and watching the immense Ninh Chu Beach will make all worries of life quickly disappear. Otherwise, you can also organize a camping, picnic, or small outdoor BBQ party, bringing your own or renting the equipment and buying ingredients right at Binh Son Beach Park. The prices of all kinds of services here are also quite cheap, and the people are sincere, enthusiastic to serve, and ready to help you have a beautiful and happy vacation.
3 - Da Chong Mountain
Less than 5 minutes from the center of Ninh Chu Beach by road, Ninh Thuan Da Chong Mountain is located in Khanh Hai Town, Ninh Hai District. Coming here, you will see very natural stacked stone blocks, with fancy shapes and diverse sizes, making the name "Da Chong'' (Stacked Stones). With an ideal height of more than 60m, from the top of the mountain, you can fully admire the beauty of Ninh Chu, Nai lagoon, as well as stretching rice fields and green vineyards.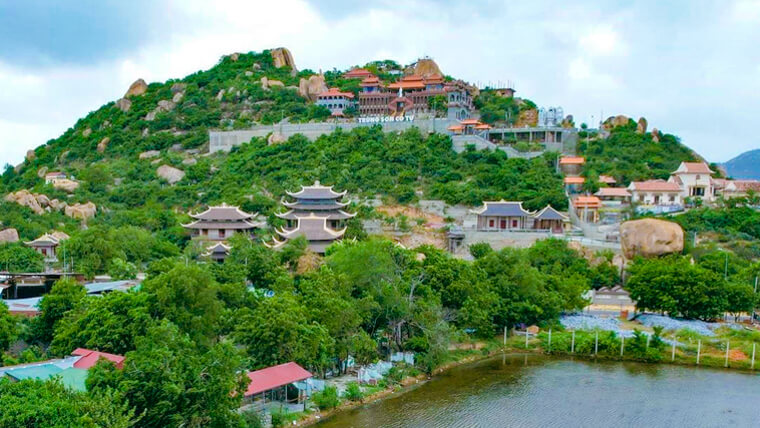 View to Ninh Chu Beach from Da Chong mountain- Source: tienphong
The mountain is endowed with majestic beauty by nature, with many sacred temples such as Trung Quang Pagoda, Truc Lam Vien Ngo Zen Monastery, … In particular, on the top of the mountain is Trung Son Ancient Pagoda, which is the most beautiful one in Ninh Thuan Province. Built in 1973, this architecture has a unique Northern tone, harmoniously combining traditional Vietnamese and Roman architectural style. A special material used to build this temple is carefully carved monolithic green stone, donated by well-wishers.
Ninh Chu Beach is not only on the top of the list of most famous beaches in Central but also one of the 9 most beautiful beaches in Vietnam. Coming here, you can be immersed in the cool clear water, or participate in interesting sports activities such as kitesurfing, surfing,… Ninh Chu Vietnam is also a connection point to other famous tourist attractions of Ninh Thuan, convenient for you to have an efficient, comfortable and pleasant outing.
#ninh_chu_beach
#localtravelidea