Con Dao Island Airport has a critical location of great importance to economy, politics, and geography. It is a "commercial bridge" between Con Dao and the mainland, used for military, tourism, and other purposes.
I - Where is Con Dao Airport located?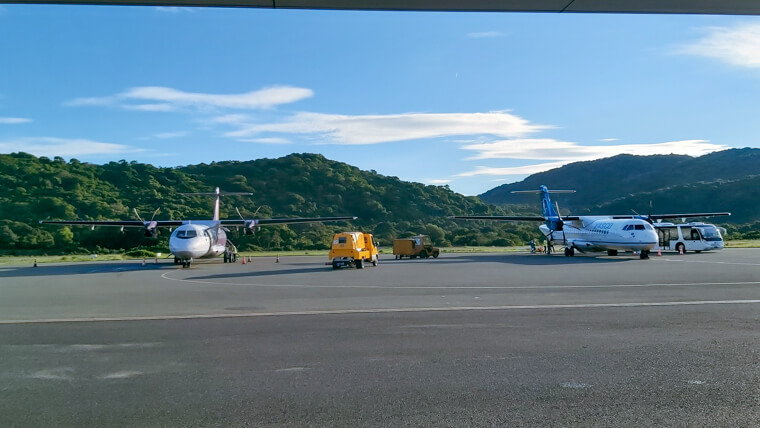 A small but important airport - Source: thanhnien.vn
Also known as Con Son Airport or Co Ong Airport, this is a small domestic airport, located amidst a valley, surrounded by high mountains. It is located to the Northeast of Con Dao Island - on Co Ong Street, Residential Area 1.
- Contact: +84 2546 297 981
- Website: https://www.vietnamairport.vn/condaoairport
- Con Dao Airport code: IATA code: VCS; ICAO code: VVCS
Brief history:
- In 1963, the airport was constructed for military purposes to serve the French War in Vietnam. After Vietnam gained freedom and independence, it was closed for a long time due to heavy damage.
- Until 2003, the Airport Corporation of Vietnam decided to invest to upgrade the infrastructure of the airport, including: runways, aprons, terminals, etc.
- In 2004, Con Dao Airport was officially operated for civilian use with two round-trip routes: Ho Chi Minh City - Con Dao Island and Vung Tau City - Con Dao Island, operated by VASCO (Vietnam Air Services Company).
- In 2005, VCS Airport served 1,454 passengers and transported 9,944kg of goods, luggages and parcels. The number went up to 19,839 arrivals with 128 tons of cargo, luggage and parcels in 2005. Currently, VASCO is operating the route from Ho Chi Minh City to Con Dao Island and vice versa on Tuesdays, Thursdays and Saturdays by ATR 72 aircraft.
II - What flights are operated at Con Dao Airport?
1 - Facilities of VCS Airport
Flights to airport - Source: baogiaothong.vn
The airport has 1 runway, sized 1,830m*30m, 2 taxiways E1 only used for military aircraft and E2 (80mm*15m) and four aprons. The passenger terminal has an area of 3,792m2, including a 1,896m2 ground floor and 1,896m2 first floor).
In the future plan, Con Dao Airport will be upgraded, the length of the runway will remain unchanged but it will be widened from 30 to 45m and equipped with a new taxiway; and three current taxiways will be widened 15m.
The number of parking lots will increase from 4 to 8, and the internal transportation system will be leveled up.
2 - Capacity of Con Dao Airport
In 2005, the airport served 1,454 passengers and transported 9,944kg of goods, luggages and parcels. The number went up to 19,839 arrivals with 128 tons of cargo, luggage and parcels in 2005. Now, the airport operates routes from Ho Chi Minh city, Hanoi, and Can Tho with a frequency of 20 - 22 flights per day, with a capacity of 400,000 passengers per year.
It is expected that in 2030, Con Dao Airport will continue to upgrade its infrastructure to increase its capacity, ensuring to welcome 2 million passengers and 4,400 tons of cargo annually.
3 - VCS Airport's flight status
Currently, there are two domestic airlines exploiting flights to Con Dao Island, which are VASCO (a subsidiary of Vietnam Airlines) and Bamboo Airways. With the narrow and short flight route, Con Dao Airport can only serve small aircraft such as ATR-72 operated by VASCO and Embraer E190 and E195 by Bamboo Airways.
Helicopters to Con Dao Island from Vung Tau airport: The route was opened by the Southern Vietnam Helicopter company in 2019 to meet the need of visitors to Con Dao Island.
- Frequency: 2 flights/ week (on Friday and Sunday every week).
- Duration: 1 hour/ trip
- Schedule:
| | | |
| --- | --- | --- |
| The flight | Departure time | Arrival time |
| Vung Tau City- Con Dao Airport | 1:30pm | 2:30pm |
| Con Dao - Vung Tau City | 3:30pm | 4:30pm |
Referred ticket prices (Ticket includes VAT, other taxes and fees):
- 2,200,000 VND/adult/way ($95)
- 1,980,000 VND/kid from 2-12 years old/way ($95)
- Free for kids under 2 years old ($85)
You can buy a ticket right at Vung Tau Airport at No.36, Street 30/4, Vung Tau City or visit http://www.vnhs.com.vn. Contact +84 938 948 549 for more details.
III - How to get from Con Dao Airport to the town center?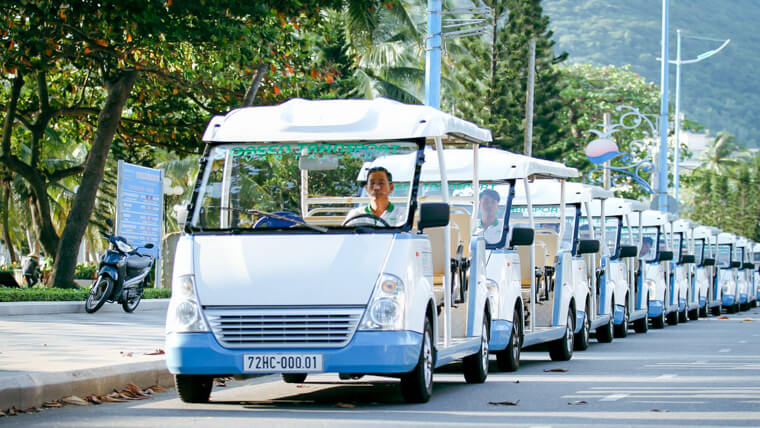 Electric car service - Source: vantaixanh.com.vn
With a distance of about 13km, depending on the means of transportation you choose, the average time to travel from VCS Airport to Con Dao Town Center is from 20-30 minutes. The most popular and convenient ways to get to the city center are by taxi and electric car:
- Taxi: this is the most favorite way chosen by the majority of visitors. There are two popular taxi brands you can refer to, namely Con Son Taxi and Dau Khi Con Dao Taxi with a price of 300,000 - 450,000 VND/ way (4&7 seaters).
- Electric car: you can hire an electric car right at Con Dao Airport or you can contact your resorts/hotels in advance or some addresses below:
+ Thu Tam Electric Car: +84 254 363 0088
+ Van Tai Xanh Green Transport: +84 326 306 306
A huge benefit of traveling by electric car from Con Dao Island Airport to the town center is that you can drop at any point on the way to the center for sightseeing. Particularly, you can admire the breath-taking view of Chim Chim Cape with unique rock blocks embracing the transparent turquoise seawater. (Note: you have to pay an extra fee for the driver if dropping off anywhere on the way to the center).
Below is detailed information about Con Dao Airport that might be useful for you, especially if you are planning to get to this charming island in the near future.