Pleiku is an unspoiled and rustic city, with many green places that have never been urbanized, making it gradually become a loved tourist destination. In addition to motorbikes or coaches, you can also get here by flights landing at Pleiku Airport, from key cities of Vietnam such as Hanoi or Ho Chi Minh city. Built in the 1960s, this construction has become a commercial port, an air transit center for the Central Highlands and neighboring provinces.
I - Where is Pleiku Airport located?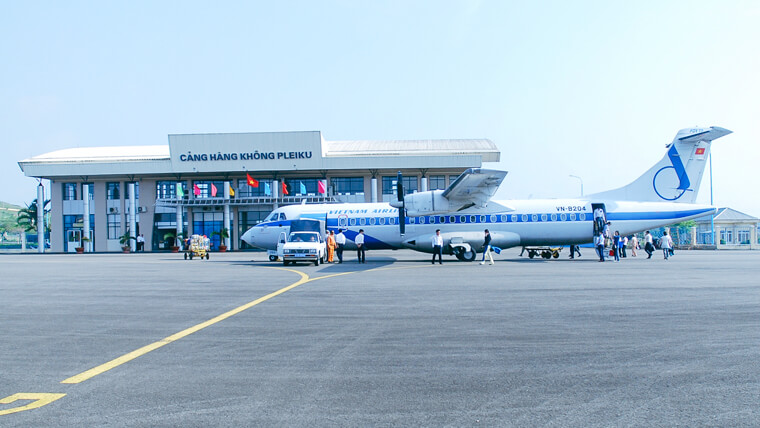 Flights to airport - Source: baogialai.com.vn
As a common port for military and civilian use, this airport is located at Street 17/3, Thong Nhat Ward, Gia Lai Province, about 4km southwest of the city center. This used to be an airbase of the Air Forces of the Republic of Vietnam and the US during the Vietnam War, now managed by the Airports Corporation of Vietnam.
- Phone: (+84) 0269 3 825 096
- Website: https://www.vietnamairport.vn/pleikuairport
- Pleiku Airport code
+ IATA code: PXU
+ ICAO code: VVPK
+ AFTN code: VVPKZPZX
After getting off the plane, you can easily move to the city center or tourist attractions in Pleiku by many different vehicles. The shuttle service from PXU Airport is relatively cheap, only about 100,000 VND / person ($4.4). In addition, you can choose to travel by bus for about 30,000 VND / ticket ($1.32), with 10 intra-province routes and 2 out-of-province routes. Each route has 20 - 25 trips / day (5:30am - 5:30pm), but Pleiku Airport airport is just a passing point so most of the bus stops are about 1 - 2km away.
If you are traveling alone and do not bring too much luggage, taking a motorbike taxi is also a good option, giving you the opportunity to see the full landscape on both sides of the road. Just go out about 50m from Pleiku Airport gate, there will be a lot of motorbikes waiting, with the price about 7,000 VND / km ($0.3), just remember to ask and agree on it in advance. In general, the most popular choice is still a taxi, which is more convenient though the price is also higher, at about 12,000 - 16,000 VND / km ($0.53 - 0.7). There are some taxi brands operating in PXU Airport's yard as follows:
- Hung Nhan: 02693 71 71 71 - 02693 888 888
- Mai Linh: 0269 38 38 38 - 0269 6 26 26 26
- Huy Hoang: 0593 75 75 75
II - Flights to Pleiku Airport Vietnam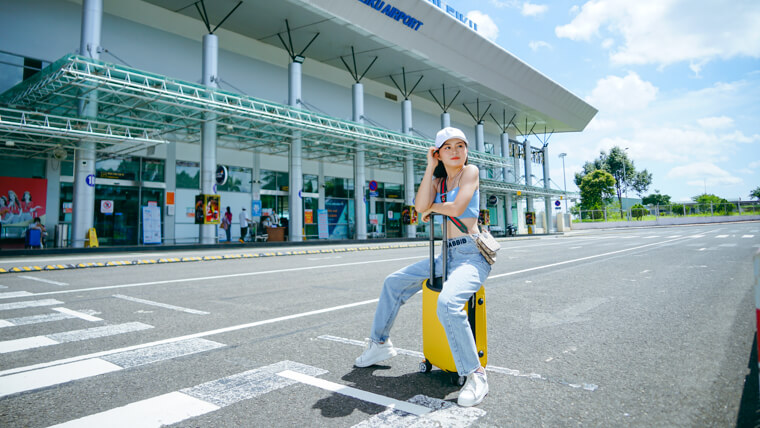 Tourists at Pleiku airport - Source: @quypham
Due to its remote location and not yet fully developed, the number of flights to this airport is still relatively small, so the airport currently only operates 12/24 hours a day. This airport has a runway with a length of 2,400m and a width of 45m, which can receive and take off light and medium aircraft (50 tons or less), equipped with modern infrastructure. The Pleiku Airport's apron is large enough with 5 parking positions for aircraft equivalent to A320 or A321, using a self-rolling in / out system, and active aviation signal light system 24h/24h.
After renovation and expansion, the passenger terminal has a total area of 3,174.53m2, including 2 floors and 2 exits, fully equipped with advanced specialized aeronautical technical systems. This terminal is not big compared to other airports, but enough to accommodate 300 passengers / peak hour, serving 600,000 passengers / year. There are currently 4 airlines operating at Pleiku Airport Vietnam, including Vietnam Airlines, Vietjet Air, Jetstar Pacific and Bamboo Airways, connecting this area and other provinces:
Airlines

Connect to

Travel time

Fare

Vietjet Air

Hanoi

1 hour 40 minutes

1,038,900 VND ($45.5)

Ho Chi Minh city

1 hour 10 minutes

752,900 VND ($33)

Vietnam Airlines

Hanoi

1 hour 35 minutes

604,000 VND ($26.5)

Ho Chi Minh city

1 hour 10 minutes

648,000 VND ($28.4)

Bamboo Airways

Hanoi

1 hour 35 minutes

676,000 VND ($29.6)

Ho Chi Minh city

1 hour 5 minutes

574,000 VND ($25.2)

Various airlines

Hai Phong

19 hours 35 minutes

1,018,900 VND ($44.7)
III - Necessary services at Pleiku Airport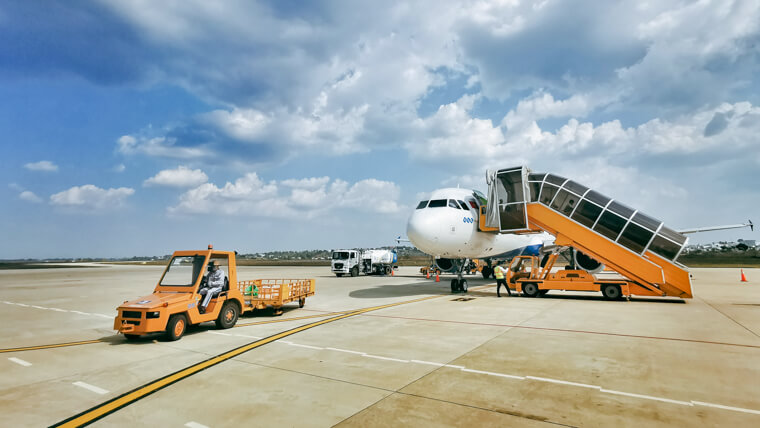 Services at airport - Source: @Lân Nguyễn
This airport is equipped with modern technology to ensure safety and help reduce procedures, including magnetic gate system, metal detector, scanner for security and baggage check, surveillance system… In addition, all your needs will be served with services such as 10 check-in counters, 22 flight information displays, sign system, exit sign, full car push luggage and wheelchairs for the disabled, and so on.
If you want to eat, the food area in Pleiku Airport is located in the northeast of the terminal and in the isolation room, with free drinking water also being provided at 2 locations: in the departure / arrival hall, and in the lounge area. The airport also has commercial service counters in the lounge area and isolation room of the passenger terminal, including Song Viet trade counter and Pleiku souvenir shop. Meanwhile, in case you feel unwell or need medical help, you can contact the staff at the check-in counters for immediate responses.
At Pleiku Airport Vietnam, you can connect to free wifi in any area, but because this is an unencrypted network, you need to be careful when using it, not to reveal personal information such as password, bank account, etc. The wifi name are:
- Isolation room / lounge area: "LOUNGE 1", "LOUNGE 2", "LOUNGE 3"
- Check-in area: "CHECKIN"
- Arrival station area: "ARRIVAL"
- Canteen / dining area: "CAN TIN SAN BAY"
PXU Airport is an important airport in the travel network, not only of the city but also of the whole Gia Lai province. From Pleiku Airport, you can reach the surrounding tourist attractions such as T'Nung Lake, Thac Ba lake, Kon Ka Kinh National Park, etc,. Hope the above information will make your trip to Pleiku easier and more comfortable.