Van Don Airport is an international airport in Quang Ninh Province and also the first private airport in Vietnam invested and managed by Sun Group. The construction of the airport commenced in 2015 and after only 3 years, the airport was opened for public use in 2018. The airport is expected to support Noi Bai International Airport in Hanoi during peak times and is currently a familiar landing place for millions of tourists both domestically and internationally to Halong Bay every year.
I - Where is Van Don Airport located?
1 - Location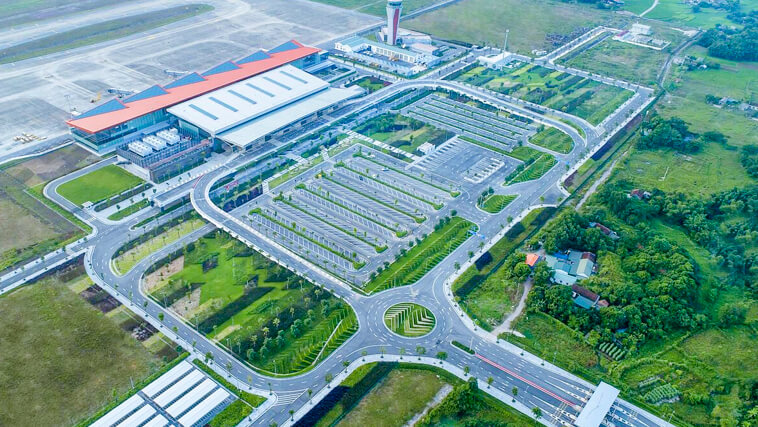 Airport near Halong Bay within 100km - Source: vnexpress
Van Don International Airport is currently situated in Doan Ket Commune, Van Don District, Quang Ninh Province - about 52km from Halong city to the Northeast, Covering a total area of ​​nearly 27,000 m2, VDO Airport is considered the most modern amongst the system of airports in Vietnam.
The first impression that Van Don Airport brings to its passengers is the dome inspired by the full sails in Halong Bay. Its color can change from orange to red based on the weather condition. The layer structure of the dome not only shows the symbol of Quang Ninh Province but also makes room for natural light and wind, bringing comfort to passengers when queuing for boarding.
At Van Don Airport, many imported modern equipment meeting the strict standards of international aviation have been equipped. Van Don International Airport is also the first in Vietnam to install Germany's Ilene automatic tray return system. Heating systems, explosives, and drug detectors made in the US, meeting EU Standard 03 can detect liquid explosives.
As an important part of the overall design of Van Don Airport, the air traffic control tower is located near the international terminal area, with a height of 42 m. The architecture of the air traffic control tower is inspired by the lighthouse with many unique and impressive features.
The runway of the airport has a signal system imported from Belgium, meeting CAT II standards. The aircraft can take off and land at both ends of the runway easily. The plane can land in all weather, even in bad condition when it arrives at Van Don Airport thanks to the automatic landing system (ALS) imported from the US, Norway, and Sweden.
Other information:
- IATA: VDO
- ICAO: VVVD
- E-visa acceptance: No
- Contact: 0203.3901.111
- Email: Info.vdia@vdia.com.vn
- Website: https://vandonairport.vn
2 - Traveling from Van Don International Airport to Halong Bay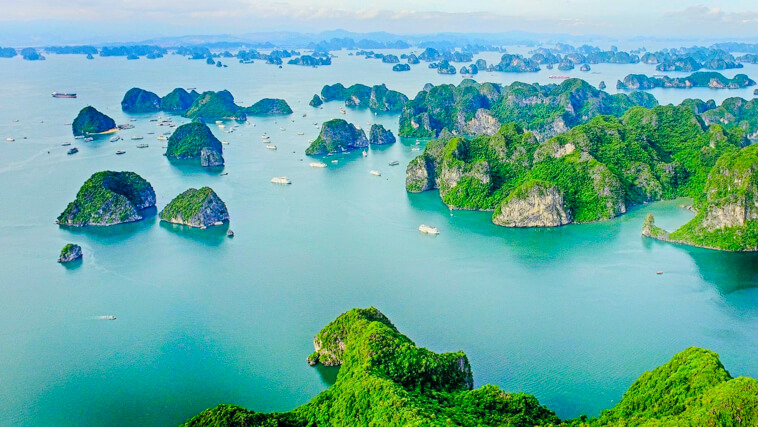 Halong bay - Source: quangninh.gov
With a distance of 82km, traveling from VDO Airport to Halong Bay is extremely easy by taxi or shuttle bus.
By taxi
At Van Don Airport, countless taxis are waiting for you right outside the terminal. The fee for moving to Halong Bay fluctuates from 600,000 to 900,000 VND /4-seat car ($25.9 - 38.8). Some taxi brands:
- Phu Binh taxi: 020 33 599 599
- Sao Quang Ninh taxi: 0203 822 822
- Mai Linh taxi: 0203 731 731
- Mong Cai taxi: 020 33 883 883
- Taxitrip Van Don: 02036 582 582
- Sao Mai taxi: 020 38 27 27 27
By shuttle bus
The shuttle buses from Van Don Airport to Halong Bay are the crew of high-quality buses with 29 to 35 seats provided and managed by the airport. The vehicles are equipped with air-conditioners, radio and video, display, USB gates right at the seat, and a luggage immobilization system. Moreover, they are all installed with security cameras and GPS connected to the server of the Control Center.
- Contact: 02033 55 66 99
- Fee: 20,000 - 35,000 VND /ticket ($0.9 - 1.5)
II - Van Don Airport flights status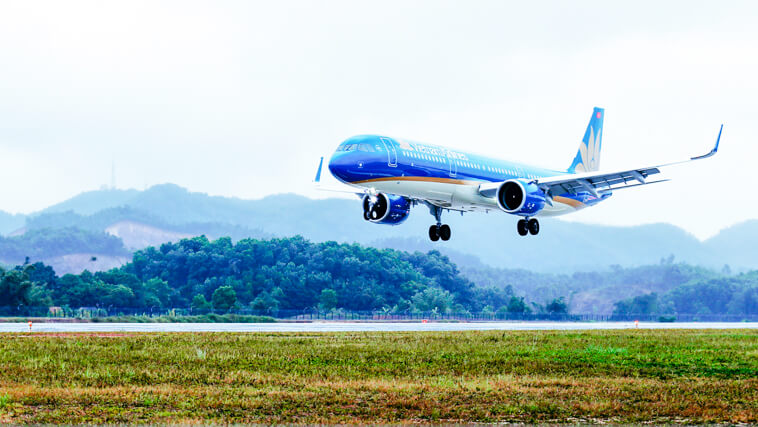 International flights to the airport - Source: baoquangninh
Van Don International Airport is claimed to be a 4E level Airport. With a total area of 345 hectares, it has 7 large areas for airports to park. There is a runway with a size of 3.6m x 45m, having the capacity to receive the most modern civil aircraft in the world currently such as Airbus A350, A330, A320, and A321; Boeing B787, B747, B777... The airport can receive up to 2.5 million passengers annually.
Currently, Van Don Airport Vietnam is operating both international and domestic flights. Airlines serving at the airport are Vietnam Airlines, Bamboo Airway, Donghai Airlines, Qingdao Airlines, and Vietjet Air. Flight routes are specifically:
- Domestic flights from / to: Ho Chi Minh City, Danang City, Phu Quoc Island,...
- International flights from / to: Shenzhen (China), Hunan (China), Tokyo (Japan), Seoul (Korea)
III - Services at the Van Don Airport
1 - VIP lounge at VDO Airport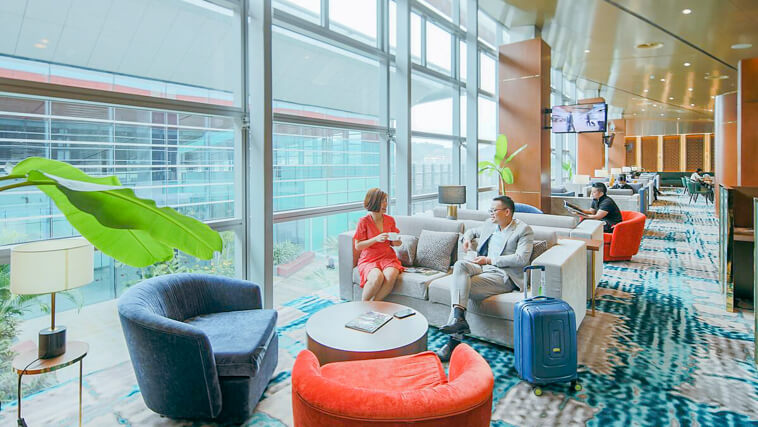 VIP lounge - Source: vnexpress
The business-class lounge of the airport is located on the mezzanine floor of two separate areas for domestic and international passengers. The business-class lounge of Van Don International Airport has an opulent and modern architecture that can live up to standard by world-class 5-star airlines such as Cathay Pacific, Emirates,... Facilities include a reception lobby, buffet and cocktail area, central area, smoking room, toilet, and separate bathroom.
2 - Dining at Van Don Airport
Currently, there are 3 restaurants in the airport located in different areas both inside and outside the terminal to cater to the great need of the passengers. They are Lucky Restaurant near Gate 01 in the restricted area for domestic departure, Lucky Restaurant near Gate 7 and Gate 8 in the restricted area for international departure, Red Cherry restaurant at the entrance to the restricted area, near check-in counter 01 in the arrival lobby.
3 - Shopping at Van Don Airport
At the domestic arrival lobby, souvenir shops and department stores are operating on a large scale with a professional service, providing eye-catching and quality products. At the international arrival lobby, you can shop at duty-free stores offering wine and tobacco, cosmetics and fragrances, food and souvenirs, fashion items, and accessories from famous brands in the world.
4 - Other services at Van Don International Airport
- Internet access area (Address: VDO - Guest, no pass)
- Free drinking water
- Pack the luggage: 70,000 VND/package ($3)
- Freephone charging
- ATM
- Fast check
The appearance of the Van Don Airport is a strong testimony to the development of aviation in Vietnam. The airport is expected to be a gate opening to internal and external friends to Halong Bay as well as the North of Vietnam.
#van_don_airport
#halong_bay_airport