Vietnam is a country with diverse and rich tourism potential, reflected in rich culture and history, fascinating natural landscapes, and unique architectural works that have existed for a long time. Since there are so many places to go and things to do, you should prepare a full plan in advance to have the most pleasant and satisfying trip, the first of which is to answer the question: Where is Vietnam located in the world map?
I - Where is Vietnam: Geographical location of Vietnam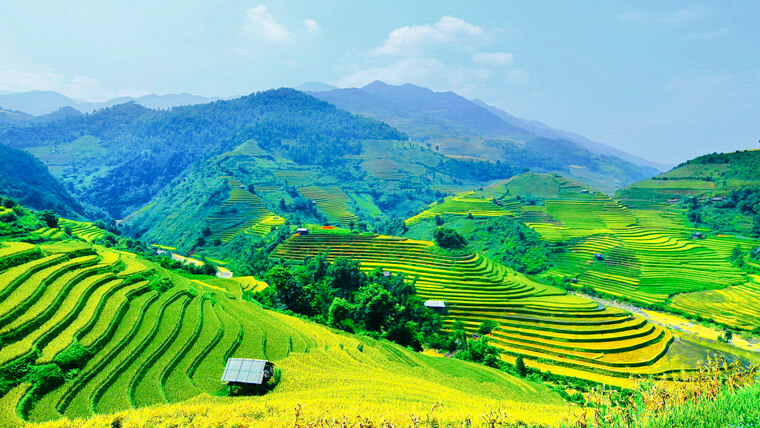 Vietnam located in Southeast Asia is an amazing country - Source: a4y.org
Experiencing countless name changes in history, currently, Vietnam has the official name of The Socialist Republic of Vietnam, with Hanoi as the capital. Although some documents still use "Viet Nam" or "Việt Nam" to refer to this country, "Vietnam" is used much more often.
So what continent is Vietnam in? Located at the easternmost point of the Indochina peninsula, this Asian country belongs to Southeast Asia, bordering Cambodia, China, Laos, the East Sea and the Gulf of Thailand. Vietnam has an elongated S-shaped body, with the longitude and latitude of Vietnam at each pole being:
- Easternmost point: 109°27'55"E - 12°38'54.2"N (Doi Cape on Hon Gom Peninsula, Van Thanh Commune, Van Ninh District, Khanh Hoa Province)
- Westernmost Point: 102°08'38.2"E - 22°24'2.6"N (A Pa Chai Village in Sin Thau Commune, Muong Nhe District, Dien Bien Province)
- Southernmost point: 104°49'52.6"E - 8°33'44.8"N (Dat Mui Commune, Ngoc Hien District, Ca Mau Province)
Northernmost point: 105°19'23.7"E - 23°23'33"N (Lung Cu Commune, Dong Van District, Ha Giang Province)
In addition, Vietnam also possesses many islands and archipelagos, with two other poles on the sea including:
- Easternmost point: 8°52'16.1"N - 114°40'50.8"East (Tien Nu Lighthouse, Truong Sa Archipelago, Khanh Hoa Province)
- Southernmost point: 8°22'51.1"North - 104°52'43.4"E (Hon Da Le Island, Hon Khoai Archipelago (point A2 of Vietnam Baseline), Ca Mau Province)
II - Where is Vietnam: #9 things to know about Vietnam
1 - How long is Vietnam?
With a land border of 4,639km and a coastline of 3,260km, the length of Vietnam from North to South as the crow flies is 1,650km and the narrowest place is less than 50km (in Dong Hoi City, Quang Binh Province). Covering an area of 331,212 km², the country's topography is mostly mountainous, accounting for 3/4 of the area of mainly low hills, with a rather diverse structure gradually descending from the Northwest to the Southeast. Vietnam is divided into the following regions: the mountainous region, the Red River Delta in the North, the Truong Son Range, the Central Highlands, the Central Coastal Plain, and the Mekong River Delta in the South.
2 - Location of Vietnam & the climate zone
Vietnam is located in the tropical monsoon climate and the weather in Vietnam is influenced by the monsoons and ocean currents, with different variations between regions. For example, the North often has four seasons of spring, summer, autumn, and winter, while the Central and South often have only the rainy season and dry season. The average humidity is 84% and precipitation ranges from 1,200 - 3,000mm, while the average temperature fluctuates between 5°C to 37°C.
3 - Where is Vietnam: Population of Vietnam
According to the results of the population and housing census dated April 1, 2019, the total population of Vietnam was 96,208,984 people, which has increased to about 98 million in 2021 as estimated by the Vietnam General Statistics Office. Vietnam has 54 ethnic groups, in which the Kinh people account for the majority (nearly 86%), the second largest groups are the Muong, Thai and Tay, while O Du group has the smallest population.
Vietnam's population currently ranks 15th in the world, with about 98 million people in 2021 as estimated by the General Statistics Office, and specifically 98,176,244 people as of July 4, 2021 according to data from the United Nations.
4 - The world's largest cave - Son Doong Cave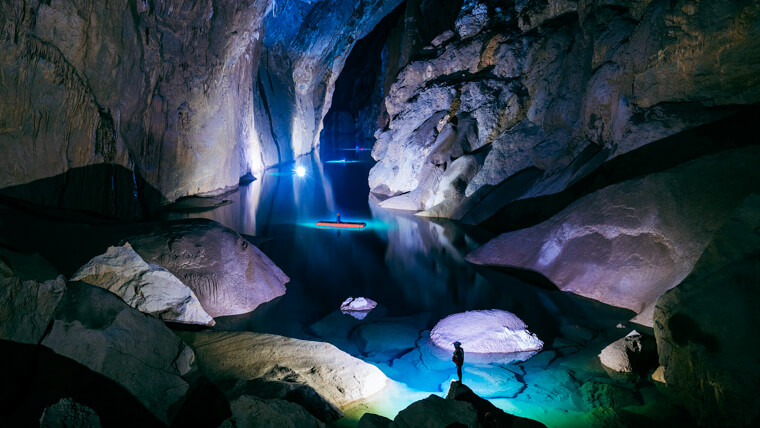 Son Doong Cave in Vietnam is a majestic cave - Source: vnexpress
Son Doong Cave in Phong Nha - Ke Bang National Park is recognized as the largest natural underground cave ever known in the world. This cave was first discovered in 1991 by a local named Ho Khanh. But not until 2009 did the Royal British Cave Association come to explore, and officially announced on April 22, 2009 that Son Doong cave was indeed the largest in the world. With an estimated capacity of nearly 40 million cubic meters, this cave is nearly 9km long, up to 200m high and 160m wide in some places. Inside of Son Doong is a space with a developed ecosystem including forests, underground rivers, huge stalactites and fossil animal remains.
5 - Where is Vietnam: Vietnamese language
The Constitution of Vietnam does not prescribe a national language or official scripts, but Vietnamese is considered the main language and is used in most official documents of the country. This is a tonal language of the Austroasiatic family and the script used to be either Nom or Han, but they are now Latin scripts developed by Jesuit missionaries in the 17th century. The ethnic minority groups in Vietnam also have their own languages and scripts, such as the languages of H'Mong, Khmer, Muong, Tay,…
6 - GDP
According to estimates by the International Monetary Fund in October 2020, Vietnam's nominal GDP will reach $340.6 billion, and $1,047 billion for GDP purchasing power parity. GDP per capita in nominal terms is 3,498 / person and in purchasing power terms is $10,755 / person. The currency used in Vietnam is VND ("đồng"), the time zone is UTC +7 (Indochina Time) and the phone code is (+84).
7 - Kingdom of robusta coffee beans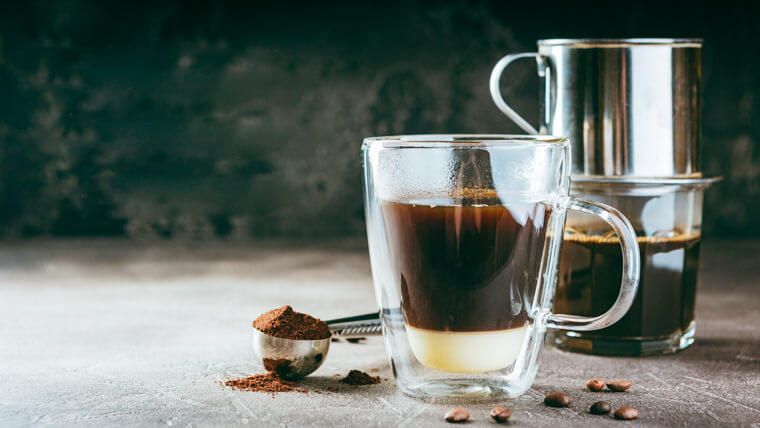 Vietnamese coffee is really worth a try - Source: 1scoffee.vn
Vietnam currently ranks 2nd in the world in terms of coffee exports by volume, with 1,650,000 tons of coffee exported in 2019 according to World Atlas data. Vietnam is currently the world's leading supplier of Robusta coffee, with about 95% of total exports, accounting for about 40% of the world's total Robusta supply.
8 - Where is Vietnam: High level of biodiversity
Belonging to the Indomalaya ecoregion, Vietnam is one of 25 countries with a high degree of biodiversity, ranked 16th worldwide, according to data from the 2005 National State of the Environment Report. This country is home to about 16% of the world's species - 15,986 species of plants, 7,750 species of insects, 840 species of birds and 310 species of mammals, 260 species of reptiles, 120 species of amphibians, of which about 10 - 15% are endemic species. In addition, it is also home to 1,438 species of freshwater algae, accounting for 9.6% of the world's total, as well as 794 species of aquatic invertebrates and 2,458 species of marine fish.
Vietnam has 126 protected areas including 28 national parks, 2 world natural heritages (Halong Bay and Phong Nha ‒ Ke Bang National Park), and 6 biosphere reserves including Can Gio Mangrove Forest, Cat Tien, Cat Ba, Kien Giang, Red River Delta and Tay Nghe An.
9 - Famous Vietnam destinations used as the main filming scenes in the movie Kong: Skull Island
In 2016, the 120-member crew of director Jordan Vogt-Roberts came to Vietnam and spent two months filming the blockbuster Kong: Skull Island project here. They have recorded footage of beautiful and unspoiled scenes, stimulating the audience's curiosity, stretching from Trang An (Ninh Binh), to Halong Bay (Quang Ninh) and Quang Binh.
In Ninh Binh Province, the majestic limestone valley at the mixed World Heritage complex of Trang An and Van Long Nature Reserve has been selected as Kong's homeland in the film - Skull Island. This place appears with a mysterious image of a wild and beautiful land with a system of interlaced limestone mountains, rocky islands and beautiful caves.
Meanwhile, Halong Bay (Quang Ninh Province) makes a strong impression on the audience with the beautiful scenery of thousands of majestic limestone islands floating on the lush green sea. With its magnificent beauty, this is one of the seven natural wonders of the new world, twice honored by UNESCO as a World Heritage Site.
Finally, in Quang Binh Province, there were many locations selected for filming such as Cha Noi Valley in Da Deo Pass Area; Yen Phu Lake; rivers, and streams at Mouse cave. Son Doong Cave - the biggest cave in Vietnam and in the world was also surveyed, but they could not film there to protect the natural landscape.
III - Where is Vietnam: Is Vietnam a good place to visit?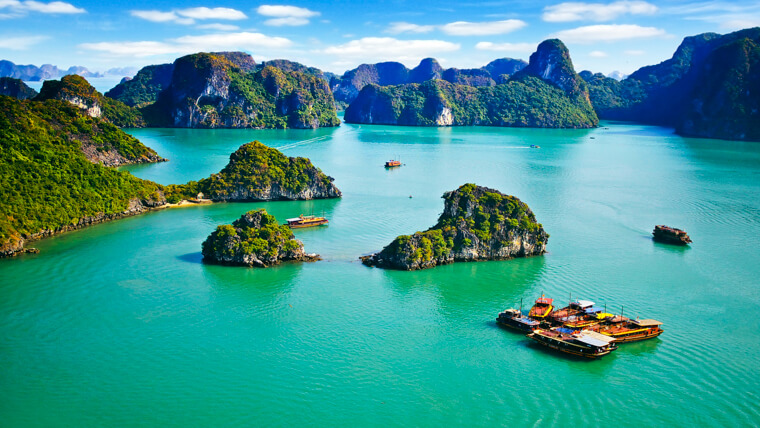 Source: hanoispiritofplace.com
Vietnam is a country with a variety of climates and breathtaking landscapes, with numerous suitable tourist destinations to visit all year round. You can go from North to South, from beautiful beaches and islands like Halong Bay, Phu Quoc Island, Nam Du Island,... to mountainous areas like Sapa, Dalat, Mai Chau,... With a history of more than 4000 years, Vietnam also has many unique architectures bearing the imprints of different periods, combining styles of many cultures, such as One Pillar Pagoda, Saigon Notre Dame Cathedral, Hue Imperial Citadel...
In particular, the cuisine of Vietnam is also considered to be the most unique and diverse in the world, with dishes and street culture with flavors that can only be found in Vietnam. In addition to familiar names such as pho, banh mi, egg coffee, you will also definitely be mesmerized by the delicious bun cha, noodle dishes, and sweet soups, ...
The most important thing is the safety of Vietnam - a peaceful country, without war, terrorism or riot. The political situation of Vietnam is also extremely stable under the management of the State and the Communist Party. Most of the locals are also very kind and friendly, always smiling and ready to help you.
The article above not only answers the question "where is Vietnam in the world map?", but also provides a lot of interesting information about this S-shaped country. By visiting Vietnam, you will have the opportunity to see rare beautiful landscapes and gain experiences that are hard to come by anywhere else.
The article above is to answer the following question:
- Where is Vietnam located in Asia?
- Where is Vietnam located in the world map?
- What is the continent of Vietnam?
- Where in Asia is Vietnam located?