It is a sure thing that Ba Den mountain Vietnam is a household name to every person in Tay Ninh province. The majestic mountain wrapped by misty cloud banks has become the image always stuck in their mind whenever going far from their homeland. Currently, this place has been invested and constructed to be a famous tourist destination, attracting a great number of visitors to the locale.
I - What is on Sun World Ba Den mountain?
The mountain with an altitude of roughly 986m is referred to as the rooftop of Southern Vietnam. It has long been known as the one in the complex of three mountains, Heo - Phung - Ba Den. Scattered on this mountain area are several temples and pagodas namely Phat pagoda (Buddha pagoda), Hang pagoda (Cave pagoda), Ha Pagoda, Trung Pagoda, Van Son Pagoda,… Besides, when paying a visit here, you may come across some small caves like Thanh Long cave, Ba Co cave, Ba Tuan cave,...
1 - Linh Son Tien Thach pagoda in Sun World Ba Den mountain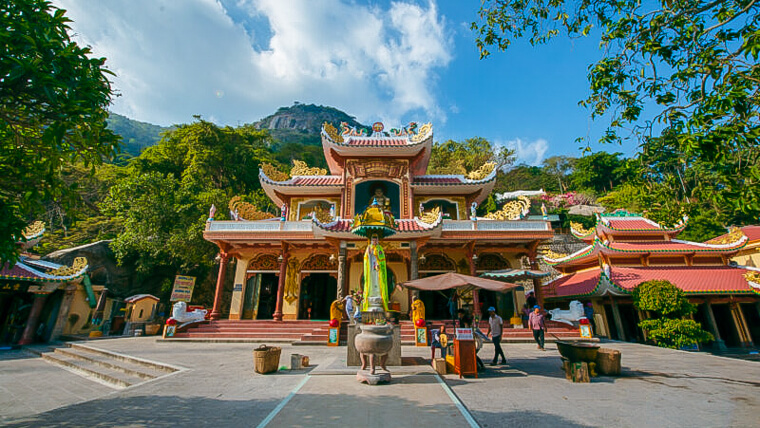 Linh Son Tien Thach pagoda - Source: @sunworldbadenmountain
Amongst those stopovers, Linh Son Tien Thach pagoda is probably the most outstanding one because it is the place where local people worship the Black Virgin (Ba Den). In the subconscious mind of Tay Ninh people, she always follows and supports them in silence in dealing with injustices or poor crops. This religious work was built in the 18 century. Nowadays, after having been through restoration twice, the construction still preserves 2 marble pillars dating back to 1919 in the front hall. In general, it has a harmonious architecture, bearing many resemblance to traditional temples and pagodas.
2 - Sun World Ba Den mountain tourist area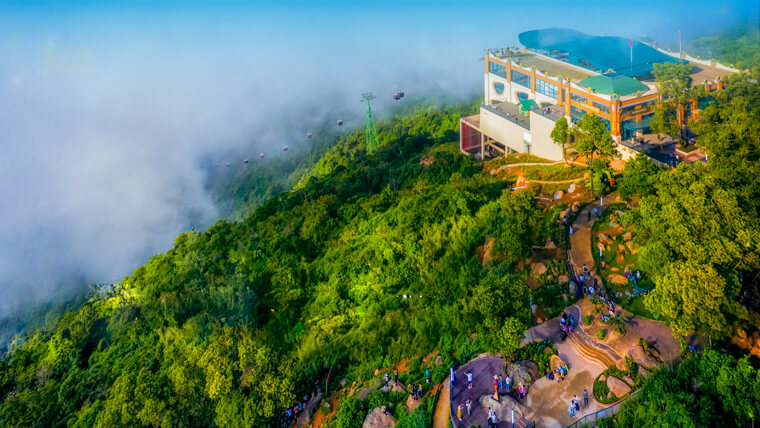 Sun World BaDen Mountain - Source: @sunworldbadenmountain
In recent years, this destination has become more attractive thanks to the Sun World Ba Den mount tourist area with a variety of distinctive products and services on the mountain top. Aside from conquering the highest peak of the region, visitors have a chance to contemplate the statue of Buddhist Bodhisattva Guanyin of 72m high, made of 170 tons of red bronze. The statue has been recognized by Asian Record Organization (ARO) and Vietnam Records Organization (Vietkings) as Asia's highest bronze Buddha statue located on a mountain top.
The Ba Den mountain's statue is the top of a construction with 4 floors, each of which serves a special purpose. The first floor is a hall displaying dozens of bronze Buddha statues and also a cinema where visitors can learn more about the universe according to the perspective of Buddhism via the video mapping technology and cutting edge image and audio equipment. The second and the third floor are rooms for displaying statues made of different materials. The highest floor is where Śarīra, Buddhist relics, are preserved. From here, you can catch sight of Dau Tieng lake, a vast lake referred to as the natural border of Tay Ninh province with Laos, Binh Duong and Binh Phuoc province.
II - How to discover Sun World Ba Den mountain Vietnam?
1 - Trekking to the peak of the mount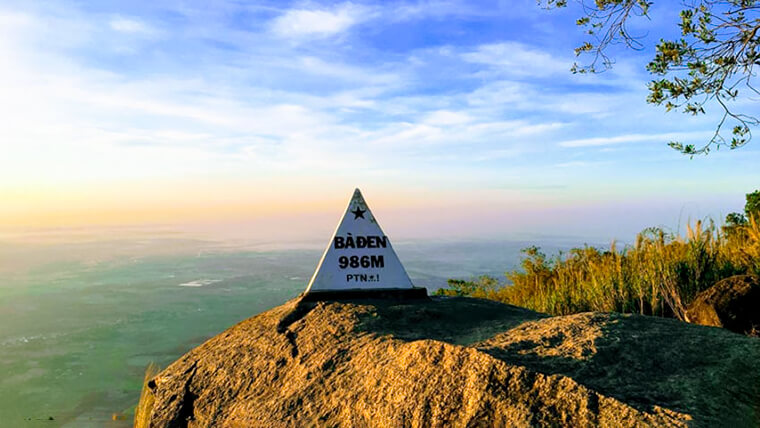 View from the peak - Source: Internet
The mountain of Ba Den with the title "the rooftop of Southern Vietnam" is sure to be the milestone that many travelers are eager to conquer. The scenery along the road is very pristine, offering you the most basic way to view this mountain. There are 5 ways of hiking Ba Den mountain's top, equivalent to 5 levels of difficulty.
The first and the easiest is to follow the signs at the entrance.
The second one is paved with stone steps and obvious signs.
The third requires you to get through water pipes, quite dangerous and necessary to have an instructor.
The fourth is called Ma Thien Lanh road, which features no clear path, no stone steps so you are expected to do a thorough research and have a companion.
The last, also the hardest, is to access the mountain after overcoming Phung mountain. The track will take you at least 2 days and so much energy. Those who have bad health shouldn't embark on it.
2 - Going on a cable car to the peak of Ba Den mountain
The cable car in the tourist area was born to cater for the need to visit this place within a day of tourists. The duration for the cable car to transport you from the foot to the top of the mountain is from 20 to 30 minutes, much shorter than walking but still long enough for you to not only admire the vegetation behind but also have an overview of the surrounding landscape. A noteworthy thing is that the cable car station here has the largest scale in Vietnam. It is divided into 2 sections, one for cable to the Linh Son Tien Thach pagoda and the other for those to the mountain top.
Operation time: 8am - 5pm
Sun world Ba Den mountain cable car ticket prices:
- To the Linh Son Tien Thach pagoda
+ Adult: 245,000 VND/return ticket; 140,000 VND/one-way ticket; 390,000 VND/VIP ticket (return only)
+ Child: 150,000 VND/return ticket; 80,000 VND/one-way ticket; 245,000 VND/VIP ticket (return only)
- To the mountain top
+ Adult: 245,000 VND/return ticket; 390,000 VND/VIP ticket (return only)
+ Child: 150,000 VND/return ticket; 245,000 VND/VIP ticket (return only)
III - More helpful travel information
1 - Where is Ba Den mountain?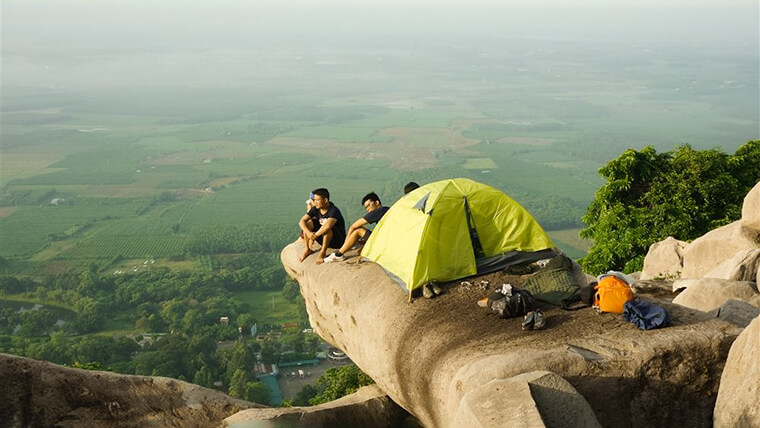 Camping on mountain peak - Source: vietrektravel
The mountain of Ba Den is located in Thanh Tan commune, Tay Ninh city, about 7km from the city center to the Northeast and 85 km from Ho Chi Minh city to the Northwest. If you go by motorbike, it will take you only about 5 minute starting from Tay Ninh city and more than 1 hours starting from Ho Chi Minh city.
2 - Entrance fee
From January 14, 2022, the Black Virgin mountain tourist area is open free for public visit.
3 - When is the best time to take a Ba Den mountain tour?
If you are planning to visit the mountain, the dry season, from November to May, is the most suitable. Besides, you can consider to start the trip on May 4, 5, or 6 of the lunar calendar because it coincides with the Ba Den mount festival, which features numerous activities for you to indulge in.
Above are all about the Ba Den mountain in Tay Ninh province that Localtraveliea want to share with. Hope that you won't skip it on your journey to explore this wonderful area. Thank you so much for reading and wish you memorable trips.