Mother is one of, if not the most important people in everyone's life, the one who gave birth, cared for and nurtured us - a peaceful berth in the midst of life's storms. Therefore, numerous occasions to honor mothers and motherhood were born, praising their cohesive role in the family and their influence in society. In particular, Vietnamese Mother's Day is an opportunity for sons and daughters to give gifts, sweetest wishes or fresh flower baskets to their beloved mothers.
I - The legend of Mother's Day in Vietnam
Annually taking place on the full moon day of the 7th lunar month, Vietnam Mother's Day or Vu Lan Festival is a Buddhist event of great significance in the spiritual life of Vietnamese people. The origin of this holiday comes from the story of the great filial Bodhisattva Muc Kien Lien who saved his mother from the life of a hungry ghost. According to the Buddhist scriptures, after attaining enlightenment, he recalled his deceased mother - Lady Thanh De - and tried to look for her. He was shocked and heartbroken to find out that she was turned into a hungry ghost, suffering and wandering, due to her previous evil deeds.
The origin of Mother's Day in Vietnam comes from the story of the great filial Bodhisattva Muc Kien Lien - Source: trithucvn
Muc Kien Lien immediately used his magical power to bring rice to hell for his mother, but unfortunately, all the food was turned into fire. He rushed to ask Shakyamuni Buddha, who said that his mother's original sin was so big that only the divine power of thousands of monks could save her. Following the Buddha's instructions, on the full moon day of the seventh lunar month, Bodhisattva Muc Kien Lien prepared offerings. He prayed for her with the help of other monks and successfully saved his mother from being a hungry ghost in Hell.
The Buddha also taught that whoever wants to pay filial piety to their parents can also use this method, creating the Vu Lan Festival or Mother's Day in Vietnam. It has soon become an event of gratitude and filial piety, not only in this life but also in the next lives, because Buddhism always believes in causality. It is also said that on this day, the King of Hell allows the spirits to ascend to earth to enjoy the blessings. According to the "Dai Viet historical record", the Vu Lan festival was introduced to Vietnam in 1072 and King Ly Nhan Tong once attended the ceremony to pray for his parents.
Celebrated as Mother's Day in Vietnam, the Vu Lan festival is now an annual event for children to express their hearts to their parents in particular, and to their ancestors in general. This day also reminds everyone to slow down and love more, think of family and parents, take time to visit, spend quality time with them and give them gifts. From there, you can appreciate what you have, from family members, and close friends to your partner, your children, and so on.
II - Activities on Mother's Day in Vietnam
1 - Traditional activities in Vietnam Mother's Day
Preparing the offering trays and ceremonies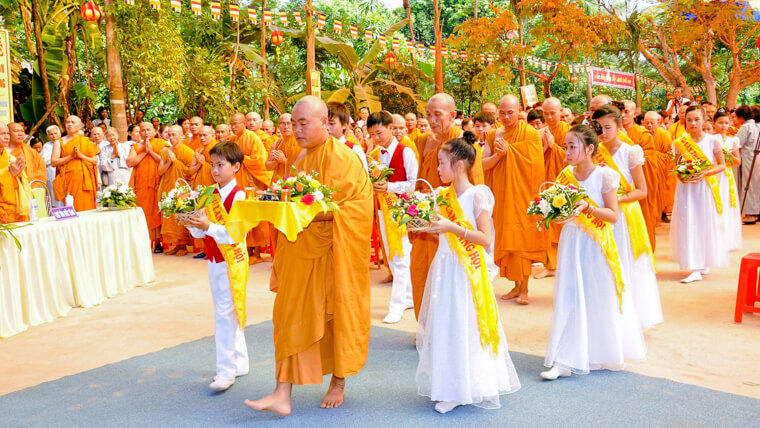 Source: tapchibenhvien
According to the custom on Vu Lan Day, each family should prepare 2 offering trays for a total of 4 worshiping ceremonies to Buddha, gods, ancestors, and lone souls. The first three ceremonies and the release of life all happen during the day, while the worshiping of lone souls must take place in the evening and outside the house. The meaning of these actions is to remember the merits of the deceased, to pray for them to be at peace in the afterlife, and to wish for the blessings of their ancestors.
On the occasion of Mother's Day in Vietnam, there are usually savory dishes, gold coins, and paper votive items for the people in the afterlife such as clothes, shoes, cars, phones, etc on the ancestral altar. On the tray of offerings to the lone soul, there are paper clothes with many colors, confectionery, 12 cups of diluted porridge, votive money, spring water or glutinous wine, a cup of salt, a cup of rice, etc.
Visiting spiritual places and wearing roses
When yin and yang harmonize, Vu Lan month is the best time for you and your parents to go to pagodas and temples, praying for good things to come to your loved ones. In these places on Mother's Day in Vietnam, there is often a ritual called "Rose lapel", which is to attach a red rose on the chest of those who still have mothers, and a white rose for those who have lost them. This action evokes the humanistic Buddhism teachings, recalling the filial piety and kindness in every human being.
This ritual was initiated by Zen master Thich Nhat Hanh in his work titled "Rose lapel" or "Hoa hồng cài áo" in 1962. The poem was inspired by a custom he encountered when Zen master Thich Nhat Hanh visited Japan and is now a meaningful Vietnamese mother's day poem. The late musician Pham The My accidentally read the monk's writing while in detention, and composed the song of the same name in 1967, after being released. It has become one of the immortal songs about motherhood, and the custom of wearing roses on Mother's Day in Vietnam has become a beautiful cultural feature of Vietnamese people.
Fasting to accumulate virtue
This is a religious practice not only of Vietnam but also of many other religions, bringing people back to their purest place and version during the Vu Lan festival. Fasting is not only good for your health but also helps your prayers more sincerely than ever, because at that time, the mind is clear without thoughts of killing or deceit.
2 - A modern perspective on Mother's Day in Vietnam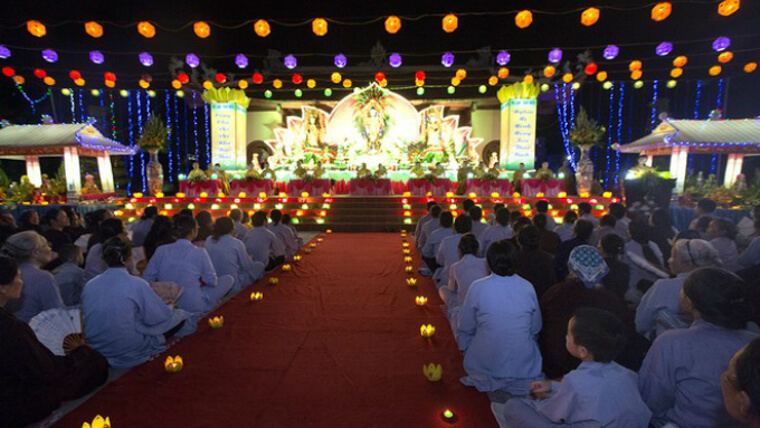 Source: e.vnexpress
Nowadays, on Vietnam Mother's Day many people still perform the above traditional activities. Often older generations participate more enthusiastically, but youngsters don't completely overlook it either. They also usually give their beloved mothers sweet wishes, gifts and flowers, depending on their style, habits and preferences. In addition, there are also many gift sets dedicated to this day, including various products from everyday items to jewelry and cosmetics.
But as long as you put your heart into it, what you do or gift doesn't matter - whether it's just a gentle hug, a meal you prepared yourself, helping in cleaning the house,… Because parents don't need much from their children, sometimes just seeing the kids grow up healthily and successfully already makes them feel happy to the fullest. So it is also suggested that you spend as much time as possible with your parents on holidays like Mother's Day in Vietnam.
Due to the spread of the Internet and mass media, along with the global integration, Mother's Day of Western countries has also been introduced to Vietnam. Taking place every year on the 2nd Sunday of May, the holiday has gradually gained popularity throughout the country, welcomed by everyone in recent years.
It can be seen that Vietnam Mother's Day is an important holiday, expressing the good cultural values of the people living in this S-shaped land. Hopefully, the information about the holiday conveyed above will help you have a clearer and more detailed view of Mother's Day in Vietnam.