Whenever visiting the central areas like Danang city or Quang Nam province, the specialty dish that everyone suggests is a must-try is Mi Quang noodle. This is a delicious noodle dish, filled with broth, meat, shrimp, and vegetables, with a unique attractive flavor that is hard to find elsewhere. Let's learn more about this ancient dish with more than 500 years of life to see what it has that makes so many people fall in love.
I - What is the origin of Mi Quang noodles?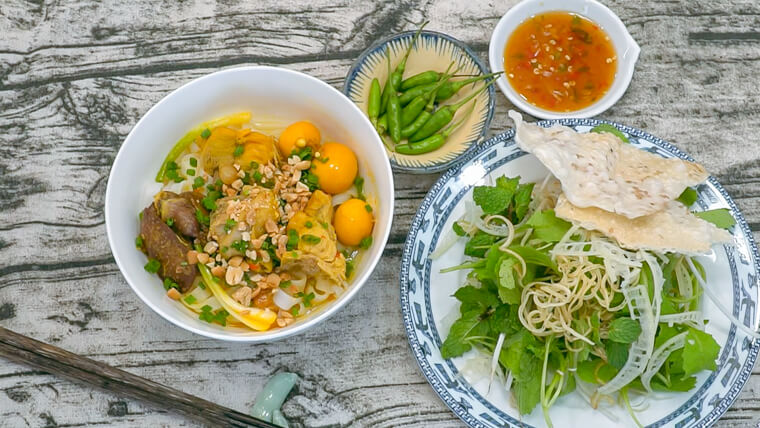 Source: dienmayxanh
Around the 16th century, Hoi An city in Quang Nam province was an international trading port with many bustling trade activities. Therefore, this land is a place of cultural and culinary interference from many places, including the influence of Chinese people. They brought to Vietnam many attractive dishes, especially "noodles" - an extremely creative food made from wheat flour. Hoi An people then imitated it but used rice flour instead and processed it according to the taste of Vietnamese people. They kept the name of the noodle dish "Mi" and added "Quang" to represent this land.
A bowl of Mi Quang noodles stands out with the pure yellow color of soft noodles, mixed with a little dense broth, just enough to eat. The top is often sprinkled with peanuts, eggs, chicken, pork, and sesame rice paper, creating a beautiful golden brown color, dotted by the greenish of raw vegetables. The broth and meat's rich flavor, the noodles' sweetness, and the intense, mildly spicy taste of green chili all combine harmoniously to create a wonderful dish.
As delicious as that, but this special dish of Vietnam's Central region is not too expensive, only about 20,000 - 40,000 VND / bowl ($0.87 - 1.75). On the other hand, a bowl of Mi Quang noodles contains about 541 calories, coming from rice flour, eggs, shrimp, and meat,… This amount is more than other types of noodles and pho, so you should not eat it often, affecting your health and digestive system. Especially, if you are trying to lose weight, have high blood fat, or have a problem with blood pressure, stomach, or kidney, you should not eat Vietnamese Mi Quang.
II - Where to enjoy Quang-style noodles with the authentic flavor?
Being recommended as one of the best dish of Vietnamese cuisine, Mi Quang Vietnam is sold in many places in Vietnam, with many variations in processing methods and ingredients, bringing interesting flavors. However, to have the most original and unique taste, Hoi An city and Danang city are still the two most prominent places to enjoy this dish.
1 - Places to enjoy Mi Quang noodles in Hoi An City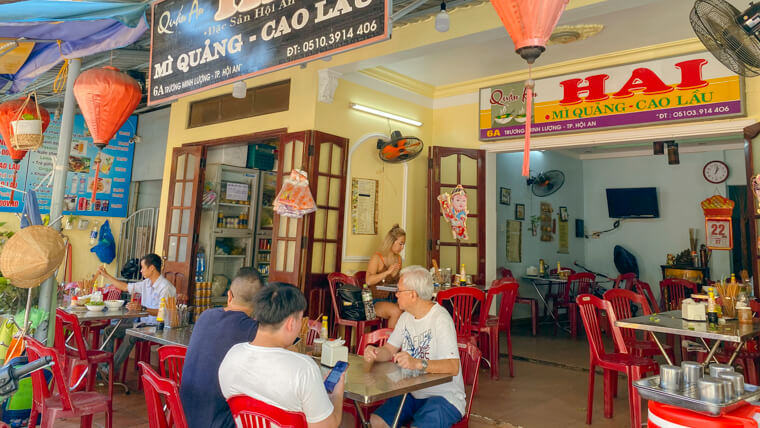 Source: @Luck Choon Chew
Because this is a famous specialty that is suggested by everyone who visits Hoi An, you can easily find restaurants and eateries selling Mi Quang. There are also quite a few street vendors selling this dish at affordable prices in Hoi An market, Nguyen Hoang night market,…
Mr. Hai Noodles
This restaurant has a classically designed space and the Mi Quang here is extremely cheap and delicious with a rich broth that will beat your taste.
- Address: No.6A Truong Minh Luong Street, Cam Chau Ward
- Price: 15,000 - 40,000 VND / bowl ($0.66 - 1.75)
- Opening hours: 9am - 10pm
Mi Quang Di Hat
The quality of Mi Quang noodles here is top-notch, combining many fresh ingredients with a unique recipe, giving it a rich and attractive flavor.
- Address: No.81 Phan Chu Trinh Street, Minh An Ward
- Price: 15,000 - 25,000 VND / bowl ($0.66 - 1.1)
- Opening hours: 5:30pm - 11pm
Mi Quang Khong Gian Xanh (Green Space)
In addition to Quang-style noodles, the restaurant is also famous for Cao Lau with delicious flavor from seasoning, and many other Hoi An specialty food such as cao lau, fried mussels, fried wontons,…
- Address: No.687 Hai Ba Trung Street, Minh An Ward
- Price: 20,000 - 50,000 VND / bowl ($0.87 - 2.2)
- Opening hours: 9:30am - 9pm
2 - Places to enjoy Mi Quang noodles in Danang city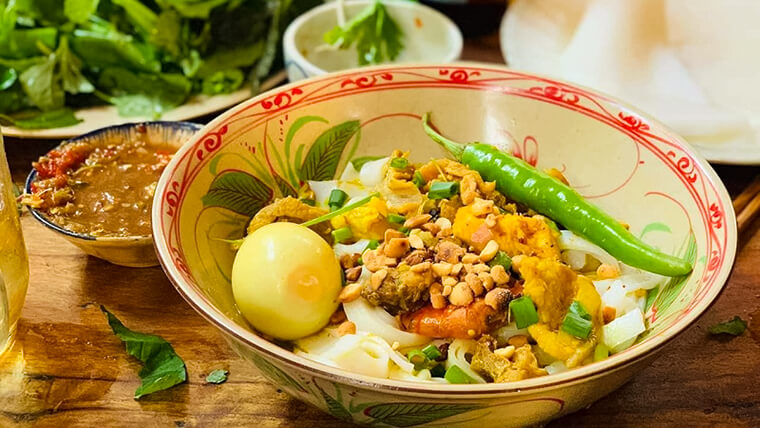 Source: mia
Danang city was formerly a part of Quang Nam Province like Hoi An, so the taste of Vietnamese Mi Quang in Danang is also considered entirely original.
Mrs. Mua Restaurant
The broth is the highlight here, with the rich sweetness from pork bones, frog meat, and carefully and meticulously selected ingredients.
- Address: No.95A, Nguyen Tri Phuong Street, Thac Gian Ward, Thanh Khe District
- Price: 25,000 - 44,000 VND / bowl ($1.1 - 1.9)
- Opening hours: 7am - 10pm
Mrs. Vi Restaurant
This is one of the oldest Mi Quang restaurants in Danang city. Mi Quang noodle here is made in heirloom style and rich broth carefully cooked from bones, pork,…
- Address: No.166 Le Dinh Duong Street, Hai Chau 2 Ward, Hai Chau District
- Price: 30,000 - 55,000 VND / bowl ($1.3 - 2.4)
- Opening hours: 6am - 11pm
Miss Sau Restaurant with the snakehead fish Quang noodles
Besides Mi Quang Vietnam, this restaurant also serves other delicious Danang dishes such as grilled scad, Cau Mong burned veal, Rice paper rolls with pork,...
- Address: No.37B Pham Quang Anh Street, An Hai Bac Ward, Son Tra District
- Price: 10,000 - 45,000 VND / bowl ($0.45 - 2)
- Opening hours: 6am - 10pm
III - The authentic & easy Mi Quang noodle recipeS
1 - Prepare ingredients for the Quang-style noodle
The necessary items that need to be prepared include:
- 800g typical type of noodles for Mi Quang
- 1 ready-made chicken (about 1.5kg)
- 15 quail eggs
- 500ml coconut water
- 50g roasted peanuts
- 4 grilled sesame rice paper
- 1 tsp turmeric powder
- 1 tbsp cashew oil
- 3 branches of scallions
- 1 onion
- 10 spring onions
- 2 tbsp fish sauce
- 1 tsp rock sugar
- 1/2 tbsp seasoning
- 1/2 tbsp salt
- Raw vegetables (lettuce / banana / spinach)
2 - Mi Quang recipe step by step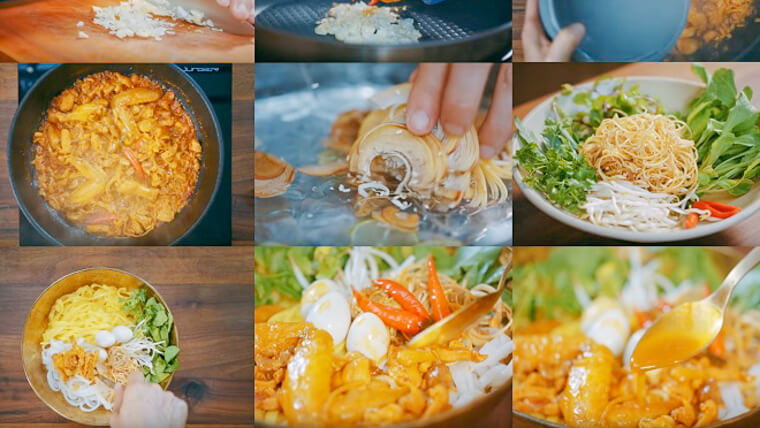 Vietnamese Mi Quang is easy to be made - Source: yeutre
Preliminary process
To make Mi Quang noodle, you should first soak the chicken in dilute salt water for about 10 minutes to remove odors, then rinse with water and cut into bite-sized pieces. Wash the vegetables and tubers, peel and finely chop the onions, scallions, and smash the roasted peanuts.
Handling chicken and quail eggs
Marinate chicken with 1/2 part of minced onion, 1/2 tbsp turmeric powder, 1/2 tbsp seasoning, mix well, and leave for 15 minutes to infuse. Boil quail eggs for about 7 - 10 minutes, then peel.
Processing chicken
Heat cashew oil in a pan until hot, add the remaining minced onion and 1/2 tbsp of turmeric powder, fry until fragrant, and stir-fry the chicken until the meat is tender.
Make broth for Mi Quang noodle
In the next part of the Mi Quang recipe, you put 700ml of filtered water, and 500ml of fresh coconut water in a pan and stir over high heat until boiling, then add 2 tbsp fish sauce, and 1 tbsp rock sugar, stir well, then reduce to medium heat and cook for about 15 - 20 minutes. Season to taste, add the quail eggs, and cook for another 5 minutes, then turn off the heat.
Finish
Boil the noodles with a little vegetable oil in water for about 1 - 2 minutes, then put them in a bowl, then add stir-fried chicken, boiled quail eggs, chopped green onion, roasted peanuts, and then pour the broth. So you have a hot and flavory Mi Quang Vietnam.
Mi Quang noodle is one of the famous dishes of Vietnam, considered a specialty of the central region, particularly Danang city and Hoi An city. Thanks to the perfect combination of soft chewy noodles, delicious chicken, and rich broth, Quang-style noodle make many people unable to forget even after trying when traveling to Vietnam.