Known widely as a country with a long and typical traditional culture in Southeast Asia, Vietnam has been attracting a large number of travelers around the world who want to explore and experience cultural tourism activities in Vietnam. The Vietnam cultural tours are extremely special and unique that are worth a try.
I - Cultural tourism in Vietnam: Top things to see
1 - The folk & traditional festivals
Coffee festival in Buon Me Thuot - Source: Daihocsi
Vietnam has nearly 8,000 festivals, of which folk festivals account for more than 80%, historical festivals account for more than 4%, and religious festivals account for more than 6%. To experience cultural tourism in Vietnam, you should not miss the famous traditional festivals such as Lunar New Year (from late January to early February), Mid-Autumn Festival (around the middle of September), Hung King Festival (10th March in lunar calendar - around April), Coffee Festival,...
2 - The local markets
Visiting the local markets is one of the greatest things to do in Vietnam to deepen knowledge about cultural tourism in Vietnam. The markets in Vietnam are the main goods trading places of local people where you can find lots of kinds of commodities from food, vegetables to fabric & clothes. Local markets reflect the long-standing lifestyle and habits of the Vietnamese. Each regional & ethnic market offers different things to explore. Some of the best markets in your Vietnam cultural tours are Bac Ha Market in Lao Cai Province, Dong Xuan Market in Hanoi, Ben Thanh Market in Ho Chi Minh City, Nguyen Hoang Night Market in Hoi An,...
3 - Traditional handicraft villages
Visiting the ancient and traditional handicraft villages in Vietnam is a great chance to experience cultural tourism in Vietnam as well as get more understanding about Vietnam's culture & lifestyles and explore the unique handicraft products such as silk, pottery, conical hat, painting,... Some famous Vietnamese villages from North to South to visit are:
- Van Phuc Silk Village: This village is among the best Vietnam cultural attractions, famous for its silk products. It is now located in Van Phuc Ward, Ha Dong District - 10 km from Hanoi center
- Bat Trang Pottery Village: Bat Trang Town, Gia Lam District, Hanoi
- Dong Ho Painting Village: Song Ho Commune, Thuan Thanh District, Bac Ninh Province
- Tra Que Vegetable Village: Cam Ha Commune - 2km to the northeast of Hoi An city
- Tay Ho Conical Hat Making Village: Tay Ho Village, Phu Ho Commune, Phu Vang District, Hue City
- Cham brocade weaving-making village: My Nghiep Village, Phuoc Dan Town, Ninh Phuoc District, Ninh Thuan Province
4 - Tangible & intangible cultural heritages
If you want to explore cultural tourism in Vietnam, then tangible & intangible cultural heritages are great things to see . Following the flow of history with more than 4 thousand years of existence and development, Vietnamese culture flourished and passed down through generations with lots of impressive heritages. Existing tangible and intangible cultural heritages have recreated an old and unique culture. In order to experience Vietnam cultural tourism to the fullest, tourists should visit the monuments and experience typical cultures recognized by UNESCO as World Cultural Heritage, such as:
Tangible cultural heritage sites:
- Hue Imperial Citadel in Hue City
- Hoi An Ancient Town
- My Son Sanctuary in Quang Nam Province
- Thang Long Imperial Citadel in Hanoi
- Ho Dynasty Citadel in Thanh Hoa Province
Intangible cultural heritage: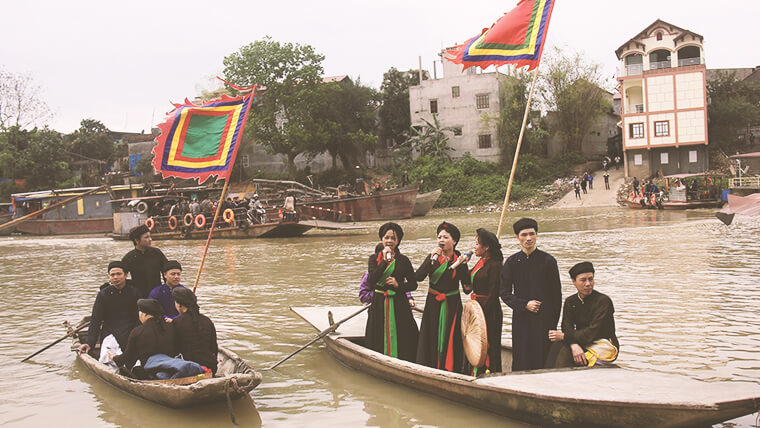 Cultural tourism in Vietnam is incredibly interesting - Source: Baodantoc
- Hue royal court music
- Central Highlands Gong culture
- Quan Ho folk songs - one of the Vietnamese traditional music
- Ca Tru singing
- Xoan Singing
Cultural and natural heritage site
Trang An Ninh Binh Complex is the first and only Cultural and Natural Heritage site recognized by UNESCO in Vietnam. The complex is marked by its picturesque scenery of caves, mountains & rivers, mixed with an old system of temples & pagodas.
II - Top 6 famous destinations for cultural tourism in Vietnam
1 - Hanoi: Top Vietnam cultural attractions
Hanoi, with over a thousand years of development, has been recognized as the cultural & political "capital" of Vietnam. The ancient & peaceful beauty of the city is represented through the plenty of cultural-historic-religious attractions, colonial architectural constructions in the 18th century, and the Vietnamese authentic cuisine.
Best places to visit in Hanoi: Thang Long Imperial Citadel, The Temple of Literature, One Pillar Pagoda, Tran Quoc Pagoda, Hanoi Opera House, St. Joseph Cathedral, Long Bien Bridge, Thang Long Puppet Theater,...
2 - Hoi An - an ideal place for taking cultural tourism in Vietnam
Hoi An, a flourishing trading center in the 18th century frequented by Japanese and Chinese merchants, is the destination of culture in Central Vietnam. The unique architectural constructions such as Cau Pagoda, Tan Ky Old House; the long-standing traditional villages such as Hoi An Silk Village, Thanh Ha Pottery Village, Tra Que Vegetable Village,.. and the Hoi An cuisine are the most typical things of Hoi An.
3 - Hue city - the ancient capital of Vietnam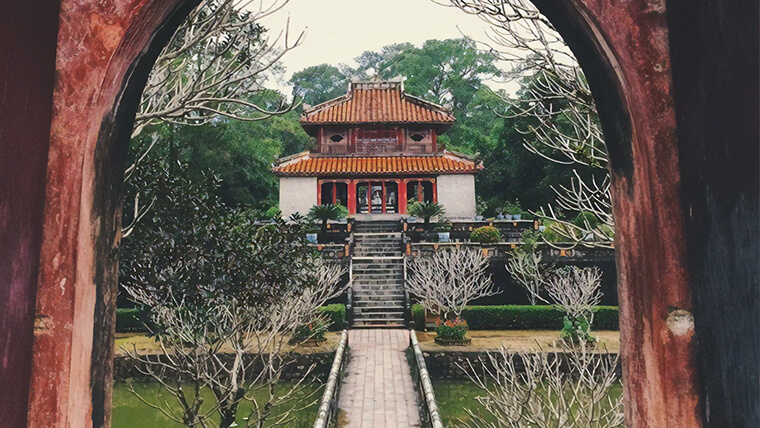 Hue used to be the capital of Vietnam - Source: Kha Vo
Hue City is another top destination for experiencing cultural tourism in Vietnam. Hue, the former capital of Vietnam, has been associated closely with the history of the last feudal dynasty (Nguyen Dynasty) and is regarded as the most poetic & tranquil land in Vietnam. This antique city is attracted by its unique ancient intricately carved architecture, elegant Hue royal music and delicate royal cuisine. Top attractions that tourists should not miss in your Vietnam cultural tours can be mentioned as Hue Imperial Citadel, Tu Duc Tomb, Thien Mu pagoda, Khai Dinh Royal Tomb,...
4 - Cultural tourism in Vietnam's Mekong Delta
The dense river system is an important factor forming the culture and lifestyle of the people in the Mekong Delta of Vietnam. The vast fruit orchards, the famous floating markets, and friendly people make this place an indispensable travel destination in Vietnam. Some of the most potential Vietnam cultural attractions are Cai Rang Floating Market in Can Tho Province, Cai Be Floating Market in Tien Giang Province,...
5 - Sapa Town
Sapa, a mountainous town in the Northwest of Vietnam, is the home to ethnic groups of Red Dao, Tay, Hmong, Giay, Xa Pho. Unique & diverse culture and breathtaking landscapes are the best things to experience about cultural tourism in Vietnam. Trekking to the minority villages (Cat Cat village, Ta Van village, Bac, visiting local markets (Bac Ha market, Sapa Love market,..) or conquering the Fansipan mount at the height of 3.143m... are highly recommended.
6 - Central Highland
Being well-known not only as the capital of Vietnamese coffee, but the Central Highlands is also the home of many ethnic minorities namely Ba Na, Jrai, Mo Nong, Xo Dang, Co Ho, Ede, Ma,... In the Vietnam cultural tours to the Central Highlands, the traditional architecture of wooden stilt houses, long-stilt houses or communal houses, the distinctive rituals and traditions, music instruments of Gong culture, Can rice wine, elephant riding festivals,... are always the top things to experience.
Cultural tourism in Vietnam has many more things to discover, the above information just covers a part of a long-standing culture. Hopefully, your Vietnam trip is full of memorable experiences.