Once the living and working place of the kings and the royal family, Hue Imperial City is also a place to worship ancestors and kings of the Nguyen Dynasty. This work includes more than 100 unique and ancient architectural buildings, preserving the memory of a powerful feudal period in Vietnam. Coming here, you can not only admire the breathtaking landscapes but also have the opportunity to learn about the rich history of this land.
I - Outstanding architecture of Hue Imperial City
King Nguyen Anh - Source: Internet
As a massive work with high architectural value, Hue Citadel was built over a period of nearly 30 years - started in 1804 under the reign of King Gia Long and completed in 1833 under King Ming Mang. The construction is a unique combination of traditional Vietnamese architecture, Oriental philosophical ideology, and Yin-yang theory, influenced by a type of Western military architecture called Vauban.
Hue Imperial City was built in a square shape, arranged 4 doors in 4 directions, of which the main one is Ngo Mon and the remaining three are Hoa Binh, Hien Nhon, and Chuong Duc. In addition, inside the Imperial Citadel, there are Thai Hoa Palace, Dien Tho Palace, Hue Purple Forbidden City… which are divided into many different areas with different purposes. The entire inner construction system is arranged according to the symmetrical axis, in which the center is arranged mainly for the King.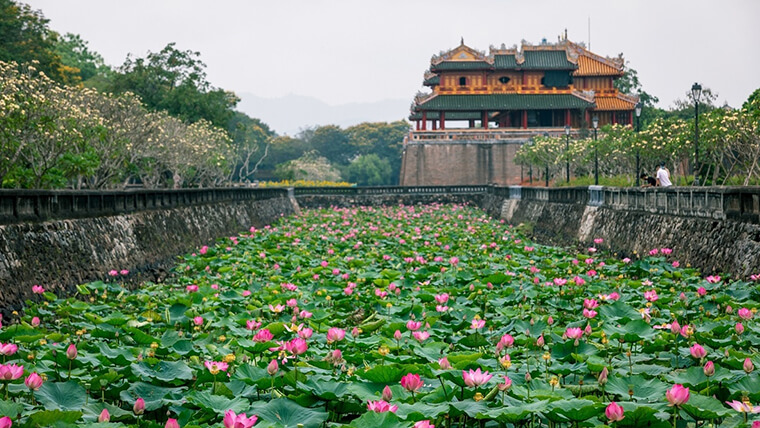 Lotus lake inside the citadel - Source: Vntravellive
Although in Hue Imperial City, there are many buildings of various sizes, all are interspersed with lakes, gardens, stone bridges, islands, and green trees, in harmony with nature. Overall, the palaces in the Imperial City of Hue are roofed with special tubular-shaped enameled tiles, often called Thanh Luu Ly (if they are blue) or Hoang Luu Ly (if they are yellow). Buildings were built on high stone bases, seamed with Thanh stones, tiled with green or yellow Bat Trang enameled tiles, with pillars painted according to the motif of Dragon-Clouds.
II - The impressive buildings inside the Hue Imperial City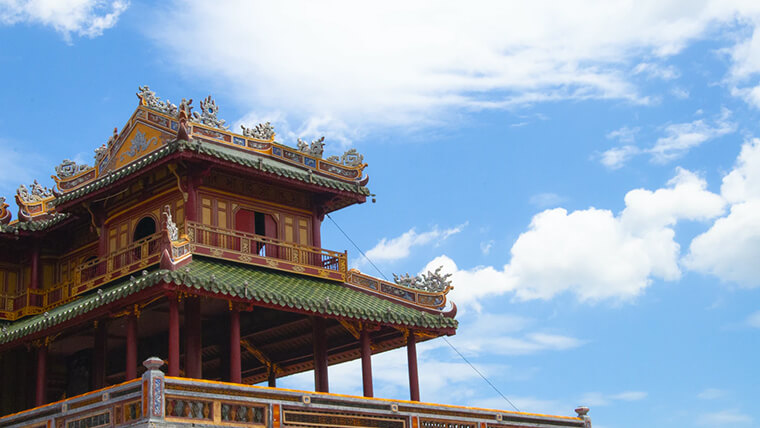 A corner of Hue Imperial Citadel - Source: Veronica Reverse
During war periods in the 20th century, many royal architectural works in Hue were seriously destroyed by natural disasters and bombing, including the Imperial Citadel in Hue. Overspending fluctuations and time, many buildings are badly damaged, only less than half of the impressive original constructions still exist include:
1 - Ngo Mon (Hue Noon Gate or Meridian Gate)
Located in the South of the Hue Imperial City, the Noon Gate is the main gate with two levels, used to be a king-only entrance or to welcome foreign messengers, now a ticket booth. The ground level has five entrances, of which the center one was always reserved for the king while mandarins entered through the two smaller side entrances. The two remaining small arched doorways were for the soldiers, horses, and commoners.
The second level of Noon Gate in Hue Imperial City was called Lau Ngu Phung (Five Phoenix Pavilion) with two floors completely structured of Lim wood with 100 pillars. The roofs of the Pavilion are decorated with shapes of various animals and creatures, including phoenix to ward off evil, making the building look light and elegant. The lower roof is connected to cover the hallway while the roof of the upper floor is divided into 9 sets, in which the middle set is covered with yellow lapis lazuli tiles, and the remaining eight seats are covered with blue lapis lazuli tiles.
2 - Thai Hoa Palace in Hue Imperial City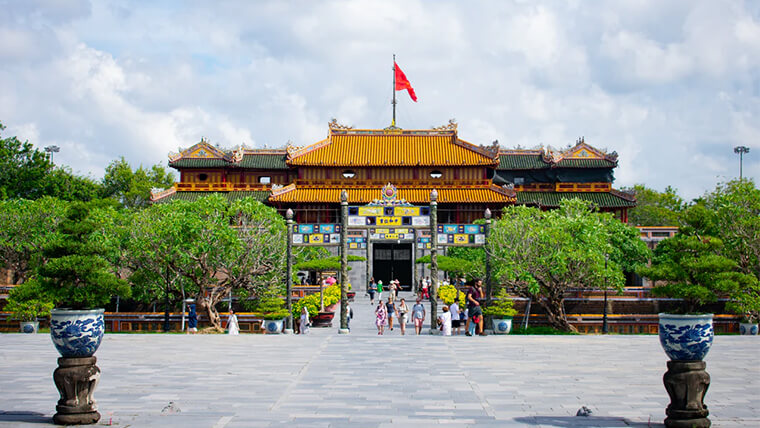 Thai Hoa Palace - Source: Kon Karampelas
Located in the center of Hue Imperial Citadel, Thai Hoa Palace is the place used for important court ceremonies, symbolizing the power of the Nguyen Dynasty. The superstitious palace was built on a 1-meter high base with an area of ​​1360m², overlooking a large yard. This building is supported by 80 Lim-wooden pillars, which are painted and decorated with rattan dragons - a symbol of the encounter between the Emperor and the Mandarins.
The roof of Thai Hoa Palace in Hue Imperial City Vietnam consists of Hoang Luu Ly tiles, not linked into a strip but is divided into three-layer overlaps, avoiding the heaviness and creating a false sense of height for the building. Decoration as well as the architecture of Thai Hoa Palace is usually associated with the numbers 5 and 9, which appear not only in the interior decoration of the building but also on the platforms of the palace.
Through several restorations and repairs, Thai Hoa Palace in Hue Imperial City has more or less changed, the ancient look has been reduced apart. However, its basic characteristics are still preserved, especially the architectural structure and fine art decoration.
3 - Duyet Thi Hall in Hue Citadel
Considered the oldest theater of the Vietnamese theater industry, Duyet Thi Hall is not only a royal theater for the king, the royal family, and the mandarins, but also where foreign tourists and envoys were invited to enjoy theater performances. The rectangular theater of Hue Imperial City has a curved edge roof, supported by 2 rows of Lim-wooden pillars, painted with dragons and clouds symbols.
Duyet Thi Hall has been repaired and embellished many times, making its structure no longer the same as before. Over the years of war, natural disasters, and human neglect, this ancient theater has been seriously degraded and it took 7 years (1995 - 2002) for the theater to be completely restored. Since 2004, Duyet Thi Hall in Hue Imperial City has been put into operation for tourists, introducing Nha Nhac Cung Dinh Hue (Hue Royal Music). Nowadays, you have a chance to experience unique theater plays of the Nguyen Dynasty, along with the charming taste of a cup of lotus tea and Hue's traditional cakes and jams when visiting Duyet Thi Hall in Hue Royal Citadel.
- Performance time: 10am - 10:40am; 3pm - 3:40pm
- Ticket price: 200,000 VND / person ($8.8)
4 - Can Chanh Palace in Hue Imperial City
Situated in the Hue Purple Forbidden City, the palace of Can Chanh is where the Emperor set up the court of the Nguyen dynasty, welcomed foreign envoys, and held royal banquets. The palace has the largest and most beautiful wooden structure in the Imperial City of Hue with a platform of nearly 1m high and a surface area of nearly 1000m2. Most of the upper frame structure of Can Chanh Palace is sophisticatedly carved and decorated.
This building was completely destroyed in February 1947. Fortunately, Hue Monuments Conservation Center and Waseda University in Japan preserved and fully restored the palace in 1990 - 1991.
5 - Dien Tho Palace in Hue Imperial City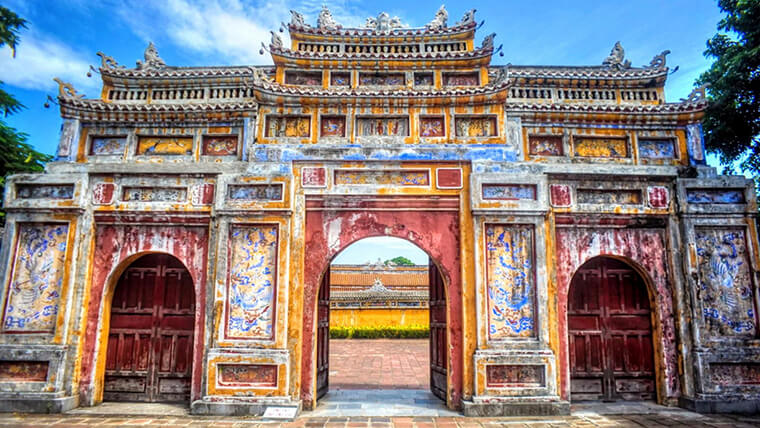 Dien Tho Palace - Source: Homeaz
As the largest palace architecture system in Hue Forbidden City remaining to this day, Dien Tho Palace was once the residence of the Nguyen Kings' mothers and grandmothers. In the area of ​​about 17,500m2 of Dien Tho Palace, there are about 20 large and small existing architectural works, both rich in types and diverse in architectural styles. Connected to each other by a system of corridors, some of these works are Dien Tho Main Hall, Tho Ninh Palace, Tinh Minh Pavilion, Truong Du Tower, and Khuong Ninh Temples.
As the central work of Dien Tho Palace in Hue Imperial City, Dien Tho Main Hall is built in a rectangular shape, made of bricks and black wood. This massive building has a meticulously and elegant carved roof system, decorated with phoenix birds, roofed with golden lapis lazuli tiles.
6 - Long An Palace in Hue Citadel
Although Long An Palace is outside the scope of Hue Imperial Citadel, it still belongs to the overall Complex of Hue Monuments. What makes this palace different from others is the wooden details that are not painted and gilded, only for carpentry and decorated with sophisticated carving techniques.
Built in 1845 during the reign of King Thieu Tri, Long An Palace of Hue Imperial City was destroyed by the French in 1885 and relocated to its present location in 1909 under King Duy Tan's reign. The palace used to be King Thieu Tri's resting place after conducting the plowing ceremony every spring, and also where he used to go to read books, write poems,… Currently, Long An Palace, also known as Hue Museum of Royal Fine Arts - one of the best museums in Hue, is a place to display Hue royal antiquities.
III - Essential information about the Ancient Imperial City of Hue
1 - How much is the Hue Imperial City entrance fee?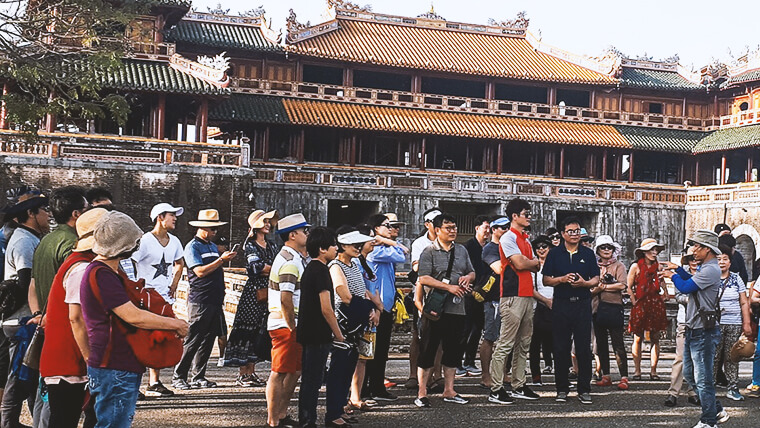 Tourists at Hue Citadel - Source: Le Chung
The entrance fee to the citadel is listed as below:
- Adults: 200,000 VND / person ($8.8)
- Children: 40,000 VND / person ($1.75)
The fee of interpretation service: Booking sightseeing tour that included guide
- Relic site: 150,000 VND / site ($6.6)
- Sightseeing route: 300,000 VND / route ($13.2)
Notes about Hue Citadel opening hours:
- In summer: 8am - 5:30pm
- In winter: 7:30am - 5pm
2 - How to travel inside Hue Imperial City
Walking is always the simplest and the most convenient way for you to sightsee, there will also be stops for you to rest and drink water. You can also refer to the cycle service:
- Price: 30,000 - 50,000 VND / person ($1.3 - 2.2)
- Contact: 088 628 40 44 (Hue Tourist Cyclo Union)
3 - Photography Service inside Hue Imperial Citadel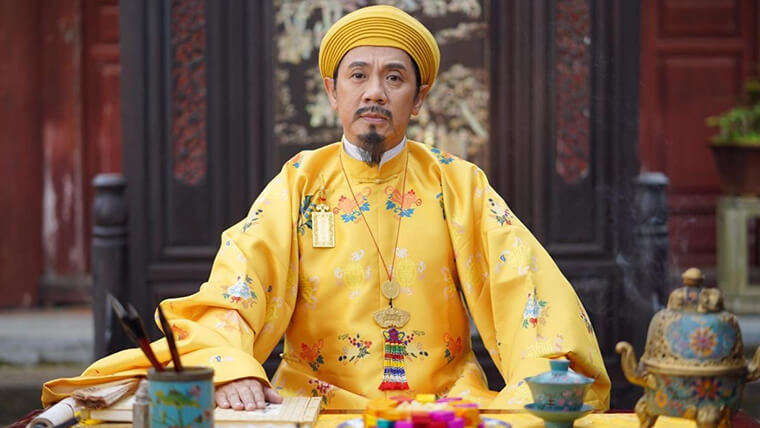 Source: Tuoitrethudo
Sitting on the throne (with 2 maids):
- Adults: 195,000 VND / ticket ($8.55)
- Children: 140,000 VND / ticket ($6.14)
Sitting on the throne in Hue Forbidden City (without maids):
- Adults: 115,000 VND / ticket ($5.04)
- Children: 80,000 VND / ticket ($3.5)
Additional photo (sitting on palanquin): 50,000 VND / ticket ($2.2)
Sitting on rickshaw (adult only): 55,000 VND / ticket ($2.4)
4 - Exploring "Hue Imperial City at night"
The night is also an extremely ideal time to be able to see the beauty of Hue Citadel when it is lit up with extremely brilliant lights. In particular, the program "Imperial Citadel at Night" officially opened on April 22, 2017, with the desire to create one more highlight in the heritage tour in Central Vietnam.
By booking the program, you have many opportunities to have interesting experiences with Hue Heritage. The program offers tours to luminous landscapes of the Imperial City of Hue such as Ngo Mon Gate, Thai Dich Lake, the Purple Forbidden City Hall, etc. You can also watch royal rituals and art performances including Guard ceremonies, martial arts training, and so on. The "Hue Imperial Citadel at night" program also gives you a chance to experience cultural exhibitions and traditional works.
Opening hours: 7pm - 10pm
Ticket price:
- Haven't visited the Imperial Palace during the day: 150,000 VND / person ($6.6)
- Have visited the Imperial Palace during the day: 75,000 VND / person ($3.3)
Performance highlights:
- Noon Gate Hue: 7pm; 8pm
- Thai Hoa Palace: 7:10pm - 7:25pm; 8:10pm - 8:25pm
- Can Chanh Courtyard: 7:30pm; 8:30pm
- Hue Purple Forbidden City Hall: 7:35pm; 8:35pm
- Thai Binh Lau Stage: 7:40pm - 8pm; 8:40pm - 9pm
- Duyet Thi Hall: 8:05pm - 8:25pm; 9:05pm - 9:25pm
- Department of Internal Affairs: Experience Hue Traditional Crafts
Traveling to Hue, you must definitely visit Hue Imperial City to admire and immerse yourself in the space of numerous buildings imprinted with ancient architecture. The timeless beauty of Hue Royal Citadel is still there waiting for you to explore, helping you rediscover the memory of a powerful feudal period in Vietnam.