When preparing and planning to travel to a certain place, people often do research in advance about interesting places so that they can visit on the trip. However, the addresses in Vietnam can sometimes be troubling, making it difficult for you to understand how to read or find your way. Therefore, we hope that the following information will answer your questions if any.
Elements in Vietnamese addresses
Vietnam addresses are often associated with administrative boundaries, depending on the urban or rural area, there will be different components. An address in Vietnam usually consists of two basic parts, with the first part being the house number and the name of the street or hamlet. The remaining part will follow administrative boundaries, corresponding to administrative management levels: commune (ward), district, and province (city). Here are the main components you might see in Vietnamese addresses:
The first part of a Vietnamese address format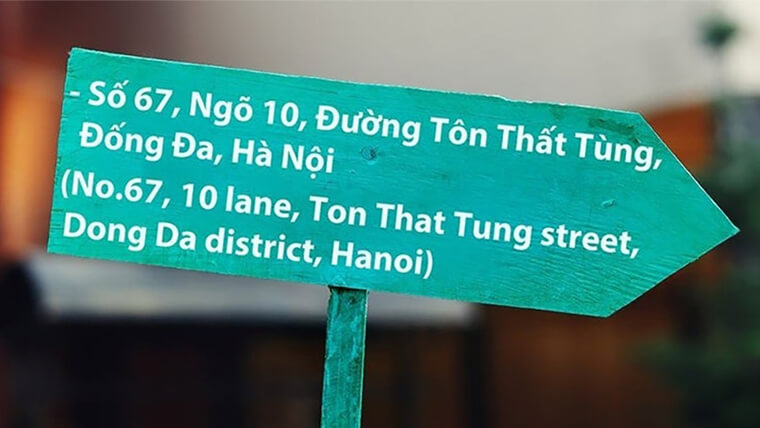 Vietnam address example - Source: e4life.vn
Apartment number (Usually appears as "No. X")
The number of houses on the street and in alleys is placed according to a sequence of numbers in order from small to large, the house on the left takes odd numbers, the house on the right takes even numbers. Apartment buildings are also quite similar, with the only difference being the two digits tens and units indicate the apartment number, and the two digits thousands and hundreds indicate the floor. In case the house number has additional characters, it is because the same land is divided into 2 different houses with 2 different addresses.
Road / Street
Road / Street is an element in Vietnamese addresses. Unlike in other countries, roads, and streets in Vietnam, most of the time mean the same thing, interspersed and mixed together, especially in cities.
Alley & Niche / Lane
Both being the passageways in a residential cluster, alleys and niches are different in that the former has at least one end leading to the street or road, while a niche / lane has none but one end leading to the alley. These two components are often referred to by the smaller house number between the two houses in the facade, but there are still some alleys that have been named by the locals, and preserved to this day.
Sometimes when you look at the Vietnamese addresses, you will see a slash ("/") in the middle, which is an expression to indicate an alley or niche and a house number. The alley will be written first, then niche, for example, an address in Vietnam written as "25/1/10" means that you are looking for "house No.10 in niche 1 of alley 25".
Village / Hamlet
This is the most important form of the social organization in the Vietnamese countryside, called villages in the North and hamlets in the South. Sometimes large villages are also communes, having their own beliefs, rules, and worshiping deities in their communal houses. According to the government regulations, a village is a gathering place under "commune", with self-governing nature - village heads and their assistants are elected by the people to manage the affairs.
Administrative boundaries in addresses in Vietnam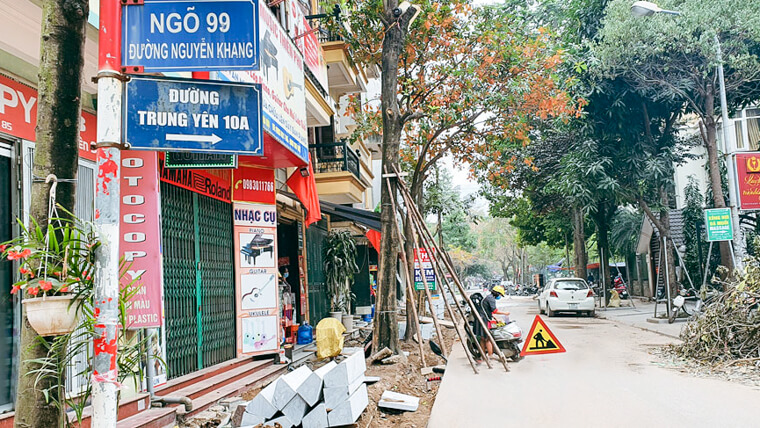 Vietnamese addresses may be complicated with foreign tourists - Source:hanoimoi.com
Ward / Commune / Town
This element in Vietnam addresses is the lowest level administrative unit, called according to the level of urbanization - wards are in the urban areas, communes and towns are more often found in the rural areas.
District
This is the second-level administrative level of Vietnam, usually with a population size, area, and economy smaller than the provincial level, with many different names in Vietnamese depending on the administrative level it belongs to.
- A "huyen" district in Vietnamese addresses is a rural administrative unit in both a province and a centrally run city, which may include communes, and one or more, or none, of towns. Island districts are not divided into commune-level administrative units due to their small area or / and small population, including: Hoang Sa, Ly Son, Con Dao, and Con Co.
- A "thi xa" district is a district-level administrative unit in both a province and a centrally run city, divided into wards in the city and communes in the suburbs.
- A "quan" district is a district-level administrative unit found only in centrally run cities, making up the inner city and divided into wards.
City element in Vietnamese addresses
In Vietnam, there are currently 85 cities divided into 3 types: 5 Central Cities under the Central Government, 1 city under the Central City, and 81 cities under provinces.
- Central cities directly under the central government
As a type of province-level administrative unit of Vietnam, these are special-class or grade-I cities identified as national-level centers, including Hanoi, Ho Chi Minh City, Da Nang, Hai Phong, and Can Tho.
- City under the Central City
This may cause misunderstanding in reading Vietnamese addresses. This is a special type of second-level administrative unit in Vietnam, with Thu Duc City of Ho Chi Minh City being the first and only city in this form of the administrative unit.
- Cities directly under provinces
As a type of second-level administrative unit in Vietnam, a provincial city is an administrative-economic center, of not only one but sometimes many provinces. In terms of type, this is an urban area and its population is classified as urban, but in some suburban communes there are people still living on agriculture. Phu Quoc (in Kien Giang Province) is the only island city of Vietnam.
Province element in Vietnamese addresses
Province is the highest level rural administrative unit in Vietnam, so the establishment, dissolution, merger, division and adjustment of administrative boundaries must be decided by the National Assembly. Currently, Vietnam has 58 provinces, including 1 province having 4 affiliated cities, 4 provinces having 3 cities, 12 provinces having 2 cities and the rest having only 1 city directly under.
How to read Vietnamese addresses?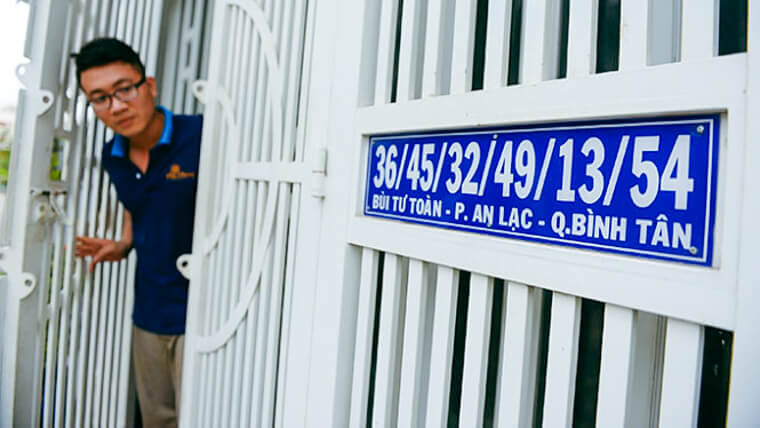 An extremely complicated house address in Ho Chi Minh City - Source: baotuoitre.cn
The elements in the addresses in Vietnam will go in order from specific to the surrounding larger area, with certain differences between regions:
Urban area
House number, alley & niche number, street or road name, name of ward / commune / town, name of district / city directly under the province, province / central city. Vietnam address example:
- No.7, Alley 15, Luong Yen Street, Bach Dang Ward, Hai Ba Trung District, Hanoi City.
- No.15, Hung Vuong Road, Loc Tho Ward, Nha Trang City, Khanh Hoa Province.
Apartment
Similar to the Vietnamese addresses above, but starting from: Room number, floor number, building name, name of the complex or residential area. Eg:
- Room no.1406, 14th Floor, CT2 The Pride Building, La Khe Ward, Ha Dong District, Hanoi City.
- Room no.218, 2nd floor, A6 Building, Alley 15, Ngoc Hoi Road, Phap Van - Tu Hiep student housing area, Hoang Liet Ward, Hoang Mai District, Hanoi City.
Vietnam addresses in the rural areas
Name of village / hamlet, name of commune / ward / town, name of district / urban town / provincial cities, and name of provinces / centrally run cities. Example of a Vietnam address in English:
- Cong Thon Village, Yen Vien Commune, Gia Lam District, Hanoi City.
- Lo O Hamlet, An Tay Commune, Ben Cat Town, Binh Duong Province.
Vietnamese addresses in rural or mountainous areas often do not have a specific house number, but only the name of a village or hamlet and commune. However, you just need to ask any people there and you will be given exact directions, thanks to the specific nature of culture and community in the countryside.
In contrast, places in urban areas, especially big cities like Ho Chi Minh City, are often more detailed but harder to find. A Vietnamese address will be long and include many factors, combined with roads and infrastructure being too disorderly and overlapping. There are some long addresses in Vietnam that are difficult to read and remember, for example, No.36/45/32/49/13/2C Bui Tu Toan Street, An Lac Ward, Binh Tan District, Ho Chi Minh City.
Tips for finding out Vietnamese addresses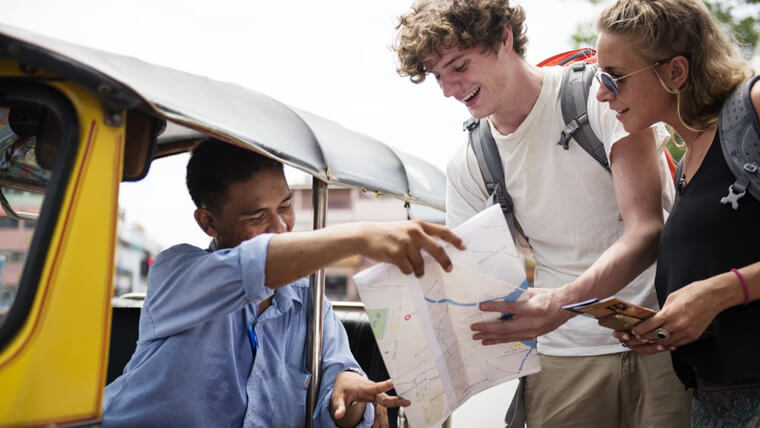 Finding street addresses - Source: wallstreetenglish.edu.vn
If you intend not to go on a tour but carry a backpack and explore on your own, usually just a phone with an internet connection is enough. The map will show you the way most of the time, but of course, there will be some Vietnam addresses that are quite difficult to find. Do not worry, you can ask the locals, and here are some tips on asking for directions and addresses in Vietnam:
- Do research in advance about where you want to go, such as the address or how to get there; you can ask the staff at the place where you stay this information.
- Not everyone is knowledgeable about the streets, so you should ask people who can really give you directions. Motorbike taxi drivers are the most ideal choices.
- Many people in Vietnam don't know English, especially the elders, so you should write down in advance the address or name of the place you want to go.
Vietnamese addresses can initially make many people feel troubled while planning to come here to travel, creating a little hesitation. But as long as you know the basics, and how to ask for directions, you can easily roam anywhere in Vietnam. In particular, there is nothing more interesting than walking the streets of Vietnam and enjoying delicious and unique street food.