Hoi An ancient town has long attracted numerous visitors by its poetic beauty of narrow streets winding around the row of small light yellow ancient houses with typical bougainville walls. However, the town becomes more attractive at nightfall which not only carries the nostalgia but also the hustle and bustle, especially in the Hoi An night market with a myriad of interesting things.
I - Where is Hoi An night market located?
Nguyen Hoang night market is the most famous market in Hoi An, located at Nguyen Hoang Street, opposite the Japanese Covered Bridge. Spreading about 300 to 500m, the market features about 50 different large and small stalls representing a variety of items, most of which are handmade products such as brocade bags, bracelets, and clothes, etc. The unmentionable products are sophisticated and beautiful pottery from the renowned Thanh Ha pottery village. Hoi An night market opening hours are usually from 5pm to 11pm.
The most distinctive feature in this night market in Hoi An is the splendid colorful Chinese style lanterns hung all the stalls, making the entire market simmering and appealing. Coming to this charming market at night, you will immerse yourself into the vibrant atmosphere in the old town, excitedly stroll around colorful stalls among the crowd and pick adorable, beautiful items as gifts for your beloved ones.
II - What to see & do in Hoi An night market?
1 - Admire the lanterns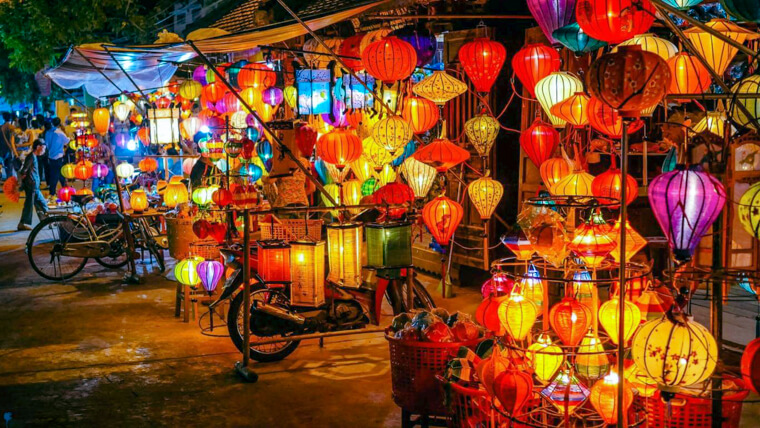 The colorful lanterns at Nguyen Hoang night market - Source: mia.vn
Lanterns have long been considered the "specialties" of Hoi An ancient town, especially the Nguyen Hoang night market. These lanterns are characterized in various shapes, sizes, colors, and decorative motifs that are incredibly eye-catching. Lanterns are hung everywhere, which makes the whole market more colorful and attractive. These lanterns in Hoi An night market draw the attention of all visitors, reflecting the charm of the town, the cultural quintessence of many countries coming to Vietnam from the last centuries as well as the quiet, idyllic, but elegant souls of the Hoi An people.
You can easily purchase a couple of unique and classic lanterns to make a present for your family and friends. Besides, when visiting the night market in Hoi An, you can take the most impressive photos with the special background of these glorious lanterns to save memorable moments in this ancient town.
Price of a lantern: 50,000 - 800,000VND/ lantern ($2.2 - 35)
Fee for taking photos: you should give the seller 10,000VND ($0.44) to take photos in front of their stalls.
2 - What to buy in Hoi An night market?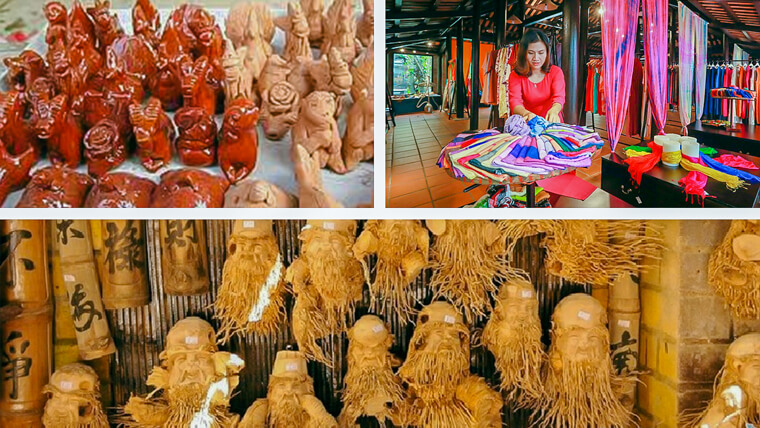 Source: @ducquy
Hoi An in general and the night market, in particular, are captivating to visitors not only the "classic" vibe which is idyllic, peaceful, and romantic but also a wide array of unique and traditional handicraft products which are the best gifts to bring back home for your loved ones. Here are suggestions for you to choose souvenirs in Hoi An night market that should not be missed.
To he (toy figurines)
Originating from Thanh Ha pottery village, To he is a handicraft product bearing the imprint of Hoi An old town, which is very familiar with the childhood of Vietnamese people. To he is made of soil, characterized by different shapes of animals in the Vietnamese countryside. There is a hole on its "body", allowing people to blow and create ear-pleasing sounds.
Price: 2.000 - 20.000VND/ item ($0.086-0.86)
Embroidered lace
Embroidered products in Hoi An night market Vietnam that are skillfully and meticulously designed with embroidery patterns ranging from mountains and flowers to peacocks and birds are the first choice of female tourists. The embroidery patterns are very popular on pillowcases, curtains, tablecloths, shirts, skirts, hats, or accessories.
Silk
This is a very favorite product of foreigners thanks to its soft, light, and airy features, totally different from the rest. You can buy ready-made silk fabrics or order to make Ao Dai or other Vietnamese traditional costumes when visiting the Hoi An night market. This delicate gift is the perfect souvenir that you should shop in Hoi An.
3D cards
Different from usual cards, when opened, the paper-made models will appear with many lively shapes and different colors. Each card refers to a particular theme, representing the famous tourist attractions in Hoi An such as the Japanese Covered Bridge, Tan Ky Old House, etc.
Price: from 40.000VND/ item ($1.75)
Carvings
Carvings are among the most impressive souvenirs of the Hoi An night market, carrying a rustic but delicate beauty. These products are the result of the hard work and creativity of Vietnamese artisans in Kim Bong village in Hoi An city which has a long-standing tradition in carvings. These carvings are made of wood or other unique materials, especially roots, creating a very realistic and soulful face. Visitors can buy ready-made products or order on demand.
Price: 120.000 - 300.000VND/ item ($5.25 - 13.1)
3 - Enjoy Hoi An night market best food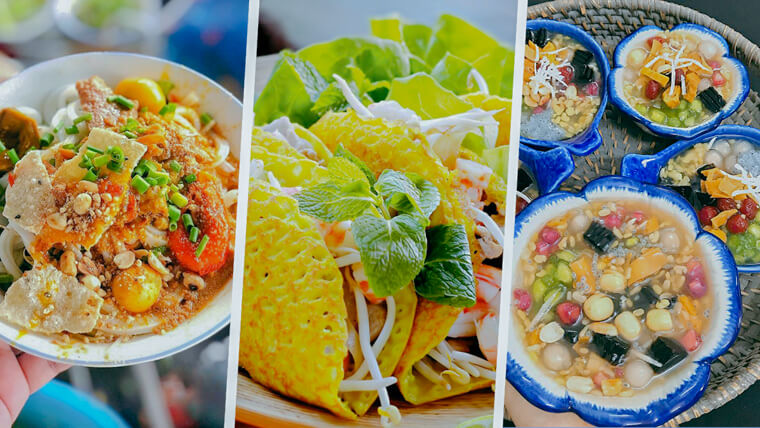 Quang noodles, Cao lau, and Hoi An sweet soup - Source: @ducquy
One of the most exciting experiences when visiting this night market in Hoi An must be discovering local foods, which are incredibly diverse and mouth-watering. The special feature is the stores located along the Hoai river are very simple and rustic, characterized by a couple of plastic chairs and tables. Scrumptious street foods are sometimes represented on street stands or even carrying poles.
Here are typical representatives of indigenous specialties that can not be ignored once traveling to Hoi An night market.
Hoi An sweet soup
It is obvious that Hoi An is the "paradise" of Vietnamese che (sweet soup) with a wide array of delicious che made of various ingredients such as black sesame, lotus seed, corn, green bean seed, etc. Besides, you can enjoy self-service which means you are able to choose any ingredients represented on the table without price change.
You can enjoy this delicious sweet soup at a very cheap price of about 5,000 - 20,000VND/ serving ($0.22 - 0.88).
Cao lau (Pork noodle dish)
Cao lau must be on the bucket list once you come to Hoi An night market. The noodles have a bright yellow color because the flour used to make the dish is mixed with the ashes of Melaleuca firewood, which also contributes to creating a special flavor. To add more flavor, the dish is served with shrimp, pork, char siu, and Vietnamese herbs. The rich broth is the key to creating the "soul" of the entire dish, which carries the "breath" of the Hoi An old town.
Price: 30,000 - 50,000 VND/ bowl ($1.32 - 2.2)
Steamed wet rice paper packed with grilled meat
Steamed wet rice paper packed with grilled meat is an amazing dish in Hoi An night market. A full set of steamed wet rice paper with grilled meat include grilled skewers on the side with a sprinkle of peanuts, wet rice paper, fresh herbs, and sweet, savory dipping sauce. Herbs, cucumber, and grilled meat are placed on the white soft rice paper, rolled up then dipped in the sauce. The skewers are marinated with cumin, salt, and chili, usually grilled on the spot so it is always hot and scented.
Price: 5,000 - 6,000 VND/ serving ($0.22 - 0.26)
Mi Quang or Quang noodles
Quang noodles is a rustic, simple yet sophisticated cuisine of the ancient town, which is the favorite "choice" of gourmets when coming to Hoi An night market. The noodles are milky white, soft, and chewy. The fragrant rice scent of the rice noodles blends with the rich broth, which is served with fresh herbs, roasted peanuts, shrimp, meat, and soft-boiled eggs, etc. Besides the traditional Quang noodles, the frog Quang noodles are also worthy of a try, which are added fragrant marinated frog meat.
Price: 15,000 - 50,000 VND/ bowl ($0.66 - 2.2)
Banh xeo Hoi An (Hoi An pancake)
Unlike banh xeo in the Southern region of Vietnam, banh xeo at Hoi An night market is smaller with the size of a hand with the filling which consists of bean sprouts, shrimp, meat, etc. All are wrapped in a yellow outer layer. You can take a piece of banh xeo and put it on the rice paper with fresh vegetables such as lettuce, perilla, basil, etc. then roll them tightly. Finally, dip the roll into the sweet and sour dipping sauce.
Price: about 10,000 VND/ serving ($0.44)
Banh mi Hoi An (Baguette)
Banh mi Hoi An is considered one of the most delicious street foods in the world, becoming popular among Vietnamese people and foreign visitors coming to Hoi An night market. The fillings of banh mi vary from restaurant to restaurant (or street vendors), but the chief ingredients include these basic components: rich and savory pate made from the livers of poultry, pork bologna, well marinated grilled pork, char siu, vegetables such as strips of cucumber, shredded pickled carrot, papaya with herbs like coriander and Vietnamese mint.
Price: 10,000 - 50,000 VND/ loaf ($0.44 - 2.2)
4 - Take a boat ride and release floating lotus-shaped paper lanterns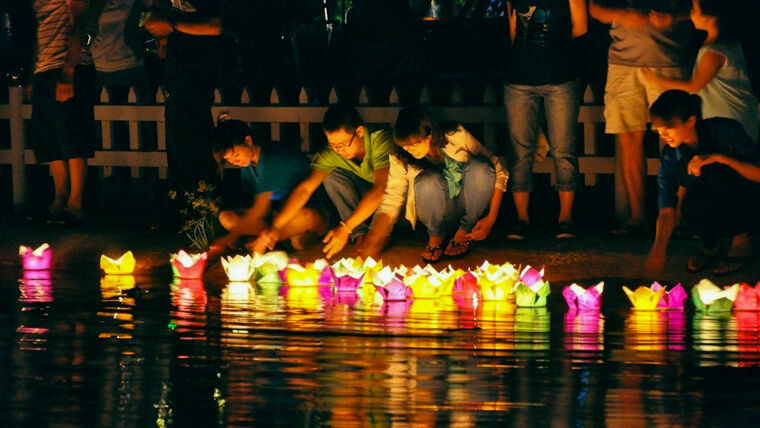 Visitors are releasing floating lotus-shaped paper lanterns on Hoai River - Source: mia.vn
Visiting Hoi An night market, sailing on the Hoai River to admire the charming ancient town in the idyllic space and poetic landscapes is definitely one of the most fascinating nightlife in Hoi An. The best time to take a boat ride is at night when you can admire the romantic Hoai river which is glorious with the colorful floating lotus-shaped paper lanterns floating on the surface of the river and the rows of the lighting lanterns hung on the houses or stalls surrounding the river, which is absolutely an incredible experience at Hoi An night market.
The water surface mirrors the dimming moonlight, making the entire space more miraculous than ever. You will feel like you are connecting with the deepest part of yourself and immerse in the absolute quiet space that is hardly found in other places. The festival of releasing floating lotus-shaped paper lanterns takes place on the 14th and 15th in every lunar month
A boat trip on the Hoai river usually costs about 30,000 - 50,000VND ($1.32 - 2.2)/ 2-4 people in 30 minutes. When visiting Hoi An night market, you can book a boat tour from a travel company, it would take you about 500,000VND ($2.2)/ half day. Tour services include meals, sightseeing tickets, and tour guides. While admiring the charm of the ancient town and check-in, you can have a chance to listen to the interesting stories of tour guides about the locals' lives, the long-standing history, and the rich culture of this gorgeous town.
In addition, you can buy a floating lantern in the night market in Hoi An with the price of 5,000VND ($0.22)/ piece to release it on the river to pray for good health, happiness, prosperity, and luck in the future.
5 - Participate in folk activities in Hoi An night market
Hoi An is also the "spotlight" in cultural tourism with valuable intangible cultural heritages, captivating a large number of local and international tourists, of which the most outstanding ones are "bài chòi".
Bài chòi
Bài chòi is "a combination of arts in Central Vietnam including music, acting, painting, and literature". In 2003, bài chòi was recognized by UNESCO as an Intangible Cultural Heritage of Humanity and folk game.
Bài chòi is performed every night at Hoi An night market Vietnam, including 2 main sections: game and singing. The lyrics have 4 basic melodies, which is the combination of Southern folk tunes with the singing of tuồng ("a national classical theater in dramatic art form). The unique feature of this folk game is the reflection of thinking and aesthetics through the lyrics. Each folk song and proverb in bài chòi are educational, expressing human morality, which promotes the beauty of precious cultural tradition.
Along with the rich culture, it is also appealing to a wealth of both domestic and international tourists by various folk games, among which the most typical one can be mentioned as blindfolded beat the pot.
Blindfolded beat the pot
It is impossible to mention the folk games in Hoi An night market without blindfolded beating the pot. The rule is not really complicated. Players test the position to the place where the pot is hung. They will automatically estimate the steps as well as the height of the pot, then they will be blindfolded to beat the pot. They have to memorize the location of the pot then walk to that place then beat the pot with a big wooden stick. If you hit the pot and it is broken, you are the winner. The enthusiastically cheering audience for the players creates a joyful festive atmosphere, making the game an interesting cultural feature in Hoi An.
Visiting Hoi An night market is one of the indispensable experiences when visiting Hoi An. The romance of Hoi An itself with plenty of exciting activities would never let you down and definitely leave a deep mark on your trip to this beautiful S-shaped country.