Among the Nguyen kings, Emperor Tu Duc was the most romantic, erudite, and talented at poetry. Therefore, the tomb of Tu Duc King is highly poetic as well. The mausoleum is 12 hectares in size and was built from 1864 to 1867. The complex of Tu Duc mausoleum contains 50 significant works, each work's name is attached with the word 'Khiêm' ("Khiêm" means modest and humble in Vietnamese).
I - An overview about Tu Duc Tomb Hue
Emperor Tu Duc's final resting place is located in a small valley surrounded by a vast pine forest in the territory of Thuong Ba village, Thuy Xuan commune, Hue city - about 8km south of Hue city center. The best time to come here and other cultural & historical attractions in Hue is from January to February and from July to September when Hue weather is pleasant with less rain or extreme heat.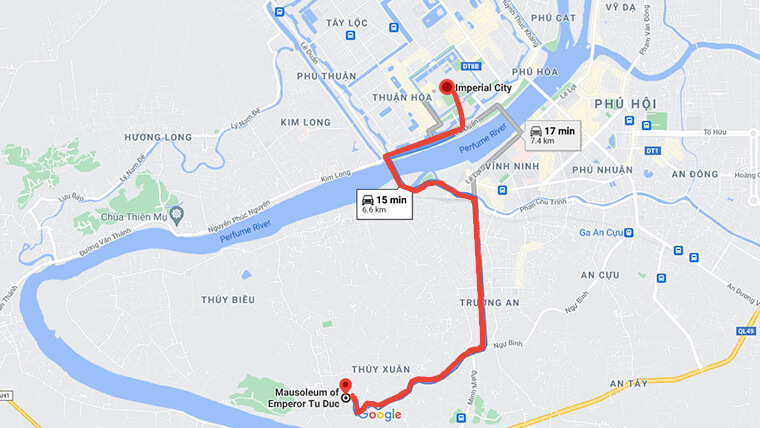 Source: Internet
Tu Duc Tomb entrance fee: 150,000 VND / person ($6.5).
Opening hours: 7:00 a.m - 5:30 p.m. The mausoleum is separated into several areas with many interesting things to see from architectural works to beautiful surroundings. It takes about 3 to 4 hours to discover the whole tomb's dignified & delicate beauty.
Dress code: Politely dressing
Notes: Because there are many steps and ramps, putting on sneakers or sandals is more convenient. Do not bring food & snacks, and please keep the mausoleum and landscape clean.
II - The itinerary to explore Emperor Tu Duc Tomb Hue
The entire tomb is divided into two parts: the Temple area & the Burial area.
1 - The Temple area
The Temple area is mostly made of wood and surrounded by lots of lush green trees and winding paths.
Luu Khiem Lake
Passing Vu Khiem gate, you see the large Luu Khiem Lake which is full of lotus. Luu Khiem Lake was once a small stream that was eventually dug wider and transformed into the lake to feature Feng-Shui elements to the layout of Tu Duc Tomb Hue Vietnam.
Located right on the lake's shore are two summer houses: Xung Khiem Pavilion and Du Khiem Pavilion. Xung Khiem Pavillion was the place where the King used to recite poems and read books and enjoy the beautiful scenery of Luu Khiem lake; while Du Khiem Pavilion is simply used as a small boating port.
Placed in the middle of the lake is Tinh Khiem Island, which used to be a place to grow flowers and raise some kinds of animals. From Tinh Khiem island, there are three wooden bridges all leading to a lush pine hill.
Khiem Cung Mon
Source: Internet
Khiem Cung Mon in the Tomb of Tu Duc is a gazebo-shaped architectural work built on a high platform facing Luu Khiem Lake, with its two-story Tam Quan gate. The beautiful yellow tiled roof of Khiem Cung Mon is bent in four directions. The rooftop is delicately carved with dragon and sun images.
Hoa Khiem Palace
Walking through Khiem Cung Mon, you get to Hoa Khiem Palace, which was once the emperor's working place and was later used to place the King and Queen's worshipping tablets. There are still mirror paintings in which King Tu Duc rewrote the poems of his father, King Thieu Tri.
Phap Khiem Vu and Le Khiem Vu in Tu Duc Tomb, on the left and right sides of Hoa Khiem Palace, used to be the relaxing place of civil mandarin and military mandarin when they came here.
Luong Khiem Palace
Luong Khiem Palace is located behind Hoa Khiem Palace. This was once the living place of King Tu Duc's mother, Empress Dowager Tu Du, when she was alive. On Khiem House, to the right of Luong Khiem Palace, is where the royal furniture is kept. Minh Khiem House is on the left, and is the most distinctive feature here.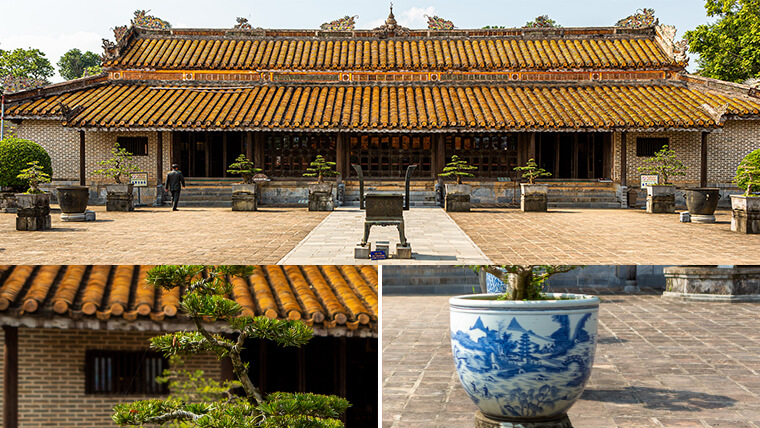 Source: Internet
Being built as a theater, Minh Khiem House in Tu Duc Tomb Hue is a wooden house comprising three compartments and two small rooms followed by the traditional style with decorative patterns such as dragons and flowers. When Emperor Tu Duc was still alive, he frequently went to Minh Khiem's house to enjoy the entertainment performances. Minh Khiem house is the second oldest theatre in the complex of Hue royal architecture and one of the oldest theatres in Vietnam.
2 - The Burial area in the Tomb of Tu Duc
Unlike the wood temple area, Emperor Tu Duc's burial area was entirely made of precious stones.
Bai Dinh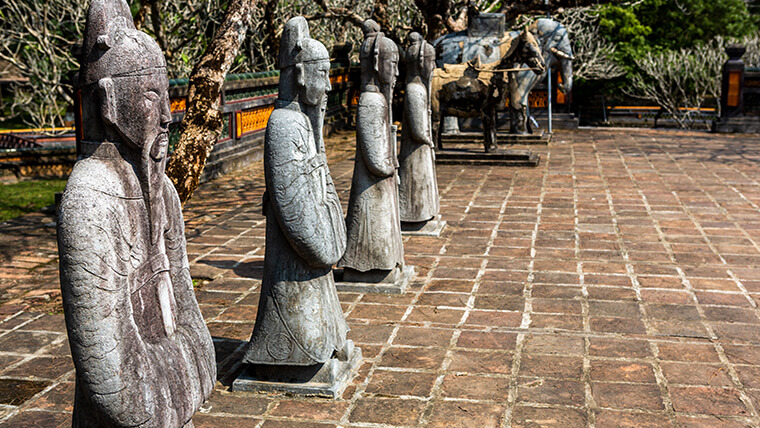 Source: Internet
Bai Dinh is a courtyard with two rows of stone statues vividly depicting the images of mandarins, horses, elephants, and soldiers.
Bi Dinh
Behind Bai Dinh is Bi Dinh, where a massive stone stele weighing up to 20 tons is engraved with the content of Khiem Cung Ky - which is considered Emperor Tu Duc's autobiography in Chinese characters about his own life with detailed merits and sins.
In Khiem Cung Ky, Emperor Tu Duc admitted his own sin: "Not being wise in recognizing people; using people in the wrong place is also my sin; hundreds of things that cannot be done are all my sins,..." At the same time, the king expressed his willingness to the later generations to consider and decide his merits.
The stele in Bi Dinh in the Tomb of Tu Duc was designated as a National Treasure of Vietnam in 2015, and it holds the title of stele with the most characters (4,935 characters).
The two sides of Bi Dinh are two hand-carved spires, symbolizing the two candles expressing the authority and will of King Tu Duc. The top of the pillar tower is carved with the image of a lotus flower - the symbolic flower of Buddhism and is often used in Nguyen Dynasty sculptural works.
Buu Thanh
From Bi Dinh, passing a semicircular lake called Buu Khiem Lake, you reach Buu Thanh - where the corpse of King Tu Duc is located. The entire structure of Buu Thanh in Tu Duc Tomb Hue Vietnam was made of precious bricks. King Tu Duc's tomb was constructed of stone in the shape of a small home on a slightly slanted brick base. Legend has it that underneath the brick floor is a tunnel system with the task of leading King Tu Duc's coffin into the already constructed tomb.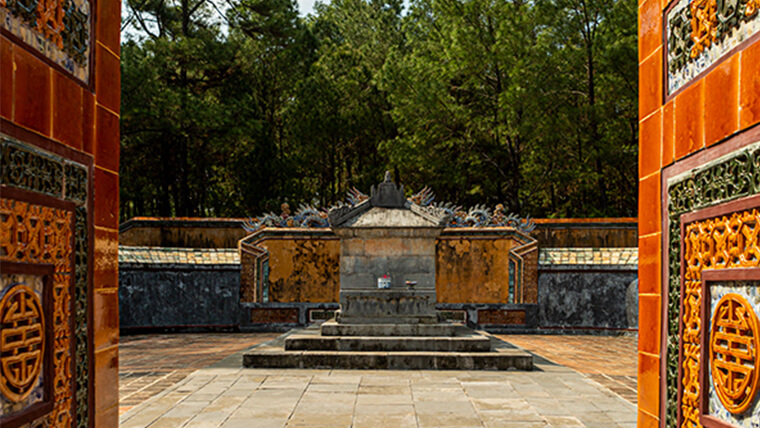 Source: Internet
After thoroughly exploring this tomb, you can continue your journey to Khiem Tho Tomb, where Queen Le Thien Anh - Emperor Tu Duc's wife is worshipped, and Dong Khanh Tomb, where Emperor Dong Khanh is buried. These places are located right next to the Tomb of Tu Duc.
This mausoleum complex has become the first historical relic of Vietnam to appear in Google Arts & Culture 3D digitized museum - an Open Heritage project by Google Arts & Culture, in collaboration with CyArk and the Hue Monuments Conservation Center, allowing people to explore this relic in 3D space.
3 - Tu Duc Tomb map
Through many ups and downs, Tu Duc Tomb Hue Vietnam is still a well-preserved historical work with dignified and sophisticated beauty. This is the most evident proof of the impressive architectural style of the Nguyen Dynasty and its cultural heritage.