For Vietnamese people, July of the lunar calendar is a special month when they have to pay a lot of attention to every action so as not to violate taboos. However, it coincides with a very important event called the Vu Lan festival (wandering souls day or ghost festival) on which they do a lot of rites and rituals to show how much they love their parents. This every event is a prime manifestation of gratefulness, a good tradition of the nation.
I - What is the Vu Lan festival?
Taking place on the 15th of the lunar July, Vu Lan (also known with the name of Yulan Pen, Ullambana, Seventh Full Moon Ghost Day, and Mother's day in Vietnam) is one of the most popular festivals of Asian culture such as China, Japan, Korea, Indonesia, and Vietnam. Originating from Taoist & Buddhist, this festival is a way of honoring the dead, that is why it is called the festival of wandering souls. No matter what it is called in different cultures, the common spirits of the Vu Lan festival are related to compassion, kindness, gratitude, and filial piety.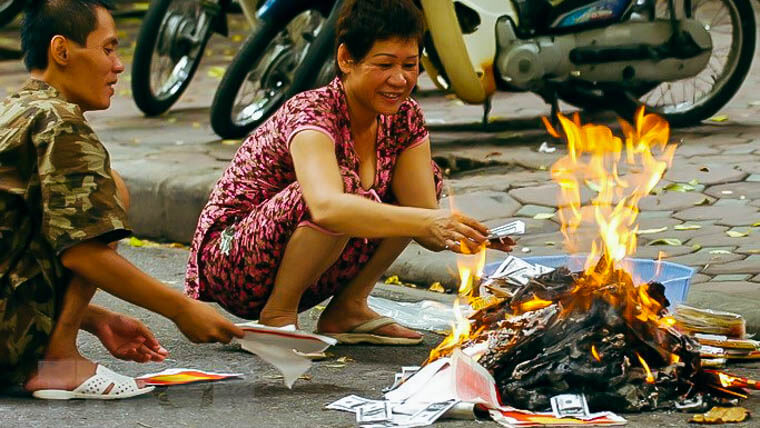 Burning fake paper money on festival - Source: vietnamplus
For example, Koreans have Jungwon day when people think seriously about themselves to realize what they have done wrong, find ways to fix and forgive their soul; Japanese have Bon - Odori days when they make lotus shaped rice cakes to put on the family altar. The ceremony of Vu Lan festival is also the chance for people to visit the ancestor graves, ask about relatives' life and most importantly to hold birthday parties for senior members.
The full-moon day of the lunar July, according to Chinese's perspectives, is the day the evil world opens the door, the miasmata dominate, therefore human beings must follow strict abstinences in order not to irritate spirits. To satisfy spirits so that they let Humans alone, Chinese people often burn fake money with a belief that this money will unburden their life in the other world.
Vu Lan festival is one of the most important festivals in Vietnam. On this day, the children try to do everything to make their mothers and fathers happy, for example, students study hard to bring home their highest score, those working away from home try to come back and spend times with their parents, even those whose parents passed away can still demonstrate their love by putting bouquet of flowers or anything that the deads liked when they were still alive.
According to the perspective of Vietnamese people, the month that Vu Lan festival falls is said to be filled with a miasma of ghosts and unrested souls because this is when the gate of hell is opened. Therefore, people are advised not to perform any important things, go out late at night, pick up money found on roads, swear or call the name of ghosts or evils,...
II - Legend about Vu Lan festival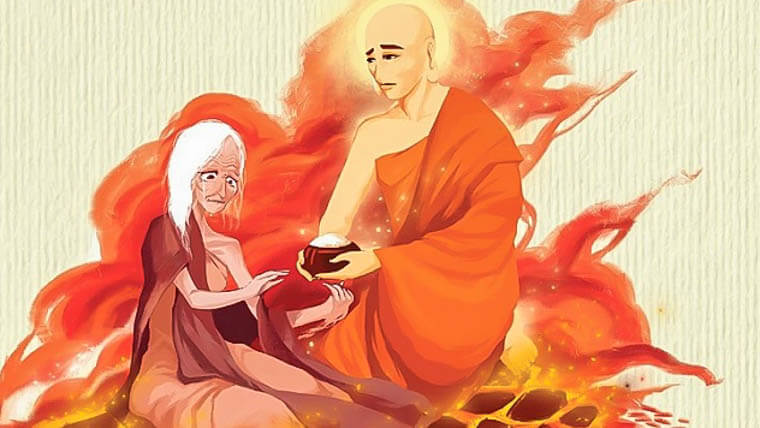 Venerable Muc Kien Lien - Source: songdep
According to the Yulan Pen Sutra, this festival comes from the Buddha who taught the method of filial piety to parents. The first person to receive it was Venerable Muc Kien Lien - one of the 10 outstanding disciples of his.
It is recorded that in the past, when Venerable Muc Kien Lien was rewarded for a devout life, recalled his mother, he used his eye to search everywhere in heaven and earth, he immediately saw his mother in the hungry devils, being tortured by hunger and thirst. Loving his mother, he used his divine powers to offer his mother a full bowl of rice. Unfortunately, Mrs. Thanh De - his mother is still too greedy and delusional when she puts the rice in her mouth, the rice turns into fire. Venerable Muc Kien Lien had no way to save his mother, so he immediately returned to ask the Buddha.
The Buddha said: "No matter how powerful you are, you are not able to save your mother. The only one way is to ask for the cooperation of monks everywhere. After 3 months of settling down and focusing on casting spells could he transform his karma to help his mother get out of her misery". Venerable Muc Kien Lien followed the Buddha's words, invited monks, and prepared offerings on the 15th day of the 7th lunar month. Then his mother was liberated.
III - Top popular rituals celebrated in Vu Lan festival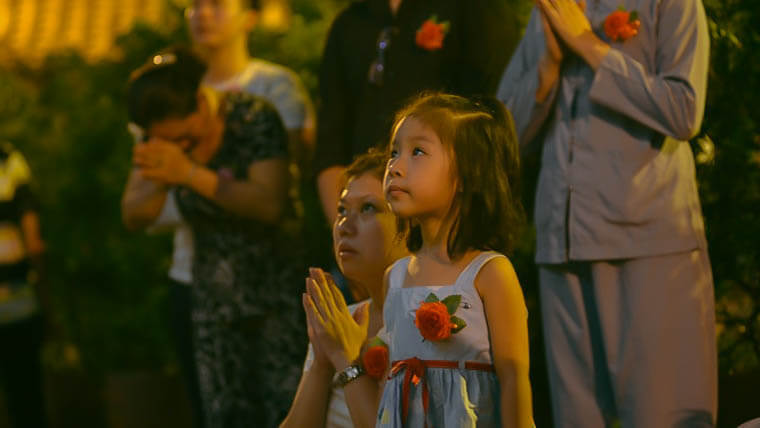 Mother day in Vietnam - Source: meta
The Ghost festival in Vietnam coincides with the full moon day of the 7th month which is the day of Amnesty of Unquiet Spirits according to Asian customs. According to folk beliefs in Vietnamese culture, this is the day to worship the soul for the spirits who have no home, no refuge, no relatives on earth. This is also the day all prisoners in hell have the opportunity to be forgiven, break free. Therefore, in addition to the tray of offerings to grandparents and ancestors in the house, on Vu Lan festival in Vietnam, people also offer an outdoor tray for hungry ghosts and ghosts who have no place to rely on.
For Buddhism, on the occasion of the festival, Buddhists often pray for the deceased, do charity, release birds and fish to accumulate blessings and peace, and pray for their parents. In addition, during the wandering souls day Vietnam, when coming to the temple, Buddhists will pin a rose on their shirt: red rose for those whose mother is still alive and white rose for those whose mother is no longer alive. Those with a red rose are reminded to try their best to be obedient, filial, and polite to their parents. And those with white flowers will see it as a reminder to never forget their parents' gratitude, and at the same time maintain the family tradition, keeping a harmony between siblings.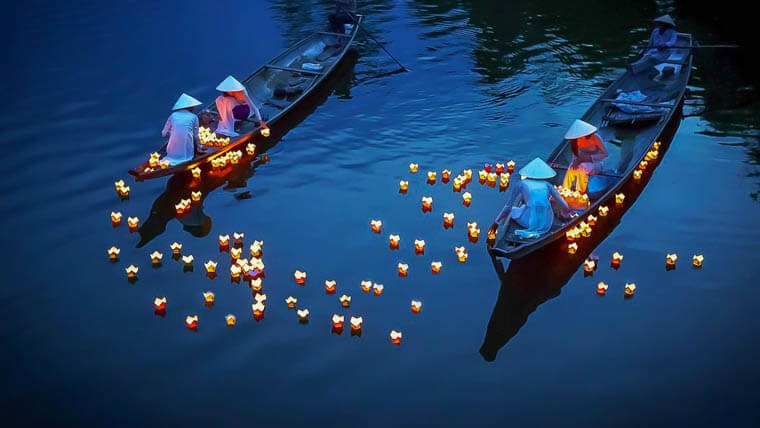 Vu Lan festival in Hoi An - Source: hoadangducluong
Asides from these activities, when you visit Hoi An ancient town during the ghost festival in Vietnam, you will see people float flower lanterns on the Hoai river. Flower lantern is a light used to pray for good luck, peace and happiness. Floating flower lanterns on the Hoai river is the way Hoi An people send their wishes to those who have faded away. On the night of the Vietnamese mother's festival, the whole space of Hoai river is lightened up by thousands of flower lanterns, creating a spectacular and divine scene.
More about unique lantern festival in Hoi An
In this day and age, Vu Lan festival in Vietnam and filial piety need to be promoted and praised more strongly so that that tradition is always fostered, becoming the cultural strength of the nation today and forever.