Thien Mu Pagoda is located on Ha Khe Hill, An Ninh Thuong Village, Kim Long Ward - 5 km west of Hue City. The temple was recognized as a UNESCO World Heritage Site in 1993, National Historical-Cultural Relic in 1996. With a solemn and serene beauty, this pagoda often marks a significant memory in the heart of visitors.
I - Things to know about Thien Mu Pagoda in Hue
1 - The history
First, let's take a glance into hundreds of years of history of this temple to see why Thien Mu can be considered as the most prominent pagoda of Dang Trong (a part of Vietnam's territory at that time controlled by Lord Nguyen)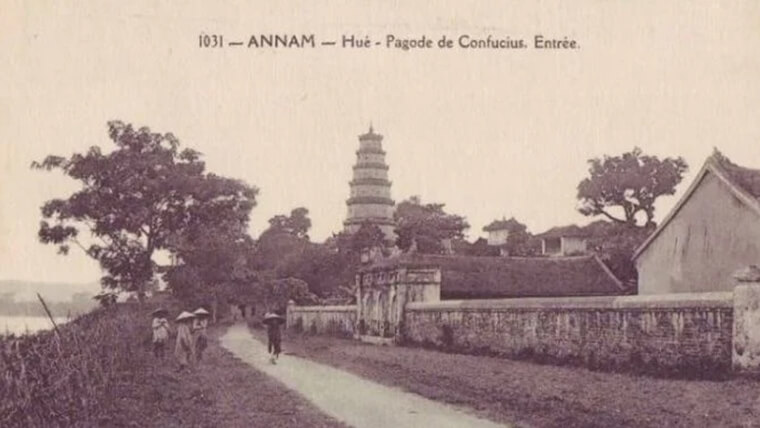 Source: Nhan's Blog
According to historical records, this ancient pagoda was built in the mid-sixteenth century. In 1601, Lord Nguyen Hoang rebuilt Thien Mo Pagoda on Ha Khe hill, on the left bank of Huong River, and renamed it Thien Mu Pagoda. Afterward, a great restoration in 1714 ordered by Lord Nguyen Phuc Chu turned Thien Mu into a magnificent magnificence pagoda with a complete scale.
However, that magnificent structure only existed until 1775, when the pagoda was destroyed by the Trinh army. Through many generations later, the pagoda was restored and expanded several times. As a result, it combines the architecture of both previous and later eras. In 1945, the war had ruined Thien Mu Pagoda again. It seemed to be abandoned for a time until 1958 was overhauled.
Over the past four centuries, the ancient temple has piled up the stained patterns and reliefs of time. This pagoda has the most beautiful ancient architecture of Hue, and at the same time carries special religious values ​​that are especially important in the development of Buddhism in Central Vietnam in particular and in Vietnam in general.
It may interest you: Top 13 most famous pagodas in Vietnam
2 - The architecture of Thien Mu Pagoda Hue
Every detail of this pagoda such as the decorative motifs, relief patterns on the background of stucco to carved wood, frescoes all simulates the golden age of the king, the splendor of the royal court. From the reign of Emperor Minh Mang (1791 - 1841) onwards, the architectural art of Thien Mu Pagoda Vietnam has achieved peak artistic values.
Talking about the origin of the colors of the building, the Hue people are famous for the combination of turning the original colors into the colors of plants and landscapes in harmony with nature. All these colors are incorporated into cultural life, clothing, and decorative arts. Therefore, Thien Mu Pagoda has a very unique look of Hue that cannot be similar to anywhere else.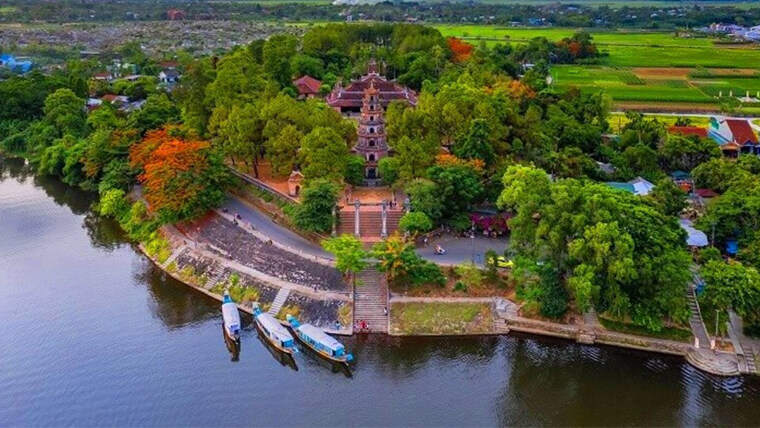 The pagoda from above - Source: Internet
In general, the entire architecture of the pagoda is located on Ha Khe hill, looking down the tortoise-like road curving around the gentle Huong River. This pagoda is surrounded by stone walls and divided into two areas which are the one before and the one after Nghi Mon gate.
The area before Nghi Mon gate
From Tam Quan gate, there are 15 steps leading to Huong Nguyen communal house which only remains on the ground foundation built of Thanh stone - a valuable kind of stone. Behind Huong Nguyen communal house in Thien Mu Pagoda is Phuoc Duyen tower with 7 floors high.
The two sides of the tower have two quadrilateral steles built in the King Trieu Tri period (1807 - 1847), back behind are two hexagonal floors built from the reign of Lord Nguyen Phuc Chu (1675 1725) which include one stele and one bell inside.
The area after Nghi Mon gate
This area includes Dai Hung Palace, Dia Tich Palace, Guan Yin Temple, Phan Sanskrit house, guest house, flower garden campus, lake, and pine garden which bring a rare beauty of tranquility.
In the overview of Thien Mu Temple, there are some outstanding works attracting the attention of visitors as well as researchers of traditional architecture and culture such as Tam Quan Gate, Phuoc Duyen Tower, Dai Hung Palace, and Guan Yin Temple
Tam Quan Gate
Tam Quan Gate is the main gate of the pagoda. It has a two-story structure with eight roofs, brick walls, and a wooden floor. The gate leads to 3 paths, each having 2 wooden doors bundled with belts and copper nails. Decorative patterns on the wall and roof after restoration ensure pure Buddhism in the temple. The four pillars in the front are a brick texture inlaid with ancient porcelain letters.
Phuoc Duyen Tower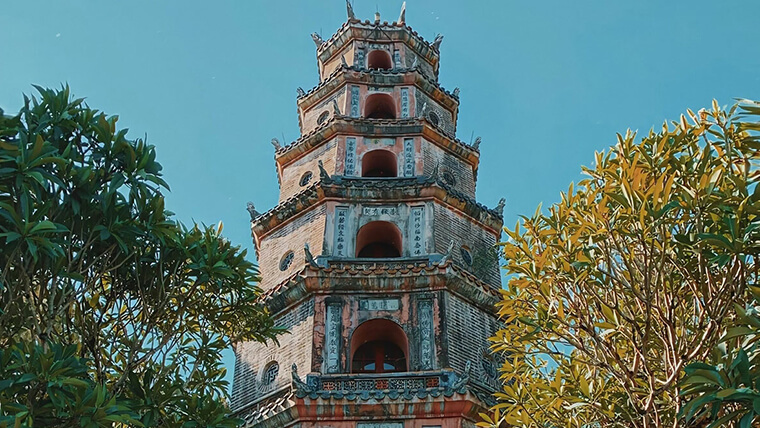 Phuoc Duyen Tower in Thien Mu Pagoda Hue - Source: Pham Quoc Cuong
Phuoc Duyen Tower was built in 1844 under the reign of King Thieu Tri. This octagonal tower is over 23m high with 7 floors, built of brick and mortar. The original tower is reinforced by iron rings outside the railing with glazed tiles. The top of the tower has Ho Lo and there is an intersection with lamination on the roofs.
The layers of lime always have the harmony of yellow, red, orange, and moss changing during four seasons according to the sun and clouds of Hue. Because of its unique architecture and color, this tower in Thien Mu Pagoda has been considered as a characteristic cultural and artistic work of the Phu Xuan culture (Phu Xuan used to be the capital of Vietnam under the Nguyen Dynasty from 1600 - 1725 which is Hue city nowadays). However, the sophistication of ancient architecture is gradually affected by time.
Dai Hung Hall
As the main hall of Thien Mu Pagoda, inside Dai Hung Hall there is a quite large bronze bell carved rectangular, star, and engraved words. Under King Gia Long (1762 - 1820), the bell was a very important treasure for the temple. Besides, all the frescoes on the neck are ancient ones. There is also a wooden diaphragm painted yellow and red by Lord Nguyen Phuc Chu in 1714.
Dia Tang Hall and Guanyin Hall
The original Dia Tang Hall was a unique quadrilateral architecture about 150 years ago, while Guanyin Hall is covered by a simple decorative canopy of trees instead of elaborate patterns. In the hall, there is a statue of Guanyin cast in black bronze sitting on the lotus.
Regarding the surrounding area, the campus of Thien Mu Pagoda Vietnam is a flower garden that has been carefully cultivated. There is a rock of Vietnamese opera ancestor - Dao Tan. Standing next to it is a relic of the Venerable Thich Quang Duc (who set himself on fire on June 11, 1963, in Ho Chi Minh City to protest against the persecution of Buddhism by the government of the Republic of Vietnam Ngo Dinh Diem). It is the beauty in the quiet space that creates the sacred feeling of the pagoda.
II - How to get to Thien Mu Pagoda in Hue?
The pagoda is located 5km west away from the center of Hue city, corresponding to about 10 minutes traveling by car. The most pleasant time to travel to the pagoda is around January, February, or May and June. Because this is a sacred place, you need to wear appropriate clothes. It takes 1-2 hours to see the beauty of the pagoda and you should bring water.
- Thien Mu Pagoda entrance fee: Free
- Opening hours: 8am - 6pm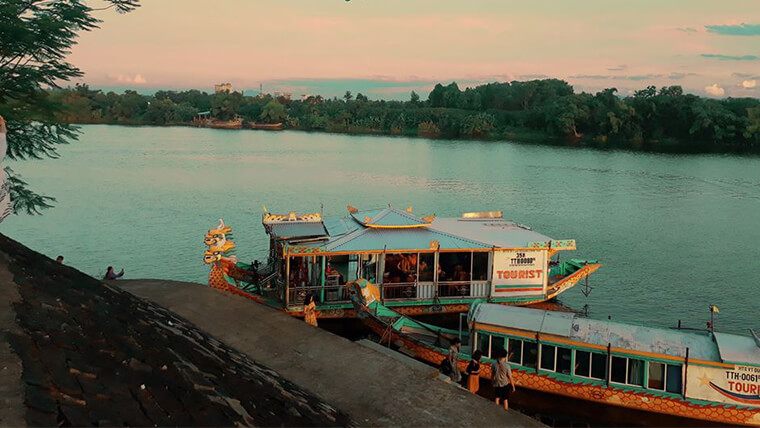 Dragon Boat in Hue - Source: Kenh14
To get to the pagoda from Hue city, you can travel by motorbike, cyclo, or dragon boat.
1 - Traveling by motorbike
The road to Thien Mu Pagoda runs along the banks of the Huong River with charming scenery. Before renting a motorbike, you need to have documents attached and a deposit.
Motorbike rental: 100,000 - 200,000 VND / day
Motorbike rental address:
Hibike
- Address: 11 Ly Thuong Kiet Street, Phu Nhuan Ward, City. Hue
- Opening hours: All day
- Hotline: 094.541.81.11
Hue Motorbike Rental
- Address: 29C Chu Van An Street, Phu Hoi Ward, City. Hue
- Opening hours: All day
- Hotline: 093.537.37.35
2 - Traveling by cyclo to Thien Mu Pagoda
To avoid scams, you need to be aware of the licensed cyclo unit's uniform color. The uniform is blue, with the logo of the Trade Union in the front and the Union of Hue pedicab-wagon behind. The number plate is 75XL-xxx-xx. Hotline: 088.628.4044
Price:
- Trip from Hien Nhon Gate - Dinh Tien Hoang Street - Le Duan Street - Kim Long Street to Thien Mu: 80,000 VND/one way (~ $3.5).
- Trip from Hien Nhon Gate - Doan Thi Diem Street - Dang Thai Than Street - Yet Kieu Street - Van Xuan Bridge - Phu Mong Street to Thien Mu: 80,000 VND/one way (~ $3.5).
3 - Traveling to Thien Mu Pagoda by boat
Dragon boats on the Huong River have long been a fairly popular means of transport in Hue. All types of boats are built in the style of a royal dragon head. The ticket price to visit the pagoda by Dragon boat is about 400,000 VND/single boat, 550,000 VND/double boat. You can contact the 2 agencies below to book a Dragon boat to the pagoda.
Ca Hue Management Center
- Address: Century Hotel, No. 5 Le Loi Street, Hue City
- Hotline: 846744 - 846743 - 828853
Service Center of Dragon Boat Ca Hue Hoang Phuong
- Pick up point: Toa Kham Boat Station - 49 Le Loi Street, Hue City
- Hotline: 0934.579.759
After exploring Thien Mu Pagoda, you can also enjoy a bowl of Tao Pho Hue at the gate of the pagoda within about 10,000 VND/bowl (~ 0.5$). If you travel in the afternoon, you can stay there a bit longer to watch the sunset on the Huong River. In addition, from here, you can easily move to other destinations such as Hue Imperial Citadel, Dong Ba Market, Trang Tien Bridge.
To brief, Thien Mu Pagoda in Hue with the ringing of a bell every day is one of the sacred and beautiful symbols of this city. The majestic and poetic pagoda makes it definitely the top destination for visitors coming to Hue.