I - Where is Tra Que vegetable village located?
This vegetable village is located in Tra Que village, Cam Ha commune, Hoi An city - right on the banks of the gentle De Vong River, about 3km northeast of the center of Hoi An ancient town. A peaceful and tranquil countryside village stands out with the rustic & traditional-style houses, surrounded by vast rice fields and vegetable gardens. It is famous for its fresh & green gardens with a variety of Vietnamese vegetables such as onions, laksa leaves, perilla, basil, coriander, etc.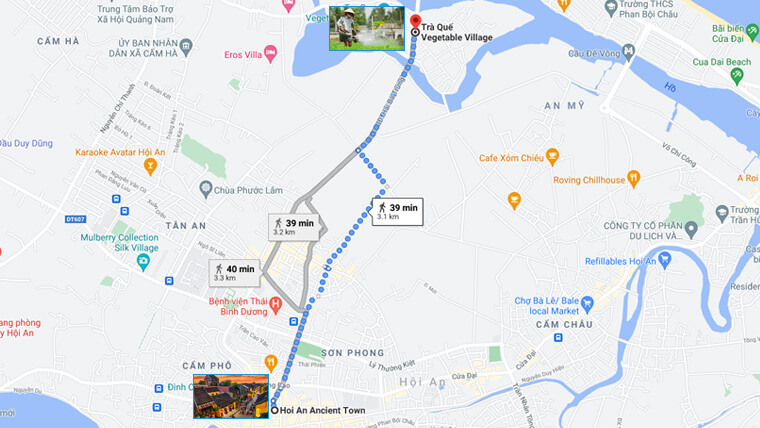 Tra Que herb village is 3km from Hoi An ancient town - Source: Internet
From Hoi An Ancient Town, you can travel by bicycle or motorbike to get more experiences on sightseeing. People often go to the vegetable village in the early morning or late afternoon when the weather is pleasant and this is also the time when local people often go to the garden to plant or harvest vegetables.
The best time to visit Tra Que vegetable village is from February to August. This time is the dry season in the central region, the weather is dry and less rainy, suitable for outdoor sightseeing activities. Visiting this vegetable village in February, you can participate in the Cau Bong festival. This is an opportunity for local people in the village to show their respects to the ancestors who openly gave birth to the vegetable village, to pray for good weather, and to introduce visitors to the 500-year-old tradition of growing vegetables.
- In 2022, Cau Bong festival will take place on February 7th, 2022
- In 2023, Cau Bong festival will take place on January 28th, 2023
You may need: How is the weather in Hoi An all year round?
II - What to do at Tra Que vegetable village?
Visiting this vegetable village, you can participate in many interesting activities to be able to experience the daily life of local people such as: working as a farmer, enjoying self-harvested fresh vegetables or experiencing foot bath service with local herbal leaves….
1 - Experience a farmer's day
Being a farmer in Tra Que - Source: Vneconomy
Some families here often combine vegetable farming and tourism development. In addition to visiting the green vegetable gardens, you can try the experience of being a farmer in one day. Under the guidance of local farmers in Tra Que village Hoi An, you put on Vietnamese peasant clothes, wear rustic slippers and a conical hat, then you will manually plow the beds, prepare the soil, sow seeds, pour water, and harvest vegetables. You have the opportunity to get acquainted with the familiar items of Vietnamese farmers such as a pair of light poles, a tortoise cart, a watering can, a hoe, a rake, etc. During the break, the host will invite you to have cups of tea and local specialties.
2 - Enjoy the local food in Tra Que vegetable village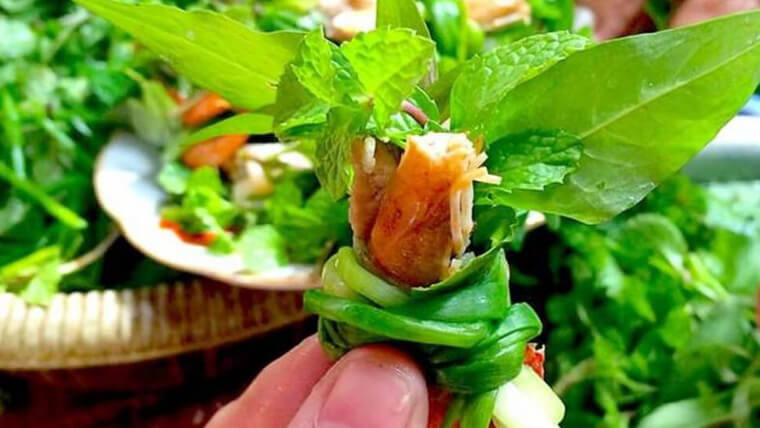 "Tam huu" - Source: Internet
You will have the opportunity to enjoy fresh dishes from vegetables and traditional Hoi An dishes, such as Quang noodles, chicken rice, Cao Lau, stir-fried mussels with laksa leaves, rice cakes,... The most typical dish here is named Tam Huu (Tam Huu means three friends). The main ingredients in this dish consist of pork, shrimp, and some herbs, all tied together with a stalk of boiled onion. In which, shrimp symbolizes seafood, pork represents land animals, and vegetables - local specialty. When enjoying, you dip a piece of Tam Huu in a dipping sauce that is mixed with fish sauce, lemon juice, garlic & chili.
To enjoy these local delicious dishes in Tra Que herb village Hoi An, you can ask the host in advance. After the end of the "challenge" of being a farmer, lunch is served. (Meal costs are mutually agreed upon by you and the host).
You can visit Tra Que Culinary Village Restaurant, located in the middle of the village, to enjoy a wide variety of local dishes. The menu of this restaurant includes dishes such as stir-fried cabbage with shiitake mushrooms, steamed chicken with mustard greens, tuna salad, red snapper with tomato sauce, pancakes, grilled shrimp,...and indispensable dish Tam Huu - a must-try dish in Tra Que village.
Website: https://www.traqueculinaryvillage.com
3 - Herbal foot soak service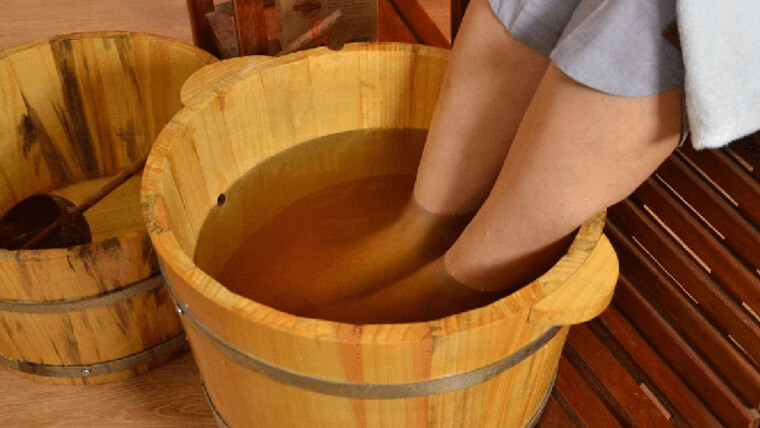 Herbal foot soak - Source: Internet
After a day of hard work as a farmer, you can enjoy relaxing moments by soaking your feet with precious herbs grown in this special village. Footbath service with herbal leaves is available at homestays, hotels, households, and Tra Que Culinary Village restaurant.
4 - Take part in Tra Que vegetable village cooking classes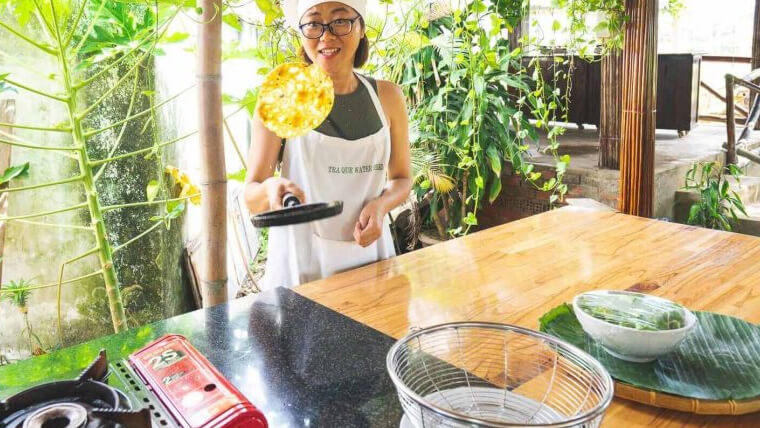 Cooking class - Source: Danangreview
Participating in a cooking class is a great travel experience offered to international tourists. You have a chance to learn more about Hoi An cuisine and cook some famous foods. The chefs guide you on how to cook some simple dishes such as spring rolls, fried spring rolls, etc. You can join cooking classes offered by restaurants or homestays in the village.
III - Some Tra Que vegetable village tour operators
You can refer to the following tour operator of an exciting day in Tra Que:
1 - Hoi An Fun Bike Tours
- Price: $15/person
- Tour length: 3 hours
- Mean of transportation: bike
- Contact: +84 97 612 8977
- Website: https://hoianfunbiketours.com
2 - Traveloka
- Price: $37/person
- Tour length: 5 hours
- Contact: https://www.traveloka.com/en-vn/contactus
3 - Inspitrip
- Price: from 33$/person
- Tour length: 3-5 hours
- Contact: team@inspitrip.com
Tra Que Vegetable Village Hoi An with its idyllic beauty and bold countryside in central Vietnam is an ideal destination to experience and explore.