Thanks to their tremendous pulling power, elephants in Vietnam have assisted people in delivering wood, pulling plows, and dragging trees. Not only that, elephants are trained to battle (warriors riding elephants) because of their excellent fighting power. There are many examples of elephants in combat throughout Vietnamese history, from the revolutionary led by Trưng sisters (around 40 AD) to the last time the riding elephant soldiers were used in 1904 (under King Thanh Thai - Nguyen Dynasty).
I - Are there elephants in Vietnam?
Elephants have been associated with the life of Vietnamese people, history, and culture since ancient times. Elephants are mentioned in everything from legends to epic historical battles. Previously, elephants were found in every region of Vietnam. However, the number of elephants has decreased significantly, with the exception of the Central Highlands, particularly Dak Lak province, which is known as Vietnam's "land of elephants."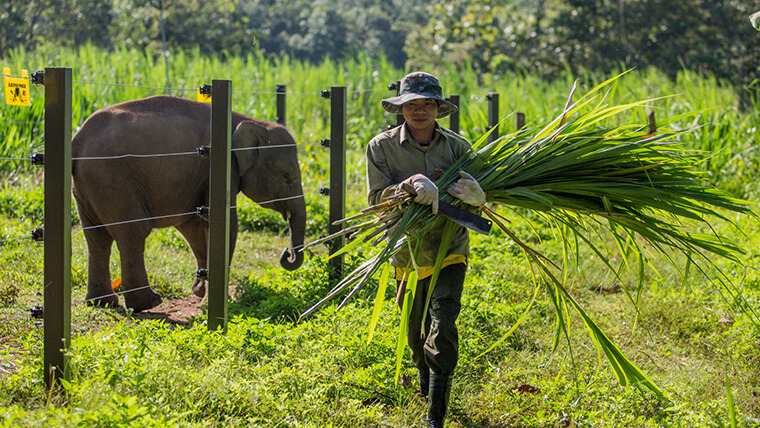 Are there wild elephants in Vietnam? Source: VnExpress
According to the Publication of Center for People and Nature Reconciliation, Vietnam currently has between 124 and 148 wild elephants spread across eight provinces: Son La, Nghe An, Ha Tinh, Quang Nam, Dak Lak, Dak Nong, Dong Nai, and Binh Phuoc. Dak Lak has the most elephants, with five populations: the smallest has 5 - 10 individuals, the largest has 32 - 36 individuals, distributed mainly in Yok Don National Park - a great national park in Vietnam.
II - Where to see elephants in Vietnam live in the wild?
Previously, areas of Vietnam's Central Highlands promoted the development of tourism activities combining elephant riding tours with visiting villages, riding elephants across streams, riding elephants through forests,... This was deemed inhumane because it not only deprived the freedom of elephants but also harmed their health. As a result, riding elephants in Vietnam has been officially banned since the end of 2020. After that, the elephants were returned to the forest to live. Through the model of "humanitarian tourism without elephant riding," you can still have a lot of elephant experiences in Vietnam. Accordingly, you will have the opportunity to bathe, feed elephants, and observe their wildlife in the forest.
1 - Yok Don National Park - the best place to see Vietnamese elephants
Elephants in Yok Don National Park - Source: Yokdonnationalpark
Elephant experience tours are currently available at Yok Don National Park - Krong Na commune, Buon Don district, Dak Lak province. You can cycle through the canopy of Keruing wood forests, listen to birdsong, and watch elephants' daily activities in the wild. Despite being released into the wild, each elephant is accompanied by a mahout to ensure its safety.
The following is the cost of a ticket to participate in elephant tourism activities:
- Half-day experience with elephants in Vietnam: 800,000 VND ($34.88) per pax
- Full-day experience with elephants: 1,400,000 VND ($61.04) per pax
More information can be found at: http://yokdonnationalpark.vn
2 - Elephant Racing Festival in Central Highlands
Elephant racing festival is a traditional festival of ethnic minorities in the Central Highlands held every two years in Krong Na commune, Buon Don district, Dak Lak province, in March of the solar calendar. The elephant race lasts one day and features events such as speedy elephants, elephants swimming across the Serepok river, elephants kicking the ball or pulling heavy objects,...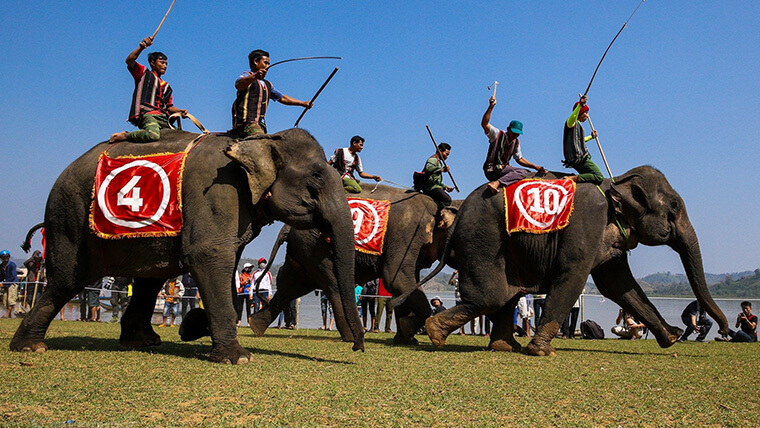 Elephants in Vietnam in the competition - Source: Internet
Visit Buon Don district, Dak Lak at this time; you will see the scene of a hive of activity as mahouts take care of elephants and girls prepare offerings for rituals in traditional festivals held in conjunction with the elephant racing festival. The elephant racing festival is an essential part of honoring the Central Highlands' martial spirit and talent for taming elephants in general, and the Mnong in particular.
You may concern: Ecotourism in Vietnam
III - Vietnamese elephants in local culture and history
Elephants were a significant force in the early resistance wars for Vietnamese independence, according to Vietnamese history. It should be noted that the image of majestic elephants is always associated with the image of the commanders in the uprising of the Trung sisters (40 AD) and Lady Trieu (43 AD). The Vietnamese have gradually tamed and trained elephants more methodically, resulting in a powerful and combative cavalry force.
Elephants are clearly benign animals that have been domesticated and integrated into Vietnam's cultural and social life for many generations. Visiting Yok Don National Park and the Central Highland, you have the opportunity to learn more about elephants in Vietnam and their behaviors in natural habitat.