I - How to get to the Hoi An Silk Village?
The village is located at No.28 Nguyen Tat Thanh Street, about 1.6km northwest of the heart of Hoi An Ancient Town.
Contact information
- Tel: 0235 3921 144
- Website: hoiansilkvillage.com
- Email: reservation@silkvillageresorts.com
- Opening hours: 8am to 9pm
You can get there by calling a taxi or riding a motorbike.
1 - Renting a bike to get around
Motorbike rental fee in Hoi An: 100,000 - 150,000 VND/motorbike/day ($4.31 - 6.46).
Some rental shops:
Anh Khoa shop
- Address: No.84 Phan Chau Trinh Street, Minh An Ward, Hoi An City
- Contact: 0935 439 306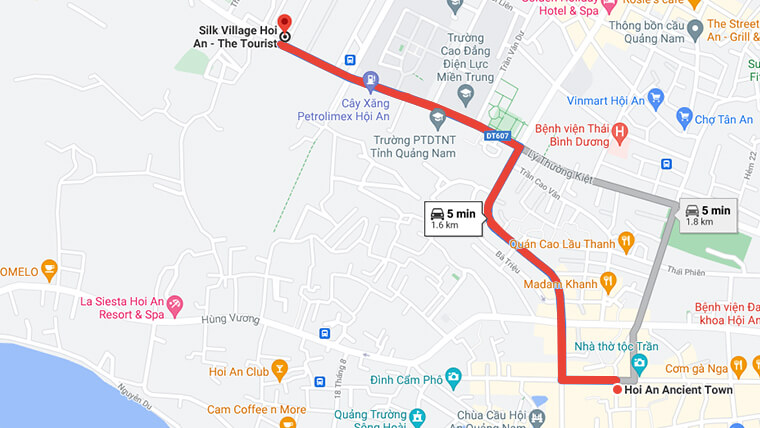 Silk Village Hoi An Vietnam on Google map - Source: Internet
Hoi An Bike Rental shop
- Address: No.34/14 Hung Vuong Street, Cam Pho Ward, Hoi An City
- Contact: 0961172420
Hoi An Bike Tours
- Address: No.37 Ba Trieu Street, Cam Pho Ward, Hoi An City
- Contact: 0935502078
Gem's Rider Hoi An
- Address: 542 Hai Ba Trung Street, Cam Pho Ward, Hoi An City
- Contact: 0941333232
2 - Take a taxi
It costs about 30,000 VND/ 4-seat car ($1.3). Some taxi companies in Hoi An:
- Mai Linh Taxi: 0510 3 92 92 92
- VinaSun Taxi: 0511 3 68 68 68
- Tien Sa Taxi: 0510 3 59 59 59
II - Hoi An Silk Village highlights
1 - The ancient houses
Situated in a campus of over 21,000m2, the highlights of the silk village are the mulberry trees, green farms, lotus ponds, and ancient houses. The ancient house boasts the traditional Quang Nam architectural style from the 17th century, built-in the dark wood tone, red brick background, and golden horizontal lacquered board and couplets.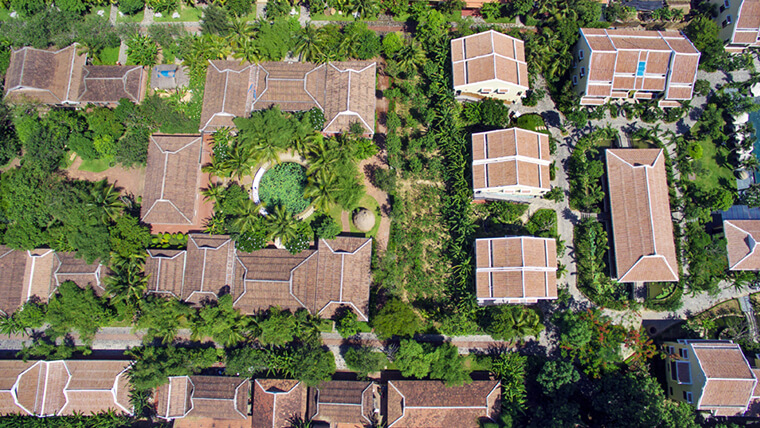 Hoi An silk village architecture from above - Source: Internet
Coming to the Silk Village in Hoi An, you can visit:
- Church of Queen Doan Quy Phi, who contributed to the development of silk weaving in "Đàng Trong" (another name for one territory of Vietnam at that time).
- The showrooms host many extensive collections of luxury silk products: scarves, ties, dresses, suits, and other decorative items. These products are available as souvenirs from 1,500,000 VND/product ($65).
- The small museum displays the traditional customs of 54 ethnic minorities from all over Vietnam.
2 - Things to do in Hoi An Silk Village Vietnam
There are about 12 local artists showing you the silk manufacturing process from silkworm rearing, silk incubating, silk weaving, silk dyeing,... by using antique wooden looms. Visiting the showroom and taking some items home is a great idea for shopping for luxury textiles and silk products in Vietnam.
Furthermore, the Silk Village management board arranges cooking classes in which you can learn more about the traditional cuisine of Hoi An.
3 - Hoi An Silk Village resort and spa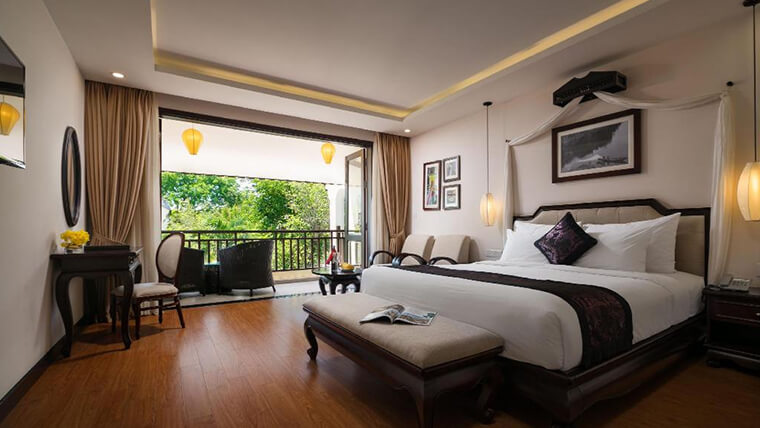 Hoi An Silk Village resort and spa - Source: Internet
The resort, situated right on the premises of the Silk Village, is a 4-star resort comprising 131 rooms offering large balconies with garden & pool views. The luxury bars, restaurants, and services such as free bicycle rental, shuttle bus services to An Bang & Cua Dai beach, free Hoi An silk village discovery tour, and Spa & Gym services make your stay much relaxed and full of experience.
4 - Hoi An Silk village tour
A short 45-minute tour & a half-day tour are offered to explore the whole village and have more unique experiences.
Short 45-minute tour
- Tour schedule: 8am - 4pm
- Tour cost: 100,000 VND ($4.31)/person.
- Tour duration: 45 minutes
- Main activity: after purchasing tickets, you can enjoy mulberry juice - a silk village specialty. During the 45-minute ride to the silk village, you will tour the houses and be explained about the silk-producing process by the guide.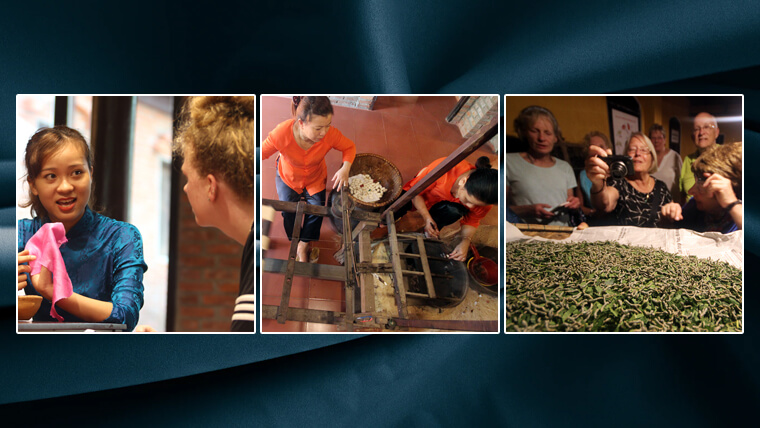 Tourists discovering Hoi An Silk Village - Source: Internet
Half-day tour
- Tour schedule: 9am - 1am or 2pm - 6pm
- Tour duration: 4 hours
- Tour price: 600,000 VND/person ($25.86) (without transport) or 900,000 VND/person (with transport in Hoi An).
- Main activity:
+ Enjoy the welcome drink with mulberry juice & start the tour
+ Visit the ancient house, listen to the sericulture's history, discover silk & weaving.
+ Explore the Cham Culture
+ Visit the mulberry garden in the Hoi An Silk Village: learn how to harvest the best mulberry leaves & feed the silkworms.
+ Experience the job of artisans & craftsmen getting silk thread from the cocoon to weave silk fabric.
+ Chamtextile House: discover the weaving process on traditional wooden looms, learn how to weave the brocade, and how to move the silk thread to have different beautiful patterns.
+ Cuu Dien House: discovered the true handicraft silk remained from the 20th century
+ Visit Hoi An Silk Village exhibition: learn how to distinguish between authentic & synthetic silk. Time for shopping.
Hoi An Silk Village is one of the top points of interest in Hoi An at which you can learn & experience a lot of Vietnamese luxury silk-making process and find some high-end silk products to take home.