Festivals are considered an important element which demonstrates the tradition, culture and customs of a locality, which widens the knowledge of tourists once traveling to other countries and gain more fantastic experiences and Nha Trang festivals are not exceptions. Let's discover the top 5 prominent festivals in Nha Trang in the article below prior to your trip to this amazing city in the near future.
1 - Thap Ba - Po Nagar Nha Trang festival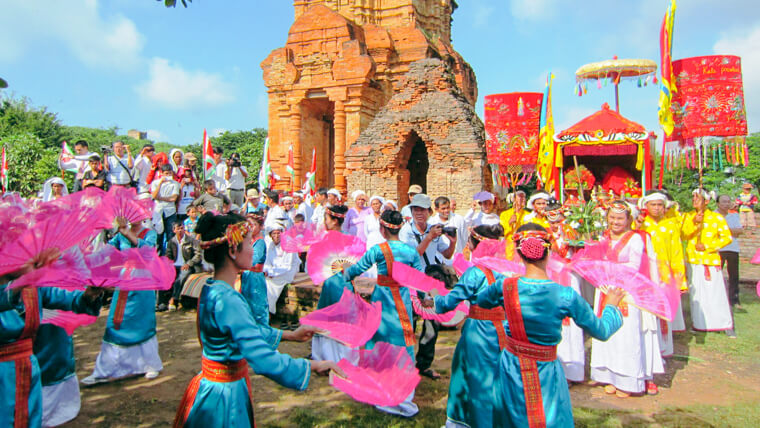 Source: vinpearl
Po Nagar festival, also called Holy Yana Mother Festival, is the biggest festival in Nha Trang city, Khanh Hoa province with the aim of commemorating the merits of Holy Yana Mother (also called Mother Po Inu Nagar) who used to instruct the local people to raise animals, cultivate plants and weave clothes. She is also regarded as a guardian protecting locals from famine, diseases, and conflicts, which makes her the Mother of the Cham community. Apart from the Cham people, the festival also draws the attention of the Kinh people and other ethnic minorities in some provinces of the Central and Central Highlands such as Da Nang, Quang Nam, Phu Yen, Dak Lak, Lam Dong, and Thua Thien Hue, etc.
During the three days of this Nha Trang festival, there are many official rituals, namely the ceremonial bath, the ceremonies of releasing floating lotus paper - shaped lanterns, praying for National peace and prosperity, offering sacrifices, offering incense and fruit trays to Holy Mother, water processing. Beside, there are also other performances of shadow dances and Vietnamese ritual singing (hát chầu văn). The festival is the symbol of national unity and fosters rich culture and tradition of ethic minorities along the S-shaped country of Vietnam.
- Location: Po Nagar Tower, Vinh Phuoc ward, Nha Trang city
- Time: the 20th - 23rd of lunar March
2 - Whale festival - one of the oldest Nha Trang festivals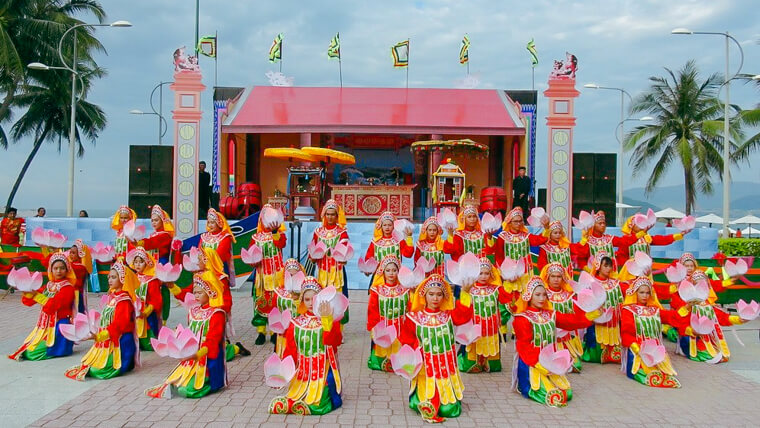 Source: vietnamplus
Whales have long been a gentle, rare sea creature, which often help fishermen when they have accidents when going offshore. In the locals' subconsciousness, whales are not normal species of fish but they are considered the God, therefore, the festival of worshiping Whale in Nha Trang is incredibly solemn, and plays a crucial role in the locals' spiritual life.
The Whale Nha Trang festival consists of rituals such as: Nghinh Ong ceremony, boat procession, etc., in order to pray for a bountiful harvest and good health. After the ceremony part comes the fascinating activities with a myriad of folk games that are typical of the fishing village, namely swimming, boat racing, basket swinging, tug of war, and soccer, etc. In addition, there are various traditional musical performances, depicting the daily lives of the local people on the sea to show the spirit of solidarity of fishermen to fight against storms and other extreme weather conditions.
- Location: Nha Trang fishing villages
- Time: 11th - 13rd lunar March
3 - Sea festival in Nha Trang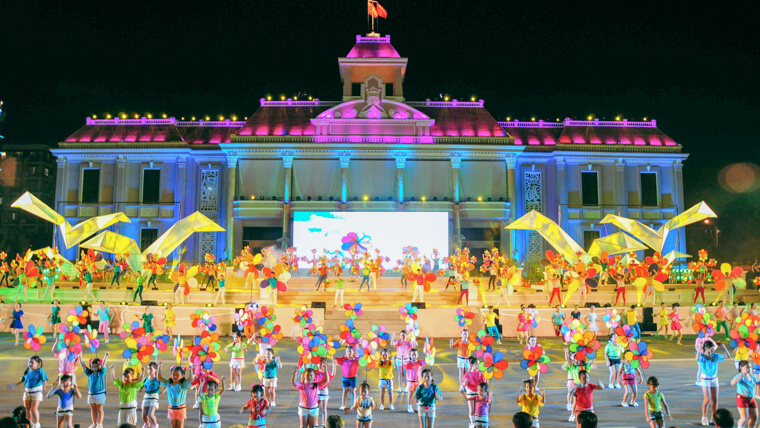 Source: kinhtedothi
This is one of the most significant and outstanding Nha Trang festivals aiming at honoring the beauty and strengths of Nha Trang beach, promoting the beauty of traditional and contemporary culture as well as preserving the rich cultural values of Vietnam in general and Nha Trang tourism in particular.
This festival normally lasts from 4-5 days with many noticeable activities which emphasize the conventional values of the nation, including street lion dance, cải lương (a typical kind of traditional musical performance), folk puppetry, the exhibitions of pottery and brocade weaving techniques of the Cham people, folk games, firework displays, sports activities and scientific conference, etc.
The most important session must be the Cau Ngu festival, which originated from the custom of worshiping Nam Hai God (Whale God). This sea festival in Nha Trang has become the "traditional cultural branch" of Khanh Hoa province and it is ranked as one of the should-not-miss festivals once traveling to Vietnam.
- Location: Nha Trang city
- Time: In the summer every two years (biennial)
4 - Am Chua festival - a long-traditional Nha Trang festival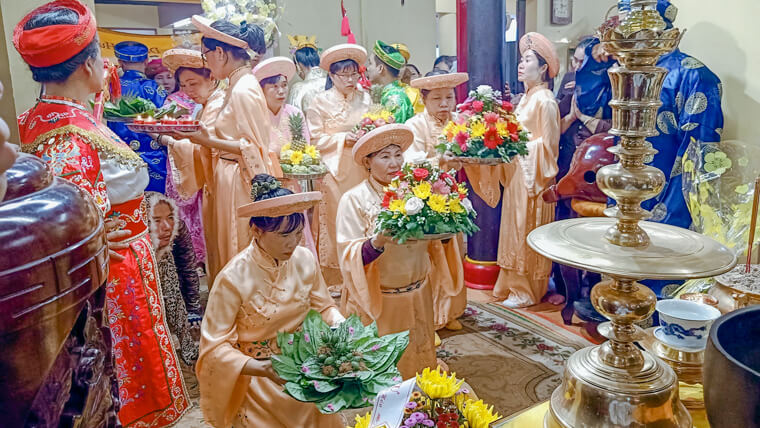 Source: tinhte
The festival of Am Chua is held with the aim of paying tribute to Thien Y A Na Thanh Mau, who brought about a full and prosperous life to the people, particularly she taught locals how to cultivate plants, raise silkworms, weave cloth, and set up many rituals. Besides, the festival is an opportunity for the local people to pray for favorable weather and bountiful crops. During three days of the Am Chua festival in Nha Trang, the ceremony session and festival one take place. The ceremony includes sacrifice, incense offerings, and shadow dance performances, in which the most solemn one is sacrifices, performed by dignitaries such as elders in the locality. The session of the festival is held after the ceremony with a bustling and joyful atmosphere. This session includes folk games, chầu văn performance, lion dance, lion procession.
- Location: Am Chua relic site in Dien Dien commune, Dien Khanh district, Khanh Hoa province
- Time: 1st - 3rd of lunar April
5 - International Yacht Nha Trang festival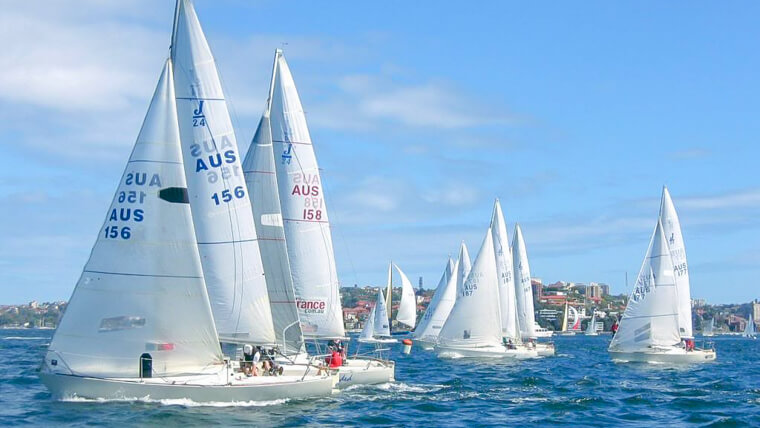 Source: Internet
Nha Trang International Yacht festival is an opportunity for the gathering of dozens of yacht clubs from 22 countries around the world such as Canada, Singapore, Italy, France, China, USA, Brazil, Turkey, South Africa, Argentina, etc. and entrepreneurs owning luxurious yachts together with yacht producing companies.
Thís festival in Nha Trang takes place in 4 days, consisting of nearly 28 lively cultural - tourist activities such as the contest of "Marine legend", sailing race, Water festival, cooking contest, street art performances, supercar parade, yacht parade around Hon Tre island, etc. This is actually a monumental festival that may allure any traveler who loves to explore stunning Nha Trang beach city.
- Location: Nha Trang Bay, Nha Trang city
- Time: every two years in July
If you are a true travel lover who not only wants to conquer the new "land" but also broaden your horizon about the lifestyles, customs of the localities in your coming destination, don't ignore traditional Nha Trang festivals that are of great importance to make your traveling experience more fulfilling and memorable.