In 1901, Sung Sot Cave Vietnam was discovered by French explorers. Upon arriving here, they were overwhelmed by the beauty and grandeur of the cave, so they took the "La Grotte des Surprises'' to name. In 1993, this cave welcomed the first visitors. Since then, it has always been in the top 10 of the most popular caves in Halong Bay, even being voted one of the 7 most beautiful caves in Vietnam by CNN Travel magazine.
I - Where is Sung Sot Cave located?
This cave is situated on Bo Hon Island, at the heart of the world heritage of Halong Bay, Ha Long City. Taking a boat or cruise tour from Tuan Chau Seaport is the best way to get here.
One day tour to explore Halong bay (including entrance fee to visit the Surprising Cave) is about $35 - 75. From Hanoi, you should book a package tour from travel agencies or book directly with a tour operator. The tour price includes transfer ticket, lunch, travel guide and island entrance fee, and kayaking fee.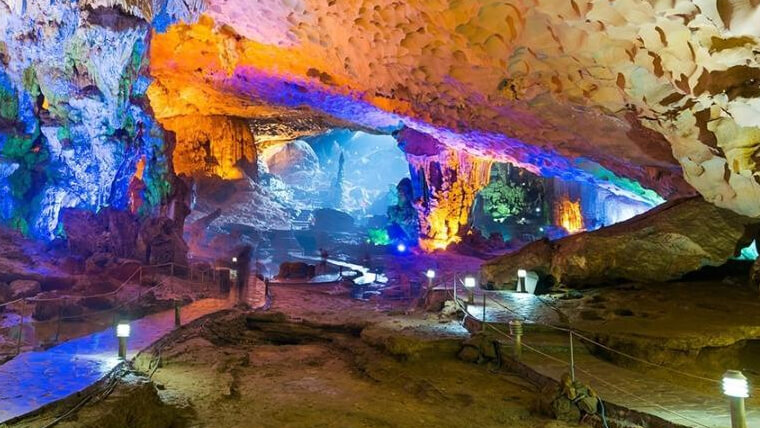 Inside Sung Sot Cave Halong Bay - Source: Internet
According to a legend of Gióng god (Gióng god is a hero in Vietnamese folk legend), after defeating the aggressors and demons, the Gióng god flew back to heaven, leaving for the locals a precious horse and sword to ward off evil spirits and reassure people's hearts. The Surprising Cave is the place where Thanh Giong's horse's footsteps are left, and the vestiges of the old battle have become small lakes surrounded by large rocks.
Notes:
- Prepare a pair of shoes suitable for climbing and walking.
- Bring insect repellent
- The best time to visit is from April to June & from September to November
II - The outstanding features of Sung Sot Cave in Halong Bay
The boat drops off at the wharf on Bo Hon Island. From the wharf, you walk 50 stone steps to the entrance of the cave. At an altitude of 25m above sea level, you can admire a beautiful Halong Bay with thousands of boats floating gently on the bay, hidden behind undulating rocky mountains.
Stepping into the cave you are overwhelmed by the grandeur inside the cave. Sung Sot grotto - the largest cave in Halong Bay, covers an area of 12,200m2 with 2 compartments. The sparkle stalactites & stalagmites systems in different shapes and sizes create an impressive spectacle.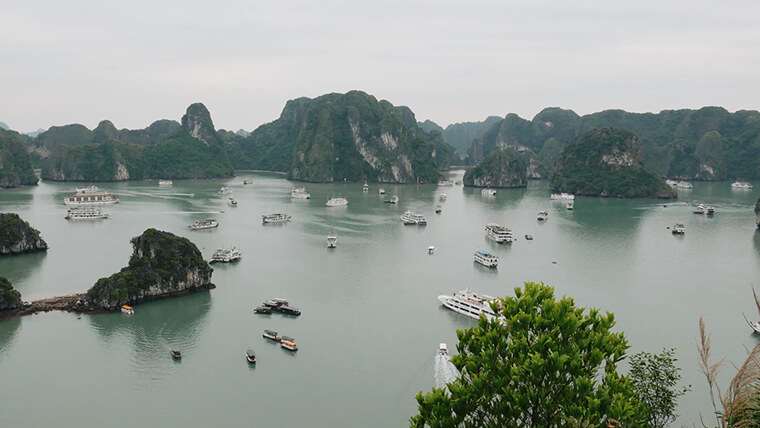 Bo Hon island - Source: Falco Negenman
The first compartment (300m2)
The large space creates a feeling of standing in a colossal theater. There are countless stalactites formed for millions of years falling from the ceiling, creating unique shapes of animals and plants. Combined with the colorful lighting system, you are mesmerized into the magical and mysterious world.
The second compartment (600m2)
The deeper you get into the cave, the more mystical beauty of Sung Sot Cave in Halong Bay you see. After passing through a narrow pathway, another wonderful world is opened to your eyes.
You can see lots of interesting things at the second entrance: a horse-shaped rock, rocks in the shapes of a long sword, small lakes and ponds, and many other things associated with Vietnamese folk tales. Reaching the top of the cave, At the top of the cave, there is a "gorgeous rock garden" created by mother nature with lakes, trees, birds, and many kinds of animals.
III - What do tourists say about Sung Sot Cave?
This cave is truly a wonderful gift that nature has bestowed on Halong Bay. Every scene in the cave, even the smallest, makes people amazed by its uniqueness & vividness. Tourists who have been here are all impressed by this beauty.
"A wonderful cave exploring tour. Wonderful scenery and great scenic views. A relaxing trek through the majestic caves is great for all ages" – Tracey C.
"I didn't know what to expect before we visited the Surprising Cave Vietnam. I reckon that's the best way to be impressed. It is such a well-kept natural wonder. The experience was made even more interesting by starting from the smallest to the biggest cave. A lot of wow moments!" - Hahat M
"You keep getting surprised! Most beautiful cave I have ever seen! Must see! If you had a surprise you will get another one and another one!"- Tom
"Yes. This cave surprised us with rock formations and stalactites. Best cave I have ever seen." - Julia A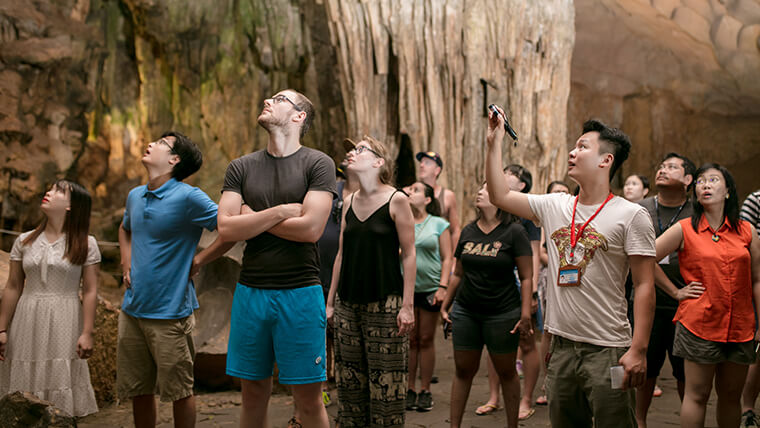 Tourists at Sung Sot Cave - Source: Halongmajesticcruise
However, at present, there are also many conflicting opinions about this due to the increasing number of visitors and overload:
"Not sure if we were unlucky but stopped off here on our cruise with a million other cruises (not sure why they don't stagger them) the cave itself was impressive I am sure but surrounded by 100s of tourists being herded through walkways like sheep it is hard to enjoy." - Gem
"Potential to be stunning if only there were fewer tourists. A problem easily remedied by staggering the number of tourists they let in one go."- Nadia Markus
Because of its popularity, Surprising Cave is increasingly overloaded by the number of tourists flocking, even a few acts of lack of awareness destroying the environmental landscape, causing a lot of objections. But why because of those few should we miss out on this beautiful cave experience, right?
This is a guide to discover the Sung Sot Cave Vietnam - the biggest and most beautiful cave in Halong Bay. Do not forget to check in and explore this beautiful cave on your Halong bay trip.