Vinh Hy Bay, a small bay located in the northeast of Ninh Thuan province, is one of the most beautiful bays in Vietnam. Covering an area of about 2-3km2, this is a relatively closed bay with three sides surrounded by vast green mountains and forests, full of wildness.
Due to this unique terrain, the wind is not very strong and the water is quite calm, making Vinh Hy Vietnam an ideal anchorage for many boats and ships. At the same time, it is also suitable for resort, water activities such as swimming, diving to see corals, experiencing fishing and practicing being a fisherman, and so on.
I - Discover the magnificence of Vinh Hy Bay Vietnam
Due to the lack of commercialization and modification to serve tourism, the bay retains the wild and majestic beauty of the coastal land that is hard to find anywhere else. You can be immersed in the green space with whispering waves, feel the gentleness and hospitality of local fishermen and enjoy many typical dishes. Top places to visit in Vinh Hy: Rai cave (Hang Rái), Đá Vách (Cliff Beach), Thai An Vineyards, Nui Chua national park,..
1 - Rai Cave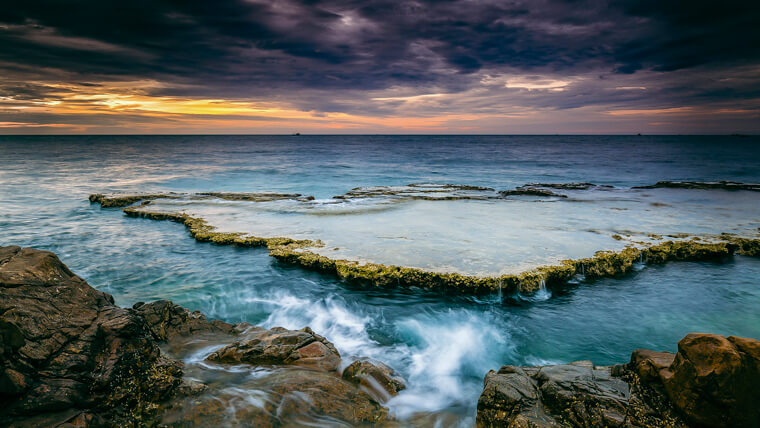 Rai cave - Source: vnexpress
If you come to Vinh Hy Bay Ninh Thuan without visiting Rai Cave, it will be a huge omission - a missed opportunity to admire and take photos of the breathtaking scenery. Located in the middle of a calm blue sea, this is actually an ancient coral reef facing the sea, consisting of uniquely shaped rocks naturally overlapping. Completely exposed to nature, Hang Rai in Vinh Hy Ninh Thuan is particularly beautiful at dawn, when the sun rises, dyes a large area pink and turns it into a scene in a fairy tale.
Rai Cave is considered an ideal sunrise viewing spot here, giving you impressive photos with unique backgrounds that are hard to find anywhere else. Not to mention, this place has an extremely diverse and rich coral ecosystem, suitable for those who love to explore the ocean and scuba dive to see a colorful world underwater.
2 - Cliff Beach (Bai Da Vach) - one of the most iconic spots in Vinh Hy Bay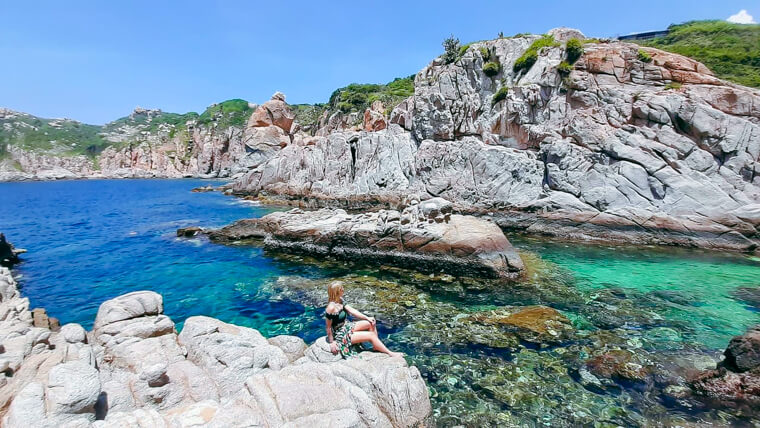 Da Vach beach - Source: disantrangan
Another very great place to visit the bay is Da Vach Beach, where there are countless cliffs of unique shapes, with an average height of 20 - 30m, stacked on top of each other. Continuing to run for about 4,500m along the coastline, they stand firmly and majestically in the middle of the blue sky, as if embracing Chua Mountain to keep the idyllic beauty of this area. Blending with that is the charming and peaceful beauty of the mountains and forests, mixed with the timbre of rhythmic music created from the white foamy waves crashing.
From Vinh Hy Ninh Thuan, you can take a glass bottom boat or walk here, but the second way is quite dangerous and only suitable for backpackers or adventurous people. Standing from the north of the beach, you can see Binh Tien beach, Hoi beach, and so on.
3 - Coc Beach - top beach for swimming in Vinh Hy Bay Vietnam
The beautiful Coc Beach with clear water, fine golden sand and scattered large and small rocks is one of the most amazing places for visiting and swimming. Located to the north along the coast from the pier, this place is less known and does not have many boats passing by, so it still retains all the wild beauty. Coming here, you can swim, relax on the sandy beach and enjoy delicious seafood such as shrimp, crab, snail, and so on.
4 - Nui Chua National Park & Lo O Stream - best for wildlife exploration in Vinh Hy Ninh Thuan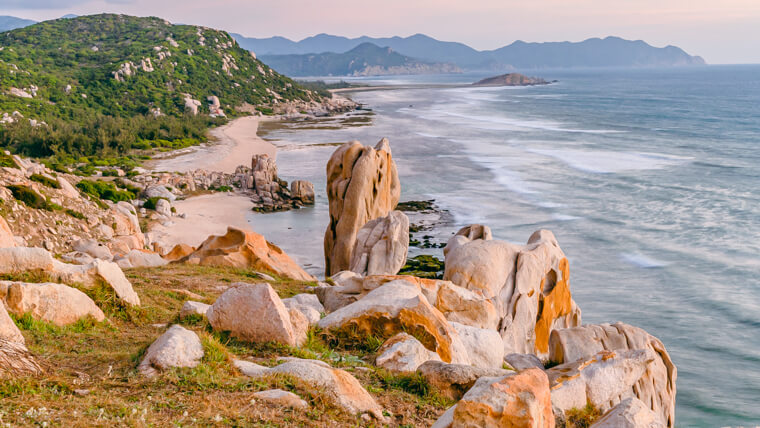 Nui Chua national park - Source: @Hugh Ha
Located to the west of Vinh Hy Bay Vietnam, this area stretches over an area of ​​about 30,000 hectares through 5 communes in Ninh Hai district. Going about 15 minutes across the suspension bridge from Vinh Hy, you will come to Nui Chua National Park, with a unique dry forest ecosystem.
The park is also home to rich flora and fauna, including more than 1,600 types of plants, nearly 600 species of animals and more than 350 coral systems. An exploration of this place will give you interesting experiences, enjoying the refreshing clean air in the immense green forest.
At the national park, there is the top of Chua mountain 1040m high above sea level, above which is the year-round Lo O stream flowing into the Vinh Hy Bay. You can climb or walk to the top of the mountain, where you can see the desert below and the clear sea right next to it. If there's not much time, you can wander, organize a small picnic with friends or family where the beautiful stream winds like a silk strip in the middle of unspoiled nature.
5 - Thai An Vineyards - a green place to visit near Vinh Hy Ninh Thuan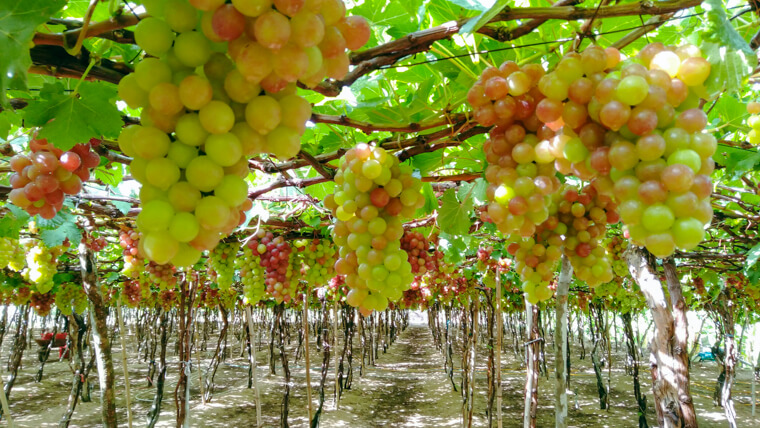 An Thai vineyard - Source: Mạch Chí Vũ
On National Road 702 along the coastline leading to the bay, you will encounter countless vineyards, laden with beautiful colorful fruits like farms in Europe. Since being put into tourism service, Thai An vineyards near Vinh Hy Bay are now highly sought after, dubbed as lively green paradises for lovely check-in photos. Stepping into this place, you will feel like you are lost in a large maze, every turn is green leaves, twinkling vines and red-green bunches of grapes glistening in the sun.
One of the top things to do here is harvesting and enjoying fruits with a pair of scissors given by the gardener - remember not to use your hands to pick because it will damage the tree, stopping it from growing. You can support the locals by buying some grapes at affordable prices from 30,000 - 60,000 VND ($1.3 - 2.6).
- Entrance fee: free
- Opening time: 7am - 6pm
6 - Explore the route Vinh Hy Bay - Binh Tien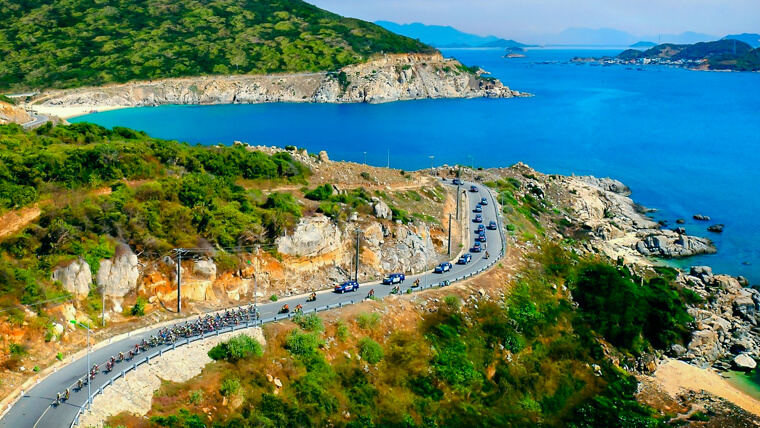 Stunning road from Vinh Hy to Binh Tien - Source: @grishland
Dubbed the most beautiful coastal route in Vietnam, this road starts from Ninh Chu beach of Ninh Thuan province and ends at Binh Lap peninsula, Khanh Hoa province. This road is about 57km long, leaning against Nui Chua National Park, facing the East Sea, taking you through many famous tourist attractions. You can enjoy the beauty of mountains, forests, sea and islands combined, along with the sea breeze that becomes even more wonderful when riding a motorbike.
In Phan Rang, there are many scooter rental places, ready to bring the motorbike to Vinh Hy Bay Vietnam if you are no longer in the city:
Phan Rang 175
- Address: No.175 Le Duan Street, Phu Ha Ward, Phan Rang - Thap Cham City
- Price: 100,000 - 150,000 VND / day ($4.37 - 6.56)
- Contact: 0933 941 639
Cheap motorbike rental Ninh Thuan 159
- Address: No.159A Le Duan Street, Phu Ha Ward, Phan Rang - Thap Cham City
- Price: 100,000 - 180,000 VND / day ($4.37 - 7.87)
- Contact: 0912 100 351
II - Vinh Hy Bay weather and best time to visit?
1 - Weather wise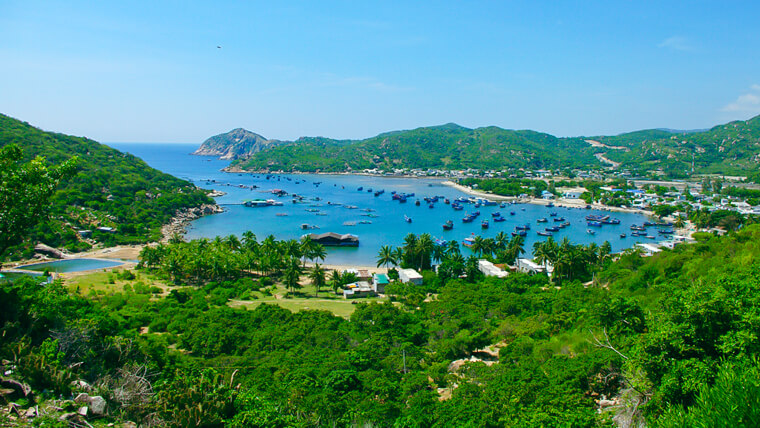 Source: vnexpress
Located at the end of the South Central region, Vinh Hy Vietnam weather is divided into 2 distinct seasons. The dry season lasts from December to August next year, with the average temperature ranging from 26 - 27°C, sometimes up to 39 - 40°C in June and down to 15°C in December.
Meanwhile, the rainy season lasts from September to November is the time with the most amount of rain in the year, but because this bay is surrounded by mountains and forests, it is generally still quite calming.
2 - Best time to visit Vinh Hy Bay Vietnam
From February to early October is the ideal time to visit the bay. Around January to March of the lunar calendar is the fishing season, when mackerel and tuna are concentrated in the Vinh Hy Ninh Thuan. The weather is favorable, so the fishermen of the fishing village go out to sea a lot, which is convenient for you to have the opportunity to follow the fishermen and make an interesting sea trip. You will also have the chance to enjoy a variety of fresh seafood dishes, prepared right on the boat at extremely cheap prices.
Meanwhile, from April to August is the best time for outside activities when the sky is sunny and the waves are calm. The long sandy beaches with clean water offer tourists a great beach trip.
III - What to eat when traveling to Vinh Hy Bay Vietnam?
1 - Grilled sea urchins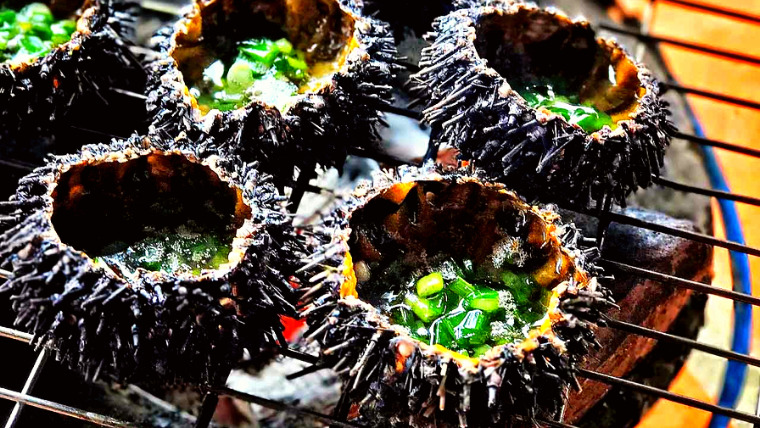 Grilled sea urchins - Source: nucuoimekong
Also known as thorn balls, sea urchin is often likened to the ginseng of the ocean because of its many beneficial effects. Having a slightly sour and fishy taste, they are often grilled with eggs or onion fat, radiating an indescribable attractive aroma. The meat is thick, crispy on the outside but soft on the inside, both fleshy and sweet, harmoniously mixed with the fat. Chefs can create many other delicious dishes such as sea urchin porridge, raw urchins with mustard greens and mustard,…
3 - Lobster
Traveling to Vinh Hy Bay Ninh Thuan you can also easily find and enjoy the greasy, sweet and tender lobster, although the price is not so "tender". Because it is already a top ingredient itself, simple cooking methods like steaming or boiling is enough to ensure dishes with an unforgettable and attractive flavor.
4 - Herring salad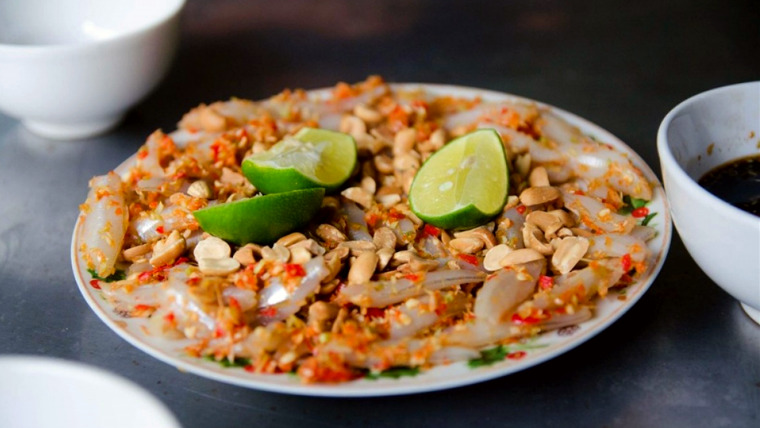 Mai fish salad - Source: yong.vn
Mai fish or herring is a small, thin and transparent type of fish, similar to anchovies but less fishy so they are more suitable for making salad. You can find in Vinh Hy Ninh Thuan two types of dry and wet herring salad, in which dried herring salad is mixed with lemon juice, then eaten with herbs, peanuts, and rice paper. As for the wet herring salad, the fishes are soaked in a special fish dipping sauce, peanuts and some other spices, wrapped in rice paper and served with herbs. The dish is a combination of a little sour, sweet and salty, making it extremely easy to eat and hard to stop.
2 - Seabass porridge hot pot - top dish to try in Vinh Hy Bay
This is a fairly common dish in Vinh Hy Vietnam, using the main ingredient is seabass, which are usually quite fierce, large and weighing over 10kg. Because of that large size, people have to cut them into small pieces before cooking, served with a variety of raw vegetables such as bean sprouts, water spinach,…
The fish is cooked in a hot pot while adding some finely chopped scallions with a bit of pepper. The fragrant seabass hotpot is attractive with all flavors from sour, spicy to the sweet taste of fish meat, making no one would be able to resist.
IV - Best places to stay in Vinh Hy Bay Vietnam
1 - Vinh Hy resort
Located just over 50m from the beach, this luxury resort is perfect for those who love coastal resorts. On an area of up to 1ha, Vinh Hy Resort offers a system of 50 rooms, fully equipped and decorated with elegant interiors. The resort also provides floating restaurants, water park and glass bottom boat, paid fishing and diving activities if you are interested.
- Location: Vinh Hy, Ninh Hai, Ninh Thuan
- Room rate: 480,000 - 1,900,000 VND/room/night ($21 - 83)
- Contact: 0259 377 1999
2 - Amanoi resort Vinh Hy bay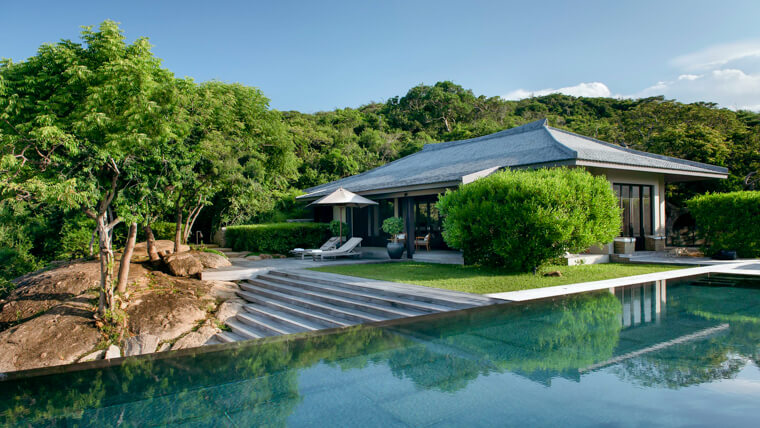 Amanoi resort - Source: Amanoi
Dubbed the paradise on earth, this place has unique architecture and direct view towards the bay with open natural space. As the first 6-star resort in Vietnam, Amanoi was honored as one of the 33 best new hotels in the world in 2014 by Condé Nast Traveler magazine, making this resort one of the best places to stay in Vinh Hy Ninh Thuan. You can also experience many valuable services while staying here such as Cliff Pool, spa, yoga or water games such as catamaran sailing or kayaking, climbing or trekking Mount Chua,…
- Location: Vinh Hy village, commune, Vinh Hai, Ninh Hai, Ninh Thuan
- Room rate: 16,000,000 - 100,000,000 VND/room/nigh ($700 - 4372)
- Contact: 0259 353 5777 - 0259 377 0777
3 - Hai Dang Hotel
There is no sky high price like the luxury resort above, this is one of the top best-budget Vinh Hy bay hotels. The rooms of Hai Dang hotel are fully equipped with amenities with a window overlooking the beautiful sea view.
- Location: Vinh Hy, Ninh Hai, Ninh Thuan
- Room rate: 340,000 - 569,000 VND/room/nigh ($15 - 25)
- Contact: 078 5151 168
V - How to get to Vinh Hy Vietnam?
From other provinces, travelers can get here by train, and airplane.
- By airway: You can take a direct flight to Cam Ranh airport,
- By railway: You can take a train to Thap Cham train station in Phan Rang city.
About 40km from Phan Rang city, tourists can take a bus, taxi, or motorbike to get to Vinh Hy Bay.
- By bus: After getting to Phan Rang city, you can take a local bus to the bay.
- By motorbike:
+ Motorbike rental 159
Phone: 091 210 03 51
Address: 159 Le Duan, Phu Ha, Phan Rang-Thap Cham, Ninh Thuan
+ Motorbike rental 175 Le Duan
Phone: 093 394 16 39
Address: 175 Le Duan, Phu Ha, Phan Rang-Thap Cham, Ninh Thuan
+ PR Bike
Phone: 0343 630 168
Address: Tn77, Thong Nhat, An Hai, Ninh Phuoc, Ninh Thuan
- By taxi:
+ Mai Linh Taxi - Phone number: 02573 89 89 89
+ Sun Tuy Hoa Phu Yen Taxi - Phone number: 02573 79 79 79
+ Sao Tuy Hoa Phu Yen Taxi - Phone number: 02573 66 66 66
+ Vinasun Taxi - Phone number: 02573 88 88 88
Vinh Hy Bay Vietnam is definitely a destination not to be missed when traveling to Ninh Thuan province, still having a wild and majestic look that few places have. There are many unique landscapes, with caves, rocky beaches or gardens, and national parks spreading along the beautiful coastal road. With pleasant weather, delicious cuisine and comfortable accommodation, it attracts thousands of tourists every year.