Mua Cave is located at the foot of Mua Mountain in Khe Dau Ha Commune, Ninh Xuan Commune, Hoa Lu District, Ninh Binh Province - about 7km from Ninh Binh city and about 80km from Hanoi.
At the entrance, there are two paths: the left one guides you to the cave while following the right one, you straight up the Hang Mua Peak. After going up 486 stairs from the right entrance, you are on top of Mua Mountain and from here you can admire a panorama view of Trang An charming landscape.
I - Highlights of Mua Cave Ninh Binh
This tourist area has an area of ​​about 800m2, located in Mua Mountain shaped like a giant bell. The name "Mua" (Dance) is derived from the legend of King Tran in the 13th century. After building the Thai Vi Temple in Ninh Binh, he often went to a cave at the foot of a mountain to enjoy music & dance performance.
When exploring the Mua Cave, you have a chance to admire the masterpiece of the stalactites & stalagmites system which was formed over millions of years with exquisite layers sparkling in multi-colors and distinct shapes.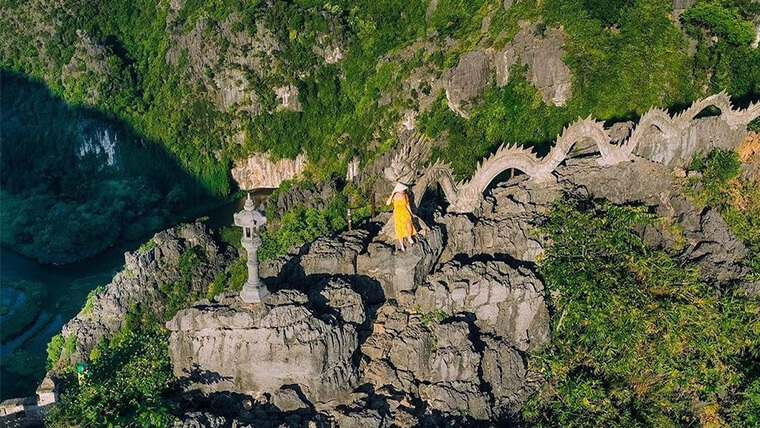 Source: Ins muacaves
After visiting the cave, your trip continues with an easy hike to the Hang Mua viewpoint, by climbing nearly 500 stone stairs. Along the way of hiking up to the peak, you can see lots of majestic pictures of dragons & phoenixes which are meticulously decorated in stone with many unique details.
Near the top of the mountain is Hang Mua Temple - a Buddhist stupa that features Vietnamese temple architecture with its sharp peaks and arched roofs. From the top of Mua Mountain, you can enjoy the full view of the Tam Coc area with immense rice fields, the peaceful image of boats flowing on the Ngo Dong river.
On the top of the mountain, there is also an exquisite Mua Cave Dragon statue made of stone in the architectural style of the Tran Dynasty (13th century), and many other statues of animals such as an eagle and tiger - the animals are popular to the culture and architecture of Vietnam. Next to the dragon statue is a white statue of the Lady Buddha.
You may find it interesting: Top greatest caves in Vietnam
II - What to note before exploring Mua Cave Ninh Binh?
1 - When is the best time to come here?
The best month to come here is from late May to early June when the rice gets started to ripe and the large rice fields turn yellow. The early morning or late afternoon is the best time to climb to the peak at which you can watch the sunrise or sunset and avoid the hottest hours.
Note: Mua Cave entrance fee is 100,000 VND/person ($4.3)
Spending one day in Ninh Binh, you can also explore other tourist destinations such as Tam Coc-Bich Dong, Bai Dinh Pagoda, Trang An Complex, Thai Vi Temple, Cuc Phuong National Park,...
2 - Hang Mua Ecolodge
Having an area of ​​more than 40,000 square meters, this ecolodge has 12 separate bungalows, built in the architecture of the Northern village with tiled roof, brick yard and are located under the shade of trees or at the foot of the rocky mountains overlooking the romantic rice fields and majestic rocky mountains. The interior is simple, rustic, and natural-friendly.
Note that this ecolodge is located right in the Mua Cave tourist area and you get a free ticket to visit the cave many times during your stay here. On booking.com, this ecolodge receives 782 reviews from tourists with 8.2 scores.
- Phone number: 0229 3619 679
- Room rate 1,200,000 - 1,400,000 VND/night ($52 - 60)
- Website: http://hangmua.vn
III - How to travel from Hanoi to Hang Mua?
From Hanoi, you can take a limousine bus, motorbike or taxi in 2 hours.
1 - Travel by limousine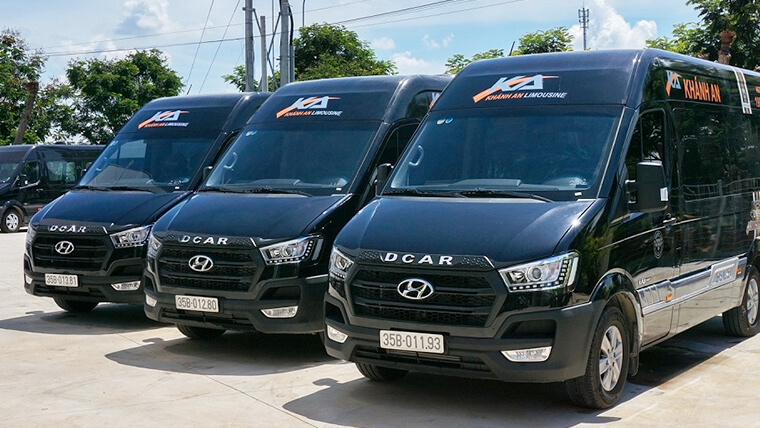 Khanh An Limousine - Ninh Bình/Source: Internet
Some limousine service providers running the Hanoi - Ninh Binh route include:
Trang An limousine - 9-seater car
- Price: 150,000 VND/seat ($6.5)
- Website: https://xetrangan.vn
- Pick-up point: Big C Thang Long, No. 222 Tran Duy Hung Street, Cau Giay District, Hanoi
- Drop-off point: the entrance to Mua Cave Vietnam
Khanh An Limousine - 9-seater car
- Frequency: 1 hour/ trip
- Price: 140,000 VND/seat ($6.03)
- Phone number: 1900 8629
- Pick-up point: at your request (within Hanoi city)
- Drop-off point: at your request (within tourist spots in Ninh Binh)
- Website: https://booking.khanhanlimousine.com/
2 - Travel by taxi to Mua Cave in Ninh Binh from Hanoi
Traveling by taxi costs about 1,150,000 VND/4-seater car/way ($50). Some taxi companies in Hanoi are:
- Mai Linh Taxi : 024 38 333 333
- Group Taxi : 024 38 53 53 53
- Vic Taxi: 024 38 230 230
3 - Private rental car with driver
You can contact: Vietrapro Tourist and Service Company Limited
- Address: No.20, Hamlet 9, Mo Lao Ward, Ha Dong District, Hanoi
- Phone number: 0981 553 226
- Website: http://vietrapro.com/en
4 - Take a Mua Cave tour by renting a motorbike
Source: Motogo
Motorbike rental fee in Hanoi ranges from 150,000 to 200,000 VND/motorbike/day ($6.5 - 8.62); parking fee is about 10,000 VND ($0.43). Some reputable motorbike rental shops in Hanoi are:
- Motogo motorbike rental shop: No.1A Trang Tien Street, Hoan Kiem District; Phone number: 0338 02 33 44
- Hanoi Motorbike rental shop: No.33 Nguyen Huu Huan Street, Hoan Kiem District; Phone number: 0913 047 509
It can be seen that Mua Cave Vietnam is really worth a visit. Besides this cave, you should not miss other top popular attractions in Ninh Binh such as Tam Coc - Bich Dong, Trang An Complex, Bai Dinh Pagoda, Cuc Phuong National Park,...