Paradise Cave (known as Thien Duong Cave) is a dry cave located in Phong Nha - Ke Bang National Park, Bo Trach district, Quang Binh province - about 70km from Dong Hoi city center to the west (1.75 hours of traveling by car) and 35km from Phong Nha Cave. It is surrounded by a diverse primeval forest ecosystem, located near Mooc stream, Chay River - Dark Cave tourist area; about 35km from Phong Nha cave.
I - Paradise Cave Vietnam highlights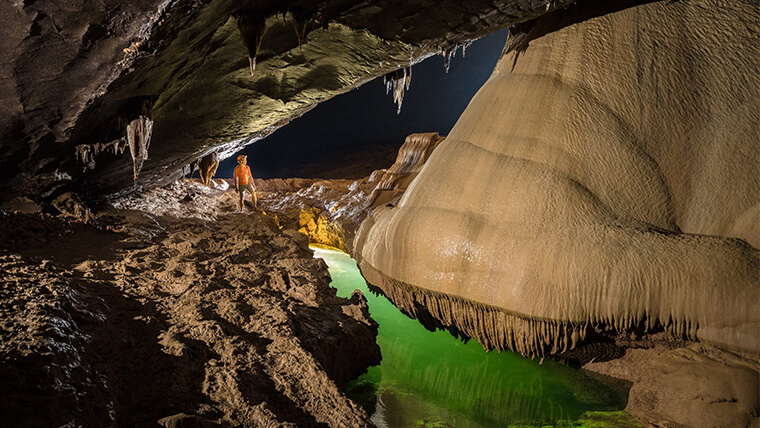 Source: Phongnhaexplore
This cave is located at an altitude of about 116m above sea level, is 31.4km long, 60-80m high and 30-150m wide. According to British Caving Association, this cave, formed 350-400 million years ago, has a breathtakingly impressive structure with a unique stalactite system creating the name of the cave "Paradise Cave" (or Thien Duong Cave in Vietnamese).
In order to ensure the inherent structure of the cave and help visitors more easily visit the cave, a wooden stair was built, 1km long and 3.5m wide.
Stepping into the cave along the stairs, you will be impressed by the fanciful, sparkling beauty of the stalactites and the light of the lamp. The different shapes of stone pillars and stalactites are often associated with images such as Blessed Mother statues, Giao Tri palace (heaven palace), Rong house (communal house), terraced rice fields, the Lotus tower, ... Everything is as vivid and brilliant as the paradise. The temperature in the cave is often from 18 to 21°C, creating a cool atmosphere and cool feeling to the Paradise cave's visitors.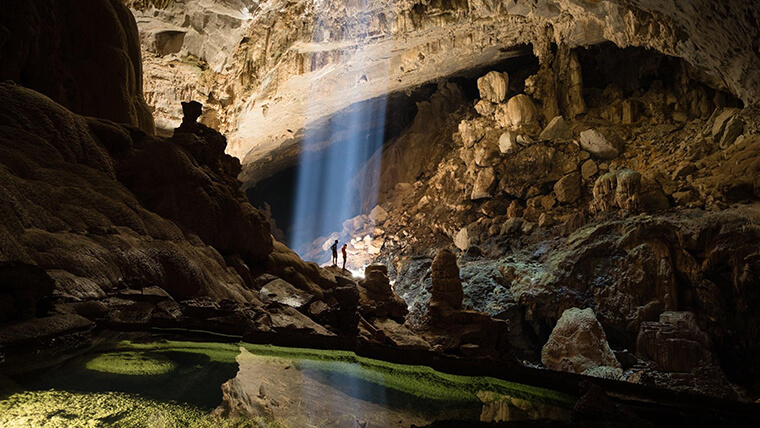 Source: Phongnhaexplore
For the first 1km, you can explore the cave by yourself along the way of the wooden stair, for the next 6km you need to book a tour with a guide for a trekking & exploring journey. On the journey to the discovering 6km into the cave you have a chance to explore the natural well area - a place where natural light comes down from above; a natural blue lake - where you can soak & relax in the cool blue mineral water; admire the unique and wonderful stalactites accumulating and forming from hundreds of million years ago.
II - Necessary information
Note: sandals and neatly dressing are highly recommended
1 - Paradise Cave entrance fee
Ticket for visiting the first 1km in the cave
- Adults: 250,000đ/person (~ $10.77)
- Children: 125,000đ/110cm - 130cm child (~ $5.38) and free for children under 110cm
Electric car fee
- A 4-seater electric car: 60,000đ/person/turn (~ $2.6) and 100,000đ/person/round trip (~ $4.3)
- A 6-seater electric car: 90,000đ/person/turn (~ $3.8) and 150,000đ/person/round trip (~ $6.5)
2 - The best time to visit the cave
The best time to admire the beauty of this cave is from April to July. This period of time coincides with the dry season at which the weather is pleasant with little rain.
3 - How to get to Paradise Cave from Dong Hoi City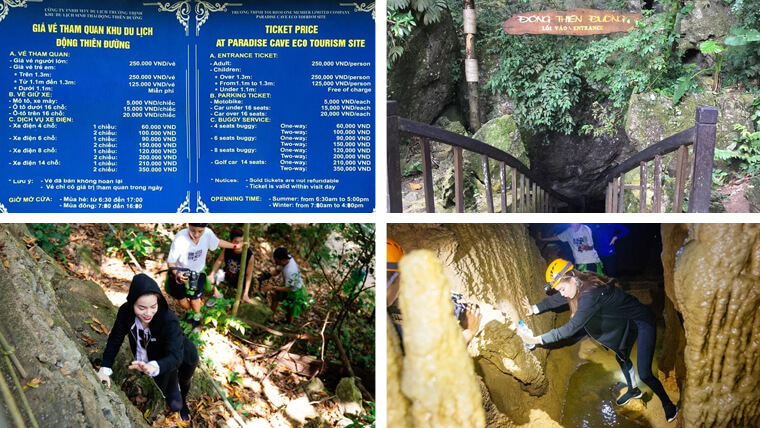 Source: Internet
Step 1: From Dong Hoi City to the ticket counter
You have 2 options, including:
Travelling by taxi
Travel time is about 1.75 - 2.25 hours; taxi price is about 800,000đ/4-seater car/round (~ $34.48)
Travelling by motorbike
Some motorbike rental shops in Dong Hoi City:
- Mrs Thu: Alley 105. Nguyen Thi Dinh Street, Bao Ninh Ward, Dong Hoi City; Phone number: +84 915 960 481
- Mr Lam: No.42, Nguyen Du Street, Dong My Ward, Dong Hoi City; Phone number: +84 898 73 0000
- Mr Tung: No.44, Hoang Dieu Street, Nam Ly Ward, Dong Hoi City - nearby Dong Hoi Train Station; Phone number: +84 978 211 325.
Traveling from Dong Hoi City to the Paradise Cave Phong Nha ticket counter by motorbike takes about 2.5 - 3 hours; Rental fee is about 150,000 - 200,000đ/ motorbike/ day (~ $6.5 - 8.6); parking fee is 5.000đ/ motorbike (~ $0.2).
Step 2: From the ticket counter to the foot of the mountain
- Choice 1: 2km walking
- Choice 2: going by electric car (refer to electric car fee in part 1 - II)
Step 3: From the foot of the mountain to the mouth of the cave
- Choice 1: climb over 524 steps
- Choice 2: walk on a 570m steep road
4 - One day exploration of 7km Paradise Cave Vietnam tour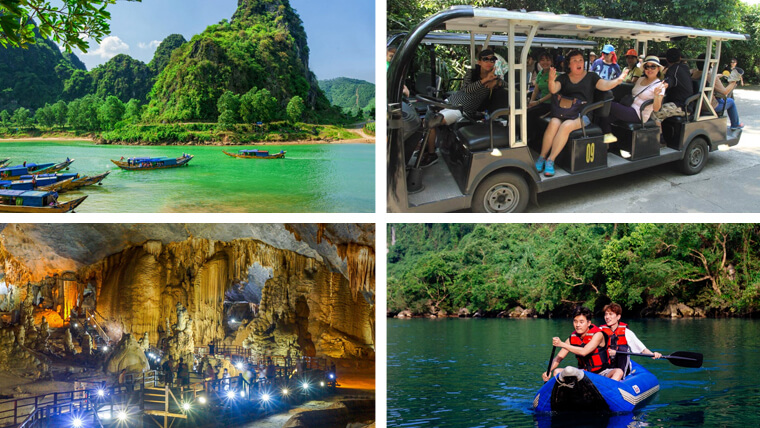 Source: Internet
7:00am: you are picked up at hotels in Dong Hoi City Centre to go to Phong Nha - Ke Bang national park (An alternative choice is that you are pick up at 8am in Phong Nha Village)
9:00am: transferring by electric cars to the mouth of the cave
9:30am - 4:30pm: Start the trekking tour to explore 7km of the cave with interesting activities:
- Visit Doi Cave
- Admire the fish stream
- Kayaking in the Paradise Cave Phong Nha
- Admire the "Heaven Well" (the hole connecting outside and inside of the cave)
- Have lunch
- Take photos
4:30pm: Go back outside
You can refer Phong Nha Adventure Tours Company to book a tour:
- Tour price: 2.500.000đ/person (~ $115) (entrance fee, tour guide, protective gear and lunch are included)
- Address: No.06, Nguyen Trai Street, Hai Dinh Ward, Dong Hoi City
- Phone number: +84 917 310 660
5 - Paradise Cave Vietnam map

It is obvious that the Paradise Cave Vietnam is one of the best attractions in top caves in Vietnam. Hopefully, with information suggestions from localtravelidea.com, you have more ideas for a cave exploring experience in Vietnam.