I - Overview of Forests in Vietnam
In Vietnam, forests account for 47.6% of the entire territory. In which, natural forest accounts for 70% of the total forest area in the country. Because Vietnam's climate has both sub-equatorial to subtropical climates, the forest biodiversity is very high: 10484 species of higher plants, 800 species of moss, 600 species of mushrooms, 275 species of mammals, 828 species of birds, 180 reptiles. In addition, Vietnam also has 100 species of endemic birds, 78 endemic mammal species and many rare & valuable animals.
However, deforestation in Vietnam or burning of forests for slash-and-burn is a problem in this country. There are many causes leading to this situation, the most prominent of which are:
- Local people's perception is not correct, forest trees are still cut for private use; forest planning for construction of factories, hydroelectricity, and farming;
- Habit of getting big trees in the forest to build houses;
- Nomadic customs;
- A part of forest rangers has degenerated with forest loggers specialized in deforestation.
This situation occurring for a long time can lead to depletion of forest resources, loss of habitat and fauna and many other negative consequences.
II - Major forest types in Vietnam
There are two main types of forest in Vietnam: Jungle and Mangrove forest. Each forest has different characteristics.
1 - "Jungle in Vietnam" - Tra Su Cajuput Forest and Bach Ma Forest
Tropical forest with hot and humid climate, cool all year round. Therefore, the ecosystem of tropical forests is also extremely rich and diverse. Some typical tropical forests of Vietnam such as:
Tra Su Cajuput Forest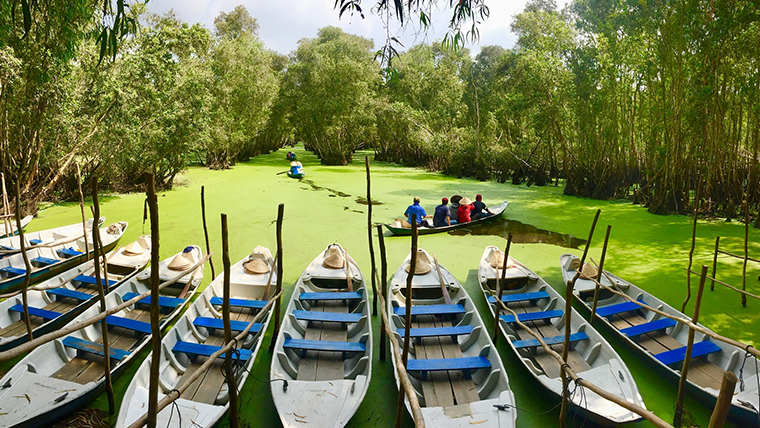 Tra Su Cajuput Forest - Source: Thamhiemmekong
Location: Van Giao commune, Tinh Bien district, An Giang province.
Area: 845 ha
Tra Su Melaleuca forest has a diverse ecosystem, typical of wetlands with about 70 species of birds, 11 species of mammals, 25 species of reptiles and amphibians, 10 species of fish. As for plants in the forest, apart from Melaleuca trees, the majority also has about 140 species belonging to 52 families of 102 genera.
Tra Su Melaleuca forest is especially beautiful in the floating water season in October with green water currents, immense lotus flowers. You can clearly feel the stillness, only the sound of nature when you paddle deep into the forest. You can also see the entire forest and glimpse the villages of the Khmer people living from above when you get to the observatory 25m high.
Bach Ma Forest in Vietnam
Location: Phu Loc district, Thua Thien Hue province
Area: 37,487 ha
In Bach Ma forest, there are 1,715 species and about 2373 species of flora. In which, there are many species of rare and precious animals and plants and endemic species only found in Bach Ma forest: Edwards's pheasant, Fan-Si-Pan horned pit viper, Pale-capped pigeon, Burmese python, Nageia fleuryi, Rhododendron fortunei, Peltophorum tonkinense ...
Coming to Bach Ma, you can go to Vong Hai Dai station to see the panorama of Bach Ma forest in the clouds at an altitude of 1,400m. In the forest, there are connected lakes of clear and cool water, which is very suitable as a place to rest for lunch, relaxing after visiting the forest. The best time to visit and explore Bach Ma forest is during the dry season in Hue (usually lasts from March to August).
2 - Other type of Vietnam Forest is "mangrove forest"
Can Gio mangrove forest Vietnam - green lung of Saigon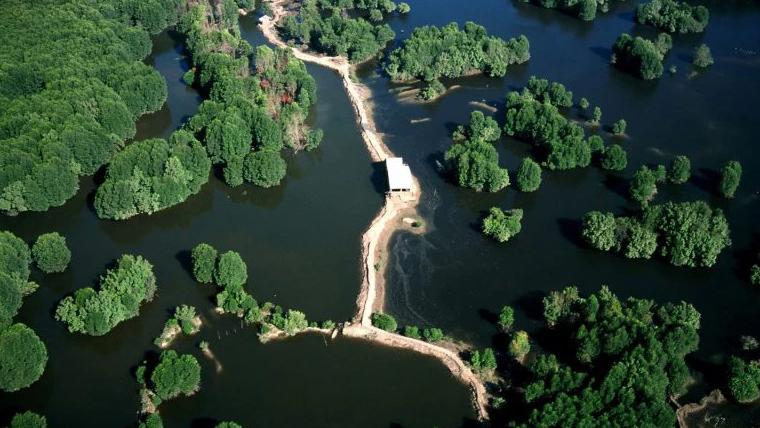 Can Gio mangrove forest Vietnam - Source: Vietnamforestry
Location: Can Gio district, Ho Chi Minh city, about 40km southeast of the city center.
Area: 75,740 ha
The forest currently has 9 species of amphibians (frogs, toads, amphibians ...), 19 species of mammals (monkeys, otters, wild cats ...), 31 species of reptiles (python, snake, varan ...), 137 species fish, 130 bird species, 70 aquatic invertebrates, 157 plant species.
Can Gio mangrove forest is bold with the beauty of the main trees in the forest, which are avicennia, mangrove apple, bruguiera gymnorrhiza, rhizophora apiculata, black mangrove, and acanthaceae. The fresh, tranquil atmosphere in the forest is also a thing to attract visitors. You can follow the group on a boat weaving through the alleys in the forest and discover the magic of nature.
U Minh forest
Location: including two forests U Minh Thuong in Kien Giang and U Minh Ha downstream along the Trem Trem, Cai Tau and Doc rivers in Ca Mau province.
Area: 35,000 ha of U Minh Ha, 21,122 ha of U Minh Thuong
U Minh forest - mangrove forest in Vietnam is considered a rare type of forest in the world with mainly Melaleuca trees growing everywhere, more than 250 other plant species, more than 180 species of birds, 20 species of reptiles. During the resistance war, U Minh forest was also a revolutionary base to help the Vietnamese revolution win glorious victory. During the day, the cadres hid in the forest, on the mangrove canopies, mangrove apples... until evening when they went to work. Not only a hiding place, dense lily forest also protected the revolution when the Americans dropped bombs or poisons to "destroy" U Minh.
U Minh forest brings the pure beauty of nature with many species of trees and wild animals. Although the river water in the forest is still covered with water hyacinths, green water hyacinths are cool. In the air, birds compete to display their own playful cheerful songs and dances.
III - Vietnam forest include national parks
1 - Phong Nha - Ke Bang National Park
Location: The national park is completely located in Quang Binh province, Central Vietnam; Geographical magnitude: 17°21'12 " to 7°44'51" North latitude; 105°46'33 "to 106°23'33" East longitude.
Area: total area is 123,326ha with 3 subdivisions including strictly protected subdivision, ecological restoration subdivision and administrative service subdivision.
Phong Nha-Ke Bang National Park is recognized by UNESCO as a World Heritage Site and ranked by Vietnam as a special national monument. Occupying 2/3 of the area of ​​the garden is the oldest Karst tectonic terrain in the world, the Karst process has created structures such as cave jade, stalagmite, stone waterfall, stalactite, stone basin ... The beauty of the national park comes from caves with 392 caves; hydrology in the garden includes 3 rivers: Chay river, Son river and Tróoc river; 21 types of vegetation cover; 2951 species of plants; 1394 species of animals.
Currently, the National Park Management Board is exploiting route tours such as sightseeing, exploring the cave system, valleys, waterfalls and historical-cultural sites such as Xuan ferry terminal. Son, Ho Chi Minh trail, Tu Coc Monk temple, Nguyen Van Troi ferry ...
2 - Cat Tien National Park

Cat Tien National Park - Source: Yesvietnam
Location: Tan Phu district, Vinh Cuu, Dong Nai province; Bu Dang district, Binh Phuoc province; Cat Tien district, Bao Lam, Lam Dong province.
Area: 719.20 km²
At Cat Tien national park, about 50% of forest area is green forest, 40% of forest area is bamboo forest and 10% of farm area. Cat Tien has a rich flora and fauna including 62 orchid species, 40 animal species in the world red book.
Going to Cat Tien, you can participate in outdoor tourism activities such as crocodile sightseeing, jungle trekking, forest cycling; Or visit beautiful photo spots like Bau Sau, Dau Isle, Botanical Garden.


Source: dulichvietnam
3 - Cuc Phuong National Park
Location: 120km far from Hanoi, deep in the middle of Tam Diep mountain range in 3 provinces of Ninh Binh, Hoa Binh and Thanh Hoa
Area: 22,408 ha
Cuc Phuong forest is a green tropical rainforest in Vietnam all year round with a rich flora and fauna. In the national park there are also very beautiful semi-covered karst caves.
Cuc Phuong National Park is a favorite tourist destination of domestic and foreign tourists. There are many tourist activities organized within the park grounds such as: pristine forest walks; camping and overnight in the woods; eco-tourism associated with the community, participating in the experience at the Muong people village with many unique cultural and customs exploration activities; wildlife viewing at night; bird watching; cycling in the woods ...
4 - Cat Ba National Park
Location: Cat Ba National Park is located 30 nautical miles from the center of Hai Phong city to the east, bordering Gia Luan commune to the north, HaLong Bay to the east, and Cat Ba town to the west.
Area: 17,362.96 ha
Cat Ba National Park has a topography 500m above sea level, limestone mountains interspersed with narrow valleys. The forests here are evergreen forests. In addition, there are coastal mangroves, freshwater wetlands ... There are 1585 plant species, 343 species of animals, many of which are endemic and rare in the Red Book of Vietnam: black squirrels, Delacour's langur, Collared crows ... plants have: Indian mahogany, nageia fleuryi, madhuca pasquieri ...
When visiting Cat Ba National Park, you can go to take pictures in the valley of the Cat Ba flower, explore the forest ecosystem or go kayaking, scuba diving to watch the coral, explore the fauna, watch orchids ...
5 - Yok Don National Park

Yok Don National Park - Source: Vietnamplus
Location: Yok Don National Park belongs to forests in Vietnam, located in 7 communes of 3 districts: Buon Don district, Ea Sup district, Dak Lak province, and Cu Jut district, Dak Nong province.
Area: 115,545 ha
Most of the forests in Yok Don National Park are natural dipterocarp forests that cover a large flat area. There are 89 species of mammals, 305 species of birds, 48 ​​species of reptiles, 16 species of amphibians, 858 species of plants, hundreds of species of freshwater fish and thousands of insects. In addition, the national park is also home to many endangered species: gray cow, Eld's deer, tiger, red wolf ...
Tourist activities are very exciting in Yok Don, especially elephant riding activities throughout the forest, elephant bathing, feeding elephants, or walking, cycling in the forest, visiting Seven Branch waterfall, Buddha waterfall...
IV - Traveling tips
When traveling to Vietnam, you must prepare both mentally and necessary items and knowledge of the forest. You should choose suitable clothes, avoid short skirts, uncomfortable tight pants when going to the woods. In addition, you should also prepare necessary equipment such as mosquito repellent, oral medicine, insect bites . Choosing the right time to go is also a prerequisite for a fulfilling trip. You need to avoid storms, as storms interfere with your trip and can endanger the safety of yourself and those around you.
The above article has examined the features as well as the beauty of forests in Vietnam. If you have the opportunity to visit each forest to feel all of their specialties, you may realize that Vietnam is a country of "golden forest, silver sea".