The freshwater lakes in Vietnam surrounded by lush green forests and mountains and marked by fresh streams absolutely satisfy you at the first time as an eco-destination combined with lots of things to do and see. The best time to get a lake discovery is from April to September, when the summer time comes with more rain and sunshine.
I - Top 7 famous lakes in Vietnam
1 - Thac Ba lake - Vietnam largest man-made lake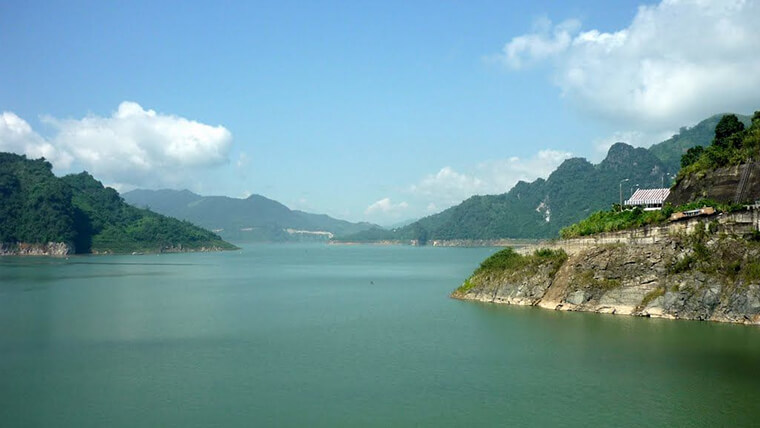 Thac Ba Lake - Source: Vietlandmarks
Located in Yen Bai province, it plays an important role in supplying water for the Thac Ba hydropower plants. The lake covers an area of 23,500 ha with over 1300 islands, a length of 80km, average depth of 15-25m (max depth: 42m). The Thac Ba reservoir was constructed in 1964 & completed in 1971 by a big dam on the Chay river.
Thac Ba lake is one of the 3 largest lakes in Vietnam which is famous for its pristine beauty created by unique stalactites & stalagmites in a cave system hidden in the long limestone mountains, the local villages of minorities living around this lake. It was recognized as a National Cultural-historical Heritage in 1996.
The best ways to discover Thac Ba lake are:
- Take a boat trip along the Chay river to enjoy the fresh air & beautiful landscapes.
- Visit the Thac Ba reservoir - the most important construction in this famous lake in Vietnam.
- Climb the Cao Bien mountain to admire the sunset
- Visit the hidden caves such as Thuy Tien Cave or Xuan Long Cave & admire the natural gemstone paintings
- Explore the life, tradition, customs and cuisine of local tribes
From Hanoi, you can get there by motorbike (motorbike rental in Hanoi) or take a local bus from My Dinh bus station with a price of $5.6.
2 - Top most beautiful lakes in Vietnam - Ba Be Lake
The lake belongs to Bac Kan province (about 200km away from Hanoi), Ba Be Lake nestled in the middle of Ba Be National Park - one of the greatest nature reserves in Vietnam - with a rich biodiversity of various fauna and flora.
Located at an altitude of 145m above sea level, consisting of 3 small lakes, the Ba Be lake is the deepest natural lake of Vietnam with an average depth of 20-25m, covering an area of 650ha.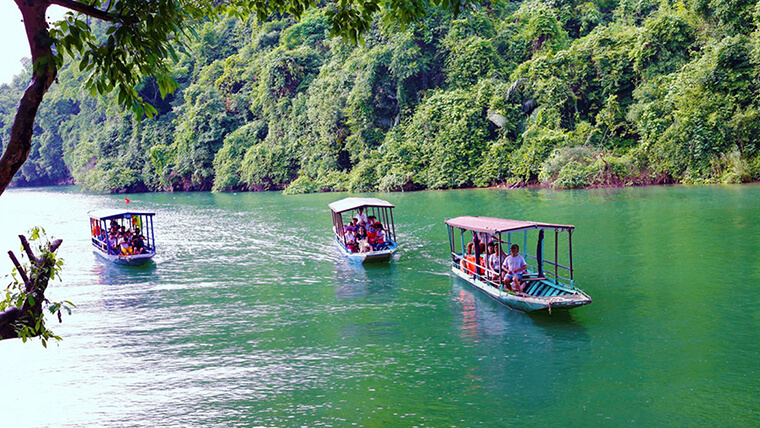 Largest lake in Vietnam - Source: Truyenhinhdulich
Ba Be - one of the most majestic Vietnam fishing lakes, consists of a large area of water surfaces connecting a lot of small lakes, canals, water rice paddies, lush tropical forests, breathtaking foggy mountain ranges. Being recognized as one of the largest freshwater lakes in the world, it is understandable that the scenery here is totally bizarre, literally different from anywhere you've been to before when traveling in Vietnam.
The best time to visit this famous lake in Vietnam is in the spring, summer and autumn. Top things to do in Ba Be lake: trekking into the forest, kayaking, exploring the mysterious caves, fishing over windows of the homestays, farming with the locals, seeing local temples, or taking part in a campfire and so on. There are also several specialties that travelers should try such as Pac Ngoi fish or roasted suckling pig.
3 - West Lake - the largest Vietnam lake in Hanoi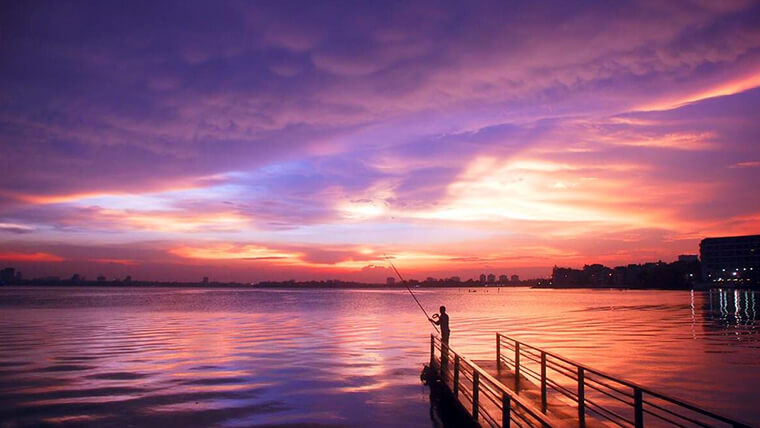 Top lakes in Vietnam to check in - Source: Vietravel
Located in Ho Tay District Hanoi, covering an area of 5.3km2, this is the biggest lake in Hanoi. With a 17 km-long road around the lake, there are lots of unique temples & pagodas, beautiful coffee shops, hotels, and luxury restaurants & bars. The most iconic spots to visit in the Hanoi west lake are Tran Quoc pagoda, Quan Thanh temple, Thanh Nien street, Tay Ho shrine, Shrimp cake restaurant, ice-cream shop,...
The most ideal things to do here are strolling around & riding a bicycle around the lake, taking a duck pedal trip, enjoying top famous specialties such as spring rolls, shrimp cakes,.. and having a lake view coffee date.
4 - Hoan Kiem Lake - top famous lakes in Vietnam
Located in the center of Hanoi, Hoan Kiem Lake or Sword Lake has been recognized to be the heart of the capital for more than one thousand years. When it comes to its name "Sword Lake", we have to mention a glorious legend about King Le Thai To (1385-1433) returning the magic sword after getting rid of the North invaders that resulted in its special name.
This beautiful lake is considered the symbol of the city with lots of famous historic-cultural sites, French-style landmarks, great ancient houses, antiques, hotels and restaurants.
Top places to visit around Hoan Kiem Lake include Ngoc Son Temple, Hanoi Opera House, St.Joseph's Cathedral, Hanoi 30 old streets,...
5 - T'nung Lake - top breathtaking lakes in Vietnam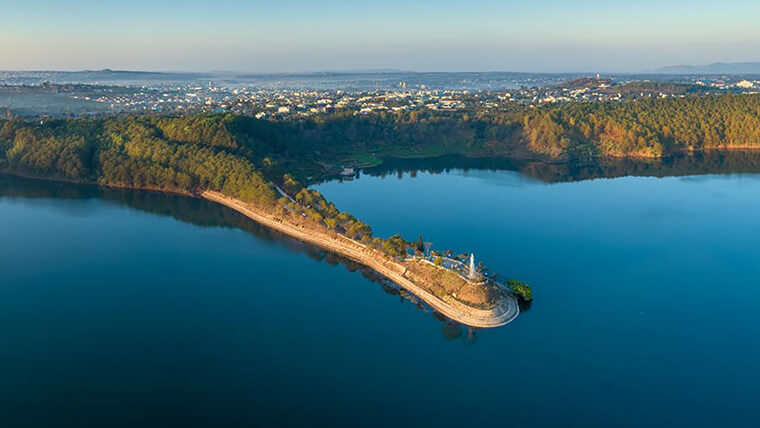 Tnung lake - Source: Vnexpress
Located in the North of Pleiku - an area of the Central Highland in Vietnam, T'nung Lake (also known as Bien Ho or Sea Lake) covers an area of up to 2.28 km2. This lake is well-known with the name "the Inland Sea", and T'nung in the local language also means "the sea located on the mountain". This huge lake was recognized as a National Heritage Site in 1988.
At T'nung Lake in Vietnam's highland, there are pine trees on both sides of the road, creating a beautiful natural landscape for impressive photo taking. Other attractions to visit are: Bu Minh Pagoda - one of the oldest pagodas in Gia Lai province, Chu Dan Ya dormant volcano, Chu Nam mountain and so on.
6 - Than Tho Lake - top beautiful lakes in Vietnam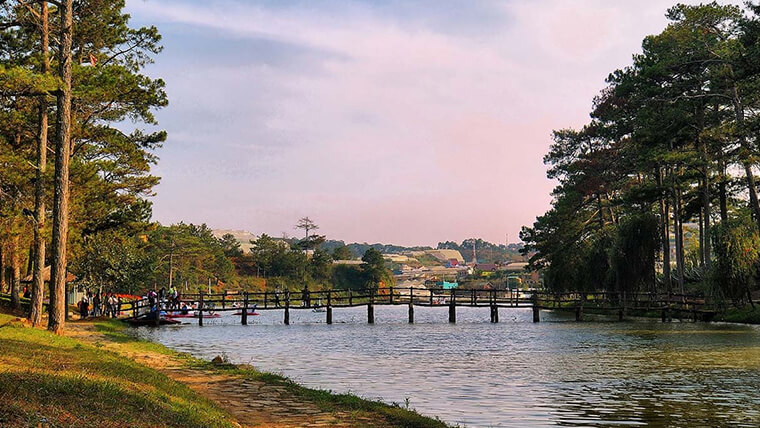 Than Tho Lake - Source: Dulichtoday
Than Tho Lake (Lake of Sighs) is a natural lake that lies to the East of Dalat city of Lam Dong province. Than Tho Vietnam lake was recognized as a National Heritage Site in 1999.
Its special name results from an unfinished love story caused by the misunderstanding between a young couple. The girl in the story had committed suicide in the lake after hearing that her boyfriend was slayed in a battle. When the boy came back home and heard about that, he could not endure affliction and committed suicide in this beautiful lake in Vietnam too. However, it's just an old story and there was no evidence proving that story at all. When it comes to the historical record, its name came from the old name set by the French which means "murmur".
Entrance fee: $0.86
7 - Xuan Huong Lake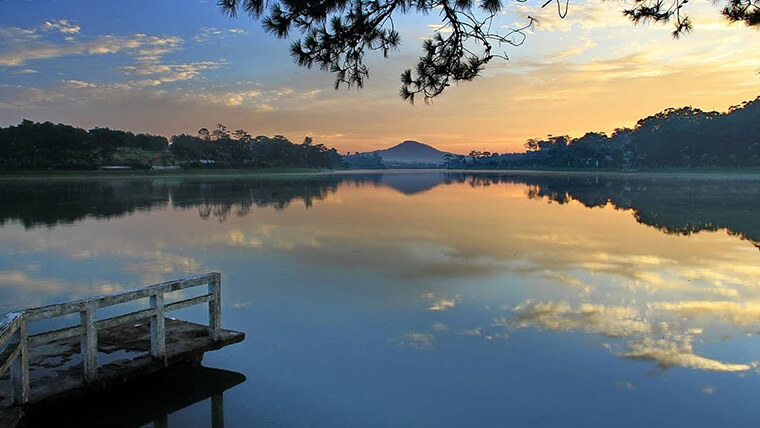 Xuan Huong Lake - Source: Travelsgcc
This is one of the most tranquil and romatic lakes in Vietnam which is shaped like a crescent moon with a total area of 0.25km2. Located in the heart of the city, this is a must-visit spot to almost all tourists traveling to Dalat.
Xuan Huong Lake gathers most of the famous attractions in Dalat city including Dalat flower park, Yesin park, Lam Vien Square, Lumiere park, Cam Ly spring, Da Lat Doi Cu golf course, and so on. The top things to experience: enjoying the lake view, boat riding, carriage riding and tandem bike riding.
II - More interesting information about lakes in Vietnam
- Hanoi is well-known as the "city of lakes" with over 20 lakes.
- Most lakes are found in the north and in the Central highland region.
- Some famous artificial lakes: Thac Ba Lake in Yen Bai province, Hoa Binh Lake in Hoa Binh province, Dau Lake located in the middle of Binh Phuoc, Binh Duong and Tay Ninh province, or Dai Lai Lake in Vinh Phuc province.
Those are the major lakes in Vietnam which are great ideas for admiring top natural landscapes, and having more experiences with the unique culture of the locals living around.