Fansipan Mountain Vietnam belongs to Hoang Lien Son Mountain Range, which is located in Sapa Town, Lao Cai province - about 9 km southwest of Sapa Town Center. At 3143m above sea level, it is the highest peak in Vietnam, Laos, and Cambodia, making its name - "the rooftop of Indochina", which many travelers strongly desire to conquer and simultaneously admire the mesmerizing, charming scenery that nature has bestowed the Northwestern region of the S-shaped country Vietnam.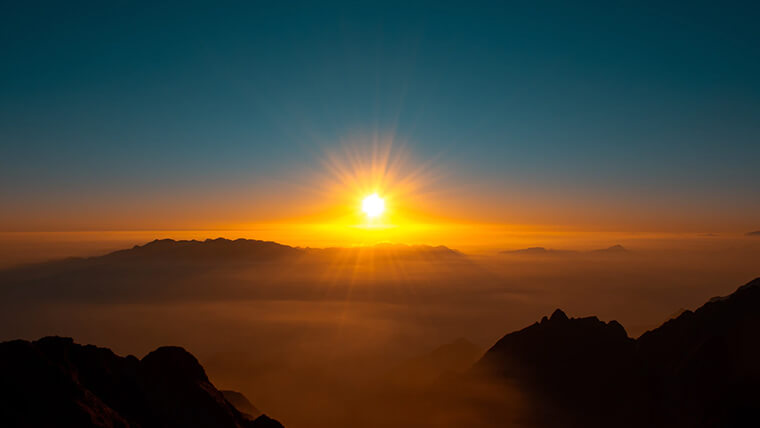 This is a great peak in Vietnam - Source: Constant Loubier
I - Mt Fansipan weather & the best time to visit
The land has a temperate climate all around the year with an average temperature of about 15-18°C. It has two distinct seasons including summers (from May to October) with the cool and rainy climate and winters (from November to April) with the cold and dry weather. However, the most significant feature of the Sapa climate is that you can experience 4 seasons in only one day as a result of the fragmented topography and the special geographical position. The most ideal time to come here is from September to March.
You may concern: When ís the best time to visit Sapa?
Note: Late February is probably the most incredible time for you to see the fascinating scene of flowers blooming along the mountain.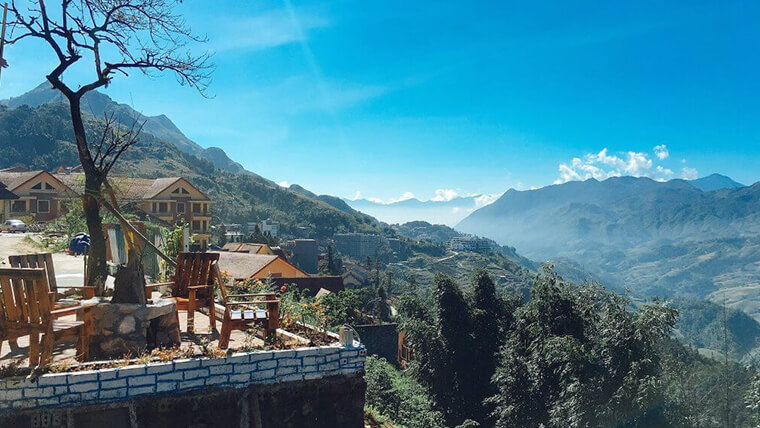 A corner of Sapa - Source: Vivuplus
II - Mount Fansipan cable car: opening hours, ticket & station
1 - General information
The system of cable cars is an important part of Sun World Fansipan Legend, which is a complex of cultural and tourist architecture including cable car service, entertainment, top-notch hotels, and resorts.
- Travel time: 15 minutes
- Frequency: every 5 minutes. After buying the ticket, you can spend 30 minutes strolling around
- Ticket price: 750,000 VND / adult ($33); 550,000 VND / child ($24); Free of charge for kids under 1.4m
- Fansipan cable car opening hours: 8:30am - 4pm
Inside the cable car, you have the opportunity to admire the majestic scenery of Hoang Lien Son mountain range in a panoramic view, feeling the tranquility when watching rice terraces from high above, and extraordinarily colorful flower hills,... all of which harmoniously combine with each other to create the breath-taking picture of the region of Northwest. Those who are passionate about "hunt clouds" will be extremely excited when immersing themselves in the fantastic feeling of going through white clouds.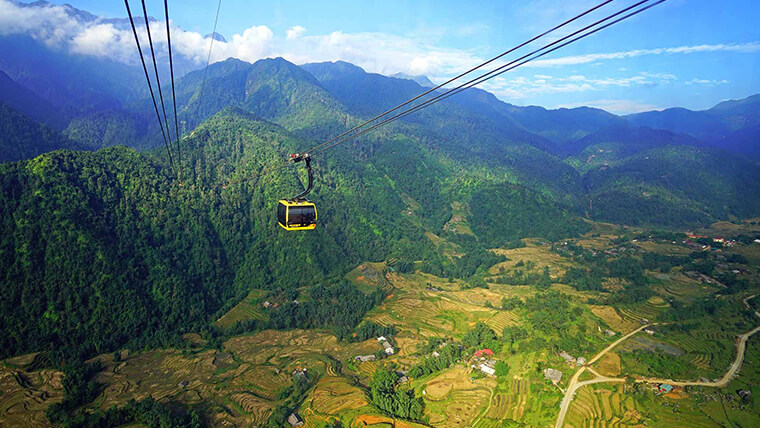 The cable car is the fastest way to reach the peak - Source: Phuotvivu
2 - How to get to Fansipan cable car from Sapa Town Center?
The cable car station is located 3km away from Sapa Town Center. You can get here by:
By taxi
Taxi fare: 30,000 - 50,000 VND / 4-seater car ($1.3 - 2.1)
Travel time: 15 minutes
Some taxi brands in Sapa:
- Mai Linh Lao Cai Taxi: 0214 376 7676
- Fansipan Taxi: 0203 626 262
- Huu Nghi Taxi: 0214 383 4834
By train
Muong Hoa funicular is an amazing choice.
- Itinerary: Sun Plaza in Sapa Town Center - Muong Hoa Valley- cable car
- Travel time: 15 minutes
- Ticket price: 200,000 VND / adult / round-trip ticket ($8.8) & 150,000 VND / kid / round-trip ticket ($6.6)
- Tickets are sold at 1st floor Sun Plaza, Sapa center.
III - Where to visit on the top of Fansipan Mountain Vietnam?
At the top of the mountain, you have a chance to admire the panoramic view of cloud-covered peaks stretching all the way to the horizon. The cloud formations at the top of the mountain change every second, uncovering new shapes and scenes as the earth meets the sky. After landing from the cable car, you can visit several places belonging to Sun World Fansipan Legend as below:
1 - Fansipan Mountain temples & pagodas
Getting out of the station, you get right to Ha Pagoda, where you can pray the best for yourself and your family. Along the 600-stair path to Fan Summit, from Ha pagoda to Thuong pagoda, you can hear relaxing and gentle meditation music. Don't forget to pay a visit to Buddha A Di Da statue, the highest Buddha A Di Da statue in Vietnam with a height of 21.5m. Besides, there are many other impressive sights worth a visit such as the Guanyin Statue, the Bao An Zen Monastery, the Grand Belfry, and the Stupa.
Note:
- You can consider the Fansipan funicular, which takes you to the summit on the 228m way within just 2.5 minutes. The ticket (up the summit): 100,000 VND/ pax ($4.4), ticket (down the mountain peak): 80,000 VND/ pax ($3.52)
- If a funicular railway is not your choice, you can follow the stairs and pass religious architectural works leading to the top of the mountain.
2 - Fansipan Summit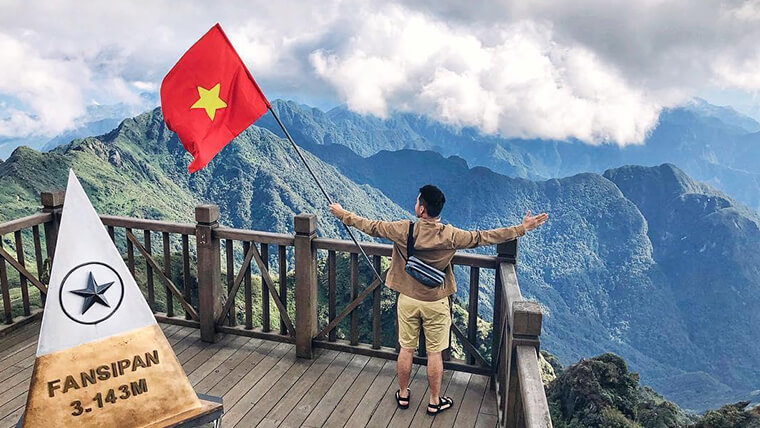 Any visitor on the trip to Sapa in general and Fansipan, in particular, is longing to reach the summit of the mountain which is 3,143 meters high to define his/ her name when being able to reach the rooftop of Indochina. You will be captivated by vast space with the sea of clouds, looking like a fairyland. From the peak, you have a panoramic view of the majestic mountain range, and the complex of pagodas and temples, which seems more splendid and impressive when fully covered by white thick white snow.
IV - How to conquer Fansipan Mountain in Vietnam on your own?
In general, reaching the Fansipan peak is quite challenging but achievable. Currently, there are three chief trekking routes to the summit, each of which is suitable for an individual's interest, physical health, and trekking experience.
Time: 2-5 days
1 - Popular routes
Route 1: From Tram Ton Pass (the lowest difficult level)
In the past, this was the most common route because it is very easy to follow the track, suitable with new and less experienced trekkers. You start from Tram Ton Pass (or also known as O Quy Ho Pass) at an altitude of 1,900m and go to the forest. It takes you about 6 hours to reach the first campsite which is 2200m high and then takes a rest there.
Then, you continue to trek to the second campsite which is 2800m, then the peak of the Fansipan Mountain. This route is easy for trekking but the scenery is not really diverse and beautiful.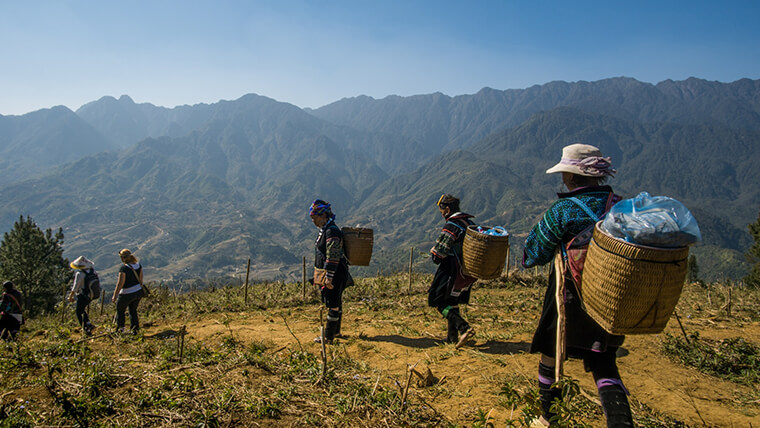 Route 2: Sin Chai Village - Tram Ton Pass (intermediate level)
The route features high slopes, suitable for experienced trekkers who have good physical health. On this route, you will have a chance to admire the magnificent scenery of mountains through many hilltops with golden bamboo and extraordinary nature. Your starting point is Sin Chai village, then trek to campsites which have the height of 2,200 meters and 2,800 meters respectively, finally reaching the Fansipan peak.
Route 3: From Cat Cat Village (the most difficult)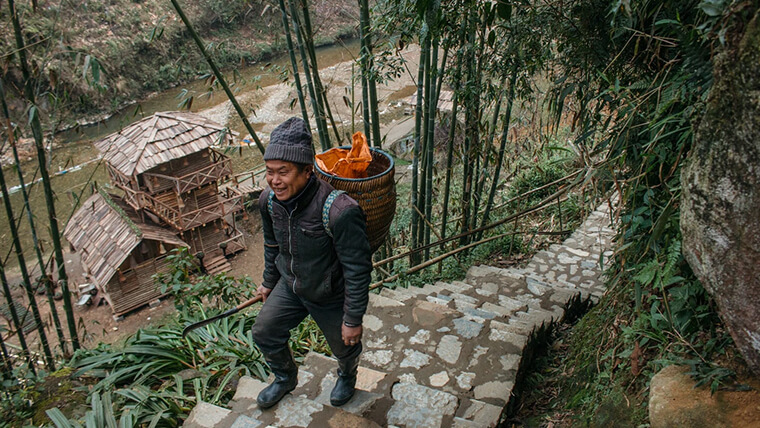 Cat Cat Village - Source: Theculturetrip
This is the most fascinating but most challenging trail, featuring the long path and steep slope, and continuously different terrains with many obstacles, which is spent for professional climbers who have very good health and durability.
You start from Cat Cat village, trek to Tram Ton Pass or Sin Chai village, then climb to the top of the Sapa Fansipan Mountain.
You can trek to the peak independently with a local guide / a porter or buy a trekking tour from a travel operator.
2 - Essential information
Cost: Cost for trekking by yourself: from 700,000 VND ($30), basically including:
- Camping, eating: 150,000 - 200,000 VND / person ($6.6 - 8.8)
- Hiring a tour guide: about 200,000 VND ($8.8)
- Getting a permit (from the Center for Ecotourism and Environmental Education in San Sa Ho Commune): 200,000 VND / person ($8.8)
- Other fees: 100,000 VND ($4.4)
Travel agency operating the tour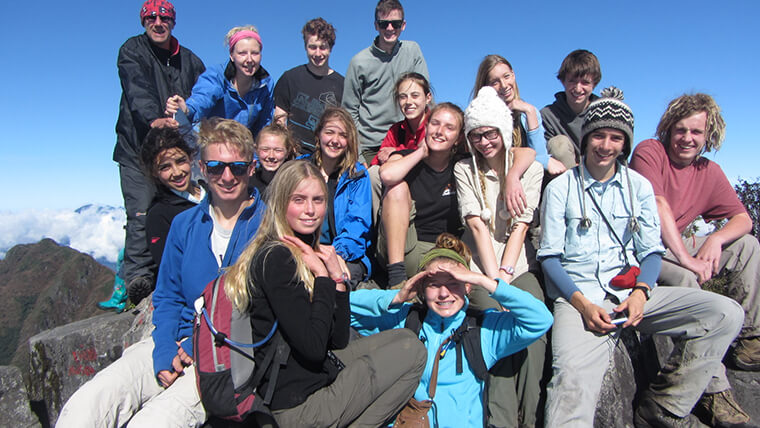 It is highly recommended for you to book a Mount Fansipan trekking tour of Sapa Tour from Vietnam Nomad Trails:
- Contact: +84 214 3872 192
- Price: 2,730,000 - 3,112,000 VND / adult ($120 - 136.65)
- Duration: 1-2 days
- Pick-up point: Lao Cai Station or hotels in Sapa Town
It may interest you: Fansipan & 9 other greatest mountains in Vietnam
What should you prepare?
Hire a local porter
→ A local guide can show you which route to go and give advice about what should not be missed and tackle obstacles along the trail.
Good health
→ Hiking Fansipan on your own is a challenge that is completely different from your daily exercise at home requiring perfect physical and mental health. Therefore, it is not suitable for those who have health problems especially one having heart disease or high blood pressure.
Food & drink
→ You should prepare your own food because the way to the summit is very scarce. Easy-to-bring but rich-energy food such as cheese, bread, chocolate, or boiled eggs should be preferred. Also, remember to bring enough water for the journey because it is difficult to find freshwater here.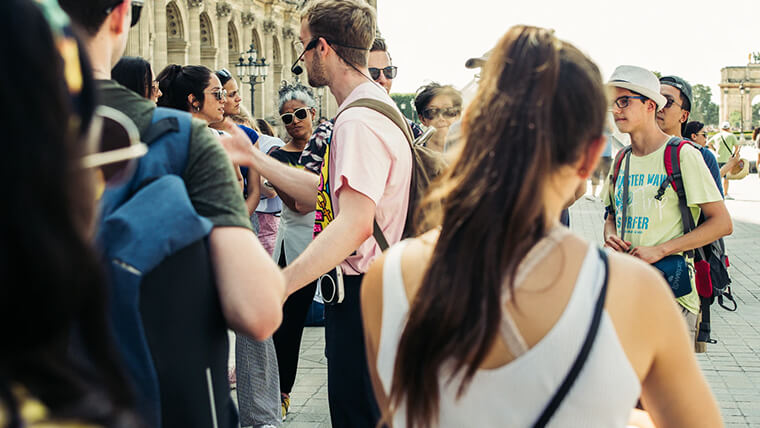 Clothes
→ On the way to trekking Fansipan Mountain Sapa, you should bring warm clothes such as sweaters or jackets due to the always cool temperature in Sapa and it's even cooler when you get higher. Shoes that are particularly designed for trekking or waterproof are better as there may be little rain or streams on the road.
Travel gear
→ A light backpack that weighs less than 5kg will help you move more easily and conveniently. The backpack has strong straps that tightly tie with the chest and belly is the best choice. As you cannot conquer Fan in just one day, sleeping bags and tents are some of the most essential tools that you need to bring along!
Registration
→ Before climbing Mount Fansipan, you must register a contract with Hoang Lien National Park. Don't worry because you can easily do that via any tour company in the area. These companies are responsible for preparing the registration, buying tickets, and paying other fees due to the law and regulation of the Hoang Lien National Park.
Fansipan Mountain or "the rooftop" of Indochina outstanding is always an attractive destination for those who are longing to discover the extraordinary of the Northwestern region in Vietnam and enjoy the most exciting experience when discovering the beauty of nature and local areas on the way to reach the peak.