For having the best Hoang Su Phi tours in Ha Giang Vietnam, you should take a quick look at this article for a well-preparation before going to explore. Located in the northern-end land, Ha Giang province, this place is a frontier district, typical mountainous terrain, sharing the border with China, home of 12 ethnic minority groups, mainly the Dzao, the Nung, and the H'Mong. Plenty of unique and spiritual festivals are celebrating all-year-round: Fire Dancing (Barefoot Dances on Fire Performance), Forest Worshiping Ritual (Cúng Rừng), Maturity Ritual (Lễ Cấp Sắc), and Blessing a Fruitful Coming Crop Festival (Khu Cù Tê) are popular traditional festivals in Hoang Su Phi Ha Giang.
The headwater of the Chay river is at the mountain of this district with the mountainous terrain and straight slope hillside, the terraced fields selected to adapt to the topography for wet rice cultivation. The terraced model fields themselves create a magical, unique attraction for this destination like Terraced Paddy fields, Primeval forest, and Tea fields. The top is Chiêu Lầu Thi Peak at an elevation of approximately 2,400m above sea level, encouraging rock climbing, natural exploring, and adventure wanderlust to explore.
I - How to get to Hoang Su Phi Vietnam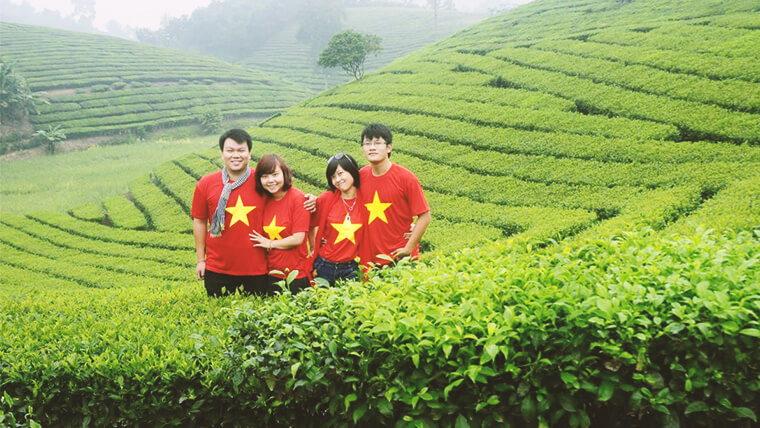 Hoang Su Phi tea field - Source: Internet
From Hanoi, there are two main ways to get to this amazing land:
- By public transportation (sleeping bus)
- By private rental car/ self-driving motorbike:
1 - By public transportation (sleeping bus)
- The route: Hanoi - Ha Giang city (300km) & Ha Giang city - Hoang Su Phi (100km)
- Traveling time: 6-8 hours (Hanoi - Ha Giang city) + 3-5 hours (Ha Giang city - Hoang Su Phi)
- Total cost:
+ Hanoi-Ha Giang city: Sleeping bus ticket price 200.000 - 300,000 VND ($8.6 - 12.93)
+ Ha Giang city-Hoang Su Phi: by taxi 600,000 VND ($25.86) or motorbike rental 150,000 - 450,000 VND/ motorbike/ day ($6.4 - 19.4).
Note:
Route 1: Hanoi - Ha Giang
From Hanoi, you should take an overnight bus or limousine to Ha Giang city to save time for relaxing. Most of the buses depart at 8-9pm in My Dinh bus station and arrive in Ha Giang city at 5am. Limousines are much more convenient in time and pick-up & drop-off places.
For more information about bus and limousine from Hanoi to Ha Giang
Route 2: Ha Giang city - Hoang Su Phi
From Ha Giang city, you can catch a taxi or rent a motorbike with a price of 150,000 - 450,000VND/ motorbike/day ($6.4 - 19.4).
Taxis in Ha Giang:
- Ha Giang Taxi: 0219 3828 282
- Ha Giang Mai Linh Taxi: 0219 6252 525
- Quảng Hồng Taxi: 094 480 08 48
Motorbike rental shops are available in the Ha Giang city:
- Motogo: Group 1, Cau Me village, Phương Thiện, Ha Giang (about 300m from the city bus station) - Phone number: 0338. 023 344.
- Ha Giang - Giang Sơn Motorbike rental: Km3, Cau Me, Ha Giang city - Phone number: 0941 719 955.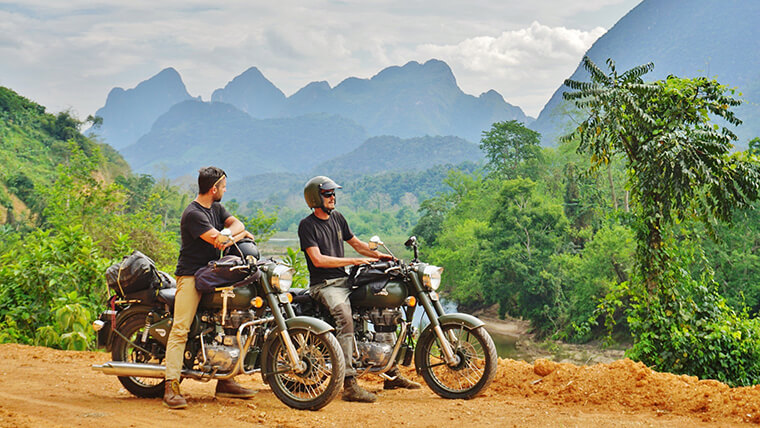 Moving Motorcycle - Source: Vintagerides
2 - By private rental car/ self-driving motorbike to Hoang Su Phi Ha Giang
This place is located 310km north of Hanoi, about 7 hours' drive along the Asia HighWay (AH14) interlinks to the National Road 2 (QL2). Car rental (taxi) and motorbike rental are the best comfy way to travel.
Car rental or taxi service cost is about 3.000.000 - 3.500.000 VND ($129 - 150)/ 4-seater car/ way.
Motorbike rental in Hanoi costs about 200,000 VND/ day ($8.6).
II - Hoang Su Phi Vietnam travel guide
1 - When is the best time to visit?
September and October are the best time to experience the breathtaking scenery of this land. It is the rice harvesting season, the landscape is charming and vibrant with ready harvested golden rice. Additionally, travelers also have the opportunity to explore the harvest bustling activities of the local people: rice harvesting, rice plucking, and rice drying.
2 - Exotic attractions in Hoang Su Phi
The rice terraces
Typical mountainous terrain combined with a year-round misty atmosphere create one of the most fascinating destinations in the country. The round, high, stepped, and parallel terraced fields charm travelers here. The harmonized combination with old-growth forest, blue sky, and yellow-sunshine capture travelers' memories.
You maybe interested in: Mu Cang Chai in rip rice season
The steepest terraced fields in the country have been created by the local people, recognized, and explored by visitors. The terraced fields in Nậm Tý village, Luốc village, and Thông Nguyên village in Thau Hồ commune are popular sightseeing points, welcoming tourists in the region.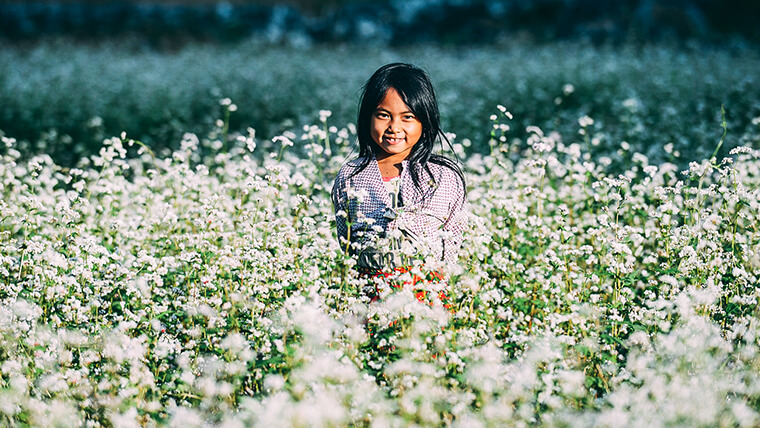 Buckwheat flowers - Source: Kenh14
Buckwheat hills
Buckwheat in Hoang Su Phi Ha Giang is wild growth wheat, naturally seeding in the rocky plateau in the headland in Ha Giang province. The buckwheat flowers are blossoming from October to December, well growing in the rocky slope hills. The whole fields are with a new brilliant warm incarnadine theme coated and spread out during the ready harvesting period. The buckwheat blossoms with white snow once flourished, purple-pink turnout, and finally growing dark red indicates the harvesting period. It is a tremendous heartfelt experience to immerse yourself in the vast peaceful white-pink fluttering buckwheat fields in the breezing monsoon.
Con Linh mountain range - nice place for a Hoang Su Phi trekking tour
Situated 46km north from Ha Giang town, the mountain range is a top mount to conquer in northern Vietnam. The breathtaking & gorgeous scenery of Chay river headwater experienced from the northeast summit at an elevation of 2,419m above sea level. Down at the mountain hill is a primary forest urged to preserve, considering the "sacred" mountain of the La Chi ethnic group. Strongly recommended to the shepherd with an experienced resourceful and healthy local guide to explore the arduous and slope of unbeaten trails.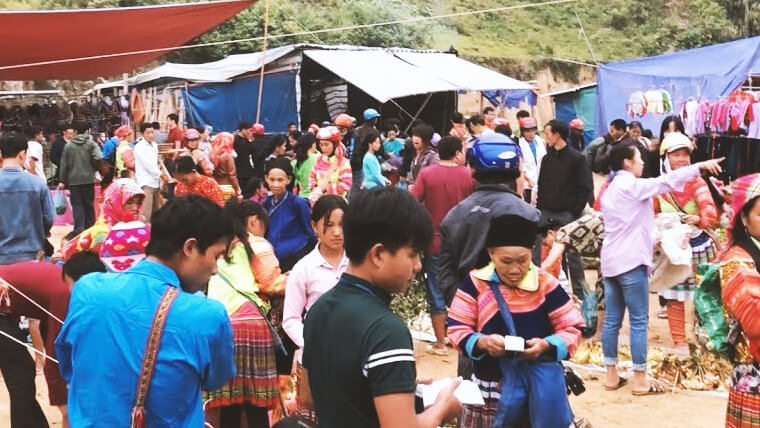 Hoang Su Phi Fair market - Source: Thinh Nguyen
Fair Market
This biggest market in the district of Vinh Quang, Hoang Su Phi is a characteristic and unique market of the mountainous northwest area, weekly converged on Sundays for goods trading, economic and culture exchanging. On the market day, the inhabitants buy and sell brocade fabric, bamboo, rattan, handicraft, other households, and homemade products. It is a meeting and interacting point for boys and girls to find their partners. Moreover, traveling to the market to witness colorful costumes of the residents harmonized with a bustling scene on a fair day.
La Chi's Ancient Tombs
One of the most impressive places to see in Hoang Su Phi district. Hundreds of accent graves built with 1.5m in height and 15-25 square meters were found scattered in slope hillside of Bản Phùng, and Bản Máy commune, partially in Bản Díu commune of Xín Mần district. Legendary, these are replica and fake ones built by succeeding generations against tomb raiders hunting for treasures. These graves dedicated to the regional headman Hoàng Vần Thùng (Hoàng Văn Đồng) in the Nguyen Dynasty, who reclaimed the land, guided the locals to grow corn, rice, mining, and against evil trespassers. The site carries the belief in the beauty of spirituality and the architecture of the indigenous people.
3 - Special dishes and specialties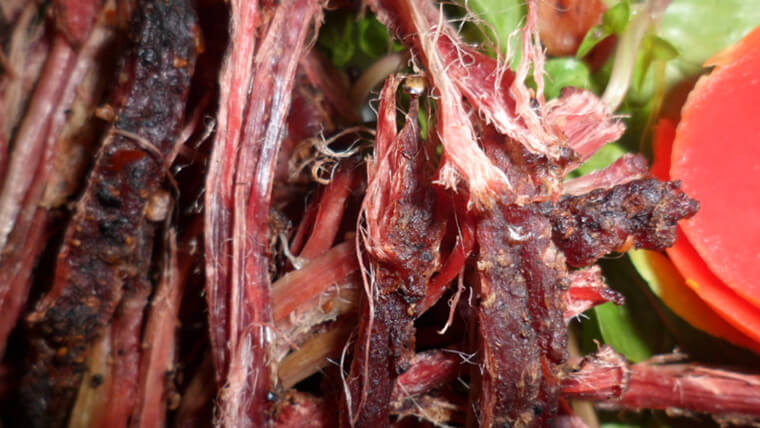 Smoked Buffalo Meat - Source: VnExpress
Delicious dishes and typical food that you should try
Au Tau porridge (Ấu Tẩu): The Au root is the main ingredient of the soup, making it the distinctive flavor of the dish. The first nibbles come with a bitter taste. Later bites gain lingering freshness while the bitterness is mitigated and getting pleasant to its characteristic flavor. The porridge gets adopted for its harmonization of bitter roots, flavorsome fat, and delicious taste. The inhabitants claimed the porridge improves sleep at night, helps tendons relax, and relieve muscle pain.
Rice Field Rat Meat: This is another traditional dish in Hoang Su Phi which is a bit scary, weird, and revolting to most people, but to the locals it is an indispensable signature staple food served in all the festivals, and special occasions of the La Chi ethnic minority group. Legend has it that rats sacrificed in the ritual to worship the Serpent God in Phung Village to bless peace to the villagers.
Smoked Buffalo Meat: A highly recommended dish in Hoang Su Phi that should be picked when drinking. The fresh and tender buffalo meat is well-selected and cut in medium slabs well-mixed and marinated with salt, pepper, chili powder, and cape yellowwood (MắcKén), hanging over, smoked, and dried by the cooking kitchen. After weeks of smoking & drying, the meat comes out with a distinctive tingling sensation, chewy, and sweet taste. The locals are amazed to gather enjoying homemade corn moonshine while tasting smoked buffalo meat by the firewood.
Horse Meat Hot Pot (Thắng Cố in Vietnamese): This typical dish is not only famous in Hoang Su Phi, but also in all mountainous northern region of Vietnam, A blended combination of horsemeat, pork, or beef with offal, blood cubes, kidneys stir-fried, and hours stewing then serving as a hot pot accompanied with various vegetables of cabbage, star gooseberry leaves, and tofu dunk in the steamy stew. It is a fat and gamey tasting of offal pairing with pungent mountainous spices of cardamom and star anise. Sipping a cup of high proof corn spirits while nibbling the hearty, savory hot dish helps warm you inside out in the chilly nights of the mountainous northwest territory.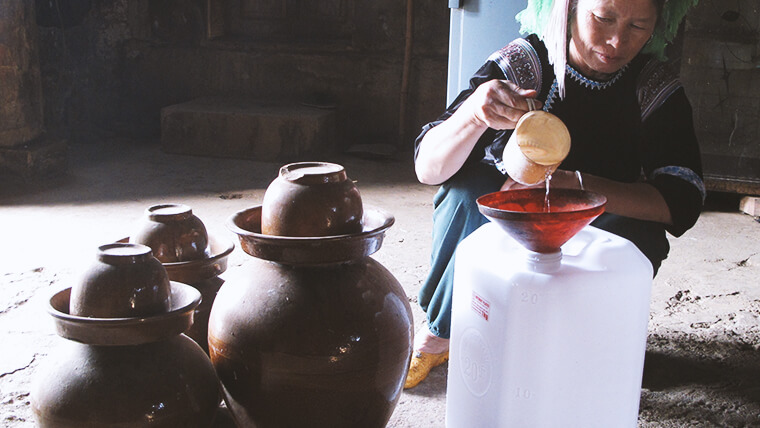 Nang Don Rice Wine - Source: Ruouthoc
Nang Don Rice Wine: It is a pity not to drink this type of wine when visiting Hoang Su Phi Ha Giang. A blended combination of the fine upland rice and medicinal plants, fermented and brewed with traditional leaf yeast by the ethnic group of Nang Don commune, aged in pottery jars, stored in the wine cellar for almost a year before consuming. Nevertheless, with its softly perceptible sweetness and rich taste, it's easy to get a pink face and get drunk. Rice wine, corn wine (brewed from corn) is well-known in the region; take your chance you have to savor the local specialties.
Shan Tuyet Tea in Hoang Su Phi mountain: Naturally planted and grown at a latitude over 1,300m above sea level on the Fin Ho range, it offers a pure and aromatic taste. Additionally, to its purity, the growth is organic, and the harvesting process is a manual method, using no preservatives, artificial flavors, or artificial colors. It is a significant present to bring home for family and friends besides witnessing the tea picking, drying, and packing process.
You may also be interested in: Discover Vietnamese cuisine
4 - Accommodation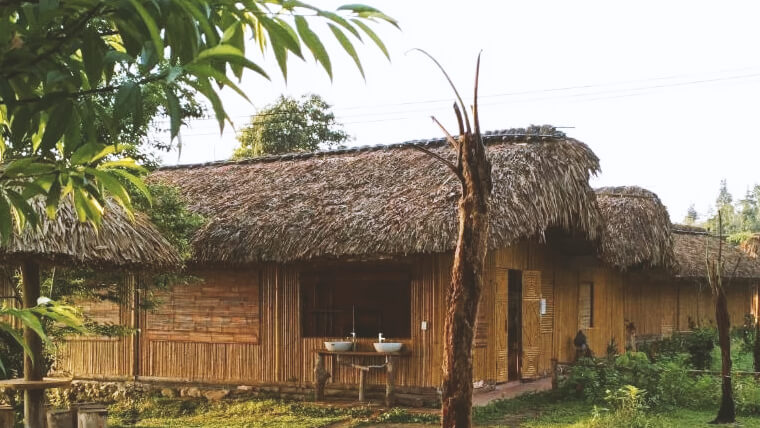 Hoang Su Phi Bungalow - Source: Booking
Most of the accommodations in Hoang Su Phi are mainly affordable hotels and homestays. Here are the recommended ones in the list:
Long Chieu Homestay
Typical stilt houses architecture homestay, farming tools, and daily life tools displayed for decor and enjoy daily meals with the inhabitants. Recommended for backpackers and young travelers.
Address: Tan Phong Commune
Room rate: 120,000 VND/ person/ night ($5.17)
Phone: (+84) 945.068.433
Hoang Su Phi Bungalow
This bungalow is designed sophisticatedly and skillfully according to the model of Vietnamese stilt houses with log cabins made by bamboo walls & thatched roofs. The houses are built on green fields offering stunning views from the balconies. Location: Village Nam Hong, Thong Nguyen Commune
Room rate: from 810,000 VND/ bungalow/ night ($34.9)
Phone: (+84) 948.052.889
Kinh Homestay
Illyric stilt houses located in the northwest green topography of Hoang Su Phi, surrounded by buckwheat fields, giving a fresh-green atmosphere of picturesque scenery, also nibble local specialties. Recommended for budget and low demanding travelers.
Address: Village Nam Hong, Thong Nguyen Commune
Room rate: 120,000 VND/ room/ night ($5.17)
Phone: (+84) 988.070.619
Hoang Su Phi Lodge: A regional style house on stilt designed, well-equipped facilities, panoramic views of nature, and daily life of residents. A memorable vacation experience is expected to be spent at the lodge.
Address: Nam Hong Village, Thong Nguyen Commune (near Kinh Homestay)
Room rate: 1,400,000 VND/ room/ night ($60.34)
Contact: (+84) 866.196.878
Sơn Pú Homestay: This is a truly indigenous stilt house in Hoang Su Phi designed, log rooms, thatched roofs and a large garden.
Address: Village Nam Hong, Thong Nguyen Commune
Room rate (private mattresses, sharing floor): 90,000 VND/ night ($3.88)
Phone: (+84) 942.738.851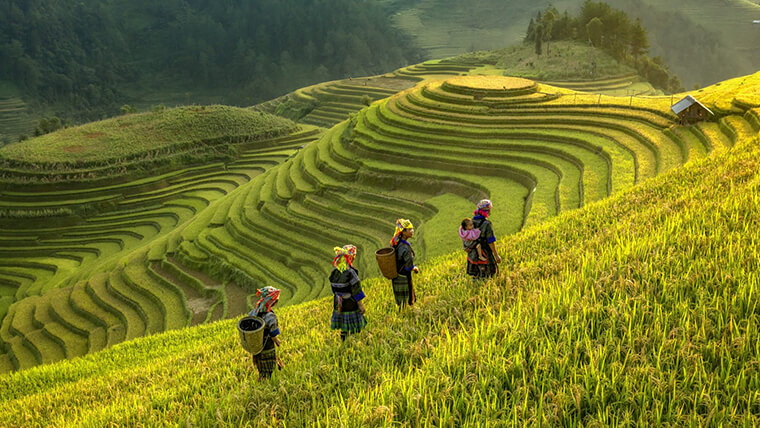 Beautiful scene - Source: Baolau
Hoang Su Phi Vietnam with spectacular landscape, unique indigenous culture, and incredible cuisine is definitely in your Northern Vietnam travel list. This destination is quite hard to approach but it is absolutely worthwhile for an amazing experience in a remote mountainous place and unique culture of local people.
This travel guide to a beautiful & less-touristy land with information of getting ways, top things to see, food and accommodation are hoped to be useful to those who want to have unmissable Hoang Su Phi tours in Ha Giang Vietnam.