There are many stunning mountains in Vietnam for great trips. Vietnam has up to a quarter of mountainous terrain, but they are mainly low hills. Mountains over 1000m high only account for 1%. The biggest mountain ranges in Vietnam are concentrated in the Northwest region. The further east, the lower the mountain ranges tend to be.
From Hai Van pass back to the South, the terrain is more simple. There are no long limestone mountains in this area, but only large masses of marble. The best time to visit these mountains is around November to April, because this is the dry season, the weather is clear and suitable for mountaineering and sightseeing.
I - Top 5 highest mountains in Vietnam for trekholics
Some safety notes for trekkers:
- Observe the weather carefully to prepare suitable clothing.
- Foreign tourists should go with a crew, hire an experienced instructor or a skilled mountain climber
- You should train yourself for climbing the mountain because it always takes a great deal of effort, especially for a long climbing journey.
- You need to prepare all the necessary items such as tents, dry food, water, blankets, warm clothes, lighters, etc. and store the phone numbers in case of emergency as the trip can last several days on the mountain.
1 - Fansipan Mountain - the highest mountain in Vietnam
Fansipan, known as the "the roof of Indochina," belongs to the Hoang Lien Son mountain range in Sapa town located at an altitude of 3,143m above sea level. To conquer Fansipan Mountain, you can trekk following the usual road or take a cable car.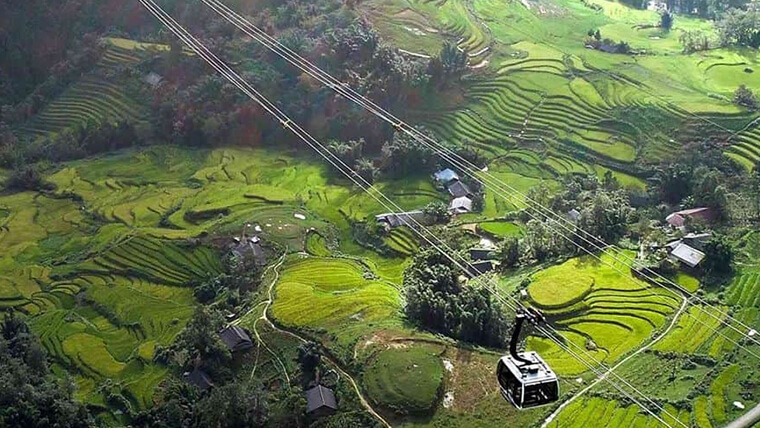 Fansipan mountain cable car - Source: Fansipan Legend
A ticket to Mount Fansipan costs 750,000 VND/adult & 550,000 VND/kid. Experiencing cable cars provides you with panoramic views of Hoang Lien Son valley and the marvellous feeling of soaring through fast moving clouds and fresh air.
The trekking journey to conquer this tallest mountain in Vietnam consumes a lot of stamina, so you must prepare both physical health and personal belongings very carefully. It can take around 2-4 days to complete the journey. If you can find a guide, it will be a little easier to get through this mountain.
You can set up a tent, then sleep in the forest at a height of 2,200 m. The temperature at this height is around 2-10°C, so you should prepare sleeping bags and clothing items to keep yourself warm and not catch a cold.
You will admire some great places during the climbing ride, such as Sapa Sky Gate, Van Son Tra Tea Shop, Fansipan Pagoda Complex.
2 - Pu Si Lung - top ideal mountains in Vietnam for adventure-holics
Pu Si Lung is located near the Vietnam-China border landmark No.42, in Pa Ve Su commune, Muong Te district, Lai Chau province, with an altitude of 3,083m above sea level. Although not as high as Mount Fansipan, this is the most challenging mountain to conquer because of the long climbing distance. The total travel and return distance is more than 100km. Several obstacles are waiting during the climbing trip, which are the rocky rapids, followed by large flowing streams.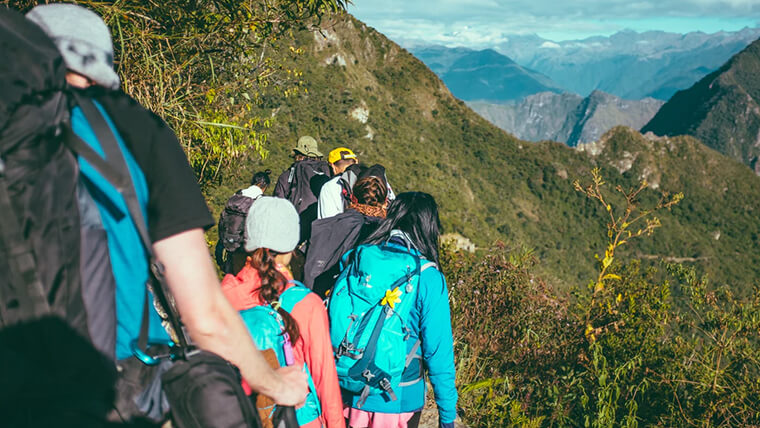 Pu Si Lung is one of the best mountains to climb in Vietnam - Source: Ashim D'Silva
To climb Pu Si Lung, you need a license issued by the Border Guard Command of Lai Chau province on Hoang Van Thai Road, Lai Chau city. There is no fee to apply for permission, but don't forget to bring your ID card to complete the procedure.
You can rest at Sin Chai A village - where La Hu people live. Most of the time you are in the woods, so you should bring tents or fireplaces to set up and use. There are many popular places awaiting you on the climbing trip, such as border mark 42, primitive forests, Ba Tieng slope, romantic Nam Si Luong stream, Co Chay mountain,...
3 - Pu Ta Leng Mountain
Pu Ta Leng located 3,049 meters above sea level, on Hoang Lien Son mountain range at Ta Leng Village, Tam Duong Commune, Lai Chau Province, is one of the best mountains in Vietnam.
For the journey, you can climb about 8 hours, then stop to set up a rest tent at the 2,400m milestone when the first day is over, then the next day climb to the peak of the 3,049m milestone. There are several small streams along the way. The magnificent azalea forest is one of the unique features of Putaleng mountain. You can hire a group of porters (guides) for a fun trip without worrying about getting lost because they are very enthusiastic indigenous people.
Porter rental fee: 500,000 VND / day ($21.55)
4 - Bach Moc Luong Tu
Bach Moc Luong Tu is part of Ky Quan San Mountain Range - one of the most majestic mountain ranges in Vietnam. It is the natural border between Sin Suoi Ho Commune, Phong Tho District, Lai Chau Province, and Sang Ma Sao Commune, Bat Xat District, Lao Cai Province. The height of the mountain is 3,049 meters above sea level.
The appropriate time to conquer Bach Moc Luong Tu's peak is from late autumn to early spring (September - January). Climbing in the winter is also a fantastic experience because sometimes travelers can see the peak covered by white snow. You can climb this Vietnam mountain from Lai Chau province or Lao Cai province.
Starting the journey from Lao Cai, you do not need to apply for a permit, but from Lai Chau, you need to apply for a permit from the Provincial Border Guard Command at Hoang Van Thai Street, Lai Chau City, without paying any fees.
During the trip, travelers should hire porters to guide the route at 250,000-300,000 VND ($10.78-12.93)/day/porter. There are some of the best-known porters in the area: in the direction of Lao Cai: Mr.Tủa (0854249308), Mr.Páo (0369003251); in the direction of Lai Chau: Mr.Quẩy (0843310026), A Sìn (0944697096),...
Compared to other peaks, when climbing to the top of Bach Moc Luong Tu mountain of Vietnam with a local porter, the porter can prepare food for meals with notice given about 1-2 days in advance. The porters will pack the main meal, but all sorts of snacks should be prepared for extra meals by travelers.
About the stopping spot, if travelers follow the Lao Cai path, at landmark 2,100m, There are some tents with the capacity of 50 people, providing blankets and pillows for travellers to take a rest. If you choose to go from Lai Chau, there are various flat places for travelers to rest along the way. However, you need to bring all the equipment to set up tents, shacks, sleeping bags.
5 - Tay Con Linh - top mountains in Vietnam for climbers
Tay Con Linh mountain is situated above sea level of 2,427m, spreading the Districts of Hoang Su Phi and Vi Xuyen, Ha Giang province. Because of its dangerous, rough, dense and deep road, it is much more challenging to conquer this mountain compared to Mount Fansipan. The journey to the top of Tay Con Linh brings you a lot of great things because of the beautiful space and landscape.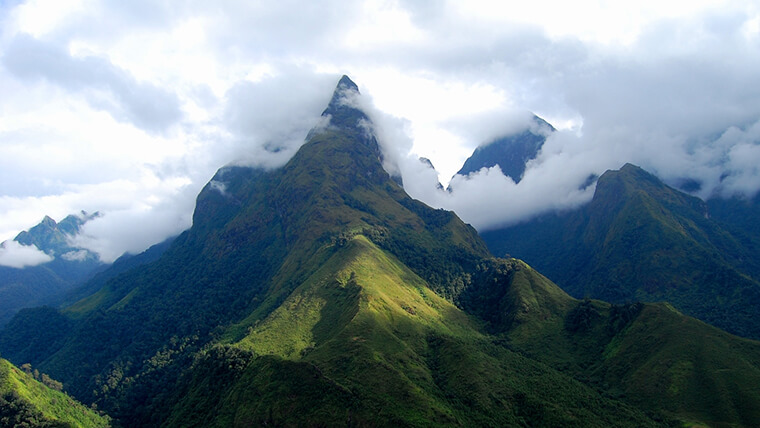 Tay Con Linh - a famous mountain in Vietnam is a great challenge for climbers - Source: Internet
The first journey to an altitude of 1,600m has mainly rocky soil, ramps, etc. you can set up camps, tents, resting tarpaulin, then set fire, eat and drink with their prepared food for this milestone. The next trip to the top of the mountain is tricky because you have to go through primitive forests, steep rocky paths, trails,.... These are the reed-filled mountains, primeval orchid forests, azaleas, and picturesque terraced fields. Tay Con Linh is the most spectacular cloud hunting spot in the North of Vietnam in particular.
II - The famous mountains in Vietnam for sightseeing
1 - Mua Mountain (Dancing Mountain)
Famous Dancing Mountain also known as Ngo Long Mountain is located in Khe Dau Ha village, Ninh Xuan commune, Hoa Lu district, Ninh Binh province. This mountain was recognized as Vietnam's "great wall" miniature by UNESCO. The fare to visit this mountain is 100 000 VND ($4.31) per person. You will need to take a stroll of nearly 500 long stone steps to visit this mountain. You will visit the Hoang Ho cave, the Stupa, the worship place of the Bodhisattva statue, the dragon statue, etc., along the journey up to the stairs. On the top of the Dancing Mountain, you can enjoy the great view of Tam Coc-Bich Dong (Bich Dong Pagoda), Trang An, Bai Dinh Pagoda, etc.
2 - Ba Den Mountain (Black Virgin Mountain) - top great mountains in Vietnam
Black Virgin, located in Thanh Tan commune, Tay Ninh city, Tay Ninh province, is known as "the roof of the Southeast" with a height of 986m. The charming natural scenery here is ideal for recreational climbing activities during the day. You can take a cable car around 1,200m or follow the modern slide method to visit this mountain, but the traditional way many people prefer is to climb the typical path.
Climbing this mountain in Vietnam takes from half a day to two days. You should climb in the early morning if you go up and down within the day, or if you want to set up a tent overnight, you can start climbing at night. You should avoid stormy times or some months in festival seasons such as January, February, when the track is crowded with people, which makes it very hard to visit and explore this mountainous area. Some amazing places to explore in Black Virgin Mountain are Hạ pagoda, Ba Co cave (Three Ladies cave), Ong Ho cave (Mr Tiger cave), Hang pagoda,...
3 - Bach Ma Mountain - a spectacular mountain range in Vietnam
Within Bach Ma National Park's complex, the Bach Ma Mountain range is the natural boundary between Thua Thien Hue province and Danang city.
To enter the National Park, the fare is 40,000 VND / person ($1.72), then you can hire a car to the top of the mountain for 900,000 VND / round trip ($38.79) or you can climb a distance of approximately 19km.
You can visit some unique places, such as Hai Vong Watch Tower, Do Quyen Waterfall,... Note that tourism services in this Vietnam mountain are not very well evolved here, food services have not yet been developed. As a result, you can bring a mini gas stove or ready-to-eat food to a charcoal grill,...
4 - LangBiang Mountain
LangBiang is located in the LangBiang tourist area, in Lac Duong district, Dalat city, Lam Dong province. The admission fee to enter this mountain is 30,000 VND ($1.29) per person. LangBiang is also known as Mother Mountain, with an altitude of 2,167m.
There are plenty of games organized by the management of the region in the tourist area, such as paragliding, climbing about 2 km to the top of the mountain,... There is a relatively large valley at the foot of this range, called the Hundred - Year Valley. It is planned as an area for entertainment and tourism.
Visiting LangBiang - one of the most massive mountains in Vietnam, you may have a chance to enjoy the special Gong culture program (the ritual of community life and main ceremony instrument), experience campfire activities, or try drinking wine with the Lach ethnic group here. On the top of LangBiang, there are a large number of exciting activities such as horse riding photography, city observation binoculars,...
You should visit LangBiang Mountain in the morning when the weather is sunny and avoid going in the afternoon when it's already cloudy.
5 - Ngu Hanh Son (Marble Mountain)
Marble Mountains, also known as Non Nuoc Mountain, is a famous mountain of Vietnam, belonging to Hoa Hai ward, Ngu Hanh Son district, Da Nang city. Marble Mountain includes 5 mountains: Kim Son (Metal Mountain), Thuy Son (Water Mountain), Moc Son (Wood Mountain), Hoa Son (Fire Mountain), and Tho Son (Earth Mountain).
Thuy Son (Water Mountain) is the first and largest of the five prominent mountains. You can choose to climb over a hundred steps or take the elevator at 30,000 VND ($1.29) per person per round trip. You can admire the lovely views of Da Nang City from Water Mountain.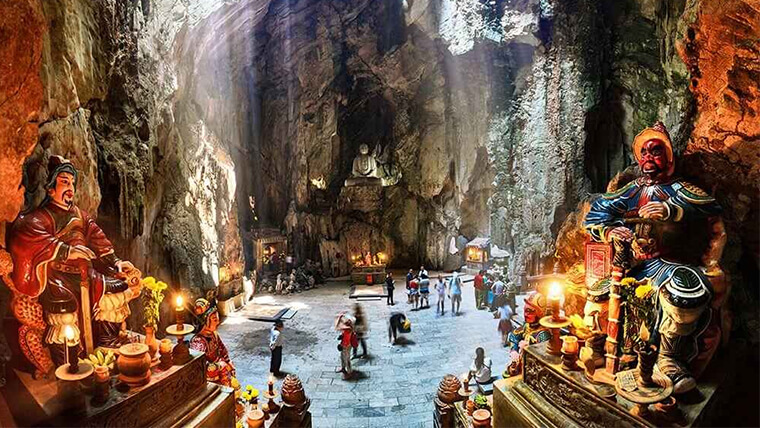 Marble Mountains in Danang City - top mountains of Vietnam that should not be missed - Source: Danang Fantasticity
There is Linh Ung Pagoda, Huyen Khong Cave, Am Phu Cave,... in this mountain. Next, Metal Mountain looks like a lying bell upside down. Wood Mountain has a white marble stone similar to people's shape, and the local people often call it "Co Mu" or Guan Yin. Fire Mountain has double mountains; one mountain has such a long stretch of caves; the other has a high peak and steep slope. Earth Mountain is a lowland and stretching mountain.
Vietnam has many beautiful natural landscapes, majestic mountains, gorgeous vistas, and lots of great activities to explore. Do not miss visiting one of the list of mountains in Vietnam above to uncover the extraordinary beauty of this beautiful country and gain the most exhilarating experience for your upcoming trip to Vietnam.