Red and white sand dunes in Vietnam are primarily found in the southern part of central Vietnam. Not only its unique beauty attracts visitors, but each of the sand dunes here has its own unique characteristics, attractive wild scenery, whether under the dawn or sunset, Vietnam's sand dunes still appear stunning. If you have some chance, take time to visit and experience some of the beautiful sand dunes of Vietnam.
I - Binh Thuan Province - land of top beautiful sand dunes in Vietnam
1 - Top outstanding sand dunes in Binh Thuan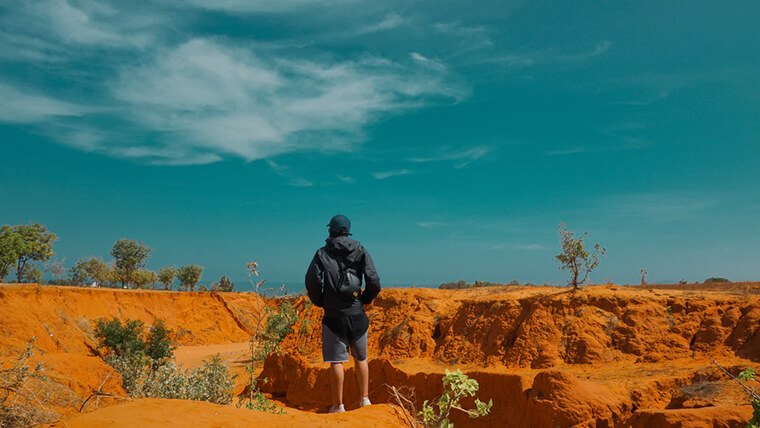 Source: Duy Son
Red sand dune - one of the most beautiful sand dunes in Vietnam
Owing to the effect of monsoons, the explanation is called "Bay Sand Dunes"; each time frame of the day, each day of the month, the dunes have a different appearance. Visitors can witness with their own eyes, especially in the monsoon season, how the dunes change shape after each whirlwind. Not only does it have a distinct yellow hue, but tourists can see several different colors here, such as red, white, pink, gray, black, red, etc. The explanation for this phenomenon is due to the effect of iron, mud, sea sand impurities,... Under light refraction, mixed into sand that shapes several different colors. In particular, this is a large red sand dune in Vietnam (50ha) long ago, extending from Binh Thuan to Ninh Thuan, creating a huge and beautiful field of sand. Top activities that can be encountered by visitors while coming here are:
- Taking some photos
- Watching the sunset & sunrise
- Sand sliding (10,000 VND/ person / turn ($0.43))
- Experiencing a 4-wheel motorcycle journey: price 700,000 VND / car / 20 minutes ($30.17)
- Trying a jeep tour: 550,000 VND /person / 30 minutes ($23.7)
White sand dune - top-rated sand dunes in Vietnam to visit
In Vietnam, with an area of around 70 hectares, the Binh Thuan white dunes are known as "sub-Saharan Africa" This is also one of the few dunes with both sand dunes and a large freshwater lake (Bau Trang lake), which will fill the lake with pink lotus flowers from May to September. The sand dunes still maintain their natural elegance and pristine white sand because of the lack of human presence. Some activities to try:
- Sandboarding: 10,000 VND / person/time ($0.43); You can encounter higher sand hills - steep or low sand dunes - more gentle.
- Jeep travel experience at the sand dunes for 550,000 VND / person ($24)
- Off-road motorcycle: 350,000 VND / car ($15)
- Bau Trang Lake afternoon sightseeing boat for 100,000 VND / person ($4)
Luong Son sand dunes
Luong Son sand dune is considered one of the beautiful dunes in Vietnam, along with Red sand dunes (Bay sand dunes), because of its great scenery. Visitors will feel the dunes reaching the end of the horizon from a distance, the sand is typically yellow, orange-yellow, pink mixed with the clear blue sky to produce an incredibly poetic scene. Each season brings a new look to Luong Son sand dunes.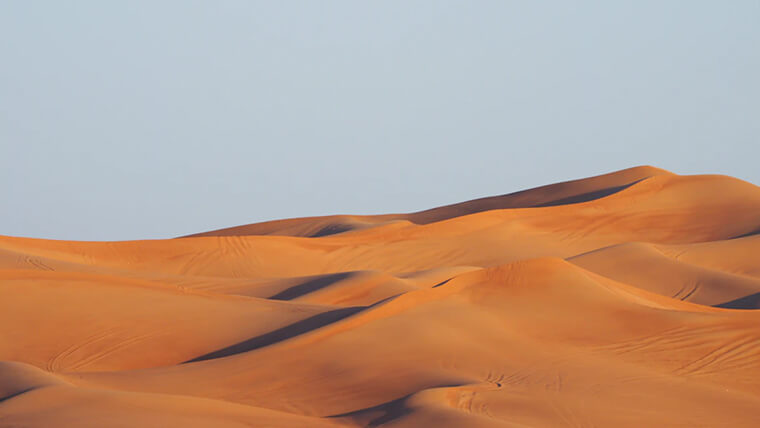 Source: Timothy Simon
Such experiential activities that tourists can try here are sand skiing, and pictures observing local people's everyday lives. Visitors will see simple activities in rural Vietnamese villages, such as a pair of phoenixes, herds of buffaloes, oxcarts, or kids playing, creating a rustic and traditional scene. The best spot for tourists to watch the sunrise on a sand dunes or the fiery sunset.
2 - How to get from Phan Thiet to these sand dunes in Vietnam
Best ways to get from Phan Thiet city to these famous sand dunes of Binh Thuan province:
- Jeep car: Service provider: Nguyen An Travel - tourist car for rent in Mui Ne; Phone number: 0378 547 968; Address: No. 187/7, Dien Bien Phu Street, Da Kao Ward, District 1, Ho Chi Minh City.
+ Combined tour price: 150,000 VND / person ($6.46)
+ A 4-seater car: 550,000 VND / car ($23.7)
- Taxi: Taxi cost is about 250,000 - 500,000 VND/way ($10.77 - 21.55).
+ Taxi Mai Linh: 0252 38 38 38 38
+ Sun Taxi Phan Thiet: 0252 3 66 77 88
+ VinaSun Taxi Binh Thuan: 0252 3 888 888
- Motorbike: average rental price for motorcycles from 80,000 - 150,000 VND/ motorcycle/ day ($3.44 - 6.46), some motorbike rental shops:
+ Thanh Lam: No.139 Nguyen Tuong Street, Phu Thuy, Phan Thiet City - Phone number 0342 311 448.
+ Thanh Phong: Km9, Nguyen Thong, Phu Hai, Phan Thiet City - Phone number: 0916 028 368.
+ Hoang Hieu: No.50 Nguyen Dinh Chieu Street, Ham Tien, Phan Thiet City - Phone number: 0933 715 692.
II - Stunning Ninh Thuan sand dunes in Vietnam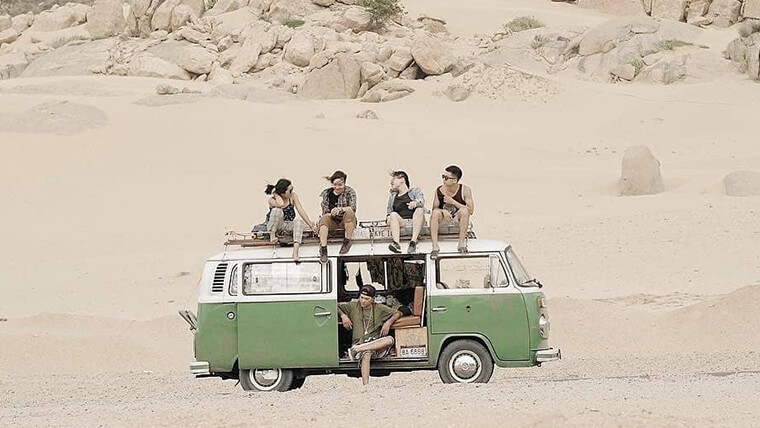 Source: Ins @tuandriving
1 - The stunning dunes of Ninh Thuan province
Nam Cuong Vietnam sand dune
With an area of about 700ha, the sandy hill of Nam Cuong is an interesting tourist destination. Nam Cuong dunes are quietly concealed behind the roads, bamboo groves, orchards of the people, every time the wind blows, the sand changes as if it is constantly changing it's "appearance". Dunes are also perfect places for visitors to take pictures or enjoy the scenery of the East Hai Sea from a distance, villages or mountains, rice fields from a distance. One of the experiences that tourists can't explore in all the dunes.
Nam Cuong sand hill is also a location associated with the life of the people of Cham. Here visitors can easily see clear photos of women wearing baskets on their heads step by step over dunes, shepherds in the pastures always get a chance to enjoy the food from a thunderstorm- a form of the calf that has rough skin and runs very fast. Also, visitors can visit some nearby tourist destinations such as Poklong Garai Tower, Vinh Hy Bay, Bau Truc Pottery Village, Ca Na Beach, My Nghiep Textile Village,…
Mui Dinh Sand Dunes
Ending this list of top Vietnam sand dunes is Mui Dinh sand dunes which is famous for its harmonious combination between white dunes, surrounding plants and lakes. Not only does it bring a feeling of freshness far different from the "imagination" of tourists about hot dry sand dunes, but Mui Dinh also carries the wet air from the nearby lakes and combines with the green of the steppe and the mountains in the background. This is also the location chosen for editing the "Nomad Footprint" movie.
Some of the activities that tourists enjoy when coming to Mui Dinh is walking around the dunes by plow (a small machine for rice production activities of local people), sand slides, bug cars on the sand, etc.
- Rent a plow for 100,000 VND/turn for 8-10 people ($4.30)
- Car beetle 150,000 VND/turn for 15 - 20 people ($6.4)
- Service Provider: Tanyoli
+ Address: Km19, Son Hai Hamlet, Phuoc Dinh Commune, Thuan Nam District, Ninh Thuan Province
+ Phone number: 0901 820 108.
2 - Getting to the dunes from Phan Rang - Thap Cham City
As there is no public transport from the city to the dunes, tourists can opt to ride on their own by motorbike or taxi. Just as follows:
By taxi: It costs vary from 100,000 to 350,000 VND/way/4-seat vehicle. Some suggestions:
- Taxi Mai Linh Ninh Thuan: 0259 3 89 89 89
- Sun Taxi Ninh Thuan: 0259 3 85 85 85
- Taxi Ngoc Hoa Ninh Thuan: 0259 3 83 83 83
By motorbike: Daily rental of motorcycles in Ninh Thuan ranges from VND 80,000 to VND 150,000/day ($3.44 - 6.46). In Phan Rang - Thap Cham City. Some rental shops:
- Phan Rang Motorcycle Rental Service: No.175 Le Duan Street, Phu Ha, Phan Rang, Thap Cham City, Ninh Thuan province; Phone number: 093 394 16 39.
- Thuan Hai motorcycle rental: No.159A Le Duan lane, Phu Ha, Phan Rang - Cham tower, Ninh Thuan province; Phone number: 0912 100 351.
- Motorbike for rent in Quang Tu: No.184 Ngo Gia Tu Street, Phan Rang city - Thap Cham, Ninh Thuan province; Phone number: 0259 6267 269.
Hopefully, with the information on beautiful sand dunes in Vietnam that we have just introduced, visitors can easily imagine and choose a suitable destination for themselves. Wishing you a great experience when traveling in Vietnam.