Vietnam is a country that is renowned for its delicious cuisine, and its snacks are no exception. Whether you're a fan of sweet or savory, crunchy or chewy, there is something for everyone in the world of Vietnamese snacks. These tasty treats are a great way to explore the flavors and textures of Vietnam, and they make the perfect snack for any time of day. In this article, we will be exploring the rich and unique world of Vietnamese snacks. We'll be taking a look at some of the most popular and traditional snacks, as well as some newer and more modern twists on classic favorites. So, get ready to tantalize your taste buds and discover some new favorites!
1 - Top 11 Vietnamese snacks: Cu-do Candy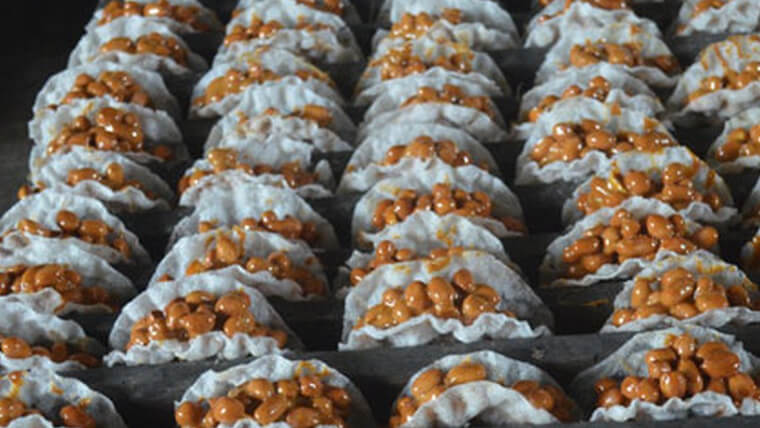 One of the best snacks in Vietnam - Source: Internet
As the best known specialty of Ha Tinh Province, Cu-do candy is made from peanuts, fresh ginger cane sugar, covered by two pieces of sesame rice paper. The whole thing has a round shape with a rough surface but is very fragrant and rich in flavor, a harmonious combination of chewiness, sweetness and a bit of spiciness with a pleasant scent.
The ingredients to make a piece of Cu-do candy are very simple, but carefully selected and prepared. The molasses used in candy must be clear, sweet, fragrant, golden and thick like honey, stored in crockery or porcelain jars to keep the characteristic sweetness. Peanuts must be medium sized, with no scratches and worms, while rice paper is not too thick nor too thin and must be evenly sprinkled with sesame and ginger.
Because this Vietnamese snack food is inherently sweet and spicy, it is often served with a warm cup of green tea. Although it is a rustic dish, this speciality has become an indispensable part of the life of Ha Tinh people, a traditional beauty of the land.
2 - Mung bean cake - top 11 best Vietnamese snacks
Also known as green bean cake, this Hai Duong province's square-shaped specialty dish is related to the folktale of the last emperor of Vietnam - Bao Dai. Like its name, Mung bean cake is made entirely from pure mung bean powder, added sugar, cooking oil and pomelo flower essential oil, all of which must be guaranteed clean or / and quality with certificates of origin. To make this Vietnam snack, ripe green beans and slightly yellow inside are roasted, finely ground and then mixed with other ingredients, bringing a delicious, greasy taste that is very attractive and especially hard to describe. As when enjoying most other sweet tasting cakes, many people also have a cup of warm green tea with this mung bean cake, which is considered the perfect addition to help balance the sweetness and bring out a richer but lighter flavor.
3 - Top 11 Vietnamese snacks: Burnt rice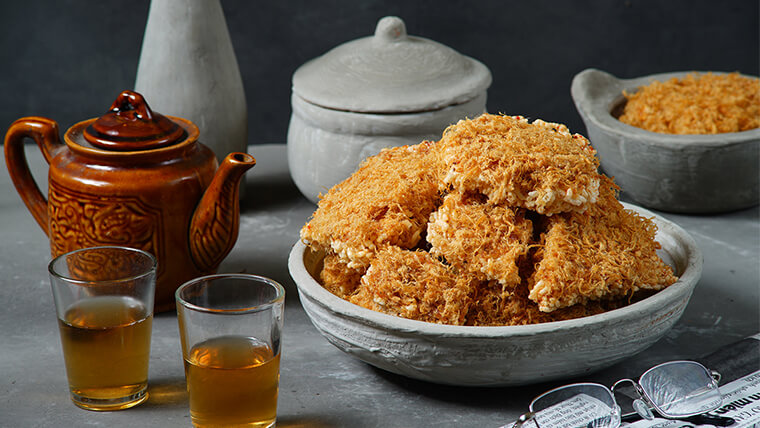 Top famous snacks in Vietnam - Solurce: Green Cat
You can easily see burnt rice dishes everywhere in Saigon, but this dish originally comes from the land famous for its landscapes - Ninh Binh Province. So what makes this burnt rice dish different from the everyday burnt rice remaining at the bottom of the rice cooker? It lies in the ingredients and sophisticated cooking method - the carefully selected clammy rice is cooked in a thick cast iron pot, and must be kept with enough water and fire to have a crispy crust.
In the Ninh Binh, people often eat this dish with a sauce made entirely from mountain goat meat - another specialty of the region, bringing a strong, aromatic and meaty taste. In addition, the simpler version of this burnt rice dish with salted shredded meat, a little bit of sweet fish sauce and a little bit of onion fat, minced shrimp, is also attractive enough for you to not stop eating more.
4 - Top best Vietnamese snacks: Bim bim (Packaged crisps)
Bim bim is one of the familiar snacks for many Vietnamese people, especially children and youngsters. Not only are they made from thinly sliced, shredded or mashed potatoes, many bim bim are made from flour, then shaped and deep fried, dried and bagged. When eaten, these snacks have a crunchy, mouth-watering taste with various flavors coming from spices like spicy, beef, shrimp, crab, or sweet like corn.
Currently, snacks are usually produced in the form of packages, in addition to the tubes and boxes influenced by foreign countries. Available in handy containers, these best Vietnamese package snacks come in a variety of eye-catching flavors, shapes and colors at affordable prices, starting at $0.2 / pack. Popular bim bim brands in Vietnam can be named such as O'star, Oishi, Swing, Toonies, Poca, Slide, Lay's Cheetos, Corn Chip, Flutes, etc.
5 - O Mai - one of top famous Vietnamese snacks from fruits
Also known as salted dried fruits, O Mai is a snack made from different fruits such as plums, tamarinds, peaches, etc. by the drying method. The fruits used in making o mai must be fresh and delicious, without any worm or bruise. After being bought, the fruit would be washed, salted, left outside to dry and steamed. Then, to make this Vietnam snack the makers will soak and process (fried or dried) the fruit together with spices such as sugar, salt, ginger, chili, and licorice.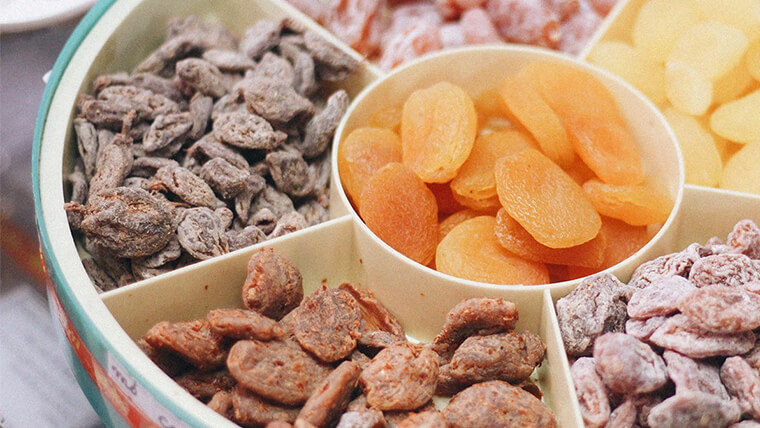 O mai - Source: Kenh14
That's why, depending on the making, salted/sugared fruits can have different tastes, ranging from sweet to sour, but most of the time it's a combination of sour, salty, spicy and sweet flavors. There are also wet and dried types of o mai, suitable for everyone regardless of preference or age. Thanks to its mouthwatering taste and variety, this snack in Vietnam often appears on tea tables, and is an indispensable typical Vietnamese Tet food.
6 - Top Vietnamese snacks: Nem lui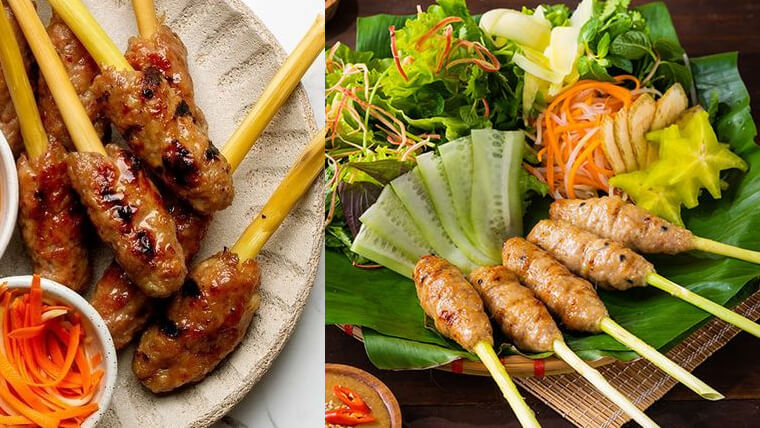 Nem lui - Source: Internet
Although it is a light dish, or served with other dishes, Nem lui or Lemongrass skewers pork is elaborately and sophisticatedly created. Lemongrass skewers pork is made entirely from lean pork tenderloin pounded and marinated with spices including soup powder, fish sauce, pepper, sugar, monosodium glutamate, minced onion, garlic and so on. Then, the ingredients of this Vietnam snack food are wrapped in fresh lemongrass and grilled on charcoal to have a golden and fragrant outer cover.
To enjoy this delicious dish, you must eat it hot, served with figs, pineapple, carrots, thinly sliced cucumbers, raw vegetables and so on. You take a piece of rice paper and put the ingredients together on it, then roll the rice paper and pull out the lemongrass stick. In addition, to add more flavor to the dish, you have to dip the roll into a cup of thick dipping sauce with lean meat and pureed liver, bringing the fleshy, greasy taste of crushed roasted peanuts.
7 - Donuts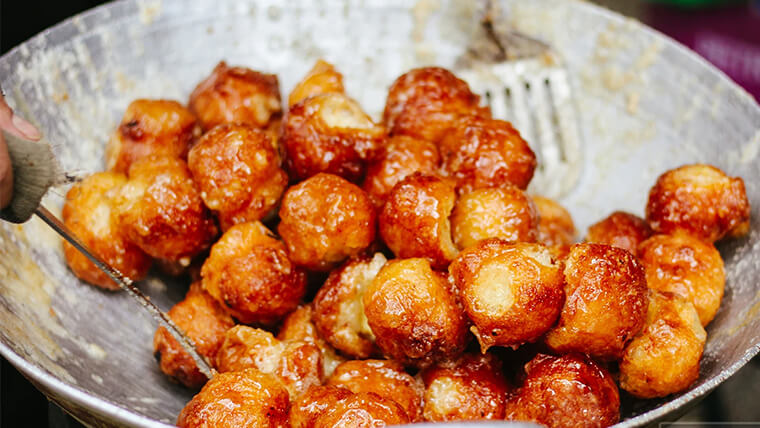 Top best sweet Vietnamese snacks - Source: Kenh14
Donut is a traditional Vietnamese cake made with rice flour and can be added with a little mashed potato, shaped into round balls, filled and fried until yellow. There are two types of donuts, sweet donuts and savory donuts - the main difference is in the filling. Sweet donuts are filled with green beans and coconut milk, and the outside is sprinkled with sesame seeds with a characteristic crunchy, chewy taste. Savory donuts filled with pork, vermicelli, wood ear, dried onion and pepper, served with sweet and sour dipping sauce and pickles. The shell of this Vietnamese snack food is thick and crispy and flexible, combined with the delicious filling inside, which is made according to each shop's own recipe.
Donuts are an extremely suitable Vietnam snack for every morning before work, or on cold and rainy days, giving warmth and coziness. When your stomach starts to feel a little empty, the donuts will soothe your hunger but won't make you too full, let you still be able to eat dinner.
8 - Top best sweet Vietnamese snacks: Bò Bía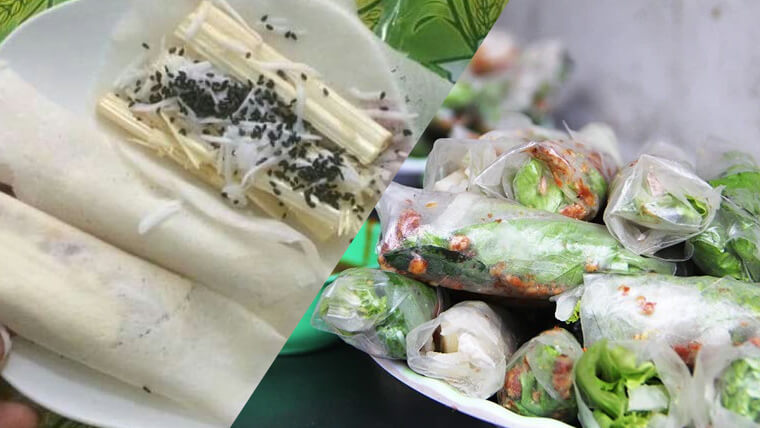 Bò bía - Source: Internet
Originating from China, bo bia with its two types of salty and sweet, has become a favorite Vietnamese snack, especially for youngsters. Sweet bo bia is a combination of rice paper made from flour, malt candy rolled with grated coconut and a little bit of black sesame, bringing the typical sweetness of sugar and a little bit of fleshy, crunchy coconut shredded. Meanwhile, rolled in rice paper made from flour, salty bo bia has a filling consisting of sausages, eggs, carrots, lettuce, cassava roots, kohlrabi, dried shrimp, and finely chopped herbs. This snack in Vietnam is served with mixed chili sauce and crushed roasted peanuts fried in cooking oil with dried onions. You can easily find bo bia in small carts along the sidewalk, near school gates, or around Hanoi West Lake area.
9 - Top Vietnamese snacks & candies: Me xung candy
Me xung or Squared sesame candy - a special Hue food, made from malt and peanut oil, covered with sesame and cut into small squares with glossy paper wrappers outside, is one of the best snacks to buy in Vietnam. There are two most popular types of squared sesame candy, which are flexible sesame and crispy sesame, bringing a sweet taste that melts in your mouth, better served with tea. You can roll or bend a flexible sesame candy bar, while the crispy sesame candy is harder, with more bean paste and less sugar, wrapped in a layer of baked rice paper. Hue people often have the habit of drinking tea and eating sesame sticks, while enjoying a good book.
10 - Giò cake (Bánh Giò)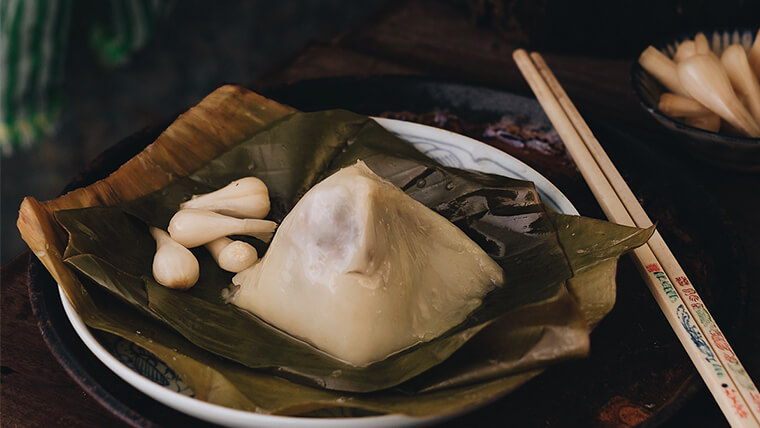 Bánh Giò - Source: Nhut Minz
As one of the Vietnamese snacks that are very familiar to the locals, banh gio is often used in breakfast because of its convenience and nutrition. This Vietnamese snack food has a pyramid shape, made entirely from plain rice flour and tapioca flour mixed with bone broth. Banh gio has a rich filling made from minced lean meat with wood ear mushrooms, onion, pepper, fish sauce, salt and quail eggs. This snack in Vietnam then will be wrapped with banana leaves and steamed in a pot for 30 to 40 minutes.
In Ho Chi Minh city and the Southern provinces of Vietnam, people eat banh gio with only a little soy sauce or diluted sweet fish sauce, while Hanoians often use it together with other food such as fried spring rolls, grilled skewers, fried sausages, and so on, letting you feel the savory taste melting in your mouth after taking a bite.
11 - Vietnamese traditional jam
As one of the popular Vietnamese snacks to bring home, Mut or Jam is extremely favored in Vietnam Lunar New Year for generations. Mut is both made from fruits and is focused on sweetness with fruit soaked and coated in sugar to keep the freshness. In Vietnam, there are 2 different foods that both get called mut, but you should not mistake this snack of sugar-coated fruit with jam.
The most popular mut can be mentioned are ginger, coconut, tamarind, sweet potato, grapefruit, lotus seed, soursop, marmalade, etc. Most types of mut have a sweet, delicious taste that once you eat it, you will just want to keep taking another piece. The sweetness is also the reason why Vietnamese people often eat mut together with a cup of green tea, neutralizing the sweetness and bringing an unforgettable ethereal taste.
12 - Dried beef - among top must-try Vietnamese snacks

Dried beef salad - Source: Danviet
Dried beef, also known as "thịt khô bò", is a popular snack in Vietnam. It is made by marinating thin slices of beef in a mixture of spices and seasonings, then drying the meat in the sun or a dehydrator until it is fully dehydrated and has a chewy texture.
The marinade typically includes a combination of fish sauce, soy sauce, sugar, garlic, and other spices such as lemongrass or chili. Once the beef is fully marinated, it is placed on racks and left to dry in the sun or in a dehydrator until it has a dark, reddish-brown color and a chewy texture.
Vietnamese dried beef is often paired with lime juice and enjoyed as a snack while drinking beer, or added to other dishes such as noodle soups or stir-fries. It is a popular ingredient in Vietnamese beef jerky salad, which also includes fresh herbs, vegetables, and a spicy dressing.
13 - Chicken feet pickled with lemongrass and kumquat
Pickled chicken feet with lemongrass & kumquat is one of the top most delicious and famous Vietnamese snacks that is so favored by the locals thanks to ist sweet & sour taste. In this dish, chicken feet are cleaned and then boiled in a mixture of lemongrass, kumquats, sugar, salt, and vinegar. This pickling process gives the chicken feet a tangy and slightly sour taste that complements the flavors of the lemongrass and kumquat. After boiling, the chicken feet are allowed to cool in the pickling liquid, which allows them to absorb the flavors of the marinade. The dish is then served cold as a flavorful and unique snack. Chicken feet pickled with lemongrass and kumquat is a popular dish in Vietnamese cuisine, and its unique blend of flavors makes it a must-try for adventurous eaters.
This popular Vietnamese snack is a popular dish that is often enjoyed as a snack while drinking, especially during social gatherings or events. The dish's tangy and savory flavors pair well with various types of alcoholic beverages and make it a perfect snack for sharing among friends and family.
Vietnam is indeed a country that possesses a unique and diverse cuisine with countless delicious dishes, in which the snacks are superior with delicious and unforgettable flavors. Hopefully, after reading about 11 delicious Vietnamese snacks mentioned above, you will have an interest in visiting Vietnam and trying out its cuisine.