Used to be a cheap dish for poor workers or students, Vietnamese broken rice or Vietnamese pork chop broken rice (Cơm tấm in Vietnamese) is said to appear in the old regime period, around the end of the 19th century. In the past, the broken grains during the milling would be cooked to not be wasted, but now people have to purposely break the rice to form this specialty. Vietnamese com tam is not only famous in the country but also praised by the international media, for example, CNN Travel and The Culture Trip magazine announced that this is one of the best dishes in Vietnam, respectively in 2018 and 2019. The Korean television station EBS has also made a separate episode in one culinary program to talk about this dish.
I - What is Vietnamese broken rice dish?
1 - Ingredients & flavors of Vietnam broken rice
This dish is made from broken rice grains, which were collected from drying, transporting, or sieving, so in the past, they were considered second-class and only used to feed chickens or eaten by the poor working class. But today, they have affirmed their appeal and reached out to the world, resulting in their value at a higher price and most of them are also no longer natural but man-made. Broken rice grains are very fragrant, sweet, and neither too dry nor too mushy when cooked.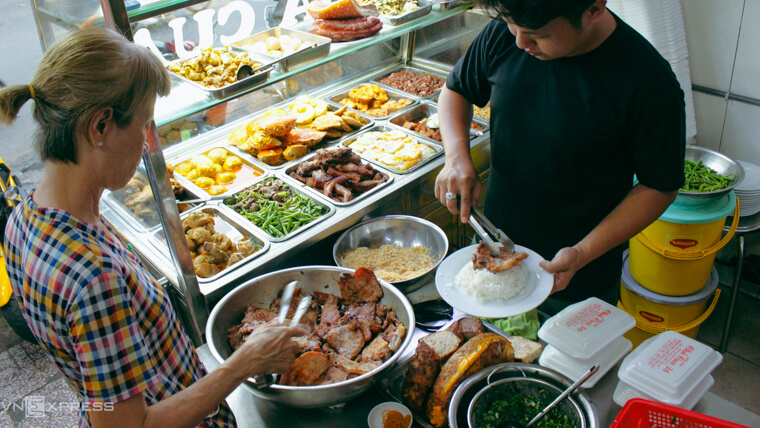 Broken rice street vendor - Source: VnExpress
The standard Vietnamese broken rice must be eaten together with a specific sauce, prepared in a unique way for each recipe, but mainly using fish sauce, water, and sugar. The taste of the final sauce depends on the preference of each person, can be sweet, salty or sour, sometimes added with garlic and chili to enhance the taste. Another indispensable part of this dish is the "onion fat" liquid mixture, made from scallions, fried in oil or fat. For the most attractive flavor, the dish also needs vegetables such as cucumbers, and pickles made from carrots, radishes, or papaya.
Vietnamese broken rice can be eaten with chicken, fish, shrimp, or braised meat,... but the most traditional and characteristic are ribs, skin, and "chả". The ribs are still the most delicious option, which were marinated with spices very well, then grilled over charcoal. The piece of meat is golden, crispy on the outside but soft and sweet on the inside, giving off a special scent that excites guests on the road, making them want to stop and immediately enjoy delicious Vietnamese com tam. Skin is a mixture of many things, including pork skin that is cut, mixed with rice powder and other spices.
The "chả" served with Vietnamese broken rice is actually made from eggs, minced meat, rice vermicelli, mushrooms, green onions, and some other spices, then steamed and cut into rectangles or circles. In particular, "chả" also has an extra layer of egg yolk on the top, making it beautifully golden and more fragrant with a fatty taste.
How to eat Vietnamese broken rice
Broken rice when served will be put on a plate, or in a box if you purchased it to eat at home. Southerners usually use spoons or forks, but Northerners are not used to the latter, so restaurants will also provide chopsticks.
For many people, the right way to enjoy Vietnamese broken rice is to sit at a corner of a street or an alley, in the white smoke emitting the fragrant smell of grilled ribs. You have to eat at midnight or in the early morning in the middle of a quiet city, to feel the true deliciousness of this dish through a combination of senses, smell and taste. Scoop a spoon of broken rice, put it on top of a piece of grilled ribs, add fried egg roll, a little bit of pork skin, with pickles, fish sauce, onion fat,... and put it in your mouth.
You will feel the flavors of Vietnamese broken rice pork chop blending together, creating a wonderful and eye-opening experience. The Vietnam broken rice is spongy and sweet, mixed with the rich ribs marinated with just enough spices, well grilled to have a golden color, crispy on the outside but soft on the inside. The sweet fragrance of broken rice blends in with the aroma of ribs, fish sauce, fried onions, penetrating deeply into each bite. Enjoying this dish with the iced tea gifted by the owner of the food shop is unmatched, which will be an unforgettable memory on your trip to Vietnam.
Some Vietnamese broken rice variations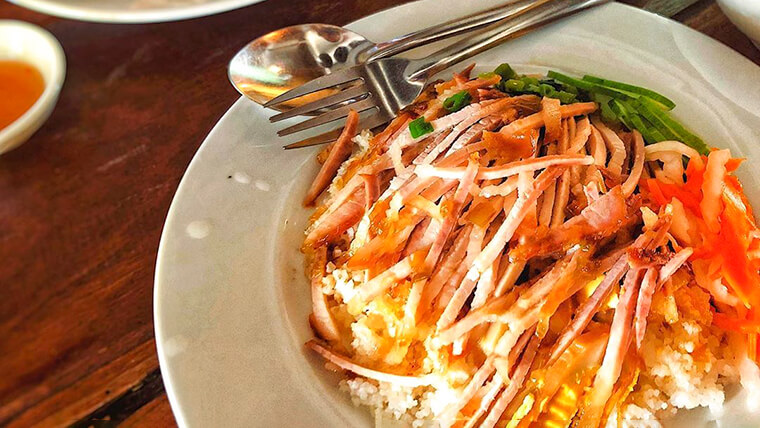 The Long Xuyen version of Vietnamese com tam - Source: dvortho
The version of the Saigon broken rice dish has since become a very distinct specialty in Vietnamese culinary culture, with thousands of different variations. The most famous is Long Xuyen broken rice (An Giang Province), which has a different way of processing, presentation and taste than the traditional original dish. Firstly, people here prefer to use finer and smaller grain rice to make broken grains, which have a slight sweetness and seem to melt on the tip of the tongue. The ingredients in this dish are also not left whole like in Saigon, but are thinly sliced and chopped to make it easier to eat.
Salted egg fried Vietnamese broken rice is eye-catching with a large round salted egg in the middle, accompanied by the charming dark yellow color of fragrant grilled ribs placed next to it. Served with finely chopped sour food, this dish is also added with a few slices of the fried fish cake evenly golden on both sides, bringing an attractive color. Meanwhile, different from grilled rib broken rice, dishes with coconut water ribs or stick ribs have strange tastes, are moister and softer and save time when processing.
2 - Vietnamese broken rice calories
Depending on the ingredients, the calories of a serving of broken rice will vary, but in general, a traditional plate will contain 767 calories. According to nutritionists, this dish contains a high-fat content, so if eaten regularly, it can lead to excess fat storage and weight gain. Therefore, people who are overweight or are in a weight loss regime should not eat broken rice to avoid weight loss. Even if you are a healthy person, you should only eat this delicious dish at most once a week.
II - Saigon - the most ideal place to enjoy Vietnamese broken rice
Broken rice is popular in all regions, but only in Ho Chi Minh City has it become its own culinary culture. CNN also voted this specialty as one of the 10 most attractive dishes in this city of 10 million people. Vietnamese com tam is sold in all districts, everywhere from luxury restaurants to sidewalk shops, regardless of time in the day. The food shops sell from 9pm to 4am - people come to eat before going to school or work, and then come back to the shop to fill their stomachs. Going around Saigon at night, you will find it not difficult to spot the crowded broken rice street stalls.
Minh Long Restaurant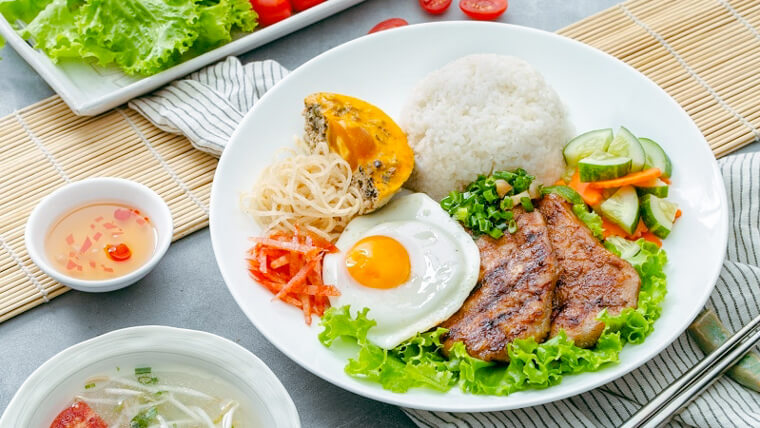 This is one of the best Vietnamese broken rice restaurant - Source: idulich
The most impressive thing about this broken rice restaurant is that the ribs are super big and thick and very well marinated, with a little bit of fat, and very easy to swallow.
- Address: No.607 Nguyen Thi Thap Street, Tan Hung Ward, District 7
- Price: 20,000 - 40,000 VND / dish ($0.86 - 1.72)
- Opening hours: 7am - 9pm
- Contact: 0938 903 801
Huyen broken rice
Dubbed the Ghost broken rice restaurant, this place is only open from afternoon to early morning, mainly serving people who work the night shift. The fish sauce here is mixed with ground chili, giving a spicy taste that goes very well with Vietnamese broken rice.
- Address: Alley 95 Le Van Duyet Street, Ward 3, Binh Thanh District
- Price: 30,000 - 45,000 VND / dish ($1.3 - 1.93)
- Opening hours: 4pm - 4am
- Contact: 09 1313 7463
Saigon Dust Broken Rice
This is a chain of restaurants present in many districts in Ho Chi Minh City. You will be mesmerized by the golden young ribs, the rich fish sauce, the soft and chewy shredded pork skins, and the charming bitter melon soup.
- Address: No.100 Thach Thi Thanh Street, Tan Dinh Ward, District 1
- Price: 30,000 - 55,000 VND / dish ($1.3 - 2.36)
- Opening hours: 8am - 10pm
- Contact: 028 6675 5476
Ba Ha Broken Rice Restaurant
This always-crowded Vietnamese broken rice restaurant is famous for its salted egg "chả" and fragrant ribs.
- Address: No.389 Hung Phu Street, Ward 9, District 8
- Price: 20,000 - 35,000 VND / dish ($0.86 - 1.5)
- Opening hours: 4pm - 7pm
- Contact: 0909 7711 92
Crab broken rice Nguyen Phi Khanh
The unique feature of this restaurant is the exclusive minced meat and crab cakes. Its rich flavor makes Vietnamese com tam even more sweet and soft, causing you to eat one serving and then have to order a second immediately.
- Address: No.113 Nguyen Phi Khanh Street, Tan Dinh Ward, District 1
- Price: 15,000 - 33,000 VND / dish ($0.64 - 1.42)
- Opening hours: 6am - 1pm
- Contact: 0906 727 992
III - Vietnamese broken rice recipe for an original taste?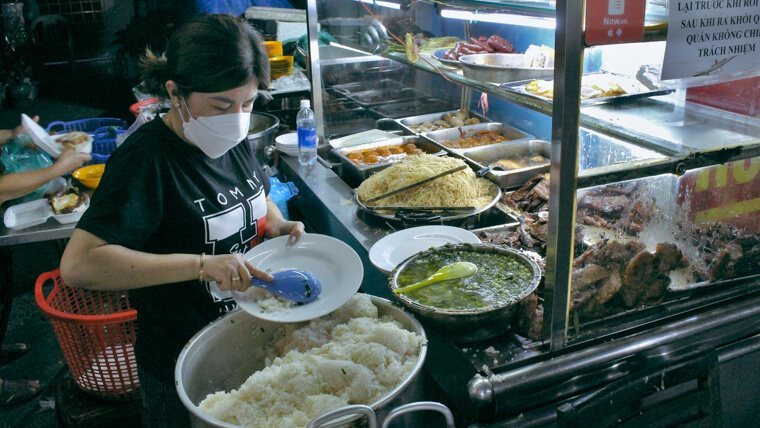 Source: VnExpress
To make Vietnam broken rice, you first have to wash broken rice grains 2 - 3 times and use the rice cooker as usual, the amount of water should reach 1 knuckle to not be mushy. The ribs should also be washed and patted dry with a towel, then pounded with a hammer or pestle to make them thinner and softer before marinating with spices for 1 hour. You then grill the ribs on the charcoal stove until golden brown on both sides or use an oven / an oil-free fryer at 180°C for 30 - 45 minutes, remember to brush oil on both sides.
In the next step in the Vietnamese broken rice recipe, you wash, soak and cut mushrooms, mien vermicelli, minced pork, mix with 2 eggs and 1 white, and season with spices and steam for 30 minutes. Then spread the remaining yolk evenly on the surface and leave for another 10 minutes, after that pour the steamed egg rolls onto a plate. After you wash the pork skin, boil it quickly for 15 minutes to keep it tough, and then put it in ice water for 5 minutes to keep it crispy. Take out the pork skin to dry and then cut it thinly, mix with homemade ground roasted rice or buy it at the store to save time and effort.
Grease onions are quite simple, just finely chop scallions, add salt and sugar, and mix well with boiling oil. Making the sauce for Vietnamese broken rice pork chop, depending on your taste, you can add the amount of sugar, fish sauce, warm water, and vinegar as you like. If you want, you can also crush peppers and fry them with garlic, boil them with spices and then mix them with the prepared sauce above. Put the cooked broken rice in a cup and turn it upside down on a plate to give it a nice shape, add onion fat and sour pickled vegetables, and arrange the pork skin, ribs, and egg chả around to complete the traditional Vietnamese com tam.
In a bustling city like Saigon, unexpectedly, the soulful specialty of this place is a simple, rustic, and delicate Vietnamese broken rice dish. People consider this dish as iconic as Hanoi's pho, and it is impossible not to enjoy this dish when coming to Ho Chi Minh City. Vietnamese pork chop broken rice has undergone many years and development, with many versions and more flavors, but hidden deep inside it is still extremely attractive traditional features, which you must try out when visiting this S-shaped country.